Champions & #1 contenders
Summer Splash interest in Natasha Loclear?
Mon Apr 09, 2018 11:30 pm by daemongirl
Well my girl hasn't missed a summer splash yet, would anyone be interested in a match with her? Open to just about anything match wise, just pm me!
Comments: 1
Been Out with the Flu
Sun Apr 22, 2018 7:47 pm by daemongirl
Just letting those I have threads with know I've been out with the flu since early last week, but I will be back to posting tomorrow.
Comments: 0
The Austrailian Mudslide is Back.
Sat Apr 21, 2018 6:20 am by Softsquad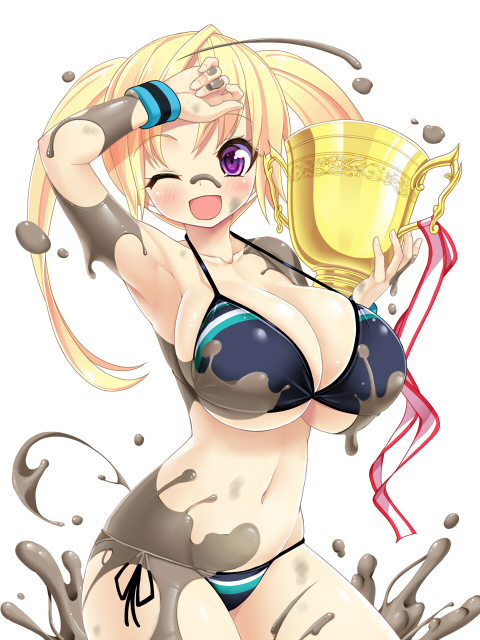 Granted that most of you won't know me or remember me, but I've had a few matches here and there some time ago. Well I think its time to become a regular around here and try to have some fun again, but at the same time keep coming back. Anyway I think its time to jump into some matches with Zoe Taylor, my mud wrestling character from Australia and get her back into the squared circle. Furthermore I will update my characters as I think some proper changes need to happen.
So if anyone would …
[
Full reading
]
Comments: 0
Page 3 of 5 •

1, 2, 3, 4, 5


AOBA was feeling sore and weak from her back getting hurt over and over again, this brute is pretty brutal for sure and she couldnt wait to kick his ass... somehow, but for now she have to focus on trying to recover from getting more manhandle by Alex but soon she can hear his words and eventually he coming out from the ring and up close to her, feeling her head getting a hold onto by his grip and pulling her up. "Nghh..... bastard...."

She feels a bit helpless at the moment hoping to find a right time to strike back but while getting pulled up and looking at him with her angry glare, she just want to mess this big man up one way or another... she didnt have too much of a choice since usually she would fight 'fair' without using much cheap shots but to survive in a fight she'll have to do whatever it can to win, looking down at the guy's pants quickly she hope to swing up her strong leg to kick right up between his legs, smack right to his balls. "Hurgh!"
Alex grinned with confidence as he gripped AOBA's head a bit harder as he tried to lift her up further. He was in the process of thinking of his next move when he felt an odd feeling. His eyes widened from the shock. He had seen the motions she made...as if a slow motion video recording without sound...in his peripheral vision. That strong looking kick of his going between his legs. And then like that...BOOM...pain...but not the kind he felt when met with a strong punch of kick. It was like an annoying mosquito bite where one would forget about until they rub against it...it would cause an odd pain. This blow was like that...but the pain kept resonating in shock waves that didn't seem to want to do away. Alex twitched as he let go of AOBA's head. Even the mighty and tactful person he was...was no match to a blow like that...no human was...a crotch shot.

"GUHHHH ahhHHHH..What-the...yo-you bitch!!"

Alex scowled in pain as he dropped to one knee, one giant hand cover his manhood...his other rest on the ground. Where ever she had kicked him on his scrotum...she hit a sweet spot of pain...as it almost immobilized the large Russian.
AOBA was pretty desperate in the situation right now, it was tough to fight fair with someone that large and have that amount of strength to up against even for herself to take him on, Alex. But once she was pulled up onto her feet, she have no choice but did something she wanted to avoid and went for a nut shot to bring the big man down, down to his knee at least which he did clutching himself and suffered from the painful blow, even while he stay like this temporarily, its the matter of time for him to recover and strike back unless AOBA could do something to keep him down somwhow.

"Ugh... what... ever asshole...." Shes up onto her feet thanks to Alex pulling her up, her back still in pretty much in pain and right now, she grabs onto her tight ribbons around her wrists to let it loose, long red ribbons which she uses as part of her finisher which shes going to try set it up at least weaken her large opponent somehow... using her red ribbons to go around the neck of Alex making sure it goes around smoothly and tighten to keep him still and if he didnt do anything once its all done, she tries to pull the ribbons back towards her and said. "Into the... Darkness" Which its her finisher name, pretty much having him trapped by the ribbons and pulling his head forward as she rapidly firing out her fists right at his face as hard and fast she could to pulverizing his face, tenderizing into a bloody pulp. "Hurrgh!"
Alex still being stunned by the crotch shot...could only look up at her as she got to her feet... releasing her hand wraps. The creased pieces of fabric seemed to be attached to her wrists....But for what purpose. He soon found out as AOBA looped them around his neck. making sure they were secure there.

W-what...what the hell are y- GUK! AUGK!!

Alex sentence was cut off as she pulled the ribbons right around his neck. The large Russian choked as she tightened her grip, bringing his head forward. He glared at her saying something about "Into the Darkness" All of the sudden she start to barraged his face with punches. "Guhg....arugh...gugh....ack ...hack....hguh..." The Russian grunted and chocked occasionally with each punch. Although his body was made of steel...his face wasn't as protected...and from this range...punches could be alittle more effective. Feeling a sharp pain from one of her punches ontop of his left eye brow...he felt an cold liquid start to drip. Blood! Alex twitched...angry. How dare she make him bleed! Now that he had recovered some from the crotch shot by AOBA he used his hand to grab the fabric around his neck...if successful, with a scream he would pull at the ribbons with great force and hopefully tear them off his neck. He had the power to do it.
GRAOHHHHHHHHHHHHHH! GEEET THHHHHHHHEEEEE HEEEEEELLLLLLLL OFFFFFFFFFF!!!!!!!!
While at the same time, he would ball up his other fist...trying to ram it up under AOBA's chin, halting her barrage on his face. It all went through, he would get up...tossing the torn ribbons aside and glare at her with fury in his eyes...his face at that point...would be slightly red...a bruise on his left check...while blood flowed from above his right eyebrow.
AOBA was relentless aiming to mess his face up with her barrages of punches over and over again with her finisher- Into the Darkness. Using the ribbons to not only wrapping around his neck and hold him still but also punching his face with great speed to hit his head back and bounce back to her fists again like a paddle ball, watching his face changing overtime and soon she seems blood start dripping out from his face which she shows a hint of smile rarely shown by AOBA but as she continues to smacking his face harder and faster he reaches for her ribbons around his neck and rip it off with great force easily tearing it, she wasnt too surprise from it and was about to hop away from him but was too late as his fist comes right up to her chin. "GUAH!"

Her head snaps back far gritting from the painful uppercut, her large busty breasts soon followed jiggling under her tight shirt barely containing it, then landed down onto her upper back before rolling couple times before laying facing up onto the floor, almost knocking her out barely conscious as AOBA groaning from the painful uppercut barely moving, slowly turning herself over but decided not to and reaching up for her jaw rubbing it. "Ugh... damn...."
Puffing out alittle bit of air, Alex huffed to regain a normal breath. He grinned as the direct uppercut did its job by keeping AOBA down. "Hmph....some move you got there girl..." He said as he pulled the remaining ribbons off his neck and threw them aside. "Whatever it was...I was surely not expecting that...but please...your going to have to try harder than that...However...for now..." He was at that point, at her side. Reaching down he grabbed the back of her head. "YOU WILL PAY FOR WHAT YOU HAVE DONE!"

Roughly making her stand, it wouldn't be long till she would be on her knees again as Alex threw a strong knee into her crotch! "HAAAAAAAAAAAAAAAAA!!!!!!" As he watched take his pay back...he looked behind her. The door to the gym was just behind there. Grinning, he grabbed AOBA's head again. "Lets get a change of scenery shall we?!" He said in a sadist voice as he went and using AOBA head, smashed it against the hard walnut door. Smashing again...and then once more after that, Alex grabbed up her body and mounting her on his chest ran towards the door with her. Her back was the first thing to connect with the door as their combined weight shattered it. Alex flew with him...rolling off her body as the splitting wood came feel around them. "Grr....." Alex grunted. He had miscalculated the strength of the door and had ran too fast into it and although he had land on AOBA...he had still smashing his other shoulder into the floor. "S-hit...." He grunted as he held his large Shoulder muscle with his hand.
AOBA knocked pretty far back from the hard uppercut to the chin sending her down onto the mat as she laying there barely able to move but soon she was helped up by Alex pulling her by the head as she barely able to stand herself up and soon he awaken her with a good o' revenge kneeing her right between her legs. "UGHHHH!" She'd double over from the heavy blow which she body reacts quickly by reaching down between her crotch clutching in pain. It hurts her pretty bad but while she was distracted from the blow to the crotch, she felt her head getting grabbed again hearing his words as she was pulled and forced head first right into the wooden door, not just once, not twice but three times as she grunting from the painful slams. "UGH! , NGUH!, GAH!"

Shes getting more light headed from each slams to the door nearly knocking her out and not realizing her body was lifted up against his body before she felt a bit of wind blowing to her hair and soon her soft back slammed right into the door once again. "AUGHH!" Her soft body crashes right into the door and coming down to the floor with his heavy weights laying on top of her, groaning from the massive pain with her eyes closed as she lay there nearly out cold, Alex really manhandling her for sure. "Ugh.........."
Alex grunted as he slowly got up to his feet while holding his shoulder. It still hurt like hell for some reason...almost feeling like it was dislocated. Just what did I hit? Looking around at the wreckage of wood on the ground, he spotted a metal looking object placed about where he remembered his shoulder landing. It was a 35 pound weight. Somebody had seem to of misplaced it there....anybody could have been seriously hurt if they ran into that. It seemed to be he was the unlucky victum of said weight. He looked back down at his shoulder. Shit he thought. His shoulder must really had been dislocated. "Tch...just great...." He muddered to himself. There was no way he could continue like this! IF AOBA hadn't been nearly knocked out...she might have know about it. Tch....he was going to have to pop it back it.

Taking his shoulder...he huffed as he braced himself. Angling his hand he pushed and apply a great amount of pressure to the end of his deltoid muscle. "Hrgh....ARGUH!!" Didn't work...he tired it again. Grr....AUGHHHH!!!" Still it didn't work....his huge body was working against him in this match...as he was unable to pop his shoulder back in place. GEtting annoying now, breaking a sweat from this pain he felt...with all the strength of his good arm...he pushed on the other....GAUHHHHHHHHHHHHHHHHHHHH!" Feeling a click and a pop inside of his shoulder. He dropped that arm on the ground, panting heavily at his success. He moved his once popped arm around a bit...it moved...but he still felt pain. The rotary cuff must have been inflamed with his attempts. "Ah...ha....goddamn.... shoulder..." He breathed out. The whole time he hadn't noticed what AOBA might have been up to the whole 5 minutes he had been struggling with his arm.
AOBA was lay there the whole time while Alex trying to get his shoulder and arm fix but while he as adjusting and trying to pop his arm back into his shoulder, each cries of his anguished roars soon waking up from the annoying sound of his voice slowly opening her eyes, fluttering to open and seeing Alex popping back into his shoulder in serious pain, slowly she backed up probably will make some noise with all those debris on the floor after he crashes her through the door with her head and sexy body, her clothes nearly ripping showing more skin through her outfits and one of the button is missing. "Tch.... ugh... need to recover..." lightly talking to herself while hoping to get some space between him.

Backing herself up slowly towards to the wall near the metal trash bin, sliding her back to the wall and using her feet to pushes herself up standing, panting with quite of sweats dripping down from her forehead and all over her body, almost drenching in sweats while shes panting and gasping for air, if she have enough time and enough strength, she would try to pull the trash bin in front of her and kick it hard as she could aiming to fly right at him hoping to provoke him a little more, maybe using his angry for her advantage.
Alex huffed again as he finally maintained normal breathing from his ordeal. His upper body was covered in beads of sweat from his effort...but atleast his arm was in working order again. He didn't think to look over to where AOBA had gone to. He was pretty sure she was still out cold form the previous attacks. He then started to hear audible gasps from somewhere.

"Huh?"

Alex looked to where AOBA, had been in the wreckage of wood. She wasn't there anymore. Widening his eyes, he scanned around the room. "Dammit....where did you-" His eyes caught her in sight perched up against a wall with a trashcan in front of her. Glaring at her, he snarled "You!" before she kicked the metal trashcan at him. AS he turned, the metal tin smashed into his chest. "Ugh...." He grunted as he hit his chest. He was not in the mood for this sort of attack and he started to yell at AOBA furiously. "Why....y-you...LITTLE BITCH!! LET ME GET OVER THERE AND TEAR YAH LIMB FROM LIMB!!" He then started to hulk over...his hands outstretched in front of him.... infuriated as he was...trying to grab AOBA and deal some more serious damage on her.
Page 3 of 5 •

1, 2, 3, 4, 5



Similar topics
---
Permissions in this forum:
You
cannot
reply to topics in this forum