Champions & #1 contenders
The Austrailian Mudslide is Back.
Sat Apr 21, 2018 6:20 am by Softsquad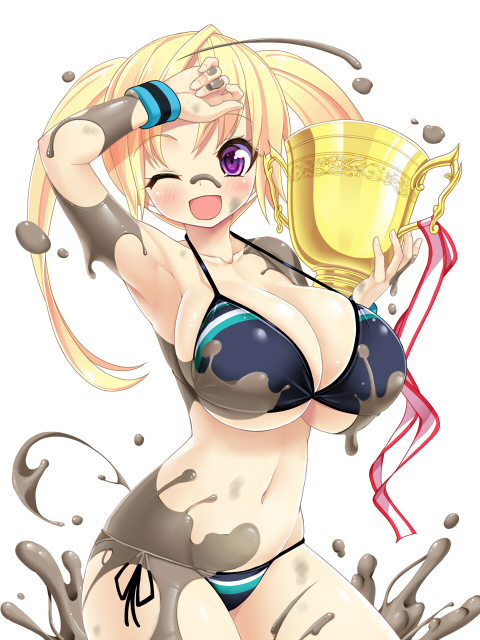 Granted that most of you won't know me or remember me, but I've had a few matches here and there some time ago. Well I think its time to become a regular around here and try to have some fun again, but at the same time keep coming back. Anyway I think its time to jump into some matches with Zoe Taylor, my mud wrestling character from Australia and get her back into the squared circle. Furthermore I will update my characters as I think some proper changes need to happen.
So if anyone would …
[
Full reading
]
Comments: 4
Looking for debut thread.
Sat May 12, 2018 9:28 pm by Hedgehawk
Hello All.
I am looking for a debut for my girl Trinity (http://www.afwrpg.com/t18107-trinity-cordova#495678).
This doesn't have to be a match, it could be a gym battle, interview or anything else. I just want something to help get Trinity off the ground. If you wanna plot feel free to reply to this message or fire me a PM.
Many thanks in advance and thank you for reading my message,
Hedge
Comments: 0
Page 1 of 5 • 1, 2, 3, 4, 5


After last night's events, Allison expected that Jocelyn would be even more unpleasant than usual. She was prepared to deal with whatever childish name calling she had come up with since they parted. People were always more receptive when they had good food in their bellies, especially when it was paid for.

Allison had reserved a specific table at Meiji-no-Yakata, next to a window that did not overlook the street. The restaurant was something of a haven in the middle of this wretched country. The city, and the country of Japan, was wholely lacking in the sophisticated freedoms of her home, almost entirely without class, but Allison enjoyed the wrought concrete and steel and neon landscape just as much. The undeniable cold of such a human creation as a city was a delightful thing, almost a paradox but so much more an insight. Given all the means in the world, these cities are what people built for themselves. It was concrete poetry.

Allison arrived first, despite coming a full 15 minutes later than she told Jocelyn to meet her. She informed the wait staff that she was still expecting a second, and a third, and she easily described Jocelyn to them so that they would be sure to whisk her off to the table the moment she walked through the doors. She ordered food enough for three, all of it western cuisine, and folded her legs and closed her eyes while she waited. Time alone with her thoughts was always a welcome diversion. She found herself to be such good company.

"Miss Watson?" Said a waiter in accented English. Allison looked up at him, her face unwelcoming, and reached up to move an imperfect lock of hair back into place. "Your guest has... arrived." He said. No doubt Jocelyn had already made an impression.

Allison only nodded and then ignored him. She did not bother to look up as her guest approached.
Jocelyn had a horrible night and had been so drunk that she forgot to set an alarm and almost slept through the day. Her own body, repulsed by an evening of blood thirsty mayhem and drinking had forced her out of her bed where she struggled to crawl to her toilet in a weary stupor and expunge the last demons of a hellish, yet maddeningly wonderful night. After fifteen minutes of vomiting, Jocelyn went to drag herself back to bed and noticed the time. She had an hour or so before she needed to be to where Allison wanted her to meet but she also knew that she needed more time than that to "prepare."

She spent a good ten minutes brushing her teeth, gurgling and trying to get the noxious taste of beer and shame from her mouth. Her shower was an other ten minutes. She wanted it to be longer, there was so much to try and scrub off, but she'd have to save that. She had done a pretty good job of shaving and shampooing almost simultaneously with only two nicks to show for her speediness. She cursed herself for wasting another fifteen minutes trying to find the perfect outfit, which she settled on dark chocolate colored backless slitted dress, some fishnets and heels and a black silky ribbon around her neck. She ran some mousse through her hair and left it a spiky, perfectly disheveled mess.

She wasted the last fifteen minutes perfecting her subtle, yet sexy make up. She was guaranteed to turn heads now. She knew it. She looked dammn good. Allison's tips, though not perfected, had been put to use. But, all the make up in the world couldn't hide the ever so slight darkness under her eyelids. Yesterday was still branded on her face and though a casual observer, or even someone who scrutinized her wouldn't see it, there was one person who would notice instantly. The last person, the ONLY person Jocelyn DIDN'T want to see it. She glanced over herself and flashed her teeth, growling at the reflection before heading out the door.

She stomped towards her door and grabbed her purse. She had zero minutes left now and grinned as she slammed her door shut after stepping out of her apartment. "Who cares about that dish licking old hag , anyway!?" She said to no one. "I hope she dies of old age waiting!" She sneered, again to nobody, and stepped from her complex and hailed a cab.

A twenty minute ride through town saw her arrival at Meiji-no-Yakata. She'd been there before. Jocelyn was a woman of refined tastes despite how hard she tried to also pretend she was blue collar. Well, she didn't really know which she was but she liked to have her cake and eat it too. When it served her to play up the fact that she was the daughter of a diplomat, she did. When it served her to be a brash punk who screamed F.T.W. she was also that. Who was going to tell her anyway?

She strolled into the restaurant garnishing the gazes that she desired. But what mattered was how Allison saw her. When she was escorted to the table, she tried her hardest not to make eye contact. and look at Allison through her peripheral. She sat in her seat and looked to the side of Allison.

"Sarah..." She said as if that greeting would suffice, her tone lacking as much inflection as she could manage to sound purposely curt and distant as if she was too good to meet with the woman. Her heart, however, was racing a mile a minute.
Last edited by 445 on Sat Mar 10, 2012 9:07 am; edited 1 time in total
Allison didn't acknowledge Jocelyn immediately. She lifted a small tea cup and breathed in the aroma before taking a small sip. She replaced the cup and the saucer exactly where it had been and then glanced up.

"You've been drinking." She remarked softly, letting the effort necessary to hear her command Jocelyn's attention. She saw it immediately, and while the idea of having driven Jocelyn to a long night of drinking and self loathing was delicious to her, she did not at all appreciate her showing up to meet her looking hung over.

"You look terrible, darling." She continued, no longer bothering to look at her. "I would be quite honored were you to give your appearance the slightest bit of thought. After all, this is not a diner, and I am not your peasant mother."

Two of the wait staff arrived at the table and began arranging dishes. There was a modest lunch for each of them, and for a third. "Non, garçon, our other guest will not be dining here. You may remove this plate for now." The waiter nodded and carried off the third plate.

"You tread the line, but she is certainly not fit to enter an establishment such as this." Allison said, mostly to herself. "Now then, enough chit chat. Eat." She said, and began daintily eating her lunch.
Jocelyn cringed when not only did Allison decide that the first last and only thing she wanted to talk about ere the bags under Jocelyn's eyes. Not only that but she knew what it was from. She wasn't hungover, she just had a headache. After she was done, she slapped her hand against the table and glared at Allison.

"Shove it up your arse, crow." She snapped. "You're the only one here I'm not good enough for!" Her tone was low. She didn't want to scream in the restaurant but she growled more than spoke. "We shared some wine last night, remember? I know you remember." Jocelyn then turned her head away from Allison. She'd lied. There was no way that the wine she had would make her look this way. But she wasn't going to give Allison the satisfaction of admitting that she was right.

She almost flew off the handle when her mother was insulted but she had to remain calm. She couldn't let Allison get to her. That's what Allison wanted. But what did Jocelyn want? She clenched her chopsticks tightly in her hands, nearly snapping one of them. Her white knuckles obvious.

She was snapped out of her death glare on Allison by the food. She looked at it and inhaled the aroma. It smelled wonderful and she was pretty hungry. But when Allison said that there was another, Jocelyn's eyes widened with a very curious tone. "Wha... Someone else? Who? And why would you have them bring a plate if they aren't even coming here?" Jocelyn didn't understand.

She then let out a sigh and began to let her food in as lady-like manner as she could manage. In between bites, she looked up at Allison and ran her eyes down the woman's form. "You look good..." She muttered. Of course Allison did and she and her ego that was bigger than the restaurant they were in didn't need the compliment either but Jocelyn felt compelled to. There was something inside of her that demanded her to do it and she blushed softly, stuffing her mouth with food to hide it.

"Who's this other person?' She asked again in between bites. "Why do I need to meet her? I .. I don't care about other people!" Her voice held a bit of worry to it. Would she have to share Allison with some other girl? She knew how horribly wrong and unfortunate her thoughts were and how they reflected a terrible situation but Jocelyn had to shape the position she'd been thrust into to meet some sort of idyllic fantasy no matter how crooked it was when peered at with any sort of scrutiny. Allison and her, whatever warped relationship they had, still had a relationship. Allison was hers and no one would take her from the Chistralian until Allison admitted her true feelings or Jocelyn's equality or until Jocelyn destroyed Allison. There were precious few outcomes and Jocelyn had not planned for outside interference.
"She's going to help you with your project in ways that I cannot." Allison said, and then was silent for the rest of her meal. She did not rush, and was not at all made uncomfortable by the silence between them or by Jocelyn's uneasy manner.

When she was finished she sat back in her chair and folded her legs, the hem of her dress fell to the middle of her thigh when she did and she very intentionally did not pull it back down to her knee. She burned Jocelyn with her green eyes before she spoke.

"I'm giving you another chance to prove yourself." She said softly, her voice would've been soothing but for the total lack of warmth. "Perhaps I overestimated your readiness yesterday. You are not yet a woman, and it would be foolish to think that you could learn to force your will on another woman so quickly. Today, you will try again, but with a girl. I want you to break her spirit, and make her never want to fight again. Do you understand?" She asked, her quiet, icy voice becoming harder and more intense while she withered Jocelyn with an unrelenting gaze.

And then she looked away. She gathered her purse and reached inside for her wallet. "I am aware that the chances of you succeeding remain slim." She said, and counted out a large sum of money to leave on the table. "But if you've any potential at all, here is where you will show it. If not this then I suggest you learn to raise children."

She stood up and walked away. On her way to the door she intercepted the waiter who was bringing the check and a take-out bag. She took the bag from him without breaking stride and left without a word.

Outside, she handed the bag to Jocelyn and removed her car keys from her purse. She made her way to her sleek, black Maserati and slid into the driver's seat.

"I'm taking you to meet someone who will introduce you to your prey." She said, and launched the car down several side streets toward downtown Tokyo.
Jocelyn ate her food without further interruption once it became clear that Allison wasn't going to speak to her properly. She put each bite in her mouth and ground down on it like it was Allison's flesh between her teeth. Her eyes focused on Allison the rest of the time like she was really trying to burn a hole in the woman. She thought about what Allison said before she went quiet. That seemed fine.

"Another chance..." She repeated. She ground her teeth together. She continued to listen and grinned. "Fine." She said. "That sounds ripper." It did. And the whole time she was destroying whoever this stupid bitch they put in front of her was, she'd be thinking about her favorite person int he whole world, Allison.

When Allison plopped down the money and stood up, Jocelyn watched her move. 'Dish licking old tart..." She muttered to herself and stood up. She dutifully took what was given her and followed Allison to her luxurious automobile. Jocelyn strapped herself in and was whisked along the urban sprawl. Despite the situation, she was really interested. It sort of felt like fight club or something. Getting to beat some girl half to death. Her pulse began to quicken at the thought.

She glanced at Allison. "Just... so we're clear." She said, knowing that she didn't need to say it and that her words didn't matter to Allison. "I won't be that easy to just throw away..." She added and glanced at Allison with a blush on her face. "I don't care about your standards... there's only one thing I care about..." That one thing was complicated. It could have been three or four things but it all revolved around Allison, so int he end, it was just one.
Allison cracked the slightest little smile. "All in good time, little Jocelyn." She said melodically.

As her thoughts drifted, her smile fell. She looked lost in thought for a moment, and her face betrayed a slight crack in her composed armor. She inhaled sharply, and hesitated before she spoke.

"Don't..." She began. "You should know your limits, darling, both of what you're capable of and what is tasteful. We are not monsters, you and I, you should know enough not to go too far. You take the fruit you want from life, but don't take so much that the plant dies. That is no help to anyone, and certainly overindulgence is no virtue. One needs discipline to ever be in control of anything." She pulled the car to the side of the road and quickly came to a stop. She looked over at Jocelyn. "Do you understand?"

She looked up to find the girl she was looking for, a petite blonde street urchin, waiting at the end of an alley as they discussed, practicing elaborate tricks with a pair of yo-yos. "There's your first stop. Give her her food, tell her who you are, and she will help you find your prey. Out you go."

Allison shooed Jocelyn out of the car and looked again at the girl in the alley. She'd spotted Allison's car. She grinned at Allison and wrote "HI" in the air with her fluorescing yo-yos. Allison pulled quickly back onto the road.

"Hey. I'm Alex." Said Jamie. Jocelyn looked way too scary to tell her her real name. "I guess you're like the muscle or something?"
Last edited by 1167 on Mon Mar 12, 2012 1:31 pm; edited 1 time in total
Jocelyn turned away when Allison spoke. Her face held a feint blush and she pretended not to listen despite hearing every word. Allison was wrong. If she didn't know that she was wrong then she was stupid. And she wasn't stupid so she couldn't know. Even Jocelyn knew. they were monsters. This was a game of monsters to see who could devour the other. Allison was bigger and stronger and had been a monster longer but Jocelyn was determined. She had a chance and that was all she needed. She wished that Allison would just accept her and love her. Then they wouldn't have to play this game. Everything was so damn complicated and she let out a sigh as as her features fell and became slightly morose.

"I understand." She said to the car window. Her tone was accepting if not a little melancholy. Jocelyn turned when Allison stopped and looked at who she pointed at. "Oh come on..." Jocelyn said and looked at Allison with a wry smile. "Youcan barely stand me, I don't believe for a second you'd sully your hands with a girl like her. Even knowing her probably makes you wanna wretch." She didn't mind poking fun at Allison's snobbery and smiled warmly at Allison as she teased. It'd probably be the only chance she'd get and when she was finished, she stepped out of the car with the food.

She put on a serious face as she walked to Jamie. She tried her best to look menacing which wasn't hard considering she usually wore a dour scowl. "Here's your food." Jocelyn said and tossed the box at Jamie, not caring if she caught it or not. "Who am I supposed to beat up?" She then grinned and tilted her head. "It's you, right?" She asked and lifted up a lightly clenched fist.
Jamie catapulted back away from Jocelyn and recoiled in fear. She clutched a yo-yo in one hand and both the food bag and a yo-yo in the other, and she kept her free yo-yo hand cocked back as if she was going to use it to defend herself.

"OHMIGODNO! You're crazy! You're crazier than Allison!" She shrieked. She tried to calm herself down enough to reason with the crazy girl. "Heyheyheyhey, wait, think about how pissed Allison would be at BOTH of us if you screwed up your job. It's my job to make you do yours, and it's weird, I don't get why it important, but if I don't do it right Allison's gonna kill me." She said frantically, inching her way toward the alley.

"Are you gonna be cool? Do you wanna see what Allison actually wants you to do? If you come after me, I'll get away and you'll never catch me and you'll be screwed. You'll have to explain to her why you screwed everything up, and then she'll kill YOU."
Jocelyn frowned at Jamie's reaction. She thought this girl needed to be beaten up just for being annoying and she scowled as Jamie ranted on and on. "I don't care about that." She said referring to making Allison mad. Actually, making Allison mad was another reason to beat Jamie up. The blonde was making quite a list of reasons why she needed to be pounded.

When she watched Jamie plead for her to be cool, Jocelyn lifted her foot up and stomped it on the ground and pushed her body forward like she was trying to scare Jamie. "Shut up you bogan barnard! Just take me where I need to be or I'll beat you up just so you stop talking!"
Page 1 of 5 • 1, 2, 3, 4, 5



Similar topics
---
Permissions in this forum:
You
cannot
reply to topics in this forum