Champions & #1 contenders
Summer Splash interest in Natasha Loclear?
Mon Apr 09, 2018 11:30 pm by daemongirl
Well my girl hasn't missed a summer splash yet, would anyone be interested in a match with her? Open to just about anything match wise, just pm me!
Comments: 1
Been Out with the Flu
Sun Apr 22, 2018 7:47 pm by daemongirl
Just letting those I have threads with know I've been out with the flu since early last week, but I will be back to posting tomorrow.
Comments: 0
The Austrailian Mudslide is Back.
Sat Apr 21, 2018 6:20 am by Softsquad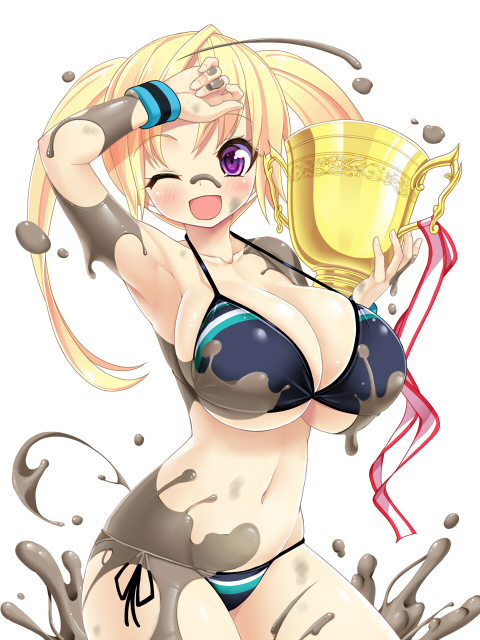 Granted that most of you won't know me or remember me, but I've had a few matches here and there some time ago. Well I think its time to become a regular around here and try to have some fun again, but at the same time keep coming back. Anyway I think its time to jump into some matches with Zoe Taylor, my mud wrestling character from Australia and get her back into the squared circle. Furthermore I will update my characters as I think some proper changes need to happen.
So if anyone would …
[
Full reading
]
Comments: 0
Page 5 of 15 •

1, 2, 3, 4, 5, 6 ... 10 ... 15


Cassie stumbled back and the next thing she knew Mamouru had control of her arm. "Eep!" She squeaked as she was whipped into a run at the ropes. She turned around in time to bounce off the ropes like a pro, but she bounced off directly into Mamouru's dropkick. She threw herself back and hit her breakfall, slapping the mat with both hands, rattling the ring only a little due to her lack of size.

It didn't hurt all that bad, but she sold it like it did, rebounding up off the mat and rolling onto her stomach, clutching both arms to her chest. It was sort of hard to make it look like it hurt with the big grin on her face.

She got back to her feet and backed up to the ropes, keeping one hand on them. That was annoying, right? She put out a hand to tell Mamouru to back up and then waited until he did, then she came out to the middle of the ring and put up a hand for a tie up. It was a little ridiculous, with Mamouru being nine inches taller than her. She waited until he reached for her hand and immediately dropped it and put up the other one. She'd seen it done and thought it must be really frustrating. She did the same thing with that hand.
Mamouru nodded when he hit her with the drop kick. He didn't like a lot of flash but sometimes it was necessary and it was a very "face" thing to do. Go for the style over substance in a match. He was also glad that Cassie seemed to be adapting well and enthusiastic but her constant bright giggle made Mamouru question how well his efforts would play out when she had an actual match.

He backed away when her hand was on the rope and as she came forward and offered a test of strength, he eagerly accepted since a face doesn't back down from a challenge! But when his hand reached up and grabbed nothing, he gave a bewildered look at Cassie and reached for her other hand. Once again, nothing. He knew what she was doing but he had to look confused.

He stopped and took a step back and raised his index finger and lifted his nose int he air. "H-How dare you, cretin!" He said in the faciest voice he could muster. "Why don't you fight me like a man!.. er.. Woman!" He then turned to the side and raised his arms as if he was telling the crowd to cheer. Surely the imaginary fans that cheered on their battle wouldn't tolerate this tomfoolery and rain boos down on the loathed villainess.

This also gave Cassie an opening to take advantage of as Mamouru was turned to the side, stoking the phantom crowd's ire for Cassie and basking in their kudos for his righteousness.
Cassie played along. "They're cheering for me." She stamped her feet.

She tried thinking of something villainous to do to him while he was turned away, but thought maybe just doing anything to him behind his back was bad enough. She went with her gut. She quickly stepped in and grabbed his bicep and opposite shoulder, put a leg behind his and kicked it out while tossing him over her hip in a smooth osoto gari. It was tricky to throw taller people, but she had experience with that... Not many people in the gym were as short as her. She just gave it a little extra effort, though she was nice and landed him easily on the mat.

"Wheee!" She giggled. "If this was a match, I could've dumped you really hard." She said. She didn't want him to think that was all she had.
Mamouru was both pleased and disappointed as he was flipped and landed on the mat. She had successfully taken advantage of the opening but had done so in a childish and carefree manner. He landed with a thud and listened to her giggle. He turned and looked at Cassie and sat up, dusting himself of as he stood up.

"Cassie-san.' He said, his tone holding little cheer. "Please treat this like it's a match. I'm not made of glass, you can be as rough with me as you like." He then added. "And try and stay in character. No one will take you seriously if you're giggling all the time."

mamouru spun around and locked up with Cassie in a shoulder-collar tie. Their faces were close and Mamouru blushed. "Here, now try and get out of this." He added and tried to pull Cassie backwards an drag her around the ring. He wasn't like Johnny, who probably COULD have, but with their size difference he might be able to if Cassie didn't heelishly stop him.
"Oh, sorry." She said sheepishly. She had to stay in character.

She locked up with Mamouru and moved with him as he pulled her back. There were a lot of options available to her, and in sorting through them to find the most appropriate she hesitated.

She didn't know what else to do, she put a foot on Mamouru's hip and jumped up on it and went with Mamouru's pulling on the back of her head. She clonked her head against Mamouru's hard enough that it just had to hurt. She quickly pulled away.

"Ohmigosh, are you okay? That felt like it hurt. Sorry, I-" She realized that in apologizing so much she was breaking character again. She stopped herself. This was so hard!

"Sorry." She said, and hung her head. "I... I think I have something that will help me stay in character."

She ran out of the ring and retrieved her backpack. "I'll be right back!" She called to Mamouru before disappearing into the locker room.

Time passed. Then more time. After enough time that Mamouru might have begun to wonder if she was coming back, Cassie emerged from the lockers, somewhat bashfully but trying to look confident, in her new suit.

"Do you like it? I stayed up until 7:30 making it... I usually wake up at seven, so..."

It was a black leotard made out of a lustrous, vinyl-like material with long sleeves and loops that hooked over her thumbs to hold them down. It was cut a little higher on the hips than she was used to, showing her smooth thighs all the way down to a pair of black boots that had a part that came up to cover her knees in the front. There was some deep red detailing around the top of each boot that she'd sewn on, and triangular red fangs down the sides. Around her waist was a red sash with a foot-and-a-half of extra slack that hung at her hip.

The most attention grabbing part was the long, deep V-cut that ran all the way down to just below her belly button. It wasn't very wide, so she wasn't exposing her breasts to everyone, but it did show a small amount of cleavage, and some strategically applied double sided tape made sure it stayed small. It was connected at the top by a collar that fit snugly around her neck, and below that hung a necklace made of a black cord with a red jewel pendant.

"I'll do some makeup and stuff to go with it... maybe add some gloves and stuff." She added quietly, and fussed with her short red hair. Her face flushed hotly, and she looked down at the floor while she made her way back to the ring. She was too embarrassed to look up at Mamouru.
Last edited by 1167 on Mon Mar 05, 2012 6:06 am; edited 1 time in total
Mamouru could feel Cassie's hesitation and was about to say something when she felt a foot in his hip and suddenly he was head butted. He let out a grunt, the clonk had stung him and he stumbled backwards. "It's fine!" Mamouru blurted out. He wasn't yelling but he was getting annoyed that Cassie constantly felt like she was going to break him or something. Cassie was skilled but he was still a guy. Submission holds were different, those sort of things could put the heartiest of folk out but anything else that Cassie had to offer as far as strikes and attacks, Mamouru knew that Cassie wouldn't be able to dish out anything he couldn't take and her constant apologizing, especially when he told her not to, was beginning to insult his pride as a man. Nothing egregious, but a little frustrating.

Mamouru stepped back and looked at Cassie as she stuttered. He let out a sigh but tried to smile as she decided to run off. He looked at her in a confused tone but walked back to the Turnbuckle and slumped against it. He wiped his forehead with his sleeve and closed his eyes. Cassie was doing good, more or less but she didn't seem to be taking it seriously enough. Despite how Mamouru felt about her, he was seriously trying to help Cassie so she wouldn't be a bottom dweller in the league forever.

Her skills were wasted on someone who was content to just having a few matches whenever they were given to her. She could win and win big and become a champion and household name. Her personality was infectious enough that she'd be adored. Mamouru found himself smiling just thinking about her. He had been doing that a lot lately and he didn't know why.

Though the time Cassie was gone seemed to pass by quickly for a bit as he struggled over how he felt about Cassie. but after a while he wondered if she got lost or something. He stood up, paced around, got a drink did some stretches and sat back down. He was about to call her phone when she suddenly appeared again.

His jaw dropped as she walked in. His face instantly became red and heated. He bit the side of his cheek as he felt his body begin to tingle as well.

He had ti turn his head for a moment, to force himself to look away. He was ashamed at how much he openly ogled her. He was usually good at hiding it but after collecting himself, he turned back. "Y-you look... You look amazing, Cassie-san."

Mamouru tried desperately to collect himself. "Y-Yes..." He managed. "I-it's perfect!" He suddenly grabbed her by the shoulders and gave her a gentle shake. He just wanted to be close to her and look into her eyes. He had a wide smile on his face. "L-let's, continue, ok?" He said and then pulled away before he did something he regretted. He turned his back on Cassie and panted softly.

"Cassie-san. You know you can verbally abuse your opponents as a heel too. Insult them and such. That demoralizes them or makes them angry and throws them off her game. I get the feeling that you're not very big on swearing but you're in luck. In Japanese, most of the insults are just saying 'You'."

He turned back around, thinking he was prepared. He was not and blushed and looked down again. "Like. If I was insulting you like a Japanese person would but I was doing it in English, I would say."

Mamouru looked up, his brow furrowed which made his red cheeks look cute on him. He turned to the side, spread his legs and pointed at Cassie and said with the deepest growl he could muster, "Yooooou!"

He then smiled. "I think that kind of insult could be right up your alley. What do you think?"
Cassie's face was bright red. She grabbed her elbow and looked down at the floor and shifted uncomfortably from foot to foot. She felt naked. She was as close to naked as she'd ever been in public. Her mom had taught her to sew; while she was growing up her mom had earned money from home as a seamstress. This... was probably not the sort of thing she had in mind when she taught her.

But then, knowing the things about her mom that she'd only learned recently, after coming of age, maybe it was, in a way.

As she watched Mamouru fumble over his words, her chin tucked down and peering up at him in her wide-eyed, bashful way, her own lack of confidence passed somewhat. Mamouru was unsure enough for the both of them. She giggled at him.

"You're so silly." She said. "I guess I could do that... I don't really get it, though. I'd feel dumb just saying 'you' to people. What does it mean in Japanese, really?" She asked, scratching her head. She kept wanting to fold her arms and cover herself more, but she tried to stand up straight and be confident, or at least carry herself as if she was.

"And... you really like it, though? I feel kind of silly... I like the sash, though. That was the finishing touch. Anyway." She tried to get back to focusing.

She stepped back and paced the ring a little, took a deep breath, and then turned a pointed a finger at Mamouru. "You can't win! No pathetic Japanese boy stands a chance against me!" She declared loudly, and immediately felt stupid. "I mean... you."
Mamouru tried to push away his shyness when Cassie became less shy herself. She seemed to do a better job of it than he had. However, he was snapped out of it a bit. He looked at Cassie. "Teme.' He said. "And Kisama. Both mean 'You' in Japanese."

Mamouru bit his lip. "It's perfect." He said with a smile. His eyes wandered for a second before he should his head. "The sash is great." He nodded. This was a difficult struggle.

Mamouru was thankful Cassie got back into character and he did so as well. He overdramatically recoiled and pulled his hand back. "W-Why you, villainous vixen!" He furrowed his brow and stomped his feet, pointing at Cassie. "I'll show you what it is to be a man!"

He then charged at Cassie and pulled his arm back. He aimed a punch at Cassie's cheek, something he usually didn't do, but he was playing the part of a "recklessly flabbergasted hero" and also wanted to see how serious she was.
Cassie managed to bottle in her giggling. Being in the suit did help... she felt a bit more dangerous. More serious. And... even a little bit hot.

She took a deep, dramatic stance after Mamouru fired back with a threat of his own. As he charged, she stopped thinking and reacted. The way he carried himself, he telegraphed the punch well in advance, and with her rather significant height disadvantage it was easy to duck. After his punch sailed high, she quickly snagged his wrist and planted a knee in his hip while she through her other leg over his arm and pulled him down in a flying armbar, her very favorite standing technique.

She made a face as if she was going to try to break it. She wasn't, but she still pulled with her whole body to straighten out his arm and give it enough torque to be a little painful.

"This is too easy! Just give up already!"
Mamouru's hope was as unsuccessful as he hoped and soon enough he was greeted with a thud to his knee which bent him over. Cassie easily applied the armbar but Mamouru tried to remain standing. Still, the pressure was enough to make him grit his teeth in pain.

Mamouru panted as he looked down only to get a view of the Vee of skin and the underside of Cassie's cleavage.
"Sh-shit.." He muttered and blushed. Still, the hold was painful enough that he didn't focus too long and instep looked to get out of it. Normally he could dirtilly escape but he was trying to be the hero and realizing how frustrating it was to do that. He thought he undertood now why Johnny was such a chump in the ring and smiled as he winced.

He decided to turn his body so that his legs were on either side of her shoulders and his toes pointing down her body. He was siill hunched over uncomfortably but he suddenly dropped down to push his shins against her shoulders and pin her down.

This position was so awkward for him, it felt like he was straddling his own arm and what he was doing was wrenching the hold even more painfully.

"G-Gaaah!" He cried out, inflicting pain on himself with his own hold.

He then grunted and turned his head. "O-ONE!" He shouted and then began to pant. "B-Bite me... or head butt me or something!" He said. If Cassie looked up, Mamouru's crotch would be nearly in her face, an unintended consequence of his stupid actions but Mamouru hoped she bit his thigh or something and spared him further pain.
Page 5 of 15 •

1, 2, 3, 4, 5, 6 ... 10 ... 15



Similar topics
---
Permissions in this forum:
You
cannot
reply to topics in this forum