Who is online?
In total there are
29
users online :: 3 Registered, 0 Hidden and 26 Guests :: 2 Bots
axe2029
,
Harrier
,
Hedgehawk
Most users ever online was
390
on Tue Jan 02, 2018 2:02 pm
Champions & #1 contenders
Highfly Flying Out Of Town
Tue May 22, 2018 1:31 am by HighFly
Hello everyone, I just wanted to inform all I have threads with that I will be gone from this coming Wednesday through Sunday. I won't be able to post consistently if at all during this time, but I will try to make up for it next week! I am sorry for the inconvenience to everyone.
Comments: 7
The Austrailian Mudslide is Back.
Sat Apr 21, 2018 6:20 am by Softsquad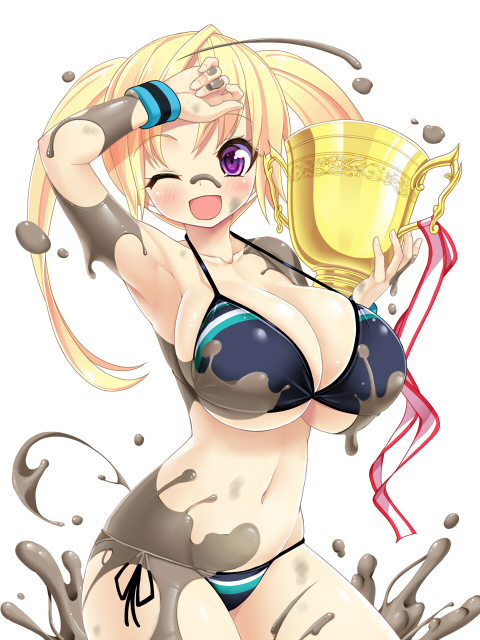 Granted that most of you won't know me or remember me, but I've had a few matches here and there some time ago. Well I think its time to become a regular around here and try to have some fun again, but at the same time keep coming back. Anyway I think its time to jump into some matches with Zoe Taylor, my mud wrestling character from Australia and get her back into the squared circle. Furthermore I will update my characters as I think some proper changes need to happen.
So if anyone would …
[
Full reading
]
Comments: 5
Page 14 of 15 •

1 ... 8 ... 13, 14, 15


Mamouru smiled and slid over to where Taylor went. "You've figured out my master plan." He said with a soft chuckle and then looked over at Taylor as she began to put on music. It was quite loud but Mamouru was in clubs a lot so loud music didn't exactly bother him.

Despite being around music a lot, he actually didn't care for anything specific really. What mattered was that the girls liked it. It could be anything for him. He did sort of like the first track but as seemed to be the case, Taylor couldn't sit still for very long and kept changing the music pretty fast.

He couldn't help but laugh as Taylor danced around but he turned his head as she called Cassie's current mentality a phase. It was exactly a phase but it wasn't like Taylor thought. It was something necessary. "It's not a..."

He tried to say but stopped. He didn't want to shout so he held her tongue. As the last song came, he listened intently. "I ... think she could." He said said and smiled suddenly. "She could do anything if she put her mind to it." He added. "If you don't mind..." He paused. "Let me jot down the names of these songs and I'll play them for her." He looked down. "I'm sure that she will like them."

Mamouru looked up at Taylor and smiled as she danced. "You must not end up int the clubs very often these days?" He asked. What reason did she have? She seemed not to like it very much in the first place and with her and Johnny together she had a good excuse to avoid them. Honestly, Mamouru hadn't been to one in a bit either because of everything that was on his plate.
"Kay, I'll write 'em down. Text 'em to you or something." She said, barely audible before she turned the volume down to a conversational level. "That was just, like, off the top of my head, I'm sure you guys could come up with something better. If you want her to be a dick, just have her come out to the American national anthem. That'll rile 'em up."

She took a step back and stood at the end of her bed facing away, bent her knees with her back straight and flung herself into a neat 3/4 back flip to moonsault onto the mattress. She propped herself up on her elbows with her chin in her hands.

"Yeah, I don't get out much anymore. Just when Johnny's in town, and... we don't get out much." She laughed, a little embarrassed. "It's cool, the clubs were lame anyway. It's... I dunno. Going out on the prowl can be fun, but... it just ends up sucking eventually. Except this one time..." She grinned, and flashed blue eyes at Mamouru "That really sucked, all the way up until the end."

She sighed. Oh, Johnny. "So yeah, I pretty much just have my stereo and the curtains these days..."

She couldn't help but dance. Training to fight was stressful as hell. Fighting for her was like flying, there was no holding back and nothing else to think about. During a match, she felt like she could conquer the world. The rest of the time, she felt like the world was after her and it'd catch up if she let up in training even a little. It was a problem that led to her periodically over-training and needing to take a few days to rest and recover... Dancing alone in her apartment was her way of getting away from all that for a little bit.

"You're probably in the club every night, right? Maybe you're after Cassie, but she'd not going to give you your fix. You must be climbing the walls, you poor bastard. How's that workin' for ya?"
"Sure." Mamouru said as Taylor said she would forward them to us. Mamouru then shook his head. "Heh... now, not really. Well. Cassie-san might be but I certainly am not." He paused. "Ah... I would have suggested something like that but she doesn't seem to want to use her nationality in all of this. I don't blame her. She's figured things out anyway though. She's really gotten into it quite well."

Mamouru listened to Taylor as she spoke. Surprisingly he agreed with her. Clubs were pretty lame. He didn't go there because he liked the atmosphere or loud music. He went there because girls went there and he liked girls. She kept going on about Johnny. He wondered, briefly, if she was doing it just to try and get under his skin but she didn't actually seeme to be. It seemed like she was genuinely enamored with Johnny and vice versa. That made him feel a little better, actually.

"I haven't been there in a while." He said suddenly. He then blushed. "I like Cassie-san." He admitted. "But I'm not after her the way you think I am. I certainly don't see her as a fix as you put it." Mamouru then let out a soft sigh. "It's fine." He said. He was lying more or less. He then looked back at Taylor. "I am pretty sure if I had wanted to use Cassie-san like you think I do, then I had an opportunity. I might have had several. I didn't take them. That's not what I am looking for from her... I don't expect you to understand though. It's fine for you to keep thinking what you do about me." He looked at Taylor int he eyes. "As long as we're cool, I don't care if you hate me." He said. "I just don't want that to affect things between us and Cassie-san... and I guess us and Johnny-kun..." He added.
"But you didn't take them, huh..." Taylor repeated. "Well, good to know every girl in the world would still throw themselves at you if you let them, even when you're being such a good, good guy." She said quietly, but with thick sarcasm.

"Well, I wouldn't want to do anything to spoil your situation. You go ahead and let Cassie-san think you're a good, good guy, and I won't try to make you look like a jerk. I don't know what your deal is, now, but I'm pretty sure that Cass'll figure you out eventually, even if she is like a wide-eyed little kid sometimes. She's plenty smart enough." Taylor said. Just the way he talked about Cassie, even when he was talking about not taking advantage of her it still sounded like he talked about it like an option, and he was good enough to decline even though he could have her whenever he wanted.

The thing that made Taylor so angry was that a part of her thought that was the case. She let her chin slide off her hands and buried her face in the sheets.

The bed muffled a frustrated, angry growl that grew into a yell. "Gawd," She said, picking her head up and looking to the side at Mamouru. "Why you? Why not anyone else?"
mamouru furrowed his brow at Taylor. It was fine that she was insulting him. That was generally par for the course between the two. What made him angry was how she, Cassie's supposed best friend, could think of Cassie the way she did. "You're the one who isn't giving Cassie-san enough credit!" Mamouru said suddenly. "Don't act like I'll screw up and she'll catch me or something. She IS plenty smart! She already knows. She knows everything, believe me. I haven't been trying to dupe her and she wouldn't fall for whatever tricks I might use against some other girl. She knew ... shortly after our match."

Mamouru sighed. "I'm not expecting you to try and think of me as something I'm not. I'm not even expecting you to make me look good in front of Cassie-san. You don't HAVE to, she knows what an asshole I can be." He paused. "I just want us to not have to fight and be tense in front of her. If that means you have to kick my ass when she's not around, then fine. If you want to yell at me and call me names and tell me how much of a douchebag I am, then fine. Just... around her... we need to be civil and ... not tense..."

"Making her successful is important... it's important to me. I don't expect you to care about that but right now, I am not sure if Cassie is on the same page as I am. She could be better than good. She could be great. I know she doesn't like to lose, but I have a feeling she would be comfortable buzzing around the league as a mid-carder for ten years as long as she was making enough to live comfortably. That's NOT acceptable to me." He pounded his fist into his palm. 'That is a waste of talent. If you don't give a shit about me, and I don't expect you to, at least try for her sake."

Mamouru let out a deep sigh. "I can't promise you anything, Taylor-san. I don't trust myself either." He looked at her seriously. "But I am doing my best. If I screw this all up, there's more than just Cassie's feelings at stake. There are careers at stake." He threw up his hands in defeat. "If things go wrong you can beat me up for a week straight but it would be nice to have your support in all of this. Honestly..." He said as he looked up at her. "It would be a lot easier to work with you rather than against you."
"Alriiiiiiiiiiiiiiiiiiight!" Taylor shouted. "Fine! Gawd! I totally get it, okay?"

Enough was enough, it felt like Mamouru had been standing there repeating himself for an hour. Taylor rolled over onto her back and laid spread eagled on the bed. "Whatever, you do what you do, and obviously I wouldn't try to mess Cassie up. Durr. I know she has potential, and if you think you can help bring it out, then... fine. Whatever. So I'll be a sweet little angel, but all bets are off if I hear you're trying to take advantage of her."

She sat up and looked wearily at Mamouru. "Now get the fuck out. You interrupted my nap. I don't want to drag for my evening training. Shoo."

She wriggled her way under the sheets and pulled them up to her waist, just to cover her bare legs. She wished Mamouru had interrupted something else, when she would've had more clothing on. She had no problem going around in public showing her legs in short shorts or skirts or anything else, but it seemed pretty cheap in front of Mamouru.
Mamouru ignored Taylor's theatrics and bowed politely. It was time to go. Things went better than he had thought they would. Now he just had to wait until the fight. That would be the biggest thing. The waiting. As he turned to leave he stopped and looked at Taylor.

"I was thinking of going to Kyoto. Since Cassie-san's in Hokkaido right now, I have nothing to do for the evening and given the choice between a train ride and Johnny and my mother, it's easy to pick where I'd rather be. Plus... i heard Johnny might have a match tonight or something..."

He then smiled. "I'm sure that a three hour train ride with me is the closest thing to hell on earth for you but you can sleep on the way. I have some things I need to work on anyway." Mamouru turned to leave. "Well, the offer's there at least." He said as though she could say yes whenever she felt like it even though he was about to leave.
"Johnny has a match?" Taylor asked, her attention suddenly recaptured by Mamouru. "Why didn't he tell me?" She asked no one in particular.

She sat up and thought about it for a moment. "What the hell! Why wouldn't he tell me he has a match, and why of everyone in the world would I have to end up sharing a train with you to get there! No offense, but you're probably the worst human being who's ever lived, and the train ride is like two hours" She complained and made a face and stood up. "I'd just drive it if there was enough time."

She opened her closet to fish out some clothes to wear, and then stopped once she realized that if she was going to see Johnny she wanted to look good, and that required more thought. She stared at the masses of clothes in the closet for a moment, looked up at Mamouru, then back at the clothes.

"I have to change. You can help me figure out what to wear." As a womanizing scumbag with a shallow view of women focused on his own pleasure, Mamouru would be a prime candidate to give her feedback on outfits. Maybe that would count as "bonding", since he was her boyfriend's brother and everything, although the thought of letting him see her in outfits meant for Johnny made her sick.

She selected an armload of articles and padded off to the bathroom to change.
"I have no idea." Mamouru suggested as he watched Taylor suddenly flail about. His words seemed to spark up new life in her. "Well, I did call him before coming over. I had to get your address from him." He paused for a second. "He told me about it. It seemed like it was short notice. Maybe he expected me to pass it along?" Of course he did. Well. The conversation was either something like 'Don't you tell Taylor! I'll tell her so she hears it right from me! or Tell Taylor, I have to go get ready so I won't be by my phone for a while! MAKE SURE YOU TELL HER ASS!"

It was definitely one of those two. Mamouru slyly forgot which. Mamouru just laughed at Taylor's dramatics. "Oh no, I'm sure it was meant only in the nicest way possible." He retorted as he casually walked in the direction she was headed. When she marched into the bathroom and slammed the door, Mamouru lifted up his phone and began calling the train station to get two tickets for the both of them, standing somewhere near the middle of where he had been and where she was.
After the world's fastest makeup job, foundation, mascara, dark eye liner, Taylor turned to her pile of clothes.

"You're even annoying through the door. Damn."

She didn't know if she was upset or not about not being told about the match. She was sure Johnny just... forgot? How could he forget? Then there was the fact that he was probably having a match against some fake breasted super-skank, who... they...

Nope. She was not that girl. She was not getting jealous. No sir, not today. She emerged from the bathroom in record time with her blue hair loose and spilling over a Catholic school uniform cardigan she got from a second hand store and modified herself to make the fit a bit more flattering. Under that was a white, short-sleeved, button-down shirt that only just reached to the black, studded belt that held her black pleated miniskirt in place. If she leaned back, she'd show a hint of skin under her belly button under the last button of the shirt. The skirt was actually navy blue, but so dark it looked black. Her legs were clad in dark gray tights, dark enough that they also looked black, and black leather boots, laced all the way up to the knee.

She breezed past Mamouru without breaking her stride. "Changed my mind, let's just go. You don't have to tell me how awesome I look." She said, and grabbed her keys and wallet from the counter. It wasn't remotely true, of course, but she couldn't admit to actually looking for Mamouru's approval. She stopped by a table by the bed to retrieve her black choker with the silver bird pendant and her KAZE bracelet, then she headed for the door.

"What time does the train leave?"
Page 14 of 15 •

1 ... 8 ... 13, 14, 15


---
Permissions in this forum:
You
cannot
reply to topics in this forum