Champions & #1 contenders
Moonhearts Promo intro thread is O p e n.
Mon May 21, 2018 4:21 am by XSirenX
Feeling brave?, lost?, or without a thread to post in?, hit up the newest Moonheart if any of those apply!
CLICK HERE
What Moon has to offer?, many things...:
Comments: 0
The Austrailian Mudslide is Back.
Sat Apr 21, 2018 6:20 am by Softsquad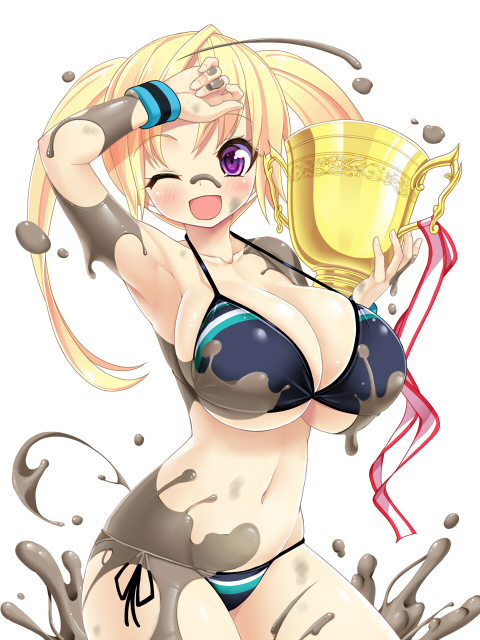 Granted that most of you won't know me or remember me, but I've had a few matches here and there some time ago. Well I think its time to become a regular around here and try to have some fun again, but at the same time keep coming back. Anyway I think its time to jump into some matches with Zoe Taylor, my mud wrestling character from Australia and get her back into the squared circle. Furthermore I will update my characters as I think some proper changes need to happen.
So if anyone would …
[
Full reading
]
Comments: 4
Page 1 of 4 • 1, 2, 3, 4


Taylor and Cassie had some history. After graduating from high school, Taylor's stupid punk band fell apart and she took a job as a waitress so she could get out of her mother's house and live in a small apartment with a couple roommates. She was a terrible waitress. Her attitude problems and her propensity for saying what she meant in the most obnoxious way possible didn't land her very good tips, although her looks helped to balance out that effect somewhat. She began thinking of what she was good at and what she could do so she wouldn't end up stuck in a stupid job forever.

She was good at music. She'd played guitar, but wasn't very good at it, and she was last the singer of the band, and... honestly, she wasn't very good at that either. She eventually figured out that while she wasn't actually good at music, she was good at performing. When she set foot on a stage, with even a small crowd in front of her, something switched on in her, and she became something bigger than herself. She felt like she could just own a crowd, for her time on stage they were hers to do with as she pleased. She was nervous, like anyone, but she had that very rare quality that made her nervousness drive her. On stage, she became fearless.

A year later she found herself working as a waitress with nothing else going for her. That was all the motivation she needed to find the nerve to walk into a pro wrestling gym and sign up. She'd seen pro wrestling on TV, and she quickly fell in love with the physical, glamorous, very emotional aspects of it. It was a proving ground. The only other thing she'd ever been good at was fighting, she was naturally very athletic, she had the look for it and her brash, punk attitude would help her fit in just fine. It was during her year at that gym that she met Cassie Elliot.

Cassie was the polar opposite of Taylor. She was a tiny little ray of sunshine, the last person anyone would expect in an admittedly dirty business. Her bright smile and orange hair and the sheer, baffling genuineness and warmth of her, she was unflinchingly positive and seemed to actually like everyone around her. Naturally, Taylor couldn't stand her. That didn't stop Cassie from warming right up to her, though, especially as the only other girl in the gym.

Cassie had come all the way from Canada, and when Taylor lost more roommates, they ended up living together. It worked out alright, Taylor just had to put up with Cassie's early mornings and endless cheerfulness. They rarely just hung out outside of the gym and the apartment, mostly because Taylor didn't want to be seen with Cassie, or moreso she didn't want Cassie to think that Taylor wanted to be her friend too. The time they did spend together meant the world to Cassie, and she never let Taylor forget it.

Two more years later, both of them lived in Tokyo, both of them were AFW Friction wrestlers. Maybe Taylor had grown out of whatever issues she had back then or something, and when Cassie called her and asked her to meet up for lunch Taylor figured she owed her that much. Maybe Taylor really should've been a better friend to Cassie all along. Even if she pretended that they weren't friends, that's what they were. They still were.

Taylor sat in a booth in a small cafe across the street from the Friction building. There was a cafeteria in the building itself, but she spent all of her time in there as it was and like many other Friction wrestlers, at lunch time she was just ready for a break. Her bright blue hair was up in a pony tail, and she wore an unzipped gray hoodie over a fitted steel-blue t-shirt that bore a silhouette bird at the top right of her chest and over her shoulder, a pair of jeans that fit really well, a pair of black converse hi-tops that she hadn't bothered tying for the walk across the street. She cradled the cup of water in front of her with both hands and mostly kept her head down, as she usually did.

Cassie was running late, apparently. Taylor knew she didn't forget, though, that was the last thing in the world she'd expect from Cassie, given how excited she sounded on the phone. Eventually, Taylor surveyed the rest of the cafe and looked up just in time to see Cecelia Northman walk in the door. Instantly, she tried to think of how she could disappear and not let Cecelia notice her, but her booth was near the door and she was facing it. It was no use. She sighed, and looked up at Cecelia as she walked by.

"What's up, man..." She said, somewhat quietly. Cecelia wasn't someone she wanted to see. She didn't really have a good rapport with her, and to make matters worse they had a match coming up. Still... Taylor couldn't hide from situations like this. She had to grow up and learn to lean on her own strength and that not everyone in the world was out to get her. Old habits died hard, though.
Cecilia hadn't been in the best of moods as of late, but she had started to think of other things and she knew well enough to not go around with a sour face just because one person had bothered her, she figured that it was just best to have some fun and take it easy, so she thought that after a bit of training in the friction gym, after she didn't find anyone to spar with, that was the only reason that Cecilia went there anymore, when she got tired of sparring with her friends at home, she went to the gym and prowled for spar partners, and when she didn't find any she just worked out, today had been a long workout, a few hours, in truth Cecilia had lost track of time and been there longer than she wanted to, wasting at least 4 hours just working out like crazy.
Her body felt pretty tired, after showing up for a good 20 minutes she put on her clothes, a pair lose fitting jeans, white sneakers, a blue tank top with a white shirt half buttoned over it, with her sleeves rolled up to her elbows, of course it was still pretty cold in Japan so she wore a jacket over that, a white spring jacket, a wind breaker, she decided to stop by at a cafÃ
and relax a little while, trying to get some rest and maybe something to eat and drink, just to kill some more hours of the day.
When she walked in there though she looked around, not paying much attention to the people in there at all, she walked forward when she caught a glimpse of an empty booth but she was stopped when she walked by the first booth in the CafÃ
where a certain blue haired girl sat, she noticed her right away, who could forget Taylor Parker after all, she stopped and then heard Taylor make the first sign of acknowledging the others existence, perhaps it would have been better if they had ignored each other, they did have a match coming up and it wasn't like they were on good terms or anything, Cecilia found Taylor super annoying and had called the girl out on it, they got into a quick little fight before they both had to smarts to just stop, it wasn't that fun to fight in the middle in a club after all.
" H-hey " Cecilia said a bit awkwardly as she stood there and looked down at Taylor, " Ehm...not much..you ? " Cecilia spoke out still feeling awkward about this, the atmosphere didn't help at all in Cecilia's mind as it didn't feel very good to do something like this at all, it would have been better to have ignored Taylor, then she wouldn't have had to deal with this awkwardness, " How you been ? "
The hell...that sounds stupid....this is so Awkward !
Cecilia thought as she had no idea what to do really.
Taylor shrugged and breathed a laugh. There was nothing like an awkward situation to make everyone polite. "I'm good. You know how it is, just training and more training." She said, soft spoken. She felt the urge to look over to the door to see if Cassie was there yet, but she didn't.

She began absently turning her water glass around in little circles with her hands. "So are you meeting Mamouru here?" She asked without looking up. It was bad enough that Johnny's brother was a douche, but he'd managed to land the biggest fe-douche in Japan. She'd successfully avoided them so far. Since Johnny and Mamouru lived in Kyoto, it was easy to avoid running into Mamouru. Taylor and Cecelia worked in the same building, went to the same gym, but Taylor had been pretty successful in avoiding her too.

Not that she really designed her day around avoiding Cecelia, she didn't care that much, but she went to the gym specifically during slow hours. Often enough, she pulled late nights at the gym. She was always more active at night, her body seemed to work better, and as her mind got tired her body kept going. She often felt invisible, and she liked it that way. When she wasn't in the spotlight, she kept a low profile.

"How's Mams treating you?" She asked, half curious, and half just expecting their whole relationship to be a giant trainwreck.
Cecilia shook her head a little as she really had no idea what she was doing here, would it be totally wrong to just blow Taylor off and move on ? It's not like she liked the girl and perhaps she couldn't get the girl to dislike her anymore, Cecilia had thought about things after Taylor and her had met though, and she couldn't say she disliked Taylor but the same could be said about liking Taylor, she didn't do that either. Cecilia had no real idea how she felt about Taylor....that seems to be the theme of the week doesn't it ?....no knowing how you feel about people. Cecilia thought to herself as she heard Taylor say she had been training.

" Oh! I was just at the gym myself. Where you there ? " Cecilia asked as she placed a arm against the the side of the booth and leaned against it as she talked to Taylor. Don't !...Kh....you idiot! just leave... Cecilia thought to herself, but it seemed as she didn't know what she wanted to do, almost as if she was at odds with herself. Social protocol is to small talk with a person you know, besides! I'm no the one keeping this going, she's doing it.

Cecilia looked up for a second after she got the question about Mamouru, " Huh?...ehm...no, not really. I kinda just came here after a long work out pass. wanted to get something to eat and stuff, you know ? " Cecilia said before she cursed herself a bit for answering everything with a question, It's the atmosphere ! that's it...it's so uncomfortable and awkward that I don't know what I'm doing anymore. She started thinking about about Mamouru and how things were going now, then she got the question.

" Eh ? uhmm.." Cecilia let out as she brought a hand up to her hair and began to play around with the edge, rubbing her the ends between her fingers and rolling it up and down a finger and then two, " I guess things are fine between me and Hige." Sort of purposely leaving out how Mamouru was treating and giving a pretty bland answer. Cecilia said as she let out a sigh. " He's a handful I guess. but he's a good guy...sometimes." Cecilia finished of that sentence as if she didn't sound very sure, a perceptive person might pick up on that.

" So how's everything going with you and Johnny boy ? " Cecilia asked as she moved back a few steps looking back at Taylor and then the booth, Don't do it ! don't! Cecilia shook her head a little before she started taking of her jacket and placed it a little bit in the booth, " You mind ? " Cecilia asked Taylor as she pointed to the seat.
Taylor paused. She looked up at Cecelia with raised eyebrows. Was she serious? Well, Taylor wasn't going to be a dick and tell her to go away. She felt like she was sort of past that.

"Knock yourself out." She shrugged. It was becoming a tradition for her to accidentally hang out with her opponents before a match, even if there were two of them. She'd run into Heather just a few days earlier. She took a long sip of her water, and then leaned back and regarded Cecelia with calm blue eyes.

"I haven't gone to the gym yet. I like doing my runs outside. Less distractions. And I like going to the gym when it's a bit emptier." She said. "And don't worry about beating around the bush with me. Mamouru's a total dick. I know it, he knows it, I'd imagine you know it by now. Maybe he's a good guy like once a month, but just step back and take a look at him. He's a douche." She said, apologetically

"Johnny's great, though, man. Sorry I stole the good one, but I saw 'em first. He lives in Kyoto, kind of a drag, but he's here and I'm there often enough. We see a lot of each other, but... He's great. I just want more of him. They're twins and all, so I'm sure I don't have to tell you about... things." Taylor trailed off a little towards the end and almost made herself blush thinking about Johnny and his tight, hard body and the... sex.

She took another sip of water and looked back up at Cecelia. She brushed her long bands to the side and out of her eyes. "I'm meeting my friend Cassie Elliot here. We go back... do you know her? She's had a few matches so far in Friction. Little tiny orange-haired thing. Well she's coming here, and you better be nice to her, alright?"

It wasn't that Taylor thought that Cecelia wouldn't be nice to Cassie, everyone was, it was more that Taylor was a little uneasy around Cecelia and more than a little protective of her friends, even if it was Cassie.
Cecilia couldn't really believe it either, why had she asked if she could sit down ?
It's just because I'm a bit tired..
she told herself as she moved in to sit down and lean back a bit as she eyed Taylor for a moment. Cecilia hadn't noticed it before, but Taylor had rather pretty blue eyes, they caused her to stare for a moment before she played around with her air a little again and looked around the CafÃ
.
There's an open spot...
Cecilia though of it as an escape if things got annoying for her and that she could just leave to sit there instead. " Thanks. " Cecilia said as a little late response to Taylor telling her she could sit down. " Ah okay, I don't usually go to the Friction gym. Only when I want to find someone to spar with really,
* sigh*
I didn't find anyone today." Cecilia let out as she looked off into the distance for a moment, there was something on her mind to be sure of that, but of what not even she knew. The subject of Mamouru had gotten her back to earth, " Well...He is a little, but come on. don't be so hard on him." Cecilia said as she tried to defend Mamouru.
Why am I doing this ?...why do I defend him ? it's not like we are a real couple or anything.
Cecilia looked at Taylor a little, " It's fine really, I'm used to Mamouru's kind I guess, doesn't matter, I'm fully aware of his plans and ideas, besides it's not like I care what he does." Cecilia said while crossing her arms under her chest. " Well that's his one redeeming quality after all " Cecilia said as she let out a little laugh.
What's this? I'm laughing while I'm with Taylor in a CafÃ
...this feels weird, not bad...but weird.
" I'm glad for the two of you. really !" Cecilia said as she sounded quite sincere and she actually was, she didn't care that Taylor had Johnny, It was better that way. " Never had much luck when It came to luck, so it's better that you got the lover boy perhaps and that I got the player, right ?" Cecilia said with a bit of a joking tone, she didn't know why she liked Mamouru and the more she thought about it the more it was causing her a headache.
Cecilia thought for a moment at the mention of the girls name before she shook her head a little, " Sorry, Don't think I have seen her or met her." Cecilia looked around and waved over a waitress to them before she quickly pouted a little as Taylor told her to be nice. That was something that felt really odd, " What ? When am I not nice ? don't try and start anything now. " Cecilia said as she shook her head a little and started to think, " I'll be as nice as a summers day. " Cecilia said with a bit of sarcasm and a light teasing manner in her tone.
Taylor didn't say anything right away. She could only envision ways in which she'd end up going after Cecelia before the match, one of them being if Cecelia decided to pick on poor Cassie for no reason. That was an excellent way to get knocked out. She didn't expect Cecelia to be a jerk to her, though. Why would she be? Everyone loved Cassie.

A waitress approached with a little bow. "Oh, uh, yeah, I'll get food. Cassie's late, so sucks to be her." She fumbled with her menu and looked up at the waitress. "Uh, salad? This one." She pointed to one on the menu. "Arigatou."

The looked at Cecelia for a moment. Up close she didn't look half as... threatening. Not that she was ever scared of her or anything, but she'd always seemed like the sort who always had to be... something. An alpha dog, maybe.

"Well, that's great. Everyone's happy. I found someone who makes me happy, you found someone you can put up with for now, and Mamouru found a rich girl with giant boobs. That probably sounds worse than I mean it. Cut me some slack, I'm still learning how to talk to people without... ya know, pissing them off."

"Taaaylor!" Came Cassie's bright little voice from the doorway. Taylor looked over in time to be plowed deeper into her booth by Cassie as she shoved her way in. "Hi! Sorry I'm late, Sin made a... mess Who's this? She's pretty." She stopped and put a hand over her mouth as if she'd been rude. "Sorry, you're pretty. I'm Cassie!" She said to Cecelia and extended a hand across the booth to her.

"Hi Cassie." Taylor said quietly. "We were just talking about Joohhhnnny." Taylor teased. "Cassie loves Johnny. She's a big fan. Cecelia's dating Johnny's brother." She informed Cassie.

Cassie's ever present smile vanished and she suddenly looked like Cecelia was a truck barreling down the road at her. She jumped up out of the booth as if it was too hot to sit in. Then she sat back down. But then she got uncomfortable again and started to hop back up, but Taylor grabbed her by the sleeve of her orange jacket and yanked her back down.

"Sit. Stay a while."

Cassie looked at Cecelia with great concern. There was something she wanted to tell her, but she also didn't want her to know. "N-n-nice to meet you. C-Cecelia."
Cecilia didn't really think much about attacking Taylor in anyway or about being rude at all, in the lights or recent events and talks she had had with Adrian had sort of made Cecilia not really want to fight Taylor as much as before.

When the waitress approached Cecilia looked up and opened up a menu, she looked at it for a little while before she turned towards the waitress and spoke in Japanese to her, " I would like a salad as well, any kind really, I'll make do with the same as her. please!" Cecilia said as she bowed her head a little to the waitress, the waitress bowed to the two again and walked off.

Cecilia noticed how Taylor was sort of inspecting her in a way and cocked her head to the side and looked on at Taylor. The girl wasn't to bad looking, in fact she was a little hottie or at least a cutie, it was kinda difficult to imagine that she was as annoying as she could be sometimes. " What ?!" Cecilia said as she sounded a bit annoyed " Do I have something on my face ?" Cecilia said as she looked at Taylor a bit ponderously.

" Giant boobs ??..eh..same thing that Heather said " Cecilia shook her head a little and raised her hands, " It's fine it's fine, It's just hard to know sometimes, sorry to hear that you...ehm...do that. " Cecilia said as she noticed that she began to feel a bit awkward again, " I suppose they are kinda big." Cecilia said as she looked down on her chest.

Cecilia jumped up a bit as she heard a bright voice shout of for Taylor, she looked over at the orange haired girl that came up and pushed Taylor into the booth, Ah..this must be Cassie then..Cecilia thought as she looked on at the girl, she was rather cute as well. " It's fine really. Thanks! " Cecilia said as she formed a faint blush from the comment, she regarded Cassie for a moment before she said " You don't look to bad yourself."

Cecilia laughed a little as she heard Taylor tease Cassie about liking Johnny "It's not like that's Ha.." Cecilia's eyes went wide and she stopped mid speech as she looked on at Cassie who jumped up from her seat when Taylor said she was dating Mamouru. " Ehm ???...wuh ?" Cecilia let out before Taylor pulled the girl back down to her seat.

Hmm...maybe she doesn't want me to stay or something.. Cecilia thought as she looked on at Cassie when the girl spoke. Now she has a stutter???... " Nice to meet you Cassie." Cecilia said as she would extend her and to Cassie for a little handshake, " As Tay said, My name is Cecilia, Cecilia Northman." The Swedish girl said, as she gave Taylor and impromptu nick name as well.
"Taylor doesn't like being called Tay." Cassie said almost out of habit.

"It's fine."

Cassie grabbed a menu and looked around for a waitress, and then put the menu back down. Maybe she was overreacting, but she was too nervous to eat at the moment. Suddenly she felt really dumb for wearing her brown crocheted hat with ear flaps and little round bear ears on top, and she quickly pulled it off and tousled her short red hair.

"Well, Cecelia, I..." She trailed off. She turned to Taylor. "Would you excuse us for a moment?" Taylor didn't move, only raised an eyebrow at Cassie. "Okay. Well, Cecelia, I have to tell you something. Taylor and I had a kind of a match against Johnny and Mamouru, and afterward Taylor took off with Johnny and Mamouru invited me to go for a walk, and I didn't have a place to stay in Kyoto and he couldn't go back to his place with Taylor and Johnny being there so we got a hotel room, and-"

"Oh. My. God."

"We just talked a lot about stuff, but I wanted to tell you that I kissed him. Just a little kiss, and it wasn't like a 'hey, I want your body' kiss or anything, it was more of a friend kiss or something, but I thought maybe I should tell you that. And I think he's going to be my new manager. We had separate beds, though! Don't think that we did anything like that."

When she finished, she froze for a moment looking up at Cecelia, and then blushed hotly. She imagined that Cecelia would be super angry, and while she figured that mostly it'd be due to a misunderstanding, she did feel like she overstepped her boundaries a little bit.

"How did you not catch on fire or something? Make a doctor's appointment, at least. It's like kissing a dirty, slutty pigeon. Why would you do that?" Taylor wasn't helping.
Cecilia was about to apologize for given Taylor that impromptu nickname, it was a habit of hers to just give people a nick name once in a while, most of the time they resulted as just being shorter versions of their name. But when Taylor said it was fine she looked over at the blue haired girl and then back at Cassie, she watched Cassie a little as she didn't look to be that comfortable,
Ahh...maybe I stepped into some of their alone time...maybe I should leave..
Cecilia was about to leave but she saw Cassie take of her hat, it was a cute little hat at that, and the girl spoke her name, Cecilia quickly readjusted herself and sat down. she looked on as Cassie asked Taylor to excuse them, it was a little funny to see how Taylor disregarded it entirely.
When Cassie started to speak, Cecilia listened intently at what the girl said, talking about a match and then how she and Mamouru had ended up together, all alone that night and how they had to get a hotel room, Cecilia's eyes widened a bit as she thought that Cassie was gonna tell her that Mamouru and her had slept together or something,
Huh...went quicker than I thought it would..
Cecilia leaned back after she heard the rest of what Cassie had to say, and soon she looked up at the ceiling of the CafÃ
, she took a deep breath as she gathered her thought, before she went back and stared at Cassie for a moment, Soon enough Cecilia started to quietly giggle and after a few seconds she laughed a little, she hit her hand on the table once and then looked up at Cassie, wiping away a little tear from her eye after she had had a good laugh. " That all ?? Honestly Cass ?" Cecilia spoke before she looked away from Cassie and out towards the CafÃ
.
" Hmm..took longer than I thought it would, but then again...can you count something like that??" Cecilia asked herself as she looked ponderously at the people in the cafÃ
, " It's fine really, doesn't matter...Mamouru and me aren't a couple or anything.." Cecilia said as she lowered her gaze down at the table,
It's not like I expected much of him...or that this time would be different at all
Cecilia thought to herself as she put on a little solemn look on her face.
Page 1 of 4 • 1, 2, 3, 4


---
Permissions in this forum:
You
cannot
reply to topics in this forum