Champions & #1 contenders
Looking for debut match for new jobber Lilly Maringly
Mon Mar 27, 2017 9:37 pm by shanecawf
Spoiler:
Lilly is looking for matches so she can earn enough money to get out of the AFW. She doesn't care how big her opponent is or how strong they are, She's willing to take a massive beating if it means she can earn anything towards her get out fund.
Please have fun with her and don't be afraid to give her hell!
(Please no tension males) Lilly has one condition to this. She will not fight a male. Only females.
Link to her profile below
[url=http://www.afwrpg.com/t16448-lilly-maringly#453493]…
[
Full reading
]
Comments: 0
Belated Apologies
Sun Mar 26, 2017 4:58 am by Clobber Jobber
So, I'm not super fond of doing non-match threads because it messes with my organization, but I feel I owe everyone an apology. I just kind of up and dissapeared for, what, a few months? With the exception of one wave of posts, I've been super quiet, and a lot of threads have been held back because of me. So, I'm sorry to everyone about that, and I'm going to at least get another wave in.
To explain myself a bit, I've had a few things going on that slowed me down. For the first couple months, …
[
Full reading
]
Comments: 1
i am sorry
Sat Mar 25, 2017 10:51 am by xalex
Hey guys
I won't talk much about it just wanted to put it out here
I need to step back from are dramatically because of stress in the uni and some problems of mine
I will keep working on the ppv matches I am in and maybe one or two more but to the rest I need to say sorry
Thanks for understanding
Comments: 5
[size=200:3j4wmssi][align=center:3j4wmssi]General Information[/align:3j4wmssi]Name: Erika StrikerSex:
Female
Age:
21
Hair Color:
Brunette
Eye Color:
Hazel
Alignment:
Face
Height:
5'5"
Weight:
125 lbs
Entrance Music:
[url=http://www.youtube.com/watch?v=dTAAsCNK7RA:3j4wmssi]Here It Goes Again- OK GO[/url:3j4wmssi]
Appearance & Attire: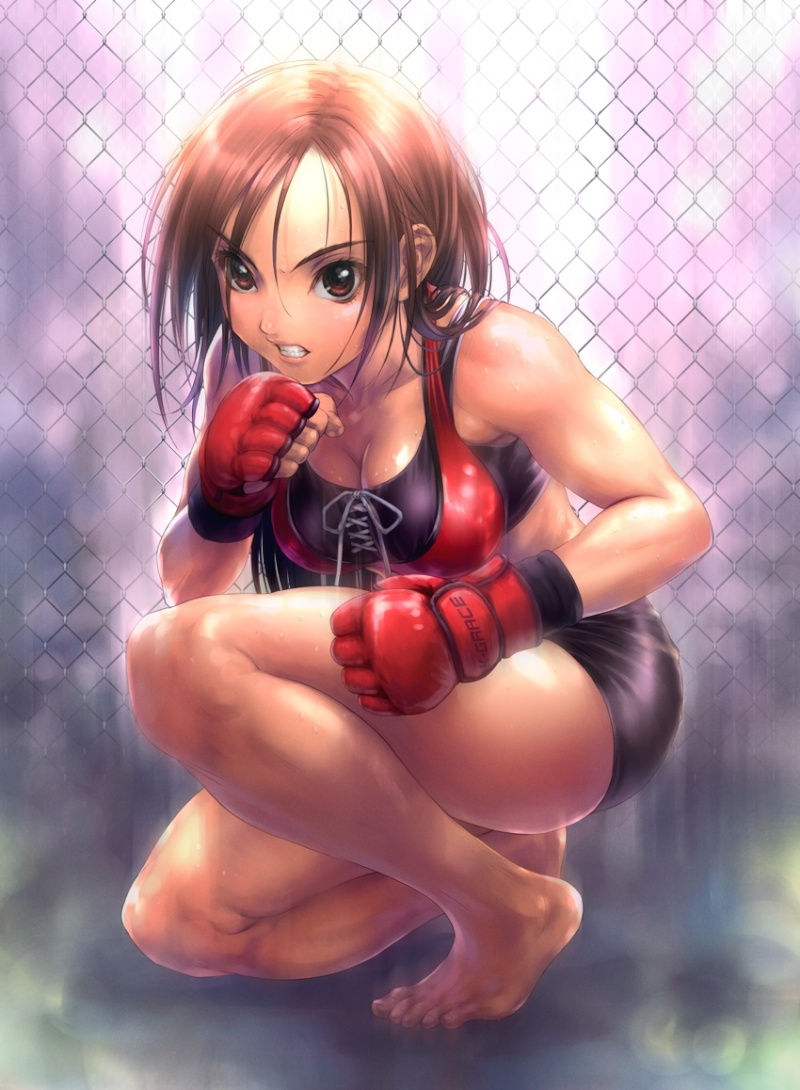 [size=200:3j4wmssi][align=center:3j4wmssi]Combat Information[/align:3j4wmssi]Fighter Type:
Striker/ Grappler
Fighting Style:
Kick Boxing/ Roman Greco Wrestling
Overall Summary:
Erika is at her best when she utilizes strikes with her hands and legs. Although she does have some back ground in traditional wrestling, it isn't her specialty. Erika is quite strong despite her smaller size, she isn't a push over in the least so don't let her size fool you. Despite her great talent for technique, her defence is lacking and she can get careless. She is also weak against submission users of heymanage to get her on the ground. Her greatest weakness is Hentai styled fighters as she can be overwhelmed quite easily that way.
Athleticism:Power:
★★★★
Speed:
★★★
Endurance:
★★★
Defence:
★★
Technique:
★★★★★
Wrestling:Strikes:
★★★★★
Slams:
★★★
Submissions:
★
High Flying:
★★ ★
Power Moves:
★★
Specialties:
Smash (Long Upper cut), Uppercut, High kick, low kick, Liver Blows, Belly to belly Suplex, German Suplex, RKO, Flying Knee
Finishers:
Meteor Smash:
A more powerful version of the smash punch created by Erika herself. She drops her body weight much further down until she nearly skims the floor and would smash her dominant right hand into her opponent's chin.
Apollo's Drop
Facing her opponent, she reaches between their opponent's legs with one arm and reaches around their back from the same side with their other arm. She lifts her opponent up and turns them upside down so that they are held up by the wrestler's arm cradling their back. The wrestler then throws the opponent to the ground so that they land on their back. ((It's basically a scoop slam.))
Crashing Sun Cutter:
Running at her opponent with her at full speed, she would attempt to slam her opponent's head into the mat with a jumping cutter. ((Cutter or RKO))
[align=center:3j4wmssi]
[size=200:3j4wmssi]Personal Information
[/align:3j4wmssi]
Personality:
Erika has a generally a cheerful and has a competitive yet playful attitude. However, she gets pretty serious during a match and is always in her focused state of mind. In that sense, she might be considered two face but, its not really her intention. Without her focus, she can not fight to her fullest potenial. She's constantly telling herself to focus and get a grip.
History:
Erika grew up with martial arts ever since she was knee high. There was nothing else she wanted to do more than going up against strong opponents. the excitement at the chance of victory and learning from accepting defeat humbly. These were dogma's the girl lived by. She had learned kick boxing and fought within the amateur ranks. In highschool, she even did some Roman-Greco Wrestling but, found that she enjoyed striking much more. However, this AFW league had taken the world by storm, the pinicle of female combat. Now, there were some exciting fights! She thought as she signed up for afw rathe than pursuing kick boxing. The girl did have some background in wrestling so she wouldn't be completely lost would she?
Likes:
Strawberries
Fighting
The Color Red
Dislikes:
Cod Fish

_________________
Characters:
Friction:
[url=http://afwrpg.informe.com/forum/post142265.html?start=0#p142265:1jdbv0x4]Erika Striker[/url:1jdbv0x4]

Kawaii:
[url=http://afwrpg.informe.com/forum/kawaii-league-f27/genesis-t5850.html#p141710:1jdbv0x4]Genesis[/url:1jdbv0x4]



Posts

: 40


Join date

: 2012-02-17



---
Permissions in this forum:
You
cannot
reply to topics in this forum