Champions & #1 contenders
Posting delays
Sun Jun 24, 2018 12:14 pm by Harrier
Dear posting partners and people who are waiting for an reply from me by PM,
I am terribly sorry that you have to wait for my replies for so long.
Maybe the one or another from you knows the situation, you were flying high for some weeks posting wise and then you hit rock bottom again because of some RL BS and then you barely manage to churn out enough creative output for a meager 100 words post in a week and you ask yourself how you could have seriously overextend your supply lines so much. …
[
Full reading
]
Comments: 0
Kawaii Opportunities
Sun Jun 17, 2018 3:04 pm by Daaharu
Hey, guys!
With the kawaii title match at Avalanche taking on an interesting wrinkle with the interruption by the Brat Pack, we are moving forward with the overall kawaii storyline, and at this point I'd just like to take stock of what kawaiis are out there that are interested in participating in a cohesive storyline.
Can't make any promises about titles or what exactly each girl's given role would be. We can talk a little more about the specifics of where the story is going soon, but I …
[
Full reading
]
Comments: 3
Match for Takeichi
Tue Jun 12, 2018 6:13 am by GrandAkumaShogun
So with my other two guys having their own matches I figure I should do something with my first character on here, Takeichi Mori. If anyone is interested feel free to post here or get in touch through a pm so we can plan it out. I can either have Takeichi remain a jobber or begin to work him towards being a more serious competitor.
Comments: 1

[size=200:3j4wmssi][align=center:3j4wmssi]General Information[/align:3j4wmssi]Name: Erika StrikerSex:
Female
Age:
21
Hair Color:
Brunette
Eye Color:
Hazel
Alignment:
Face
Height:
5'5"
Weight:
125 lbs
Entrance Music:
[url=http://www.youtube.com/watch?v=dTAAsCNK7RA:3j4wmssi]Here It Goes Again- OK GO[/url:3j4wmssi]
Appearance & Attire: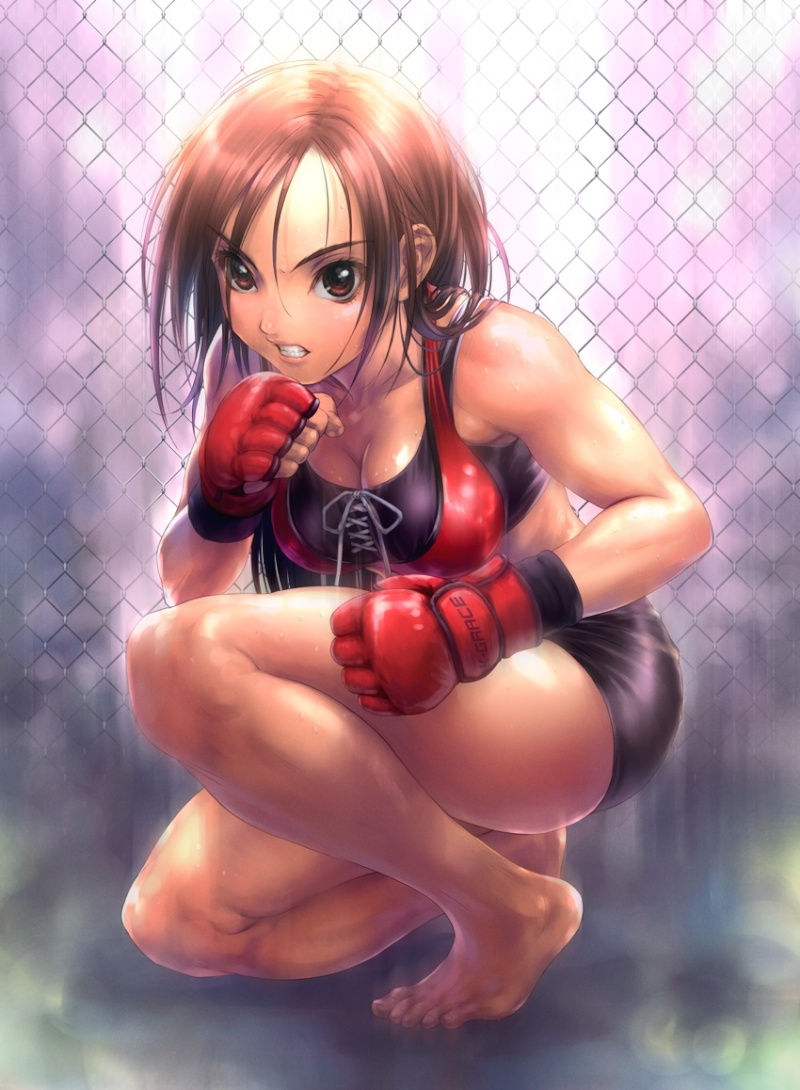 [size=200:3j4wmssi][align=center:3j4wmssi]Combat Information[/align:3j4wmssi]Fighter Type:
Striker/ Grappler
Fighting Style:
Kick Boxing/ Roman Greco Wrestling
Overall Summary:
Erika is at her best when she utilizes strikes with her hands and legs. Although she does have some back ground in traditional wrestling, it isn't her specialty. Erika is quite strong despite her smaller size, she isn't a push over in the least so don't let her size fool you. Despite her great talent for technique, her defence is lacking and she can get careless. She is also weak against submission users of heymanage to get her on the ground. Her greatest weakness is Hentai styled fighters as she can be overwhelmed quite easily that way.
Athleticism:Power:
★★★★
Speed:
★★★
Endurance:
★★★
Defence:
★★
Technique:
★★★★★
Wrestling:Strikes:
★★★★★
Slams:
★★★
Submissions:
★
High Flying:
★★ ★
Power Moves:
★★
Specialties:
Smash (Long Upper cut), Uppercut, High kick, low kick, Liver Blows, Belly to belly Suplex, German Suplex, RKO, Flying Knee
Finishers:
Meteor Smash:
A more powerful version of the smash punch created by Erika herself. She drops her body weight much further down until she nearly skims the floor and would smash her dominant right hand into her opponentâ€
s chin.
Apolloâ€
s Drop
Facing her opponent, she reaches between their opponent's legs with one arm and reaches around their back from the same side with their other arm. She lifts her opponent up and turns them upside down so that they are held up by the wrestler's arm cradling their back. The wrestler then throws the opponent to the ground so that they land on their back. ((Itâ€
s basically a scoop slam.))
Crashing Sun Cutter:
Running at her opponent with her at full speed, she would attempt to slam her opponentâ€
s head into the mat with a jumping cutter. ((Cutter or RKO))
[align=center:3j4wmssi]
[size=200:3j4wmssi]Personal Information
[/align:3j4wmssi]
Personality:
Erika has a generally a cheerful and has a competitive yet playful attitude. However, she gets pretty serious during a match and is always in her focused state of mind. In that sense, she might be considered two face but, its not really her intention. Without her focus, she can not fight to her fullest potenial. She's constantly telling herself to focus and get a grip.
History:
Erika grew up with martial arts ever since she was knee high. There was nothing else she wanted to do more than going up against strong opponents. the excitement at the chance of victory and learning from accepting defeat humbly. These were dogma's the girl lived by. She had learned kick boxing and fought within the amateur ranks. In highschool, she even did some Roman-Greco Wrestling but, found that she enjoyed striking much more. However, this AFW league had taken the world by storm, the pinicle of female combat. Now, there were some exciting fights! She thought as she signed up for afw rathe than pursuing kick boxing. The girl did have some background in wrestling so she wouldn't be completely lost would she?
Likes:
Strawberries
Fighting
The Color Red
Dislikes:
Cod Fish

_________________
Characters:
Friction:
[url=http://afwrpg.informe.com/forum/post142265.html?start=0#p142265:1jdbv0x4]Erika Striker[/url:1jdbv0x4]

Kawaii:
[url=http://afwrpg.informe.com/forum/kawaii-league-f27/genesis-t5850.html#p141710:1jdbv0x4]Genesis[/url:1jdbv0x4]



Posts

: 40


Join date

: 2012-02-17





Similar topics
---
Permissions in this forum:
You
cannot
reply to topics in this forum