Champions & #1 contenders
Looking for a few matches.
Thu Mar 29, 2018 6:14 am by Yori
As the title suggests, I am in the market for a few matches, specificly for...
Luna
- Vampire themed wrestler who prefers to play with her food before she sinks her fangs in. Prefers no DQ or hentai stipulation matches. Preferred in a more dominant role, fills a more heelish role.
Reiko
- Punk upstart with more experience fighting in the streets than the ring. She takes part in hardcore matches primarily, using weapons far better than she can wrestling techniques. Strictly heel.
Leah
- …
[
Full reading
]
Comments: 6
A match for Brie.
Thu Apr 12, 2018 12:15 am by BootsForSpooks
A week ago, I made my own character named
Brie Schuhart
. I thought it would be best to post a notice here. I'd like to have an opening match with her.
I also understand that a lot of characters here have story lines. I'd like to start one for her too. Her opponent can lead to a romance, it can be something that turns into a grudge over time, or it can be something more complicated. Whatever the case, we can discuss. I'm open to a lot of things. We'll make it work.
[
Full reading
]
Comments: 5
Taking on a thread or two
Tue Apr 10, 2018 7:50 pm by LtLukas
I don't really have a plan in mind. If you want to throw something out there, be it a storyline, match, or whatever, I am willing to entertain it. Let's talk about it.
Specifically, I have two ladies that I want to have a thread with:
The inimitable
Jessica Wright
. With her, I am leaning for some more hardcore stuff: no DQ, shit outside the ring, coffin matches. But I am willing to listen to anything that you want to try.
The lovely
Eka Guramishvili
. She has a new flag-based outfit. So maybe …
[
Full reading
]
Comments: 0
Page 1 of 8 • 1, 2, 3, 4, 5, 6, 7, 8


The messenger was asked to bring a member who had recently joined, to come and meet her. It was odd since no one has ever really seen the Demon Queen yet other then the messenger she send to recruit people. She was going to make her appearance this week though but for some reason someone was summoned to her first, someone she had set her eyes on. That person was Lucy Stone, the Alpha Demon.

The messenger had managed to find Lucy and was now guiding her to the room the Demon Queen was located, the lights were dark blue, an eerie feeling surrounding them as they came closer to the door, the messenger standing besides it to bow at Lucy. " The Demon Queen will see you now.. " If Lucy would open the door, the place would be pitch black, nothing could be seen or heard from within it.

What were the reasons for inviting Lucy to her? She hadn't told the messenger, who was as clueless as Lucy but she left once the Alpha Demon entered the room, not a single thought crossing her mind about any kind of dangers the kawaii would be in for.
Lucy was very nervous, apparently she was going to be the first one to see the Demon Queen, it was a terrifying feeling, perhaps because she didn't know just what was going to happen to her, why was she the first one, had she done something to anger this person who had seemingly been collecting heels, it seemed like perhaps she was going to have to fight and since she knew nothing of this Demon Queen she was a little frightened.

As she was guided through the halls, with the dark blue lighting she got that eerie feeling running through her as had to admit that she was getting goosebumps and in fact her arms were trembling, still she followed the messenger, she could have run away if she was truly feared for her life, but she didn't ....she could, something kept stopping, the voices in her head was trying to calm her down and make sure she would stay on the path she was given.

" Little demon...don't fret or fear...if things become to much for you...well you can always give in to us...and we will save you " Lucy did her best to ignore them, it had been what she had to do, the moment they began to appear she had done her best to keep them out and just tone them out.

Finally she was brought up to the door and she heard what the messenger said, Lucy who was wearing a normal pair of blue jeans, a black shirt and her red coat on top of that, decided that there was nothing else she could do right now, and was forced to move in and open the door, and gaze into the outer blackness that was the room, her golden eyes take their time to try and adjust to the blackness, but it was no use, it was to dark..." H-helllo ?" Lucy said as she looked around, taking careful and slow steps to move around in the pitch black darkness.
The word echo'd throughout the room and for a long while it seemed it would be left unanswered. Not a single sound came from across the room, like she was the only one in the pitch black room. Then all of a sudden, came a female voice from the other side, one that summed up Lucy's situation.
" So.. You are the Alpha Demon. I heard you were one of my first recruits, so I took my time to get to know you by watching you.. You had a very tough Christmas. " She kept it silent for a little while longer, not giving the girl a question so she never expected words from her, after a while though she carried on.
" So.. "
The lights suddenly turned on, in a red, green and white fashion, a large christmas tree at the corner far away from Lucy and right infront of her sat the Demon Queen, dressed in a christmasy fashion and seated upon a large christmas bag!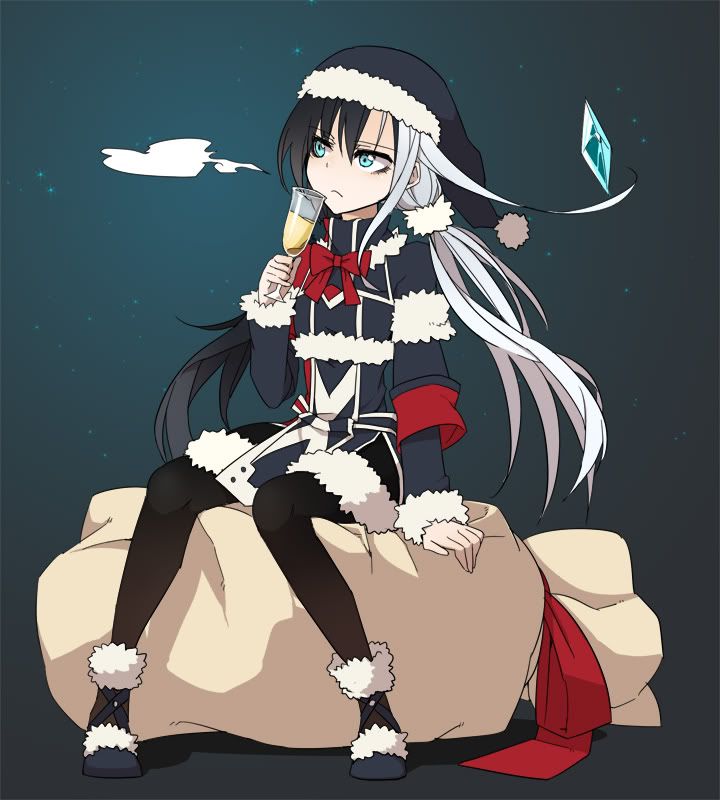 " Merry Christmas, Lucy! You're celebrating it with me tonight. "
And thus, Lucy finally came to see the Demon Queen first, how she looked, her different colored hair, her bright light blue eyes, her rather joyful expression on her face, everything. She gave Lucy a smile and beckoned her closer.
Lucy looked around as her words were left unanswered, " Is there..even anyone here ?" Lucy asked herself as she started to think that maybe this was all just a joke or something, or maybe this entire Demon Queen thing was a hoax....or wait was she supposed to be the demon queen ?....these thought that had been brought about by manga and Tv-shows where the crazy person that heard voices did things while she was a sleep or something, maybe it was all me, such thoughts ran through Lucy's head, at least until there was a voice that could be heard, a nice voice, Lucy turned around to where the voice was coming from and looked in that direction, there was no way to see but that didn't stop Lucy from trying.

The little demon remained quite for now as she heard what the girl said, she must be the demon queen, Lucy was still unsure why she was here, but well being of the first recruits was true and...she had had a very tough Christmas...a lonely Christmas, it wasn't something that was uncommon for Lucy, it was just that her hopes had been more this time since she had to many people that she loved and cared for at the moment, but they seemed to have all abandoned her.

" AAaH" Lucy let out as the light were turned on and the flash hurt her eyes, she was forced to rub them a bit as she looked on and saw the Demon Queen a very cute girl that kinda reminded her of some kind of mix between Cerbera and Sindel, hair color, eye color and height, it was all kinda spooky but she couldn't say that she didn't enjoy the girls appearance.

" Wha...what?..why ?" Lucy had expected some totally evil master planner or a epic monster of an opponent, but instead she was met by this inviting and kind looking girl, " M-m-merry ...christmas ?....okay ?" Was Lucy response as she began to walk over towards the girl.
" Because... "

She rose up, waiting for Lucy to stand directly infront of her so she could balance the glass on the top of Lucy's head, holding her hands at the sides to make sure it wouldn't fall. It was a strange thing to do, very strange. But she seemed to have her mind setting on keeping it on Lucy's head.

" You need one that makes you happy. Can't have sad expressions in my army! " She stated, moving just a bit back to see if the glass would balance. She wasn't trying to make fun of Lucy but she wanted her to immidiatly think of something else instead of being lonely.

" I got a present for you. "

She turned to dig into her bag, taking out a small, dark red cellphone, state of the art before she presented it to Lucy, giving her a sweet smile. " Check the contact list. " If Lucy would do so, she would find Cerbera's cellphone number in the list.
Lucy looked on as the girl walked up to her and placed that glass on the top of her head, balancing it, Lucy tried to look up with her eyes to see, she didn't want it to fall or anything so she kept very still as she then looked on at the Demon Queen in front of her, she couldn't do much at the moment, she kept looking on at the demon queen, she knew that if she talked it would wobble the glass and most likely the glass to spill out over her head.

When the Demon Queen said that she didn't want any sad faces in her army, Lucy's eyes showed confusion, and then the girl walked over towards her bag and took out a present for her, Lucy was surprised and when she made just the slight movement of taking a step forward, the glass fell over and the remaining drink spilled out on her head and down ran down her face.

Lucy pouted for a moment before she took the phone and smiled at the demon queen, " T-thanks " Lucy said as she hadn't really ever owned a cell phone in all her life, she would have been happy if it was an old and discard model that you could only call on but this was brand new, touch screen and all, it was something special, Lucy went into the contacts list and found one name...Cerbera, " sis ?...Can I call her ?" Lucy said with a smile on her face as she looked up at the Demon Queen.
" Oh dear.. "

She spoke out softly as she removed the hat from her two colored hair and started to clean Lucy's face gently with it, making sure she was nice and clean before she put that hat on Lucy's face, leaning down to pick up the few shards of the glasses and carefully putting it all on the table, looking over her shoulder to give Lucy a nod.

" Off course, it's your present after all! "
Lucy looked on at the Demon Queen as she came in and wiped her face with her hat, she had to pull back a little with her face from the feeling, this girl didn't seem bad at all, she seemed really nice, and kind to her so far, it kinda made her wonder why she was collecting an army and what she was planning, Lucy looked on as the girl walked over with the glass shards and placed them on the table, when she told her that she could call Cerbera, Lucy face lit up like a Christmas tree, and quickly pushed the call button.
Alarice decided to take a seat on the table while she watched that face of Lucy changed completely when she allowed her to call her sworn sister, it made her feel warm and fuzzy inside, to help her recruit out like that, she was sure to take a mental picture of Lucy's happy face, not giving her any words.

Soon enough, that familiar voice of Cerbera could be heard from the other line. " Zdrastvuite. " speaking in Russian because she was still in Russia, expecting someone from that country to call her.
Last edited by 131 on Tue Jan 31, 2012 10:10 pm; edited 2 times in total
Lucy's eyes shimmered with joy as Cerbera picked up the phone, she looked over to the demon queen and mouthed a heartfelt " Thank You" before she took a deep breath and said, " Hello Sis ? what happened to scared of losing to me so you ran away ?" Lucy had really missed Cerbera a lot and had been quite lonely without her sister, or well anyone that she enjoyed spending time with, she was glad that she was able to speak to her sister again, and it was all thanks to this demon queen, her new leader apparently.
Page 1 of 8 • 1, 2, 3, 4, 5, 6, 7, 8


---
Permissions in this forum:
You
cannot
reply to topics in this forum