Champions & #1 contenders
Highfly Flying Out Of Town
Tue May 22, 2018 1:31 am by HighFly
Hello everyone, I just wanted to inform all I have threads with that I will be gone from this coming Wednesday through Sunday. I won't be able to post consistently if at all during this time, but I will try to make up for it next week! I am sorry for the inconvenience to everyone.
Comments: 7
The Austrailian Mudslide is Back.
Sat Apr 21, 2018 6:20 am by Softsquad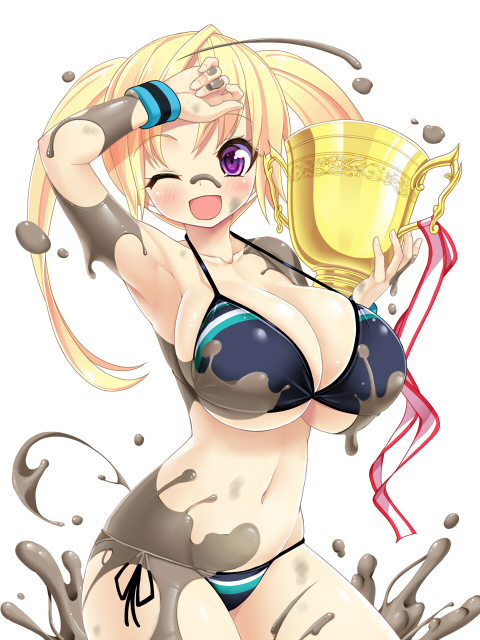 Granted that most of you won't know me or remember me, but I've had a few matches here and there some time ago. Well I think its time to become a regular around here and try to have some fun again, but at the same time keep coming back. Anyway I think its time to jump into some matches with Zoe Taylor, my mud wrestling character from Australia and get her back into the squared circle. Furthermore I will update my characters as I think some proper changes need to happen.
So if anyone would …
[
Full reading
]
Comments: 5
Page 1 of 4 • 1, 2, 3, 4


Tornado Tag Match - Best 2/3 Falls
Win By Pinfall or Submission, No Count Outs.

Not long after the events of AFW Friction's Avalanche PPV. Bonnie and Clyde had finally given the opportunity to reunite and return to the ring, both as singles and tag team competitors. For Bonnie, she was just happy to be with her brother following his near death and was eager to return to the ring with him. But for Clyde, tonight was business, in this match alone he hoped to win some needed cash to pay his debt that owed Chesna Matu and hopefully buy that engagement ring he promised his fiance, Heather Sunderland.

[url=http://www.youtube.com/watch?v=2DfYLar2QGI:2bumron0]"Cowboys From Hell"[/url:2bumron0] by Pantera would then begin to play throughout the arena, smoke emitting from the entrance stage during the intro of the song until the instruments kicked in and there emerged The Gastin Twins, Bonnie & Clyde; who made their way down to the ring, grinning widely as the crowd cheered for their reunion. Bonnie wore her usual attire of a white tank top, blue skinny jeans, and white high-top sneakers. While Clyde was clad in blue jeans, a white t-shirt, and brown cowboy boots.

Eventually both twins reached the ring and slid inside, awaiting for their opponents to arrive.
Last edited by 621 on Tue Jan 31, 2012 3:30 am; edited 1 time in total
As Ryu and Yuko make their appearance, no entry theme will be heard: not his, not hers, both replaced by the Japanes National anthem... and the reason is made quite clear by the argument of their discussion while they walk to the ring.

"Yuko, i'm telling you that we cannot call ourselves the 'YUKORYU team'. If we really have to do this stupid names thing, then 'RYUKO' sounds better at least", Ryu would try to reason with his gorgeous tag team partner, clad in a scandalous version of a schoolgirl outfit.

"OOH??? You must be kidding Ryu-chan", replies Yuko, mockingly emphasizing the 'chan' honorific, "There's no way my name would ever come after yours in a wrestling event... or any other kind of event, my dear little boyo", she added with a matter-of-fact tone, always smiling with those treacherous sexy lips of hers.

"Mpf.. whatever. But if somebody ask me, i'll say i never heard of a wrestling team with such a stupid name!", the annoyed young male would say to close the argument. Clearly not the most cohesive team ever.

As they finally climb up to the ring, Ryu will turn his attention to the opposite team, stretching his hand to them for a fairplay handshake. "Nice to meet you, let's give the best... and may the best japanese team win!", he says with a mocking joke but still friendly.
...Meanwhile, Yuko would be leaning agains the ropes, carefully watching at her own manicured nails.
Last edited by 157 on Tue Jan 31, 2012 2:32 pm; edited 1 time in total
As Bonnie & Clyde stood in the ring awaiting the arrival of their opponents, they would hear the Japanese National Anthem and look curiously towards the entrance stage as they saw their opponents make their way towards the ring while appearing to have some small problems with eachother. Then, as the Team of Ryu Toranami and Yuko Nagasaki was announced as Team YUKORYU, Bonnie's eyes instantly lit up.

"Aww Snap, Man! That's a cool ass name!" Bonnie would stay happily as she jumped about in place before looking over towards her brother with a wide grin, until she eventually turned to look at the opposing duo once again. Seeing Ryu, Bonnie had to admit he was cute, hell he reminded her of Dante Sunderland with his red hair and overall, nice guy demeanor, which Bonnie didn't mind at all, she just hoped that Ryu could put up a dang good fight. Bonnie didn't think much of Yuko though, while she really hadn't seen the girl's in ring abilities yet, Bonnie was convinced that she was all show considered her attitude and sultry attire. But maybe Bonnie was just a tad bit jealous that Yuko had made all them men in the crowd go wild while Bonnie only caught a few eyes.

"Sounds like one of them there Baby Japanese Dragons..." Clyde would muse to Bonnie before tossing his cowboy hat aside as he waited for Yuko and Ryu, eager to get this match under way and make some money, which he hoped to use to either pay off his hospital bill to Chesna Matu or to buy that engagement ring for Heather. Either way, Clyde was ready to get paid and felt that guys like Ryu were easy picking and too frail to deal with rough-housers like he and Bonnie. Yuko was the only one that worried Clyde however, as he hoped that she wouldn't try to do anything to risque with him in the ring and throw his game off.

Upon seeing Ryu approach them and out stretch his hand for a handshake while making his small joke, Bonnie and Clyde would look to eachother a laugh a bit before Bonnie grabbed Ryu's hand and rose it up before giving a quick high-five. "Y'all got the coolest name ever, man!" Bonnie would let out excitedly while Clyde stood there with his arms crossed, not really caring for introductions, instead he looked over to Yuko and laughed a bit to himself when he realized that she didn't seem to care either while Ryu seemed to be the nice and friendly type.

"...You mean may the best Texan Team Win..." Clyde would add with a smug grin after Bonnie gave Ryu that highfive.
Last edited by 621 on Tue Jan 31, 2012 3:10 pm; edited 1 time in total
"Heh,why thank you but i don't know... People keep asking me about Ken, Chun-Li and Guile...", Ryu would reply to Bonnie's comment while brushing the back of his head in amused embarassement, then giving a slight grin in silent response at Clyde, keeping eye contact with the Texan rival.

Yuko suddenly joined into the act with a noisy "Wahhhh...!!! You're all cute my dears but i'm getting bored, so...how about we start? Also... i can't wait to play with you big boy; please don't wear yourself down too much before i put my hands on you... otay?", she would wink at Clyde.

"Yes Yes... we all know you're irresistible and super seductive Yu-chan. You can put'em out all by yourself if you are so eager... 'Ladies first', as they use to say", Ryu would offer, not missing the chance for a mocking comment on Yuko's flirty attitude.
Ryu and Yuko knew each others from the primary school and he was used to her sensuous tricks, which got quite on his nerves.

"OHH LADIES FIRST you said??? Great, you go first then...", Yuko would state with a dismissive gesture, leaning herself against the ropes and leaving a fuming Ryu standing in the middle of the ring.
"...i'll kill you...", Ryu would hiss at a very amused and self-satisfied Yuko as she struts before his eyes, apparently willing to have Ryu face 2 opponents in the starting part of the match.
Last edited by 157 on Tue Jan 31, 2012 10:32 pm; edited 1 time in total
Upon hearing Ryu's response to Bonnie's comment, both Twins would let out a small laugh once they heard Ryu's street fighter joke, which they caught pretty quickly due to playing the games quite a bit at the local arcades in both Texas and Japan. The laughter would eventually halt however once Yuko came into the picture, causing Bonnie to just scowl at the girl who was most likely trying to grab some attention. While Clyde on the other hand would simply raise his eyebrow and look confusingly at Yuko by the way she acted. At least until she began to flirt with him.

"H-Huh!? H-Hey lady... I'm spoken for." Clyde would say in response to Yuko's words that clearly had an affect on the Texan boy, catching him off guard and flustering him slightly after taking in her sultry words. The old Clyde would have had no problem dealing girls like Yuko and would have welcomed her sultry antics. But these days, Clyde was trying to avoid flirtatious vixens like Yuko as much as possible, now that set to be hitched to Heather Sunderland soon. Clyde knew he had to be careful around Yuko and resist her tricks.

The Twins would then watch silently as the two Japanese wrestlers went back and forth with eachother before Yuko left Ryu alone in the center of the ring, citing that ladies were to go first, which Yuko cruelly turned on Ryu. While Bonnie and Clyde may have found Yuko's words amusing, Bonnie couldn't hold herself back from her next comment.

"Sooo... Does that make you the She-Man of the Team, Ms. Yuko? Bonnie would remark to Yuko with a wide grin before the bell rang. prompting Bonnie and Clyde to spring into action against their opponents... Or At least One of them...

"Kinda Cute how they bicker..." Said Bonnie to Clyde.

"I do kinda feel bad for em..." Clyde would muse with a careless shrug.

"Should we go easy on, Ryu?" Bonnie would ask Clyde as she turned to look him. The two taking a moment to think as they looked at one another before finally turning to Ryu.

"Naahhh..."
"Naahhh..."
Said Both Twins at once before they charged at Ryu with Bonnie going first to try and grab Ryu by the wrist and whip him into the turnbuckle behind them, where Clyde would attempt to follow up by giving Ryu a hard clothesline in the corner to send him falling onto his rear while his head rested against the middle turnbuckle.

If Successful, Clyde would turn to the side from Ryu and get down onto his hands and knees before Bonnie would charge forth towards Clyde, use his back as a step ladder and attempt to preform a Bronco Buster in the corner with Bonnie's Blue Jean covered crotch landing tightly in Ryu's face before she began to thrust and ram her hips down onto Ryu's chest, effectively riding the poor red head in the corner while driving the back of his head against that middle turnbuckle.
Last edited by 621 on Tue Jan 31, 2012 11:42 pm; edited 1 time in total
"Oooohhh??? M-Me a she-man?? Nyaa, please don't say embarassing things onee-chaaan", Yuko would respond to the teasing question, wittingly playing the innocent girl before she got herself against the ropes with a knowing smile.
It was unsure at this point, whether she was all show, or if she was taking this chance to study her opponents, matter of factly using Ryu for her purposes.

Double-teamed so early in the match, Ryu couldn't stop the twins from irish-whipping into the corner and hitting him with a clothesline. Only, when Clyde crushed him against the corner Ryu placed opposed an elbow at stomach height, thus making the impact painful for both of them.

Unluckily for Ryu, his elbow to Clyde's abs could not prevent the twins' next maneuvre, since Clyde was going to crouch down in any case for Bonnie.
Next thing he saw was Bonnie's legs spread in mid air and her crotch blacking out his vision, as she applied a taunting and dizzening bronco buster.
Ramming his head several times to the turnbuckle, the Texan beauty could feel his muffled groans warming her jeans-clad crotch.
Yuko just watched at the whole scene with a slight grin, not doing anything but placing her arms above the head to thrust her chest out, making her skimpy schoolgirl shirt strain in the effort to contain her ample breasts.
Last edited by 157 on Sun Mar 25, 2012 5:14 pm; edited 2 times in total
Bonnie and Clyde were indeed quick to move on their feet as they both managed to move in a speedy manner to double-team Ryu at the start of the match. The attack however wasn't completely perfect, as Ryu did manage to defend himself by effectively jabbing his elbow into Clyde's stomach, causing the Texan boy to release a pained grunt for a moment as he staggered back before getting down his hands and knees to assist Bonnie in preforming the Bronco Buster.

"Can't handle the ride, hun?" Bonnie would coo teasingly to Ryu with a wide grin across as her lips as she squeezed his head between her thighs and kept his face against her jean covered crotch, giving her a rather pleasurable feeling as she drove Ryu into the turnbuckle and continued to drive her rear end into his chest.

For Clyde it was easy to see that Bonnie had Ryu down, so as he rose up to his feet and rubbed his stomach he would turn around and see Yuko, just standing in place with her arms above her head, deliberately sticking out her ample breasts that looked like they were about to pop out from her tight fitting school uniform, which Clyde couldn't keep his eyes off of as he stared at Yuko's figure for a moment with his mouth hanging open for a bit until he shook his head quickly in an attempt to get back to his senses before he walked towards Yuko, but made sure not too get close at the moment.

"Uhmmm... Ain't you supposed to be wrasslin', lady? Clyde would ask he scratched the back his head nervously, having a hard time attacking someone who apparently wasn't even going to attack.
Ryu's head is relentelssly bobbed back and forth in Bonnie's taunting hold. Back, against the turnbucke. And forth, right into her jeans-clad crotch, while she's pleasing herself by squeezing his head between her thighs and grinding his face sensually.
Dazed by the repeated humping, Ryu has no choice but to endure it for now.

As for Yuko, she gives a half-interested gaze at the approaching Clyde. "Oohhh...? Uhmmm... Okay, shall we start kawaii boy?", she asks with a teasing tone, taking two steps towards him and reaching at his chin to give him a lewd caress.
"Though.... is it good? Is it ok for such a cute gentleman to so badly want to beat a girl?.... You wanna hurt me...?", she asks again, her caressing hand running from his cheek down to his neck, and tracing a finger along his chest.
Last edited by 157 on Sun Mar 25, 2012 5:16 pm; edited 1 time in total
"K-Kawaii boy!?" Clyde would stutter as Yuko approached him, backing up as she approached him but would ultimately freeze as she caressed his chin. "L-Lady!" Clyde would complain as his cheeks turned red as a result of Yuko's caress, listening as she spoke to him while running her had down his cheek to his neck, tracing a finger along his chest. Clyde couldn't take this, Yuko was flustering him up quickly but he was a taken man, he couldn't succumb to her seductive ways.

"H-Hey! Knock it off, lady! Im spoken for!" Clyde would let out as he tried to grab Yuko by the wrist firmly and stop her from touching him in that manner, keeping her wrist raised up while he glared into her eyes, unable to hide a deep blush over his cheeks. Yuko was very attractive, but even Clyde knew what kind of girl he was and wasn't about to let keep trying to mess with him like that.

"I ain't up for hurtin' ya... But this gentleman ain't gon let you do.... Whatever it is you tryin to do!" Clyde would say to Yuko, trying to remain as firm as possible. If she was going to try and seduce him into lowering his guard, she was going to have to get more agressive towards it, for Clyde had met girl's like Yuko before. His only problem was letting her get the better of him.

Meanwhile Bonnie would halt herself from repeatidly humping her rear and crotch down on Ryu, taking a moment to grin at him before arching her body back, attempting to press her jean covered muff tightly against Ryu's face and push the back of his head against the turnbuckle while squeezing the sides of his head with her thighs. trying to smoosh, squeeze and smother Ryu in one tight maneuver in the corner.
Last edited by 621 on Sat Mar 17, 2012 2:37 am; edited 1 time in total
With her spoiled personality, Yuko is surely disappointed at Clyde stubborn resistence to her flirty charms, but she's not going to lose her composture, resolved to take him away for a nice single match.... one way or another.

"Umf.... how rude.... but the fact remains, that i am bored here. So... !", before finishing her sentence, Yuko pulls him close by that same arm that is gripping her wrist, going for a flashing, painful knee lift to his stomach, willing to temporarily crush his breathing.
If successful, she will then turn around the supposingly doubled over boy, going to sneak her arms around his head into a neat sleeper hold.
"...you're going to take a little nap and come with me...kawaii boy", she would whisper to his ear in that case, tightening the grip.

At the corner, Ryu's predicament is not getting any better. Tired of humping his face with her bronco-buster ride, Bonnie is not letting him out of the corner nonetheless, grinding and squeezing his face inbetween her thighs so that his face will be smothered even closer into her crotch.
"M-Mnnrfffhhhhh.....!!!", his muffled protests would vibrate against that sensitive area of hers, his hands trying to get a good grip on her jeans to try and push the girls off but failing as she sensually squeeze him weaker.
Last edited by 157 on Sun Mar 25, 2012 5:17 pm; edited 2 times in total
Page 1 of 4 • 1, 2, 3, 4


---
Permissions in this forum:
You
cannot
reply to topics in this forum