Champions & #1 contenders
Moonhearts Promo intro thread is O p e n.
Mon May 21, 2018 4:21 am by XSirenX
Feeling brave?, lost?, or without a thread to post in?, hit up the newest Moonheart if any of those apply!
CLICK HERE
What Moon has to offer?, many things...:
Comments: 0
The Austrailian Mudslide is Back.
Sat Apr 21, 2018 6:20 am by Softsquad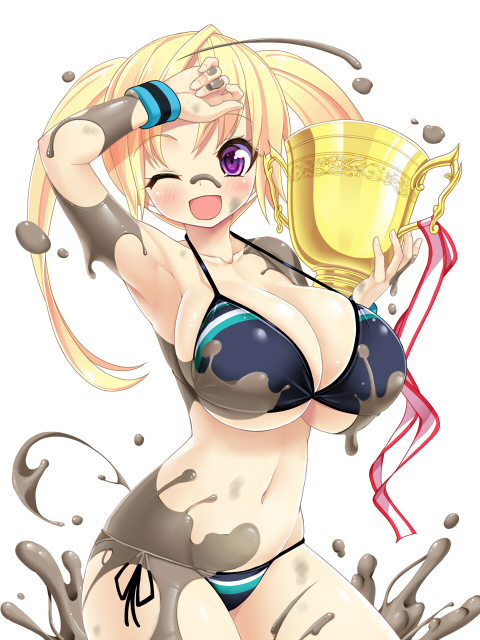 Granted that most of you won't know me or remember me, but I've had a few matches here and there some time ago. Well I think its time to become a regular around here and try to have some fun again, but at the same time keep coming back. Anyway I think its time to jump into some matches with Zoe Taylor, my mud wrestling character from Australia and get her back into the squared circle. Furthermore I will update my characters as I think some proper changes need to happen.
So if anyone would …
[
Full reading
]
Comments: 4
Page 1 of 4 • 1, 2, 3, 4


I'm going to take a small break from my threads...a week no more... but in the meantime, so you don't miss me too much, I am going to leave you this short story I wrote long ago based on a RP scene I played on Y!M
Personal Log:
Ensign Lieutenant Natalia Denarde interim commanding officer of USS Elcano in absence of Captain Hiromi Hanazuki.
I truly never expected to have to start the log of my first mission in such dire circumstances. I was assigned as Communications Officer to the Sagan-Class Exploration Frigate USS Elcano under the command of Captain Hiromi Hanazuki, immediately after graduating with honors from the Accelerated Junior Officers Program from the UEG Expeditionary Force´s Academy in Ganymede. We departed Jupiter and the solar system on NOV-01-2209 towards the Cetus constellation, the Sea Monster as it is usually known. As it is common in trips this long part of the crew was placed in stasis to be awaken as relief for the working crew once the ship had reached deep space. I was placed in suspended animation upon departure to be awoken one year later, nevertheless I was pulled out of stasis only five months after, when an emergency order to wake all embarked personnel was issued by the captain.
Upon freeing myself from the stasis pod I was faced with a terrifying panorama. All the crew members who were placed in the suspended animation like me, were dead and the spaceship looked severely damaged, with all but the utterly essential systems failing. Without the gravity generators working, all I could do was float through the ship trying to fin out what had happened, but all I found while exploring the remaining rooms of the ship were more and more dead bodies. Upon reaching one of the maintenance bays, I finally found someone alive. The only other surviving member of the crew, Warrant Officer Khieu Ponnary, a Non-Commissioned Officer serving on the USS Elcano as technical specialist. W.O. Ponnary is a mechanical engineer of Cambodian origin. Khieu apparently migrated to one of the UEG's outer colonies at very young age where she enrolled the UEGAF. Fortunately W.O. Ponnary is a very capable mechanical engineer with seven years of experience working aboard Sagan-Class Frigates, and with a little of my help she was able to reestablish most of the basic systems of the ship, including gravity controls. Once that our survival was guaranteed, at least momentarily, we got ourselves to the task of collecting the dead bodies of our crew mates and to try to find out the reason for this massacre.
Exploring the ship we found clear signs of a violent battle, several parts of the ship were collapsed and others had been entirely destroyed and separated from the ship itself. Thanks to the modular design of the USS Elcano the ship integrity was not compromised although the hull had suffered severe damage. It is uncertain how much more it can withstand. While W.O. Ponnary dedicated herself to repairing what could be repaired, I moved to the bridge to review the logs and fill our status.
With the exception of W.O. Ponnary and me, all the crew is dead. USS Elcano is barely space-worth. As if this was not enough we are completely lost. The ship is trapped in a electromagnetic storm apparently caused by a dust cloud of a nearby nebula. This not only has us sensor-blind, without a point of reference it is useless to try to plot a route; it also has a diminishing effect on all the communications signals that we can emit. In these conditions I doubt our distress signal can be picked by any passing ship. Air purifying systems are working at 20%, but considering there is only two of us now I believe this should not be a problem. Water purifying systems are severely damaged and we have a multitude of leaks all over the ship. I concur with W.O. Ponnary that repairing those will take too much time, which will be better spent on something else. We will have to start rationing water use. The exterior plating seem to be working properly which has surely prevented us from freezing to death, but the ventilations systems are beyond repair. This has caused the temperature of the ship to be nearly unbearable and with the omnipresent water leaks it has turned the USS Elcano into what I can only define as a perpetual steam bath. I have moved myself to the former Captain´s quarters which are both dry and, being the farthest from the ship´s reactor, also the coolest of the ship. Both W.O. Ponnary and I have decided to oversee the regular uniform code. I been working around wearing only my jumpsuit and usually having it open to the belly, while W.O. Ponnary had been repairing the ship wearing brief shorts and a bra only.
The food supplies are plenty and with a little support from the hydroponic farms I believe we can survive without hunger for several years. I just hope we don´t have to wait that long to be rescued. On the other hand medical supplies are on the short and without any surviving medical personnel we are at great risk if any of us (W.O. Ponnary or myself) suffers from illness or some other medical condition. As a precaution all the bodies of our crew have been sealed in a secondary medical bay, but Ponnary seems worried about the effectiveness of that seal considering the sorry state of the ship´s ventilation systems.
As for the causes to this tragedy I have not found much on the ship's logs and of that very little makes any sense. Apparently the USS Elcano landed in an uncharted planet on MAR-20-2210. This planet, which remains unnamed, seems to be very similar to earth, at least on atmospheric conditions. An offshore party was sent to collect samples and upon returning Captain Hanazuki ordered to leave the planet and its system immediately for reason that aren´t clearly explained in her logs. A couple of weeks later a series of freak incidents started to occur on the ship and at least five members of the crew perished.Several other ended wounded and even more started to show unusual symptoms. The medical personnel quickly isolated those showing the symptoms fearing it may be some sort of virus contracted in the planet.
Although all standard precaution were taken by the offshore party it seems clear by the spread patterns in this "plague" that they were the origin. Despite the isolation the affliction continued to spread and finally Captain Hanazuki ordered to waken the relief crew in the stasis pods to replace those sick. But, and the simple tough of this makes me shiver, someone seems to have injected a lethal dose of the same chemicals that are used to maintain the person sleeping into every single one of the sleeping crew, effectively killing everyone... everyone except me and W.O. Ponnary. Unfortunately I have no way to know the identity of the murderer, but I am confident that he or she is among the dead bodies in the secondary medical bay, and that kind of tranquilizes me. After this, things get even more confused. What I have been able to deduce from the logs and what was recorded by the security cameras is that there was a violent mutiny. Those inflicted by the plague seem to have attacked the remaining healthy crew, by that time outnumbered nearly four to one. What followed I can only define as a war through the ships corridors. Captain Hanazuki ordered her crew to blow several parts of the ship to stop the advancement of the rebels, but not even this was enough.
The dead body of the good captain was found by W.O. Ponnary in one of the cargo bays. She apparently hid there after killing the last of the mutineers. Unfortunately she had been mortally wounded and died surely because of blood loss. I feel a strange kind of loyalty for Capt. Hanazuki. I was part of her crew, even though I barely had a chance to meet her before being put in stasis. The origins or the medical specifics of this "plague" are a mystery to me, but from what I have been able to observe, neither W.O. Ponnary nor myself have been infected.
After nearly three days working on the ship W.O. Ponnary and myself had a meeting on the ship´s bridge to discuss what would be our course of action. And this is when the problems with the Warrant Officer begun. W.O. Ponnary insisted that I called her simply Khieu. Although this small inattention to the correct protocol may seem insignificant, I immediately got the feeling that W.O. Ponnary true intention was to disregard the chain of command completely.
W.O. Ponnary considered that it was a good idea to turn on the engines and move the ship out of the electromagnetic storm so we can point our position and direct the ship toward the closest UEG base. I tried to explain to her that we were just blind, and that moving fast, full speed no direction, was crazy. We could as well get ourselves deeper into the nebula. Our best option, like I tried to make W.O. Ponnary understand, was to power up our distress signal so it could bypass the diminishing effects of the electromagnetic storm so we can be rescued. The argument quickly turned into one of who was in command of the ship, and things only got worse. As Ensign Lieutenant and the only Commissioned Officer on the ship it is my responsibility to take command of the ship until relieved from my post by a superior officer. W.O. Ponnary didn´t seem very happy having to take orders from a Junior Officer, specially one who is nine years younger than herself and, as she put it in her own words, without the slightest idea of what it is like to be in deep space. Things heated up and the discussion ended when Khieu informed me that I had been relieved of command and shoved me back forcefully, making me fall on the Captainâ€
s chair while she turned around to operate the ship.
I still have a hard time believing what happened next. I have blamed the situation, the state of tension and paranoia we both were after finding ourselves alone, lost in deep space in a ship full of dead bodies; the insufferable heat and humidity that permeates the ship and that has us soaked in sweat; the hopelessness of our situation, etc. But the true is that I have no excuse for our behavior... for my behavior. As soon as I recovered from the initial shock, I stood up and attacked Khieu. Grabbing hold of her hair with both hands I yanked her away from the ship´s controls. But it seems Khieu was almost like waiting for this to happen as she turned around with blinding speed wrapped her arms around my body, lifting me up off my feet and rushed forward to slam me hard on my back against one of the ship´s walls. Once she had me there, she pulled my jump suit by the flaps down, trapping my arms besides my body and then proceeded to slam her fist into my belly repeatedly, nearly knocking the breath out of me and leaving some nasty bruises that still decorate my abdomen today. Had she continued punching me in that position she would have surely knocked me out easily, but she stopped after a couple of hits to press her body into mine, getting us face to face so she could make some threats that I didn´t really heard.
All she managed to do with this was to give me time to free my arms from the jumpsuit sleeves and now with my hands free I sneaked them behind her head and grabbed a good hold of her hair, yanking it back really hard as I planted one of my boots on the wall behind me to push me against her. This took her completely by surprise and she quickly lost her balance and we both fell to the floor with me on top. I then tried to straddle her and pin her arms to the floor in an attempt to immobilize her but her left hand slipped free and she got a grip of my hair and yanked with such force that I fell to the side, hitting the floor with my head. But more than the hit on the head what really hurt and make me squeal in pain was the strain in my neck. It still hurts each time I try to turn my head to one side or the other.
Having taken me off her, Khieu then rolled away in the foor and I did the same putting quite some distance between us before we started to get up. But Khieu seemed to be less hurt than myself, she got up faster and was already attacking when I finally got to my feet. She slammed her shoulder right on my solar plexus, pushing me back and tackling me over one of the ship´s control panels. I instinctively got a hold of her hair and she did the same with mine and we started to roll over the control panel until we ran out of room to roll and finally feel down back to the floor. Unfortunately for me Khieu landed on top of me driving almost all the air and the fight out of me.
Before I could realize what was going one Khieu was already straddling me, her rear was on my chest compressing my thorax making it very difficult to breathe, while she trapped my arms under her knees. She looked down at me confident, moving a little to press her crotch right under my chin against my throat, holding my hair with one hand and threatening to punch my face if I insisted to fight back.
Now that I think about it, I think it may have been wiser not to try to fight back, but something inside me pushed me to keep going, I think it was more than just the feeling that if Khieu took command of the ship she was going to doom us. It was pure and simple pride and anger. And so I doubled over my body and brought my legs around Khieu´s body, just as I placed my hands over her thighs trying to hold them in place. The Warrant Officer´s face seemed so shocked when she felt my calves under her armpits and saw my feet close to her face. And then I pulled her back with all the strength of my legs with such a sudden force that her body arched horribly on top of me and the back of her head hit the floor with a very loud thud.
I held Khieu´s thighs with my hands, so her body laid bent over mine, with her legs over my arms, her butt on my belly and her head on the floor. I quickly clamped my legs around her upper body and started to squeeze her with them. It didn´t took me long to free my arms from under her legs I quickly moved them up so now her legs were trapped under my armpits. Having her trapped in such an uncomfortable position and squeezing her between my legs I decided to add to her predicament by smashing my right fist like a hammer on her taut belly. She struggled weakly for a while and groaned with the punches, but after a few punches I could feel her body limp between my legs and so i decided to let her go and push her off me.
I jumped on top of her mounted her chest and pinning her arms under my legs just like she was doing to me a few seconds ago, but it was clear that Khieu had had enough as she didn´t fought back at all after that. It made me feel kind of sorry to see her cry under me... but it also made me feel... powerful. Having her subdued in this position I make her accept my command and acknowledge my orders... and other things I´m not really proud of now that I think about it.
I know very well that I need Khieu´s technical abilities if we are going to survive and I need her to do as I say. So if I have to rough her up a little bit to keep her in line, I guess I have no option but to do it. I cannot allow another mutiny to take place in this ship. After that unfortunate encounter W.O. Ponnary has finally rerouted the energy from our remaining functioning engines to the long range communication system. All that is left now is to wait for someone to pick up the signal an come to our rescue. I just hope this is the last time I need to put Khieu in her place.
==========================
Personal Log:
Ensign Lieutenant Natalia Denarde interim commanding officer of USS Elcano in absence of Captain Hiromi Hanazuki.
The last few days have been marked by such a tranquility that is slowly becoming maddening. Khieu and I have been avoiding each other and we only talk through the communicators. Each one of us is eating in our respective private quarters and we have coordinated ourselves without a single word to be at all times on different parts of the ship. So the only time we see each other is on a computer screen. I have been quite mean with Khieu in the last days anyway, but lately I been feeling very guilty about it. I wanted to talk to Khieu about what happened but I haven´t found the right time to do it. It is not like we don't have all the time in the world stranded in this wrecked ship. It is more like I don´t know how to start. I wish Khieu and myself could be closer.
This ship is so big and the loneliness is starting to have an effect on me I´m afraid. I hate to admit it but I now realize that living inside a ship in deep space is not something for what my training at the Academy had prepared me fully. The reality of it is overwhelming. I received extensive training to prepare me for the claustrophobic sensation unavoidable when living in such confined spaces, but I still feel like I am suffocating at all times. The failures on the ventilation system do not help at all. Watching through the windows towards the empty void and the electromagnetic storm that surrounds us, has become my main form of entertainment... and a constant torture. Looking into deep space is like looking into the abyss... and many times I get that chilling sensation that the abyss is looking back into me. The shifting colors of the storms´s ion arches hitting the floating broken pieces of our ship are simply beautiful and although watching those huge metal scraps dancing around us terrifies me, I just can´t stop looking. I feel that at any possible time I could find myself watching the frozen remains of one of our former crew members. Thank God it hasn´t happened. But the faces of our deceases comrades still haunt my dreams. I´m not sure if it is a curse or a bless but the constant humming of the multitude of systems and the machinery that can be heard at all times have made it difficult for me to sleep for long.
Lately I fear I´m letting my imagination run amok. I could swear I have heard sounds... things that aren´t machinery or electric in nature... things that sound human... or animal around the ship. Groans, caws, growls, wails... sometimes giggles... sometimes even whispers... always right behind my back when I´m walking through one of the dimly lighted corridors of the ship. I have been checking the ship´s sensors every hour... but there is nothing. No communication, no ping back, no bleep, no one answering our distress signal... nothing at all. I fear that if this continues it is going to drive me insane.
I have looked all over what´s left of the ship for weapons, but seems that nearly all of them were lost when Captain Hanazuki blew up the armory to prevent the mutineers from getting them. The only weapon left is the Captain´s personal side gun which ran out of ammunition, apparently during the Captain´s lasts defense before she was mortally wounded. In a certain way it makes me feel more secure that there are no weapons in the ship.
Moving myself to Captain´s quarters has been without a doubt a very good idea, since from here I have full access to the security systems and the cameras of the ship. That has allowed me to monitor Khieu´s movements over the ship, except for those few places where the cameras were destroyed. This has helped me to reassure myself that we are all alone in this ship. I have been observing Khieu for hours through the cameras, mostly to make sure she is following my instructions. Watching her repair or give maintenance to different parts of the ship. But I also have caught myself spying on her free time, when she is working out, eating or even sleeping. In some way, knowing that she was still there and that I was not completely alone has helped me with my anxiety. Since the "disciplinary" measure I had to take with the Warrant Officer Ponnary, she has been on her best behavior, doing exactly as I commanded... or so I though, until today.
Upon reviewing the ship´s charts I found to my dismay that we have started to move..and quite fast. Someone, and that could only be Khieu, had turned the propulsion systems on at very small intervals, so it was barely perceivable to turn the ship in an unknown direction and then turned the engines full throttle for a couple of seconds to accelerate us in that direction. This could only be done by a very patient person, since she had to move the ship extremely slowly to make it so I wouldn´t notice. I reviewed all the security camera records of the bridge but I couldn´t find at what moment Khieu´s got to the controls. If she isn´t doing it from the bridge, she must be manipulating the engines directly. But neither the security records of the engine room show her doing anything I can point out as incriminatory... not even suspicious. Pushing the engines to accelerate at full power must have left some kind of trace, but there is nothing. She is either extremely good at this sort of engine tune up and manipulation or she is doing it in some way I don´t understand. Probably from one of the places in the ship where the are no cameras. Ultimately it is irrelevant if I don´t know how or when she is doing it, I have to stop her. With the damaged condition of the ship turning on the engines full power, even for a little time, runs the risk of disabling them completely or even worse, tear the hull apart.
My body still sported the bruises from our last encounter and my neck was still hurting, tense and strained despite the painkillers I been taking, but I knew I had to put a stop to this. I had hoped that after the punishment I put Khieu through last time she disobeyed me, a simply attention call would suffice, but I was ready for battle if she needed to be reminded of the hierarchy ruling this ship. And so I summoned W.O. Ponnary to one of the small debriefing rooms, one of the few who didn´t had water leaks and was, at least compared to the rest of the ship, fresh.
When Khieu entered the room I tried to remain firm and stare directly in her eyes showing that I was a pissed off authority, but I can´t deny that I also feel kind of good to see her and be reminded that I wasn´t completely alone in this space coffin. She was wearing one of those red tank tops that identify the Non-Commissioned Officers assigned to mechanical duties in the fleet and a pair of cut-off jeans that I still wonder where she got. She was barefoot, just like me, as we both had learned that wearing the uniform boots is not an option in this circumstances. I could tell by the way the sweaty tank top stuck to her breasts that she wasn't wearing a bra. Neither was I, the only thing covering my chest was a Junior Officer navy blue V-neck shirt, knotted above my belly to leave more of the skin exposed and to avoid getting it soaked in sweat since I know I tend to sweat a lot around the belly button. In the eternal search for staying fresh in the oven that the USS Elcano had become, I cut off a pair of my officers pants to turn them into brief shorts just like the ones Khieu wore.
I took a deep breath as I finally managed to look into her eyes, handed her a holo-tablet that showed the ship´s movement and asked her if she could explain me what was happening with and angry and incriminating tone. Apparently Khieu isn´t very good catching sarcasm because she started to explain to me like if I was a five year old girl how she had turned up the engines just a little to avoid them from freezing the fuel and to maintain certain inertia on the ship to prevent further failures on the gravity controls. I must admit I didn´t knew that and now that she explained it, it made a lot of sense... but then again that did not explained why she turned up the engines full speed for a couple of seconds, and that was what truly worried me.
I have always praised myself for being a patient person, I´m truly not sure why of late I find myself flying into such strange fits of rage. Probably in another situation, in another place I could have taken this in a more mature and calmed way, but the patronizing tone in which Khieu explained this to me as if I was a complete idiot really got on my nerves. I slapped the holo-tablet from her hands violently and yelled at her that I already knew that, even though I didn´t, and that I was asking about why she turned the engines full power. I don´t really remember but apparently I added a couple or more of insults to my rant, because she looked back at me clearly offended...and also surprised. She picked up the tablet from the floor to analyze it again and with each line she read she looked even more and more genuinely surprised. When she ended reading the log she turned to look at me clearly angry and told with a nearly mocking tone that she had no idea of that and that she though I was probably doing it myself. That just made me lose control.
I grabbed Khieu by the shoulders and slammed her forcefully against the wall, pressing my body into hers to pin her and getting my face right into hers, I started to threaten her, insult her and finally remind her of what happens to rebellious personnel on my ship. I´m not sure what I was trying to do. Maybe I hoped that would truly scare her. But bringing back the memories of how I humiliated her had the exact opposite effect. Her face turned red and her eyes filled with rage. Before I could pull away from her, Khieu punched my arms away from her shoulders and took hold of my hair. Yanking it back and making me backpedal until my butt hit the table in the middle of the room. I felt like I was going to fall over the table, but Khieu had other plans for me. She turned around so her back was against my chest while she continued to hold my hair over her right shoulder and then she doubled over pulling my dark mane down with all her strength, slamming her butt into my crotch. My scalp hurt like hell and I swear she ripped some locks out of my head with that vicious pull, straining my already injured neck and making me fall forward. The world turned upside down for a split second for me and the next thing I knew I was shivering in pain, laying on my back on the floor at Khieu´s feet, my hands reaching for my neck as I felt it pulsing and stinging.
She didn´t gave me a second to recover as she was now acting more like a wild animal than a person, and dropped her body down into me, landing with her knees on my arms and her rear on my head crushing it against the floor. I remember shrieking in agony when her knees landed over my arms, the two huge black bruises she left me on the biceps are proof enough of what kind of savage that crazy woman is. She then took my hands by the wrists and then to add insult to injury she started to slam her butt on my head nearly bouncing on me.
Feeling Khieu´s round rear on the side of my face only helped to infuriate me even more and so I planted my left foot on the floor and pushing with it I lifted my hips from the floor a little, doubled my body and brought my right leg up trying to hit Khieu on the top of her head with the instep of my foot. Unfortunately she was shaking on top of me and instead of hitting her in the head my foot landed on her right shoulder making her groan in pain but not hurting her enough to make her fall. She then let go my wrists to grab hold of my leg over her shoulder, trapping it and sinking her claws on my calf. I twisted my body as I tried to free my leg but she had two hands and ten nails on it. So I tried to free one leg with the other, pushing my left leg up until it landed on her left shoulder and I trapped her neck between my shins. I immediately started to squeeze her neck trying to cut her oxygen supply with my legs as held me doubled over in a very tiring and uncomfortable position. But with Khieu now worried about my legs I was able to push her hips a little and slip by head from under her butt.
This small victory was unfortunately short lived as Khieu leaned back her body dragging my legs with her hands and folding me more and more until I I was unable to resist and let go her neck, trying to slip my legs free and away. But Khieu´s hands and claws never left my calves and as soon as I released her neck she pushed my legs down until my knees crushed my own tits and my feet nearly touched the floor and then she slid her butt over my calves, trying to sit on top of me and fold me completely. She bounced a couple of times over me, crushing a lot of air out of me while I moaned and claws at her legs desperately as the position itself and the heat that permeate all the ship had me suffocating. But I finally managed to shake my body to the side and pushed her with my hands trying to get her butt of my legs to slip them free and in that i succeeded... but at the cost of getting my arms trapped again by the wrists by Khieu´s hands.
The little relief I got from bringing my legs down and getting my body straight again quickly vanished as Khieu´s placed her feet on my shoulders, pushed with the legs and leaned back to yank my arms as if she was tying to pull them out of their sockets.The vicious Cambodian cat didn´t wasted any chance to further my suffering by rubbing her feet on my neck, choking me a little or my face simply to embarrass me. All I could do at that time was to kick my legs in the floor, arch my back and groan as the pain on my arms, but specially on my shoulders, increased.
Khieu seemed to be enjoying herself almost as much as I was suffering and she started to talk to me with a more calmed tone, although I could still hear her rage barely veiled in her voice. She told me that I had overstepped my authority by punishing her and that now she was going to punish me back.Then she warned me that she was going to roll me on my belly and, should I try to resist, she was going to dislocate my shoulders, and then she added that I shouldn´t really worry since she was well trained to put them back in place. By the way she yanking my arms and the horrible pain in my shoulders, I had no doubt that she was saying the true, at least about the dislocation part. I have to confess that the calmed, nonchalant and nearly casual tone she used to tell me these things truly scared me and so when she lifted her feet of my shoulders and pulled my arms forcefully to roll me over I offered only token resistance. In an instant I was laying on the floor on my belly. I tried to raise my head too look up at Khieu and that only helped her as she let go my arms and took a firm hold of my hair to raise my head even more, sliding her crotch under my chin, she clamped her thighs around my head and then leaned back to rest on her shoulders stretching fully.
Soon I felt her ankles interlocking behind my back and her heels rubbing my spine playfully. I placed my hands on her sweaty belly and moved them to her breasts, planning on clawing at them, but a firm squeeze from her legs in an odd angle, twisting my hurting neck in a extremely painful and dangerous way, made me desist from hurting her tits. Khieu then proceeded to squeeze my neck and head at irregular intervals, taking pauses to call me names, throw threats and ask me if I really though she would do something so stupid as to strain the ship´s engines. The powerful legs of the W.O. quickly brought tears out of my eyes and start to make me feel like I was going to pass out. After repeating the same question a handful of times Khieu finally decided to give me some rest to answer. She stopped squeezing my neck, but kept her thighs around it, raised my head so my chin was no longer in her crotch and then asked for a final time if I really though she would do such a thing as turn up the engines to the limit. I must say I didn´t had much time to think about it since I threw the accusation in the first place, mainly because since then I had been defending myself from the vicious Khieu, but now that she held me like that I got the feeling that she was being honest. Forcing the engines sounds something too stupid for a technical savant like Khieu to do, even though she is also a complete savage. But if it was´t Khieu then what had happened? I didn´t had much time to think that either since as soon as I muttered the word ´no´ Khieu tightened her thighs around my neck making me shiver in pain as my body went numb...and I suppose I passed out a few seconds after that.
I don´t know how much time I spent unconscious. A hard slap on my face woke me up from my slumber to find Khieu standing over me, bent over to reach my head, holding my hair with one hand and slapping me almost playfully with the other. She then pulled my hair to force me on my knees and then, much more calmed but clearly still irritated, she told me that she still respected my authority and I was still the Commanding Officer of this ship, that I should not consider this as a mutiny or rebellion... simply as a lesson to be learned from a more experienced crew member. I do not want to go on with the details of how this "lesson" was imparted. Suffice to say that it was for the most part very unpleasant.
I locked myself in the captain´s quarters as soon as Khieu let me go. In a certain way I feel like I deserved it for the humiliating treatment I gave Khieu after our first battle...and the following days.I know that it would be best to stop this conflict with the W.O. altogether but, the wound on my pride is too deep and stings too much to let it go. The feeling that we are "even" makes my blood boil. I can´t stop thinking about getting revenge on her. I have turned off the security monitors. Got tired of watching Khieu taunt me, blowing kisses to the cameras with an arrogant smirk on her face. I swear she is going to pay for this... God, I need to stop thinking like that. What´s happening to me? What´s this ship doing to me that I want to jump at a woman´s throat on the sightless provocation?
Now that I have had time to lick my wounds and think things through more, I have come to the realization that I still have no idea what happened with the engines.
=======================================
Personal Log:
Ensign Lieutenant Natalia Denarde interim commanding officer of USS Elcano in absence of Captain Hiromi Hanazuki.
The nightmares have become more intense lately. There is one in particular that has been repeating itself almost every time I close my eyes. I am spread on a dissection table in the medical bay. Laying there with only a white sheet covering my body.There are all kind of medical instruments besides me... and all the bodies of our crew mates are there around me, stuck in the body bags right like Khieu and me left them. Khieu comes to me, she is crying and gives me a kiss in the lips... and then she leaves. She walks away. I try to say something, to scream at her not to leave me. I try to yell that I am not dead. But I can´t say anything. I have no voice. My body doesn't moves at all. I´m completely paralyzed. Khieu says farewell and seals the medical bay with me inside. ANd then... then the dead bodies inside the bags start to move, start to open them. I always wake up at this point, usually soaked in cold sweat, and immediately turn on the security cameras to try to locate Khieu. It is quite obvious that things between us aren´t well at all. Actually I don´t think I had this level of enmity and hostility with someone since junior high. And yet I don´t know what I would do with out her. I need her not only because of her mechanical skills. I know I would have probably killed myself already if i had to be alone in this accursed ship. My body is still hurting from the beating she gave me last time.
A couple of days ter my second battle with Khieu, I was in the sitting in front one of the monitors rubbing my hurt neck with one hand. I guess the expression of pain in my face must have been quite obvious since Khieu sneaked behind me and put her hands on my shoulders. I immediately arched my back feeling threatened, fearing Khieu may just take this chance to attack me when I´m sitting with my back to her, but she did not. Her hands relaxed on my shoulders and started to massage them while she asked if I was hurt. I was still unsure about letting my guard down in Khieu´s grasp but she sounded like she was truly worried, maybe even feeling a little guilty. Surely she knew that the pain in my neck was mostly her doing, with a little aid of the extreme stress I have been through. She told me to relax while she rolled her hands over my shoulders and I decided to take the risk, close my eyes and let her sooth the pain. Turns out Khieu gives pretty good massages too. I think that was the first time that Khieu touched me without causing me pain. After five months in suspended animations and a few weeks on this hellish ship I kind of missed to be touched like that. Khieu must have missed that kind of human touch too since she seemed to enjoy giving me the massage as much as I did receiving it... and after a little she started to do more than just massage my neck and shoulders. Now I am convinced I should have stopped her right there, but I didn´t. Although I felt a little ashamed in certain way; part of me wanted this to happen. I guess that being alone with not much hope of being rescued made me offer no resistance to Khieu´s advances. Just hope my boyfriend understands this when we get back... if we get back. It didn´t took long for Khieu and me to start kissing. I spent that night in Khieu´s quarters and I got to say that for the first time in a long time I could truly rest. This was probably the first night since I woke up from the deep slumber of my stasis pod that I got to sleep without nightmares.
Since I meet her, I have always though that Khieu was a violent savage. Someone used to getting in brawls over the smallest issue. But after talking with her on an intimate level, I came to the realization that she is actually a very sweet person. She was truly surprised at her behavior and offered a heartfelt apology for attacking me. I apologized too for mistreating her and we ended the day in very good terms. Although I feel much more tranquil now that are close, I am starting to worry that something is affecting us. It is clear that neither Khieu nor me are acting as our normal selves. There is a certain tension between us that would just not go away. It is something very difficult to define. An aggressive impulse, a desire for battle that brews in me each time I sense Khieu near me. And I know Khieu feels the same. Sometimes we just need to look at each other in the eyes to be on the brink of another fight. It is as if we were two predators in the same territory. We are both struggling against it. Avoiding eye contact has become a necessity... which has made the moments we spend in intimacy a little awkward. We have set our hours for physical exercise to make sure we are not at the same time in the spaceship´s reduced gym. For some reason that place seamed to be a source of conflict. I have also included some boxing routines in my program. Lacing up the gloves and work on the heavy bag until my hands hurt has so far been a very effective way to liberate the tension. All this has helped to alleviate the problem, but I am starting to fear that this is not simply a symptom caused by the situation we are in, stranded in the middle of no where in a broken ship. I fear that what ever condition or sickness affected the ElCano crew and lead them to the disastrous mutiny that cost the ship the lives of nearly all its crew may be affecting Khieu and myself.
I took the task of reviewing once again the medical logs. Having acquired the Captains master encrypting keys I was able to get access to all the medical logs, even the private and classified ones, but the information I got was very hard to interpret. The logs of the medical personnel are something terrifying.The... sickness... that affected the crew seems to have turn them insane.
The virus, and by calling it a virus I fear I am assuming too much, seems to cause a sort of neurosis that increases aggressive tendencies in those infected. It must be highlighted that despite the advanced bioexperimentation equipment aboard the USSS ElCano, designed specifically to investigate unknown alien life forms, the medical staff was completely unable to isolate the virus. This is very unsettling and leads me to believe that we may be facing a genome-specific retrovirus. Medical Chief, Monique Lacroisse, seemed to have reached the same conclusion before her death and if that is the case there would be no way to treat it with what we have in the ship.
how...how long did that take you to do?
_________________
Under construction

Adrian Kytes (Face/Tweener)
 Outspoken All-Rounder
Rebecca Tomko (Tweener/Heel)
 Amazon Enforcer
Sabine Shanoa (Tweener)
 Sensual Succubi
Tina Armstrong (Face)
 Blue-Eyed Superstar
Yelena Turova (Face)
 Crushing Powerhouse
Pantha (Face)
 Pride of the Jungle
Anna Silver (Face)
 Ardent Angel



Posts

: 6448


Join date

: 2011-04-25



I'm not sure. I wrote each on a different day an around 3 hours. So 6 hours in total...not counting planning.
Was I suppose to read that?
[quote="Jizzelle":nt1qghir]Was I suppose to read that?
Yes. There will be a surprise test on Monday. Those failing it will be banned from the group.
[quote="Kitten":3djl8drt]Yes. There will be a surprise test on Monday. Those failing it will be banned from the group.
GO AHEAD! I HATE YOU PEOPLE, ANYWAY!
Now now Jizzelle, at the very least, I like you.

Kitten, the story was very good, and you should write one of these every time you take a break.



Posts

: 7311


Join date

: 2008-04-29


Age

: 27



[quote="TaiKamiya":s0tv5hdq]Kitten, the story was okay, and you are required write one of these every time you take a break.
Fix'd.