Champions & #1 contenders
Highfly Flying Out Of Town
Tue May 22, 2018 1:31 am by HighFly
Hello everyone, I just wanted to inform all I have threads with that I will be gone from this coming Wednesday through Sunday. I won't be able to post consistently if at all during this time, but I will try to make up for it next week! I am sorry for the inconvenience to everyone.
Comments: 7
The Austrailian Mudslide is Back.
Sat Apr 21, 2018 6:20 am by Softsquad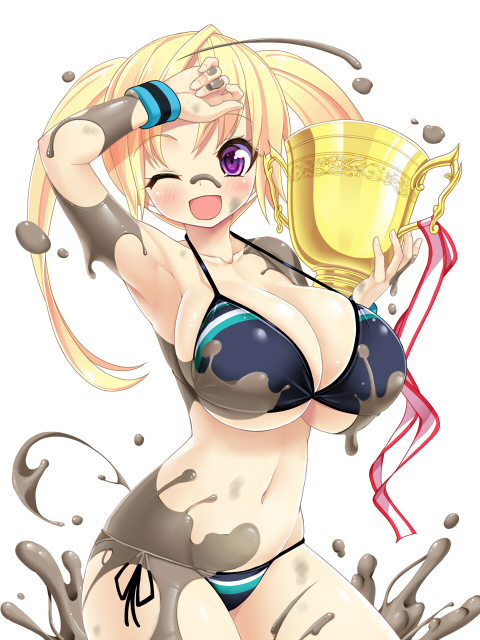 Granted that most of you won't know me or remember me, but I've had a few matches here and there some time ago. Well I think its time to become a regular around here and try to have some fun again, but at the same time keep coming back. Anyway I think its time to jump into some matches with Zoe Taylor, my mud wrestling character from Australia and get her back into the squared circle. Furthermore I will update my characters as I think some proper changes need to happen.
So if anyone would …
[
Full reading
]
Comments: 5
Page 4 of 7 •

1, 2, 3, 4, 5, 6, 7


Taylor resisted the urge to look back to see if Akashi would even come with her. She almost started to turn around and look when she was suddenly shoved so hard she almost fell on her face. She landed awkwardly and scrambled back to her feet.

She spun around to find Akashi staring her down like a bull about to charge. "Ohhhhhhh," She said. "I get it. You're the boss, right? Now we fight 'cause you say so. Well, bring it on, captain."

She stood ready for Akashi, but without her usual lightness and mobility. As pissed off as she was before, she felt limp now. She thought that she was trying to help Akashi before... maybe she didn't know what exactly she was trying to help, and Akashi certainly didn't get it. Maybe she was just trying to justify wanting to beat the shit out of her best friend.

She did her best to look like she was aching for a fight. She waved Akashi in with both hands. "Well don't back down now, bitch. Come teach me a lesson or some shit."
Last edited by 1167 on Wed Jan 25, 2012 6:18 am; edited 1 time in total
Akashi smirked at Taylor and lifted up her fists. "That's right.' She said and looked over the punk. What the hell was wrong with her?Why was she doing this? Taylor wasn't her enemy, she was her friend. Her best friend. But in this moment, she felt like she had to fight.

She stepped forward to close the gap between the two and threw out a right hook at Taylor's face. Unlike normal Akashi, who would often charge, Akashi was actually looking to brawl and trade punches. Again, she didn't know why. She ust felt like she needed to pound Taylor down with her fists, straight up.
"Ooh, look at this. So in control. She don't give a fuck, she ain't even mad."

Taylor watched Akashi approach as if she was just going to throw hands with her. She never really realized how much bigger Akashi was... That 60 pound difference was put into perspective when facing off with her. Still, as scary as Akashi was, she was the last person in the world Taylor would be afraid of, especially if she was looking to box. Akashi wasn't that much taller, so their reach was similar, and Taylor would never, ever get hit. If she wanted to box, Taylor could go all day.

She didn't want to, though. She kept her hands up, but Akashi's punch slammed into her cheek. She gave with it as much as she could, she didn't want to lose any teeth, but the impact staggered her and she had to put one hand on the floor to keep from going down. She came up and wiped her lip with her thumb to check for blood. She sneered at Akashi.

"Damn, that's it? I guess that's why you couldn't put Sarah away." She taunted. "You look like you have something you wanna say. Well, I'd just like to say how glad I am that you see us as equals. It warms my heart."

Taylor charged in at Akashi and winged a sloppy overhand right at her as hard as she could, but without any real accuracy or technique.
Last edited by 445 on Wed Jan 25, 2012 8:49 pm; edited 3 times in total
Akashi smirked as her fist slammed into Taylor's face. It was a good start but then she frowned when Taylor kept running her mouth. She just wasn't going to stop, was she? Akashi forgave Taylor for a lot of what she said, to her and to others. She liked Taylor for who she was and accepted that she couldn't always hold her tongue in. She didn't want Taylor to change. But at the same time, she didn't seem to treat Akashi any different than anyone else. Taylor didn't seem to give a shit about Akashi's feelings. What if the situation was reversed and Akashi endlessly harassed Taylor after she had a devastating loss? She wouldn't be able to take half of what she was giving Akashi. Taylor couldn't take her own medicine for one second and that's what made Akashi even more angry.

When Taylor threw her own punch, Akashi didn't defend it and instead, even stepped into it. She clenched her teeth as she leaned into the punch and took it on the cheek. It hurt. More than she figured it would and she staggered back, letting out a grunt of pain. But then she shook her head and smiled widely at Taylor. It didn't knock her down. It didn't knock her out.

Akashi then stepped forward and lifted up her hands. she charged in close but she wasn't looking to throw a punch. She reeled her head back and tried to slam her head forward into Taylor's for a vicious headbutt.
Taylor's sneer turned into a scowl. Now that she'd said it, she realized that she really did feel like Akashi thought she was better than her. Just because she kept her mouth shut didn't mean that she didn't have plenty of ugly things to say about Taylor. She was always so goddamn self controlled it drove Taylor nuts. She just wished for once that she'd flip out and cut the honorable samurai bullshit.

"What are you gonna do here, huh? Say what you wanna say!"

Taylor stood her ground. She leaned into Akashi as she hit, and the sick crack of Akashi's head against hers made the onlookers cringe. She was thrown back by Akashi's momentum and fell flat on her back. For a moment, everything went dark. She shook her head to try to clear it and pushed up onto one elbow. She wasn't so worried about defending herself against Akashi.

She dabbed her forehead with one hand and found some blood from her eyebrow where her ring was. "Heh. Are these your true colors?" She showed her bloody fingers to Akashi as she started pulling herself up to her feet.
When she felt her head slam against Taylor's and let out another grunt of pain. Her head butts never felt good on her end but she knew that as bad as it could be, it was always worse for her opponent. She staggered back and grabbed her head, looking down at Taylor who was on the floor.

Her eyes widened when she saw a bit of blood from Taylor and she blushed and turned her head. Her arms fell and she let out a sigh. She then clenched her fists and looked hard at Taylor. "What's your fucking problem!" She shouted. "I know you like to tease me and ...whatever... but that's just not fucking good enough, is it!? Do you know how hard this loss has been on me?! Don't you think I have to hear all that shit from EVERYONE Else!? I thought maybe... just maybe that my best fucking friend could be someone I could count on for support! But fuck!"

As she yelled at Taylor, tears began spilling out of her eyes and down her cheeks. "Turns out that the person I thought was supposed to have my back and support me when I'm at my lowest is the first fucking person in line to open up all my wounds and pour as much salt in them as fucking possible! Are those YOUR true colors, Taylor-chan!? I don't understand... what I even have to do to make you happy! What the fuck am I supposed to do..."

Akashi felt heavy suddenly and her head fell. "You know... I'm sorry... I wanted to be someone you could be proud of... Someone you could look up to and who matched those ideas that you had about me... But... That was wrong of me to do..." She said and turned to look at Taylor and offer a hand to help her up.
Taylor stared at Akashi's hand for a moment before she took it. Her legs were still just a little wobbly from the headbutt, but she tried not to let on.

"You wanted to be someone I could be proud of? Bullshit." That couldn't have been remotely true. Taylor kept running through what just happened in her mind, trying to figure out what exactly she did and why.

"Look, I know I'm a bitch and no one likes me, and the fact that you put up with me so goddamn much means that you're definitely holding back. I don't like it. Losses happen, a'right? How long did it take you before you even figured out how you felt about it? Did you go cry on Mina's shoulder for an hour? Am I the only one who can get a freaking reaction out of you?"

Taylor dabbed at her forehead to clean the blood off, but had nothing to wipe her hands on other than her new clothes. She settled for wiping it on the sleeves of her white shirt. "I don't like it. I get the feeling that you treat me with kid gloves. Like you think of my like I'm just a fragile little kid. I think you think you're better than me. And you are, but... I dunno. Damn. I don't know."

Taylor's face fell and her shoulders slumped. She managed to look Akashi in the eye. "Well, sorry. It's probably just all my fault, so... Kashi, all I want is for you to be proud of me. Or, well, not even that, just... I want you to think of me as an equal, and you don't. You're like the only person I've ever wanted approval from that I actually stand a chance of getting it."

She looked down at the floor and found her old clothes. She stuffed them inside her jacket and tied the sleeves together. "Sorry."
Akashi took Taylor's hand and helped her up. She listened are fully to what Taylor said. She also didn't entirely understand. "What's wrong with that? Can't I feel that way too!?" She wasn't yelling at Taylor, just speaking in a confused tone."Can't I want people to be proud of me? Can't I want to have people look up to me?" Akashi sighed.

"Holding back!?" Akashi chirped. "Geeze, Taylor-chan... Yeah.. maybe sometimes I might bite my tongue every once in a while, but you make it sound like it's a chore to be your friend. Get over your damn self..." Akashi smiled suddenly. "You're not as bad as you THINK you are."

"And yeah... I STILL don't know how I feel about it. What if I never do? So what? So what if I don't give a reaction? That's how I am. Not everyone has to be emotional. I bottle things up. Fuck!" She shouted and threw up her hands. "I'm Japanese! Talk about repressed fucking people!" Akashi laughed. "It's in my damn blood."

Akashi blushed a little in embarrassment. "Yeah... maybe I do treat you with kid gloves and I'm sorry. But it feels like if I don't you're juts going to blow up and fly off the handle all the time. Sorry to say... but sometimes you get what you ask for, Taylor-chan." She then let out a sigh. "But... I'm sorry. I'll try not to anymore, it's on me to treat you better."

Akashi then furrowed her brow at Taylor. "W-what are you talking about, Taylor-chan? I watched that fight. I watched all your fights. I've always been proud of you! Taylor-chan... you don't need to prove anything to me. "

Akashi then suddenly smiled brightly. "I think I finally have an idea of what's going on here." Akashi then wiped her tears away and got her things old clothes and picked up her money and stuffed it into her shirt. She then let out a deep sigh and looked at Taylor with a wide, devilish grin before pouncing on the girl and hugging her tightly.
"Hey look, you're crying and I'm not." That was a first. Taylor remained mostly straight faced and silent, up until Akashi hugged her. She tried not to, but she couldn't help but smile.

"Well then out with it. What's going on here? Um..." She hesitated and stepped away. "You tell me what's going on and I'll tell you what's going on with me. I feel like we should... I dunno, not be in front of people watching us fight and stuff. And we should probably move on before they sic security on us."

Taylor sighed. She really thought that she had a point, and she just never had any idea of how to make it without ruining everything. She wasn't as dumb as she thought she was sometimes.

"I am that bad though. Everyone tells me so."
"I'm allowed to cry, shut up." Akashi said and stuck her tongue out. She hugged Taylor tightly against her and nuzzled the top of Taylor's head affectionately with her cheek and gave her a kiss on the top of the head before pulling away.

"Yeah yeah, unless this was your hole plan all along?" Akashi winked at Taylor. "If you wanted me to just kick your ass, you could have just set up a match, Taylor-chan!" She then giggled and looked around.

"You're not, Taylor-chan." Akashi said furrowing her brow and looking at Taylor. "You're way better than all those people who said those things. If that's everyone, then everyone else sucks. I don't hang around with chumps so, it's impossible for that to be true!" She walked towards the exit of the store. "So? Where else are we off to now?" She said with a bright smile.
Page 4 of 7 •

1, 2, 3, 4, 5, 6, 7


---
Permissions in this forum:
You
cannot
reply to topics in this forum