Champions & #1 contenders
Summer Splash interest in Natasha Loclear?
Mon Apr 09, 2018 11:30 pm by daemongirl
Well my girl hasn't missed a summer splash yet, would anyone be interested in a match with her? Open to just about anything match wise, just pm me!
Comments: 1
Been Out with the Flu
Sun Apr 22, 2018 7:47 pm by daemongirl
Just letting those I have threads with know I've been out with the flu since early last week, but I will be back to posting tomorrow.
Comments: 0
The Austrailian Mudslide is Back.
Sat Apr 21, 2018 6:20 am by Softsquad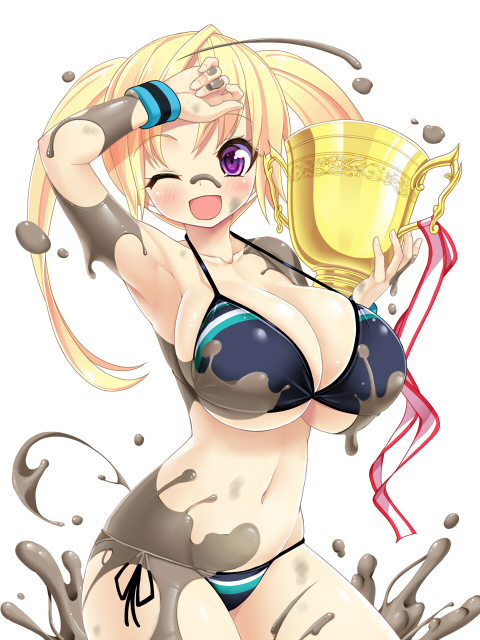 Granted that most of you won't know me or remember me, but I've had a few matches here and there some time ago. Well I think its time to become a regular around here and try to have some fun again, but at the same time keep coming back. Anyway I think its time to jump into some matches with Zoe Taylor, my mud wrestling character from Australia and get her back into the squared circle. Furthermore I will update my characters as I think some proper changes need to happen.
So if anyone would …
[
Full reading
]
Comments: 0
Page 1 of 8 • 1, 2, 3, 4, 5, 6, 7, 8


Cecilia had hear quite a bit about this faction called Meister, it was apparently a faction that Adrian was a part of as well as The Avengers, a faction that the Queen of the North and the Cosplayer had started together, while the groups main focus was to combat Sarah Gatt and her Gatt attack as a group, basically trying to start a faction war, Cecilia was wondering if said group was going to go on after all this,it was a collection of people that were friends and allies, and together they could be stronger, but for some reason Adrian seemed to have been nervous, maybe she was worried about something, maybe it was because that she was a part of 2 faction and Meister didn't want that ? maybe it was something else that was eating up inside her, it was hard to tell with Adrian.

Cecilia and Adrian had driven to the mansion of one Lukretia Von Creuzfeldt, Cecilia had heard quite a bit about her, most of it she had heard from Adrian, one of which that interested her the most was that she had apparently managed to get a draw against Sarah Gatt, but she had heard other things as well, all of which caused a good deal of interest to spark up in Cecilia's mind, as the both of them stood outside of the mansion, Cecilia did have to admit that it was a very very nice place, ...maybe I should get a mansion instead... Cecilia thought to herself as she looked over to Adrian and smiled a little, " So...this is the place huh ?" Cecilia said with a bit of a smirk, " Kinda think I should get myself a mansion now " Cecilia said as she nodded a little.

She would try and wrap her arm around Adrian shoulder and hold her close for a moment, " Don't worry Addy..I'm here for you" Cecilia said as she tried to sound as reassuring as she could to her friend, still she didn't have much of an idea why she was here, other than to meet this Lukretia and maybe some other reason as well, Adrian did like to drag her along for her crazy ideas.
Adrian was normally fine dealing with Lukretia in the AFW office, but her mansion was a whole 'nother story. Can't believe I ever thought about living here she thought. Remembering the time before Cecilia, where she looked to join Meister (and did) as a way of sneaking her way up the ranks by getting cosy to the local authority figure. She then thought that getting a room in the mansion would be a huge step up from her old days in the tiny apartment where Rebecca and her had to share a single bed while she was still fighting over her own sexuality.

Still, the mansion gave her the creeps, mainly because of who staffed it. The Maids were evil and hated her, there was a god damn Scandinavian midget with a gun somewhere where she couldn't see. Never a good sign. And of course there was the lunatic who ran this asylum: Lukretia herself.

It wasn't as though she disliked her boss, but considering the last match the GM personally organized for her involved her taking the loser to get "Re-acquainted" she wasn't exactly overjoyed at the prospect of meeting her. Not when she'd have to explain all her other activities as well.

"I'm fine... just punch everyone in a maid uniform." She instructed before punching in her combination at the door, striding in trying to show an air of bravado. One that would quickly vanish once she met Lukretia. "Why'd she ask us to meet up here?" She whined.
_________________
Under construction

Adrian Kytes (Face/Tweener)
 Outspoken All-Rounder
Rebecca Tomko (Tweener/Heel)
 Amazon Enforcer
Sabine Shanoa (Tweener)
 Sensual Succubi
Tina Armstrong (Face)
 Blue-Eyed Superstar
Yelena Turova (Face)
 Crushing Powerhouse
Pantha (Face)
 Pride of the Jungle
Anna Silver (Face)
 Ardent Angel
Lukretia Von Creuzfeldt was a very busy woman. Outside of AFW, which had seemed to occupy most of her time lately, she still had all her other entrepreneurial enterprises and attending to her Estate back in Germany, which had been left with mostly a skeleton crew for now. She also had her duties as a member of an upstanding social class and all the benefits that came with it along with making inroads into the Japanese economical market. She really had no clue how she found the time to do anything really. Because of this, she often didn't have time to meet every last girl that came in through the friction doors. While she was unconcerned with many of the rookies, and the enstatement of Aurelia Fortuna as Vice President of Talent Relations had freed up her duties somewhat, she still occasionally let a few prominent wrestlers slip through her sight.

Today she was finally getting to meet face to face Cecilia Northman, up and coming star and recent winner of her PPV match and hard core title contract holder. More importantly, she was Adrian Kytes' friend. Adrian had been a member of Meister for quite sometime but Lukretia did not keep her on a leasha t all. She was pleased, really, with what Adrian managed to do all on her own and served as quite the little anarchist sometimes. Now she wanted to see what kind of people she was recruiting for her other faction she had made but Lukretia's busy schedule had forced her to have the two of them meet at The Von Crezfeldt Estate(Japan Branch) for a little chat.

When they buzzed in, the gates opened and out from the house popped out a little blonde maid with a nervous smile on her face. She trotted towards the two and smiled wider when she saw Adrian. "A-Adrian!" babd said and waved grinning. She padded along a little faster until she was near them, panting for a second before she bowed to her and then waved cheerfully. "Hi!" She squeaked. "H-How's it going...?" Babd had been infatuated with Adrian ever since they first met and desperately wanted to be friends with the cosplayer but had little success thus far. "T-the mistress should be ready to see you!" She said and turned and lead them into the house.

"H-Hey.... Adrian... There's a convention coming up soon, you know?" She said and turned her head back with a hopeful smile on her face.
"Oh...hi Babd." Adrian said, trying not to show any sign of weakness to anyone in a maid outfit. Her rivalry with the maids (collectively known as The Morrigan) was pretty much the first thing she got involved with in AFW, and it wasn't pleasant at all. Babd was the smallest one of the 3 and was arguably the creepiest one, being so open about her masochism and all, but early on she did make a bit of an effort and when she insulted the group she normally directed her ire to the other two, leaving the cute maid out of it. Their shared love of conventions giving them something to talk about that wasn't sex related, but that all changed in the 3 on 2 tag match the Morrigan had against Adrian and Rebecca where Babd shocked the amazon out cold with a tazer.

She wasn't as bad or deeply interested in her humiliation as the other two but the cosplayer still wouldn't trust her with the standard issue 10 foot barge pole.

"That's great." She said with a sigh, no point in avoiding it "Take us to wherever she's hiding then." she instructed, wishing she could have had a more professional looking outfit than the pokemon costume, but her suit was in the wash. "Don't punch her, at least not yet." she hissed to Cecilia, indicating the tiny blonde.
_________________
Under construction

Adrian Kytes (Face/Tweener)
 Outspoken All-Rounder
Rebecca Tomko (Tweener/Heel)
 Amazon Enforcer
Sabine Shanoa (Tweener)
 Sensual Succubi
Tina Armstrong (Face)
 Blue-Eyed Superstar
Yelena Turova (Face)
 Crushing Powerhouse
Pantha (Face)
 Pride of the Jungle
Anna Silver (Face)
 Ardent Angel
Cecilia looked on at Adrian as she buzzed them in, the gate opening and then she heard Adrian words about punching people in maid outfits ?...." Ehm...why ?" Cecilia said as she was kinda confused about why she was going to punch people here, she did kinda have plans to try and make friends here, to some degree at least, these people were supposed to be on the same team as Adrian kinda, so it only served to work well to make friends, but then again..Adrian did know this place and the people a lot better than she did, still she didn't think that she would punch anyone...hopefully.

Cecilia watched as the maid came up to them, and welcomed them, she seemed rather interested with Adrian, and she was just so...CUTE! Cecilia had to blink a little as she watched her talk and heard her be almost cuddle-able she was such a little cutie, " Hey there !" Cecilia said with a friendly smile on her face as she waved to the maid, she kinda liked the first impression she had gotten of this place now, and she hoped she would like the rest, still who knew what was gonna happen in this place, seeing as Adrian seemed to have started The Avengers with Cecilia and Rebecca while she was already in a faction...maybe it had stirred up problems...hopefully it wouldn't mean that they would have to disband the Avengers, but who knew...

Cecilia began to follow the maid as she was leading them towards The Mistress, she was quite interested in all this...and it did cause a great excitement to arise within her body, Cecilia was however a bit confused as to why Adrian...kinda seemed of putting of people here, and of this place even her boss sort off...but maybe she knew something that Cecilia didn't, Cecilia had sort of put on a bit more professional attire today, she was wearing a navy blue skirt suit, and she was looking quite dashing in it, her hair was tied up, and her red eyes as enticing as always.

" Huh?..I'm not gonna punch her!" Cecilia said with quite a loud tone of voice, " If you want to you do it" Cecilia said as she put out her tongue to Adrian, she wasn't here to punch anyone, at least that wasn't the plan, so she wouldn't agree to just punch people like that.
"Hello!" Babd said to Cecelia as she turned and began to walk the pair into the mansion. Her eyes widened a bit and she looked backwards to the two after Adrian spoke, surprise and hope on her face. 'Y-you can punch me a little!" She said suddenly with a blush on her face. She was serious but she figured that new girl probably thought she was joking.

She led them to the mansion and at the Foyer, a black haired maid took over the maidly duties. "Right this way, the Mistress is ready to see you." Macha said.

"B-byyyye Adrian!" Babd said and waved frantically.

Macha lead the two girls into Lukretia's receiving area and one of her favorite rooms. As the maid opened the door, the two were shown into a large room. It was filled with books and a crackling fireplace was lit. In the room there were very comfy looking couches and chairs and a few end tables with buckets of imported and chilled bottled beer and frosty mugs. Lukretia was dressed in a sleek black dress that only barely showed off her breasts, instead she decided to tastefully show off her curves with the clingy dress.

She greeted the girls with a smile, looking over Cecelia as she entered the room. The woman had done quite well during the recent PPV and Lukretia had been amiss not greeting her personally yet. "Villkommen!" She said and stepped forward.

"Vat a pleasure it is to see you." She said stepping forward to grab Adrian's shoulders firmly and smiling at her before looking towards Cecelia. "Please. make yourselves at home." She said and offered them seats. "If zere is anything you like don't hesitate to ask." She said with a smile.
"Gah!" Adrian groaned as Cecilia practically repeated what she said out loud for maximum embarrassment, "I'm not going to punch anyone!" She said nice and clearly, much to the little masochist's probable disappointment before the black haired maid led them straight to Lukretia herself.

Here goes nothing she thought as she took one look at the head of the Von Creuzfeldt estate. She was not by any stretch of the word unattractive, especially in that dress FOCUS DAMMIT but there was defenetley something about her that just creeped her out, choosing to remain standing even when offered seats and trying not to flinch away when Lukretia grabbed her. "Hey... long time no see..." she said, trying to think of something to say. Well it had been a while since the two met face to face, but she probably could have thought of something better. "Crazy gun toting midget shot anyone yet?"
_________________
Under construction

Adrian Kytes (Face/Tweener)
 Outspoken All-Rounder
Rebecca Tomko (Tweener/Heel)
 Amazon Enforcer
Sabine Shanoa (Tweener)
 Sensual Succubi
Tina Armstrong (Face)
 Blue-Eyed Superstar
Yelena Turova (Face)
 Crushing Powerhouse
Pantha (Face)
 Pride of the Jungle
Anna Silver (Face)
 Ardent Angel
Cecilia followed the maid and even let out a little laugh as she heard that she was allowed to punch her, she assumed it was a joke and just didn't pay it much mind, she kinda didn't know what to expect out of this entire place and was unsure of what to do exactly, then again she kinda didn't know why she had been brought here really, well she didn't mind it all, she kinda wanted to meet this * Mistress* and learn a bit more about Meister, it just made more sense to try and learn from this and maybe gain something from this whole visit, it wasn't like she was gonna lose anything by it, at least she hoped she wasn't going to.

Cecilia soon found that they got a maid switch and black haired maid, as she was then lead to the room where Lukretia was, and when the door opened they were lead into quite a nice room, Cecilia gave the quite attractive woman a nod and then a wave of her hand, she put on a nice little smile and said, " Hail, Danke " Cecilia said to the woman dressed in the quite well fitting black dress, she did seem to look at her quite a bit but Cecilia didn't take it with that much concern, Cecilia just smiled and thanked Lukretia again, she responded with " Danke, it's a pleasure to see you as well " before she moved over to take a seat, even after she saw that Adrian didn't do the same.

Cecilia looked over at Adrian and smiled a little as she heard what she said, " Addy! why don't you just sit down...come on, nothing will bite you, i'm here after all " Cecilia said as she shot her friend a wink of her eye, and then turned to look at Lukretia, " I apologize, I seem to be forgetting my manners, if my mother could see me now she would beat me silly..heheh, I'm Cecilia, Cecilia Northman it's a pleasure to meet you, Lukretia I presume ? "
Lukretia watched as the two entered. She looked over at Adrian and furrowed her brow lightly. "Fortunately she does not vork zat vay und thankfully I am taking steps to remove her." She added before turning her attention to Cecelia, raising an eyebrow at the Swede.

"Yes, I am familiar vith you, Ms. Northman." She he said and lowered her head. "Und ja, I am Ms. Von Creuzfeldt." She looked at Adrian and slid behind her, putting her hands on Adrian's shoulders. ""Please, have a seat und relax, Ms. Kytes. Enjoy yourself, you have nothing to vorry about." She said and stepped away, going over to a large chair and having a seat. She opened a bottle of dark beer and poured it into a frosty mug. "Vould either of you care for a drink?" She asked before taking a sip from her mug.

After taking her sip, she looked at the two of them."I vould like to congratulate ze two of you on your victories in ze Pay-per-view, vunderbar!" She said with a cheerful smile before tapping her finger to her lips carefully. "Zough I shall have to get you better competition it seems." She looked up at Cecelia. "It has been a pleasure to see you, but if it vas a mere introduction I am sure ve could have arranged to meet in meine office. Vas zere something more you vanted to speak to me about?"
Adrian inwardly cringed as Lukretia furrowed her brow. Dammit, she used to be good when dealing with Lukretia: her first face to face meeting with her was at Summer Splash's wet T-shirt contest where she humiliated the maids who tried to blast her with a fire hose, then there was there first office meeting which despite Lukretia's creepiness being almost overwhelming she came out pretty strong. What happened to her awesome negotiating skills? Had they gone down the pan with her self confidence as well?

The slipping behind and putting hands on her shoulders didn't help either. Why couldn't there be the nice Von Creuzfelt here to counter balance her sister's... Lukretia-ness. To the cosplayer's credit she did relax and took a seat next to her friend "No, I'm good for now." She said calmly as possible before they got straight down to business. "Well you probably know what we've been doing since we last met. I've expanded my horizons a bit. Run into a few problems, ones that as a member of Meister it wouldn't be out of place to ask for co-operation of some kind between the groups." Adrian said, trying to keep just what she wanted close to her chest for now, this was negotiations after all.
_________________
Under construction

Adrian Kytes (Face/Tweener)
 Outspoken All-Rounder
Rebecca Tomko (Tweener/Heel)
 Amazon Enforcer
Sabine Shanoa (Tweener)
 Sensual Succubi
Tina Armstrong (Face)
 Blue-Eyed Superstar
Yelena Turova (Face)
 Crushing Powerhouse
Pantha (Face)
 Pride of the Jungle
Anna Silver (Face)
 Ardent Angel
Page 1 of 8 • 1, 2, 3, 4, 5, 6, 7, 8



Similar topics
---
Permissions in this forum:
You
cannot
reply to topics in this forum