Champions & #1 contenders
Looking for a debut (Tag Match)
Sun Jan 14, 2018 10:29 pm by Person
I am looking for a debut for my new tag team:
Rulers of Divinity
Something to build them up before I start their main feud.
Comments: 0
Trying to get back into the saddle.
Sat Jan 13, 2018 8:11 pm by Deus001
Hi all. Deus here.
You may have noticed I am a bit quiet on the forums these days. My parents split up, I split up with my girlfriend and moved house. I am moving house again in February as well. 2017 was one slow motion punch to the dick for me and my balls are still numb to be honest.
However now that I have some semblance of normality I felt why not see if anyone wants to talk RP ideas, I have a long work week ahead but a clear weekend it seems. If you have any ideas you want to do send me …
[
Full reading
]
Comments: 3
Post Delays after Winter Storm
Sat Jan 06, 2018 4:38 pm by BrittanyW
Cause the best thing after coming back from holiday is for a bomb cyclone to hit where you are. -_-
So yeah, expect more delays of posts and stuff while I have to sort out problems from this shit.
Fuck my life.

Comments: 1
[size=150:1xeym8zu]
General Information
=================================================================================================
Name
: Hea Jung Ji
Alias
: K-Pop Bully
Age
: 18
Eyes
: Brown
Hair
: Black
Height
: 4â€
9
Weight
: 104
Origin
: Korean
Alignment
: Neutral
Entrance Music
: [url=http://www.youtube.com/watch?feature=player_detailpage&v=7H4pOoxUqmE:1xeym8zu]K-Pop Bully AFW Radio Problems (For whom the Bell tolls- Metallica)[/url:1xeym8zu]
=================================================================================================
[size=150:1xeym8zu]
Combat Information
=================================================================================================
Combat Attitude
: She gets mad when people start making fun of her height so she tends to srike hard when that happens. But she takes fighting seriously and hates to be embarrassed in the ring which is why once she is in her first hentai match there will be tears.
Combat Strategy:
Strike hard, lock submissions in just at the right time.
Combat Style:
An MMA fighter mixed with a cruiserweight wrestler.
Combat Type:
A high flying hard hitting brawler who can lock in submissions like no other.
CombatStrength
: 80%- All her strength is in her punches and kicks that she throws, because her punches and kicks are quite deadly but she canâ€
t lift anyone above the 180 lbs.
Defense
: 50%- As a former MMA fighter Hea Jung Ji has a good defence but likes to remain on the attack more then anything.
Endurance
: 92%- Wrestling compared to MMA gives her a little more breathing room since you have to waste a lot of energy in a MMA fight but she has already taught herself how to not get winded easily.
Speed:
70%- Hea Jung Ji is very quick on her feet which is why she has a very high record when it comes to MMA fights.
Technique:
94%- This is what shines bright in Hea Jung Ji arsenal she is able to punch correctly, kick, lock in submissions amazingly, and use wrestling take downs to her advantage.
Preferred Matches:
Any (Hentai matches are not included because she doesn't know what they are)
WrestlingStrikes
: 94%- An amazing striker, has been known to throw a one hit KO back in her MMA days.
Submissions
: 90%- Knows over 300 ways to tap you out…For each body part.
Powerhouse
: 10%- Very low because she barely does anything except for her one finisher and even with that its not a big powerhouse like move.
Aerial:
50%- When she takes off into the air she normally does it towards the end to seal the deal.
Counters:
80%- Is really great at countering moves and locking in a submission move or just plain on attacking her opponent.
HentaiEndurance
: 30%- Being a virgin and never touching herself down there makes her very sensitive and is why she does not last long in hentai matches.
Defense:
50%- She is good at defending herself normally but once you get your fingers inside of her pussy its like hitting your finisher and pinning your opponent 1-2-3 at the start of the match. That easy.
Arousement:
99%- Never really exploring her sexual side has made all of her naughty bits very sensitive, which means her arousal is quite high.
Technique
: 25%- Without much training in sexual arts Hea Jung Ji only will be able to learn as she makes her way through AWF
Pacing:
10%- Does not know how to pace herself, she thinks maybe if she goes quick enough maybe that will make them cum faster, her inexperience shows well.
Style Strategy
: THERE ARE STRATEGIES FOR THESE TYPE OF MATCHES?!
=================================================================================================
[size=150:1xeym8zu]
Attack information
=================================================================================================
Favorite Attacks
Double Knee Stomp- When she is going for a romero special and her opponent wonâ€
t give her their arms she jumps up and stomps on their knees.
Romero Special
Suicide dive
Missile Dropkick
Diving Knee Strike off the Apron
Rolling elbow
Springboard Plancha
Avalanche Belly to Back Suplex
Crossface Chicken Wing
Repeated Curb stomps to the face
Cattle Mutilation
MMA Elbows- She is behind her downed opponent who is on their back, she makes her opponent go into a sitting position, she underhooks their left arm, and repeatedly with her free arms elbow drives it in repeatedly into the chest of her opponent.
Triangle Choke
Hurricanrana
Super Kick
Spinning Fishermen Backbreaker
Common Finishers
-Submission: Lebell lock~ Hea starts by catching the opponent's right/left arm in a leg scissor, often either by dragging the arm down or switching into position via an Omoplata, before wrapping her hands around the opponent's face, pulling the opponent's head backwards applying pressure to the neck and shoulder.
-Slam: It Came From Japan II~ Hea puts her opponent in a front facelock and uses her free arm to go under the opponent's near leg and hook the far one. After lifting him/her off the ground, Hea then jumps up and falls down on her back, slamming her opponent down to the mat headfirst.
-Slam: Pepsi Plunge~ A pedigree off the top rope.
- Strike: Spear~ Hea charges towards a standing opponent, brings her body parallel to the ground and drives her shoulder into the opponent's midsection, pulling on the opponent's legs, as in a double leg takedown, and forcing them back-first into the mat.
Critical Finisher
-Slam: Sliced Bread~ Hea puts her opponent in a three-quarter facelock and run up a the turnbuckle, and jump backwards, performing a backflip in the air, and landing face down to the mat, driving the opponent back-first down to the mat.
-Slam: Sunset Flip Powerbomb~ Hea bends over and place her opponent in a standing head scissors. However, Hea moves forward slightly so the opponent's midsection is between her thighs. Hea then wraps her arms around the opponent's midsection in a waistlock, then jumps and rolls forward, under the opponent's legs, and into a seated position, forcing the opponent to fall back to the mat. The resulting position can lead to a sitout pin.
-Submission: Locoplata ~ Hea pulls her opponent to the ground, then slips one foot in front of her opponent's head and under his/her chin, then she locks her hands behind her opponent's head, and chokes her opponent by pressing his shin or instep against the opponent's trachea. But then with her free foot she pushes up on the choking foot to increase the pressure that is being applied to her opponentâ€
s neck.
-Strike: MMA Ground and pound~ Hea mounts herself on top of her downed opponent and brings down her fists repeatedly to the skull of her opponent, she might even throw in some hammer fists and elbows.
-Aerial: If all else fails~ She jumps onto the top rope and jumps off in a shooting star press and when she lands on top of her opponentâ€
s gut. If she is mad at someone she will jump of and aims higher up so on impact to the opponent her knee that is close to her opponentâ€
s head collides to the side of her opponentâ€
s head.
Hentai Finisher
None at the moment.
=======================================================================================================================================
[size=150:1xeym8zu]
Personal Information
=======================================================================================================================================
Appearance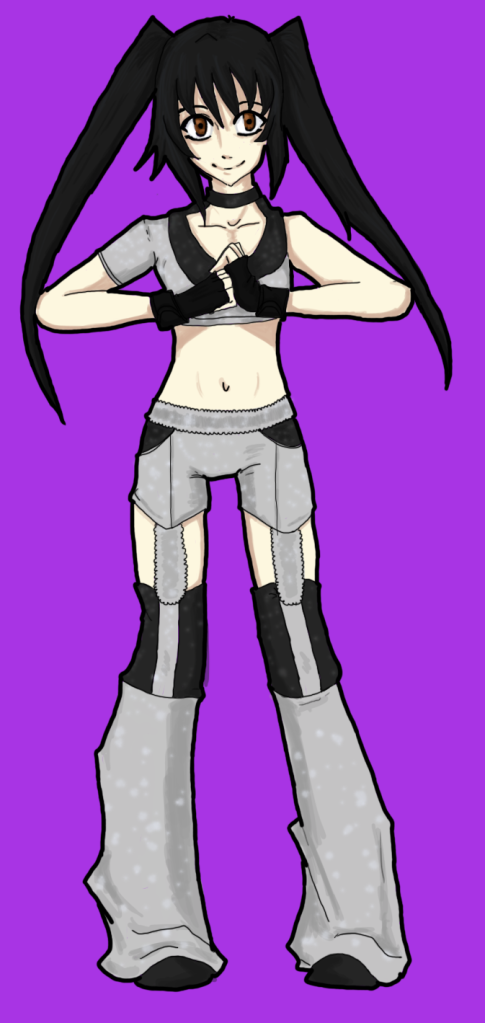 [url=http://i285.photobucket.com/albums/ll49/evarksclone/c957eda84f51052272a5ff39988a14f11.jpg:1xeym8zu]Hentai match but she has black MMA gloves on instead of mittens.[/url:1xeym8zu]
Personality:
Hea is all about her pride as a fighter as she demands respect inside and outside of the ring. But that isnâ€
t saying Hea isnâ€
t kind, she just keeps it hidden not wanting to be taken advantage of like what happened with her ex-girlfriend. She hates being reminded of how short she is and tends to get angry quickly and lets her fists do the talking. But she only gets angry at people who are mean to her and make fun of her height now. But when she is being taken advantage of in a hentai match she becomes a resistant submissive who keeps asking them to stop when she really likes what they are doing to her but doesnâ€
t want to admit it.
History:
Hea was born in South Korea to a poor family who made very little income. But managing to sneak onto a boat made it to Japan where her father who knew Japanese very well opened up a restaurant. Hea was taught how to speak Japanese and doesnâ€
t know how to speak Korean whatsoever. Hea growing up was a problem since she was a problem child compared to other kids but Hea was smart. She was a problem child because her fellow classmates were rude to her saying since she is not Japanese she is not superior. This was when she started getting in fights with both boys and girls in her class and she fought hard, everyone could tell she could become a good fighter since she has such heavy hands when it came to her punches. She was sent to the principleâ€
s office a lot. She then became the K-Bully because she defeated anyone who came her way. That was until she finally got into a fight with a teacher who she threw a punch at after she tried beating up a fellow student. But her teacher instead grabbed her arm and locked her in a triangle choke until Hea eventually passed out.
She woke up at the teacherâ€
s house who has been taking care of her sinced she passed out earlier today. Hea was scared as her young female teacher approached her, Hea had tears in her eyes expecting the teacher to take advantage of her but instead she felt a warm embrace and heard, "Iâ€
m sorry for doing that to you…Its instinct I shouldnâ€
t of done that." Hea was confused as she looks at her teacher who explained to her that she was training to become a MMA fighter. Hea was very interested in this and then asked, "If I stop bullying the students…You think you could take me to your dojo?" The teacher nodded and she took Hea to be trained by her new sensei. At the age of 16 she already had 10 pro wins under her belt and she gave all that money to her family saying that they needed it more than she did. That was until she met Ayako…Her high school sweetheart. She was nervous at first. Her father telling her that she should like men and not women, and how he wanted a grandchild. Hea responded with, "You will…But theyâ€
ll be adopted."
Hea didnâ€
t notice this but Ayako was actually just using Hea as her Sugar Mama. With all the winnings she got after matches she just used most of it on Ayako. One time in a fight Hea received a concussion from an illegal knee to head while on the ground and was continued to be brutally attacked by this woman in which Hea found out later…Was Ayakoâ€
s first girlfriend who found out Ayako was cheating on her with Hea and Ayako told her a lie about how Hea took advantage of her sexually which caused the brutal assault. Hea soon came to her senses as the fighter that assaulted her came to her to apologize after she found out the truth and that Hea didnâ€
t even know she was already Ayakoâ€
s girlfriend. Hea just glared at her, walked over to her and socked her in the jaw knocking her out saying, "YOU SHOULDâ€
VE MADE SURE FIRST!" Hea was then thrown out after the punch she delivered to Ayakoâ€
s girlfriend outside of the ring. Hea tried to go somewhere else but they were afraid to pick her up. Hea then found out about AFW and went to a wrestling school for a year to train since she needed to learn some wrestling moves. Once she finished and was offered the contract she immediately signed it…And didnâ€
t look at the contract that talked about Hentai matches. If anyone knew Hea…Everyone knew she was a virgin, afraid to even play with herself with the stories her dad told her about that her hands would fall off. Wonâ€
t she be in for a surprise?
=================================================================================================
[size=150:1xeym8zu]
Additional information
=================================================================================================
Facts of
:
Virgin
She finished her MMA career with 20 wins and 1 loss.
18 of those wins are by Knock out while the other two were by decision.
The one loss was by the teacher who got her into MMA, was her first pro MMA fight and her last real fight before the brutal assualt which she won by triangle choke (How Ironic)
Plays a lot of video games
Runs about 10 miles a day
Still trains those who want to learn about MMA to become a fighter
Likes:
Burgers
Energy Drinks
Mountain Dew
Ice Cream
Milkshakes!
Steak
Fruits
Anime
TV
Comedy Shows
Action Movies
Video Games (Mainly Fighting and Shooting)
Dislikes:
Being disrespected
Anyone mentions her height
Coffee
Alcohol
Smoking
MacDonaldâ€
s (Burger King is better!!!)
Bananas
Being reminded she needs to drink milk to grow…
Most Used Quotes
:
General StatusSiblings
:
Friends
:
Allies
:
Rivals
:
Enemies
:
Crushes
:
Alliance
:
Tag Team:
Accomplishments
[/u]
Rankings:
Events:Titles:Contender-ships:[size=125:1xeym8zu]Wins:



[size=125:1xeym8zu]Losses:



[size=125:1xeym8zu]Draws:
Championship Achievements:
Wins:
Losses:
Draws:
Last edited by 8569 on Sat May 04, 2013 11:40 pm; edited 3 times in total
_________________
Friction
[url=http://afwrpg.informe.com/forum/friction-roster-f10/the-pop-star-vixen-tsumi-yoshida-t5457.html:me8ybd35]"The Pop Star Vixen" Tsumi Yoshida[/url:me8ybd35],
[url=http://afwrpg.informe.com/forum/friction-roster-f10/the-sadist-cherrie-young-t7544.html:me8ybd35]"The Sadist" Cherrie Young[/url:me8ybd35]
[url=http://afwrpg.informe.com/forum/friction-roster-f10/sister-of-the-popstar-vixen-tsukiko-yoshida-t7374.html#p180923:me8ybd35]The Legendary Sister- Tsukiko Yoshida[/url:me8ybd35]
[url=http://afwrpg.informe.com/forum/friction-roster-f10/kristina-zora-t8319.html:me8ybd35]Kristina Zora[/url:me8ybd35]
[url=http://afwrpg.informe.com/forum/friction-roster-f10/miranda-lightning-reed-t8317.html:me8ybd35]Miranda "Lightning" Reed[/url:me8ybd35]
Kawaii
[url=http://afwrpg.informe.com/forum/kawaii-league-f27/the-k-pop-bully-hea-jung-ji-t5531.html:me8ybd35]"The K-Pop Bully" Hea Jung Ji[/url:me8ybd35]
Tension
[url=http://afwrpg.informe.com/forum/tension-pro-males-f60/the-misfit-damien-miller-t5456.html:me8ybd35]"The Misfit" Damien Miller[/url:me8ybd35]



Posts

: 330


Join date

: 2011-12-16



---
Permissions in this forum:
You
cannot
reply to topics in this forum