Champions & #1 contenders
Back after a long absence
Sun Feb 11, 2018 10:08 pm by Iron Soldier
First off, I apologize to my friends and roleplay partners who've been left hanging. Any desire to cancel old threads is completely understandable.
I've been struggling with a serious health issue the past several months. There was a long period where things would seem to improve only to relapse, delaying things further. All that aside, just wanted to let people know I'm around again and to contact me via PM or Trillian - ironsoldier, if anyone wants to get things going again.
[
Full reading
]
Comments: 9
Offline for next week or two
Tue Feb 13, 2018 11:17 pm by peek6
Comments: 0
Looking for a match
Sun Feb 04, 2018 9:23 pm by GrandAkumaShogun
Hey there everyone I was looking for someone to take on my newest guy Imai. Get in touch if you're interested.
Comments: 3

Name:
Fayth Kitevski
Age:
18
Eyes:
Bright Blue
Hair:
Blonde
Height:
5'3"
Weight:
109
Nationality/Birthplace:
Macedonia
Current Country:
United States
Entrance Music:
"The Boys" by Girl's Generation [url:wqjxqqti]http://www.youtube.com/watch?v=6pA_Tou-DPI[/url:wqjxqqti]
Background Info/Story:
Lived in Macedonia until she was 15 years old when her parents' divorce forced her to move to America with her father. She quickly adjusted to the new country. Girls liked her for her interesting clothes, and boys liked her for her pretty face and figure. She has always enjoyed watching wrestling as her brother was a wrestler for his school in Macedonia, and she went to all his matches. He even taught her several moves before they were separated- her brother stayed in Macedonia because he was 18 at the time of the divorce. When she came to America she discovered an underground tap-out-style grappling club, which was formed by students, and decided to try out her moves. The club consisted of mostly boys, but a few other girls were involved. Although she is seen as a sweet and innocent girl during school and even now that she has graduated, her wrestling mates have grown to respect her for her abilities. Yet, while she does have the skill and the will to fight, she is still greatly lacking in strength to compete against any big opponents. She has always gotten a thrill from wrestling her classmates, especially when she is able to make them submit, but now that she is an adult, she wants to get into some more adult type matches (has never had a hentai match, but is willing to try).
Wrestling Strengths:
She knows several wrestling and grappling tactics and has the skill to execute them properly, and she can endure quite a bit of pain for her size before submitting.
Wrestling Weaknesses:
She cannot simply overpower her opponent, but has to wait for the proper moment to strike as she is almost never the stronger girl in the ring.
Wrestling Style:
Defensive, waiting for a good chance to grapple her opponent.
Record:
Wins: 0
Losses: 1 - Brittany Luvve
Stats:b]
Combat
Strength:★
Defense:★★
Endurance:★★★★
Speed:★★★
Technique:★★★★

Wrestling
Strikes:★★★
Submissions:★★★★
Powerhouse:★
Aerial:★★★
Counters:★★★

Hentai
Endurance:★★
Defense:★★
Arousement:★★★★★
Technique:★★★
Pacing:★★★

[b]Favored Moves:
Dragon clutch, Grapevine, Headlocks (either a scissor or under the arm with a body-scissor thrown in)
Finishers:
Flying Feet Fake-Out:
While her opponent is in a grapevine, she will release them making them believe they have a moment to escape. She will release their legs only while still having their arms pinned, and just as they bring their head up, she will push herself a few feet of the ground swinging her feet under her and slamming them simultaneously into her opponent's face. She then lands on her backside onto the opponent's stomach and brings her opponentâ€
s throbbing head between her thighs and squeezing until they either pass out or submit.
Flailing Prisoner:
While her opponent is standing, she will slide under his or her legs sweeping them out from beneath them. Then she will do a backwards somersault landing with her legs straddling her opponent's torso and with her butt resting on their head. She will then grab one of their legs and bend it back, making the other leg squirm from the pain as it kicks around trying to escape. This can also be used as a hentai finish in which case she uses her free hand to play with the opponent's sex.
Muffled Moaner:
While Fayth has never performed or participated in a hentai match, she has thought about ways to make her opponents submit via orgasm against their will. While her opponent is on the ground on his (or her) back, she will perform a reverse head-scissor while playing with the opponent's sex with her hands. She will then begin to grind her pelvic area into her opponent's face slowly. As the pace progresses, and her opponent gets closer to an orgasm, she will then reverse herself, putting her breasts on the victim's face, muffling any noise that he or she might make at this point.
Appearance: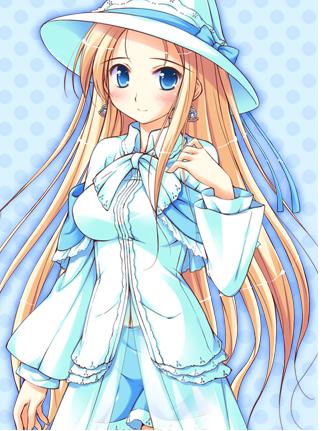 Personality:
Fayth is considered a sweet girl who wouldn't hurt a fly among her friends, but she does have a surprisingly viscous side in the ring. Although she wears pretty dresses and modest clothes except to the beach, she is also interested in hentai matches. One might say there are two sides to Fayth, one that puts others before her and puts her time into her work and friends, and another who wants to see her opponents under her, submitting.
Last edited by 8693 on Tue Nov 06, 2012 6:17 am; edited 6 times in total



Posts

: 20


Join date

: 2011-12-23



Yes this is approved, you can start playing
_________________
Kelsea's Karacters
/
Desire's section
Spotlight
characters:
& of course
ThE BRaT PaCK



Posts

: 8006


Join date

: 2008-04-06




---
Permissions in this forum:
You
cannot
reply to topics in this forum