Champions & #1 contenders
The Austrailian Mudslide is Back.
Sat Apr 21, 2018 6:20 am by Softsquad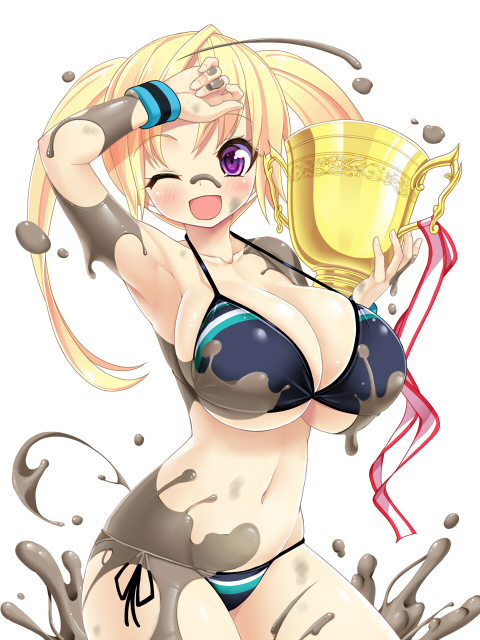 Granted that most of you won't know me or remember me, but I've had a few matches here and there some time ago. Well I think its time to become a regular around here and try to have some fun again, but at the same time keep coming back. Anyway I think its time to jump into some matches with Zoe Taylor, my mud wrestling character from Australia and get her back into the squared circle. Furthermore I will update my characters as I think some proper changes need to happen.
So if anyone would …
[
Full reading
]
Comments: 4
Looking for debut thread.
Sat May 12, 2018 9:28 pm by Hedgehawk
Hello All.
I am looking for a debut for my girl Trinity (http://www.afwrpg.com/t18107-trinity-cordova#495678).
This doesn't have to be a match, it could be a gym battle, interview or anything else. I just want something to help get Trinity off the ground. If you wanna plot feel free to reply to this message or fire me a PM.
Many thanks in advance and thank you for reading my message,
Hedge
Comments: 0
Page 1 of 5 • 1, 2, 3, 4, 5


In one hand, Allison held a large manila envelope that had been her morning's business. It contained several glossy promotional photos of her in her ring gear, both with and without her long tailed vest. The photos of her in just her bikini and boots were particularly provocative. She'd spent the morning making demands over what photos to use, how to finish them, and how to arrange the spread. Allison always knew what she wanted. She slipped the envelope into her purse; It was much larger and stuck out of the top. She'd seen enough of that for one day.

In her other hand, she held a tea cup in her thumb and first two fingers. She had just finished a light lunch and was taking her time sipping her tea, enjoying the warmth of the cup on her hand, the heat of the tea as it passed her lips, the lingering bitterness after she swallowed. After so long in Japan, she'd finally found a small cafe that suited her only a short distance from the AFW building.

Once the tea was gone, she stood up and left a pile of bills on the table, including a generous tip, shouldered her purse, and left. The unseasonably warm December air still gave her a bit of a chill as she stepped outside, and she pulled the collar of her light, fine, black wool coat tighter around her neck. She began the walk down the sidewalk back to her car. She'd parked it on the street. She almost welcomed the idea of someone attempting to break into it or vandalize it. It would be quite exciting.

The steady click-clack of her heels against the cement cut through the din of the city-street as she made a path for herself, her confident, unyielding body language enough to move people out of her way. She paid no attention at all to the other passersby, until she came across a bit of a commotion.

A bit farther up the walk was what appeared to be a verbal spat involving two male police officers and a woman... An unusual, outlandishly dressed woman. Allison's curiosity was instantly piqued, and she made no effort of concealing her interest as she stood off to the side and watched the argument unfold, her eyes fixed almost entirely on the woman.
"Do I look like a dude to you?!? Poison yelled at one of the police officers that had stoped her, arching her back a little to make her huge breasts more evident. "This is bullshit!" she yelled staring at the two police-men, her face was becoming bright red, it was clear that she was furious and the two officers were starting to hesitate.

The description they had matched Poison perfectly, she had pink hair, pale skin, she even wore the biker officer hat with a skull and two bones crossed in the front, the leather jacket, wrapped up with chains even said 'Mad Gear' on the back. There was just one problem, the Interpol aprehension order said it was a guy, a crossdresser, and when looking up close at Poison it was pretty evident she was a woman, and extremely well endowed woman.

"Want me to take off my clothes and show you I'm a girl?" Poison said as she began unbuttoning her leather trousers much to the police shock and the enjoyement of the crowd that continued to grow by the minute. It was too cold to wear her usual cut-off shorts, but the long pants did nothing to hide Poison curves. "...or would you prefer to slide your hand in and check for yourself?" the pink haired girl added with a twisted smile.

By now the two police-men were clearly intimidated and throughly humiliated. Their actitude had changed from trying to question Poison to trying to defuse the situation and send everybody away. Poison sensed this was her chance to escape and she began to walk away, extending one arm back to the officers and giving them the finger. "Stupid cops..."

Once she had taken a few steps away from the police, that were now too busy dispersing the crowd that had gathered, a sly grin formed on Poison equally pink lips. She had done it again.
Allison watched as the pink haired woman shouted down the police officers. Her confidence, the way she was not the least bit intimidated by the two men, the way she turned the situation around on them and shamed them, scared them away... it was utterly delightful. Allison remained quiet, with a small, enigmatic smile and the twinkle in her eye, until the woman brushed off the police and set off down the sidewalk toward her.

She allowed her shoulder to brush against the woman's as she pushed past her. "You seem like you've seen your share of trouble, darling." She said softly. She made no attempt to raise her voice, though it was clear she was speaking to the voluptuous, pink haired woman. Her smooth, posh English accent was in stark contrast to the woman's rather coarse, obviously American, speech. She used her eyes to steal the woman's attention with a faint, restrained smile on her lips. "You handle yourself quite well under pressure. How very interesting... Perhaps you'd like to distance yourself from this spot. May I offer you a lift?"
Poison stoped in her place when she felt her shoulder brush against the shoulder of some girl standing there. The gang-girl had seen the blonde but didn't paid much attention to her; she had moved her shoulder back in such way that if this blonde had done the same, they wouldn't have touched each other. But they did touched each other, and in Poison's mind there was no doubt it had been Allison's fault for not moving. Not only that but by hearing how she spoke Poison arrived to the conclusion that this bitch had done it on purpouse.

The pink-haired girl took a couple of seconds to understand what Allison said, she was expecting to be adressed in either Japanese or American, so she needed a couple of seconds to realize the blonde was speaking horrible in English. Then Poison had to recall the words Allison had said, all the while standing in front of the Brit one hand on her hip as she looked at her annoyed.

"a lift?!" it wasn't the first time someone confused her with a prostitute, it was much more common than people confusing her with a crossdresser; it was neither the first time a classy bitch came to her soliciting, and it wouldn't either be the first time she accepted.

Poison looked at Allison up and down with a mocking smile. "Gosh...the rich ones are always the worse..." she said rolling her eyes. "Well... I wanna say you can't afford me, Jane..." the pink-haired girl said as she checked out Allison, or more likely, her clothes. "I got the feeling you can move lots of money, don't cha?" Then Poison leaned closer to Allison to whisper "I should warn you, just in case it is your kink, I am NOT a dude!"
Allison raised her eyebrows. This young lady was certainly cut from a different cloth than the usual stock of proper, repressed Japanese girls that filled her days. It was refreshing, and she didn't mind in the least that she seemed a bit hostile. Though she was a bit amused that she thought Allison was attempting to employ her as a prostitute. How very odd.

"Mm, I'm quite certain I can afford you, darling," She purred. "But it's not my intention to hire you for whatever... services you may be accustomed to providing. Why would I take you to be a man?" She asked, more intrigued than confused. "You certainly don't look the part. Anyway, I am walking to my car, this way, if you would like a ride to wherever you are going, it would be my pleasure to accommodate you. On the way, you could enlighten me as to the subject of your discussion with the local law enforcement, and perhaps why one would think you to be a man, of all things."

Allison spoke in her usual even, velvety, relaxed voice, this time with just a hint of playfulness. She found herself in a good mood, this was a welcome diversion, and chance encounters of this nature were rare. She didn't want it to go to waste.

With a brief, polite smile to the woman, Allison turned and resumed her stroll down the sidewalk.
Poison blinked slightly surprised. So the posh princess didn't wanted to lay her. Then what she wanted? For the pink-haired girl it was difficult to imagine that someone could want something from her besides sex... Unless this girl was looking for an accomplice for some crime. One way or another this girl was loaded with money, and if there was something Poison was good at was getting money from people, so she decided to play along.

"Oh...it is a long long story..." Poison said as she placed her hands inside the pockets of her jacket, playing with the brass knuckles she had inside them with her fingers, as she walked besides Allison. "There is apparently an arrest order for a crossdresser that, in the opinion of the pigs, looks like me...." Poison said amused. "Part of a gang that kidnapped the daughter of New York's Mayor or something..." she added unable to resist giggling a little bit. "Say...what is your name?"
"That hardly sounds like the truth." Allison remarked impassively. The idea that anyone would genuinely mistake this curvaceous young woman, one with a penchant for dressing provocatively, for a man seemed to be too far fetched. Allison didn't mind pressing her a little on the matter.

A cold breeze and made Allison shiver. She was used to it, but she didn't much like the cold. She smoothed a lock of hair back into place with one hand.

"My name is Sarah Watson. I own a spa farther downtown, if you'd like to come by sometime I'm sure my girls could help you with your problem." She said dryly, poking a bit of fun at the woman being mistaken for a transvestite. It was the closest she came to genuine humor. "You have such lovely skin, it would be a shame to see the winter damage it. Your eyes, as well, you have wonderful raw materials." She said, without having to look twice at the woman. Allison's attention appeared to wander as she looked around across the street and up at the gray winter sky.

"And what is your name, if I may ask?"
"My problem?!?" Poison asked slightly angered by the comment. "How about I send the cops to your spa and you fix them?" she said maliciously. They are the ones with the problem, not me..." she added with a giggle.

The pink haired girl listen amused at Allison's compliments, but she said nothing about it, she was used to compliments, althought they were usually a lot more vulgar.

"I'm Poison."
Allison let out a lilting, musical, delighted laugh. "Mmmm, so you are." She purred. "You are interesting... What part of the United States are you from? I've been to Los Angeles, dreadful place. I am quite partial to certain parts of New York... just as certain parts are quite partial to me."

She angled off of the sidewalk into a small parking area. "Here we are..." She said, and approached her glossy black Maserati Gran Turismo. She had sold her Mercedes S-Class, ostensibly because of her boredom with it's very German sort of dull luxury, but also she'd used the proceeds to fund the start up of her spa. Since being shunned by her family, she didn't actually have as much money as she led people to believe, but certainly she was still well off.

The doors unlocked as she put her hand on the handle, and sh opened the passenger side door for Poison. She took her time walking around to the driver side, and then gracefully slid into the low slung seat of the sleek, dramatically sporty little car. There were not many like it in Japan. It wasn't the most reasonable choice for a car, given the Tokyo traffic situation, but Allison couldn't bear the thought of being without it.

"Tell me, darling, Miss Poison, if you could go anywhere in the city, where would it be? What best suits your fancy at this moment?"
Last edited by 1167 on Sat Dec 24, 2011 3:03 am; edited 1 time in total
["Oh well... I was born in the middle of nowhere...also know as Indiana." she said with some sadness on her voice. "But I quickly moved on to bigger places...New York to be specific and well..." Poison made a pause to think how to explain it without giving away much. "...lets say after New York became extremely partial towards me I had to move on...after that...I've been all over the US...but I also had to leave....nice car"

Poison's eyes shined when she saw the maserati, she ran her hand along the sportcar's line and when she heard the doors unlock she had the sudden urge to hit Sarah in the back of the head and steal it, but she controlled herself.

Poison got inside the car and rubbed her ass against the leather seat as she looked around. Stealing the car became a more and more tempting idea, but if Poison had learned something in her time as a criminal was never to steal from people you didn't knew; there was always the chance to be messing with a big shot. And this Sarah girl looked like a big shot, at least she acted like one.

"Where I want to go?" Poison asked incredulous. She was used to being asked what she wanted by love-dumb boys, but this blonde didn't fit the description and Poison immediately got suspicious. In Poison's mind this could only mean one of two things; either Sarah was trying to impress her or befriend her because she wanted something from her, or she was testing her. Posion was going to have none of it, at least not without getting something in turn.

So the pink-haired girl began to think what she could get out of Sarah. Maybe a meal in some fancy restauran? No, she wasn't really hungry. Go to some trendy shops and get some clothes and make Sarah pay? And then steal her car... Nah, thet was so petty. Maybe it was better to turn the tables on Sarah and test her.

"Mmmmmm... I don't know... I'm in the mood to.... know some new place... So why don't you take me where you will like to be... As long as there aren't any cops anywere is fine." she said with a cute almost friendly smile.
Page 1 of 5 • 1, 2, 3, 4, 5


---
Permissions in this forum:
You
cannot
reply to topics in this forum