Champions & #1 contenders
The Austrailian Mudslide is Back.
Sat Apr 21, 2018 6:20 am by Softsquad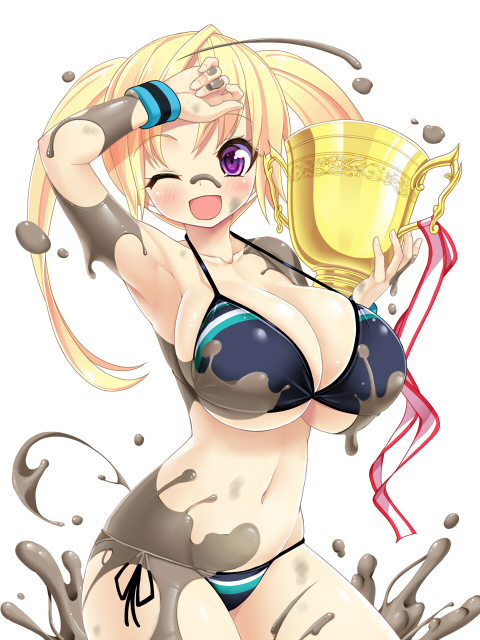 Granted that most of you won't know me or remember me, but I've had a few matches here and there some time ago. Well I think its time to become a regular around here and try to have some fun again, but at the same time keep coming back. Anyway I think its time to jump into some matches with Zoe Taylor, my mud wrestling character from Australia and get her back into the squared circle. Furthermore I will update my characters as I think some proper changes need to happen.
So if anyone would …
[
Full reading
]
Comments: 4
Looking for debut thread.
Sat May 12, 2018 9:28 pm by Hedgehawk
Hello All.
I am looking for a debut for my girl Trinity (http://www.afwrpg.com/t18107-trinity-cordova#495678).
This doesn't have to be a match, it could be a gym battle, interview or anything else. I just want something to help get Trinity off the ground. If you wanna plot feel free to reply to this message or fire me a PM.
Many thanks in advance and thank you for reading my message,
Hedge
Comments: 0
Page 1 of 2 • 1, 2


5:47 p.m. Tokyo, Japan

Speeding down the crowded streets of Tokyo, Japan in a [url=http://www.rockymountainsusp.com/images/SK_2wF150.jpg:1skjeoqq]1995 Ford F-150[/url:1skjeoqq]1995 Ford F-150[/url] was Bonnie T. Gastin. The once rowdy and optimistic Texan brawler, now a shell of her former self following a brutal ambush on her brother, Clyde by The Gatt Attack before being shot by an unknown assailant right in front of their friends, Alessa Mason & Dante Sunderland. Though Clyde managed survive his wounds, he fell comatose and no one knew when or if he'd ever awaken.

The night those events occurred became the absolute worse night in Bonnie's life. She had watched her only brother being beaten mercilessly into a bloody pulp before finding him on the edge of life and death. She saw how her friend Alessa was visibly traumatized by the sight someone supposedly dying right in her arms. She saw how Kelly Conway had evolved from a harmless annoyance to an insane, heartless witch. She saw how her brother's lover, Heather Sunderland, cried her heart out for Clyde and voiced her undesire continue on without him. For Bonnie Gastin, everything was bad for everyone and these hardships were beginning to take their on her.

In the end, Bonnie was hungry for one thing. Revenge. All she wanted was a chance to give Kelly Conway, Sarah Gatt and 'The Shooter' the beating of their lives. Bonnie wanted to give those who had wronged her family what they rightfully deserve. Bonnie wanted to help everyone get back to normal and for her brother to wake up again. It had only been about a day since everything took a turn for the worse, but for Bonnie it felt like an eternity. She was more than eager to go out and fix all this herself but knew she couldn't. She needed her allies, The Avengers to take on the Gatt Attack. It was something Bonnie couldn't do alone and she hated that.

Misery and Revenge had consumed Bonnie so quickly. She couldn't stop mourning, she couldn't smile anymore but didn't want to either. Her sorrow and stress drove her to drink, which she had been doing heavily heavily since yesterday night and didn't stop until she passed out at 3 a.m in the morning. After waking up around 4 or 5 p.m., Bonnie found out that the group wasn't mobilizing against The Gatt Attack today, supposedly that would be tomorrow. But Bonnie saw how her allies, Cecilia and Heather made use of their time by getting into a 'Shit-Talking' match with The Friction Champion, Akashi and her partner, Taylor, whom Bonnie had never seen before, nor did she care she stopped watching about mid way through and left Cecilia's place, angry, disgruntled, hung over and offended. She didn't know why Heather and Cecilia were out getting themselves into pointless grudge matches when they should be fighting against Sarah Gatt, that was upsetting Bonnie quite a bit. She felt like they didn't care about avenging her brother like they once did and were instead preoccupied with their egos by fighting The Champ and a Blue-Haired Loudmouth. It was all pointless in Bonnie's eyes, just like everything else in life she saw. Completely Pointless. Maybe before yesterday, Bonnie would have been in the mood to get out in the ring and work her way up towards getting a belt. But not anymore. Nothing mattered to her anymore except her brother and getting revenge. Bonnie knew It wasn't all about her, but she felt that she was the only one really cared for her brother. She felt her fight against Gatt was going to be a lonely one, and better off that way too.

Before long, Bonnie was right back to drinking her troubles away, drowning her sorrows in whiskey as much as she could until. She wanted to go numb and no longer feel all this sadness and loneliness that kept plaguing her. The alcohol was making her far more violent and Bonnie was aware of it, but she did not care, it felt too good for her. The taste of more whiskey on her lips after several previous bottles while cruising down the streets of Tokyo was something that actually made her feel better. Perhaps a little too well, to the point where she had no idea that she veered off the road and plowed the front of her truck into the pole of a traffic light. The impact causing Bonnie's head to whip forward and smash itself against the steering wheel, earning a bit of blood from a small cut on her forehead. Rather than check the damage on her precious blue pick-up, Bonnie exited the truck and headed for a nearby building loaded with neon lights inside that she could of sworn were calling her. Traffic was building up behind her because of the wreck but she didn't care. She marched right into the place with her bottle in hand, the sights of flashing lights along with the sound of electronic beeps and boops all around her. She was in an arcade.

Although much in the arcade was a blur to her, Bonnie spotted a nearby Pinball Machine titled 'AFW Pinball' and had three women on the cover for it, three figures that the drunken Texan clearly recognized. It was Sarah Gatt, standing in between Nha and Sha. All three smirking confidently at her, like they taunting her for all the misery they had caused her, for all the pain they made her brother endure. Bonnie couldn't take it, she snapped, her eyes grew wide with fury as she clutched the bottle tightly in her hands before throwing it at the machine, smashing the glass cover to pieces before attacking the machine itself with an animistic roar. Tearing it from the wall to throw it down on the floor before stomping as hard as she could down on the machine over and over, screaming at the top of her lungs: "Damn You Bitches To Hell!!! I'll Murder All Y'all!!!". Bonnie was in a frenzy, she was letting out all the rage and sorrow she could give at that very moment, not caring about what she was really doing at all. She only wished it was really The Gatt Attack and not a Pinball machine.
To say Adrian had been having one of the worst days of her career would be an understatement for how she felt. Yesterday it seemed that everything was going to turn out fine, but no, a failure to recruit a potentially important ally, the fact Gatt was protected by some-thing... Ciara was being really fucking vague about it, or the cosplayer just couldn't remember what she said... really took the wind out of her sails, and add to that the confrontation with Natalia and now she was... yeah.

Pretty Shaky, and crazy.

With one less friend to keep her company.

She sighed as she walked down the streets of Tokyo, the honking of horns from cars not moving anywhere, she needed to do something to cheer herself up. Someplace where she could probably hide from the world for a bit, where no-one would look to find a professional athlete.

"Arcade, duh." She said to herself sadly, walking into the neon glowy familiarity of an arcade. Lines and lines of games all designed to take away attention from the painful or important. Just blast herself back to sanity by blowing a bunch of coins in machines. Only to see Bonnie Gastin, her ally wrecking one of the machines

"Uh...hey. Bonnie?" She asked nervously.
_________________
Under construction

Adrian Kytes (Face/Tweener)
 Outspoken All-Rounder
Rebecca Tomko (Tweener/Heel)
 Amazon Enforcer
Sabine Shanoa (Tweener)
 Sensual Succubi
Tina Armstrong (Face)
 Blue-Eyed Superstar
Yelena Turova (Face)
 Crushing Powerhouse
Pantha (Face)
 Pride of the Jungle
Anna Silver (Face)
 Ardent Angel
For a moment, Bonnie would ignore the music from the nearby games and the sounds of people screaming and running as the Texan unleashed her drunken fury on the pinball machine, proceeding to stomp on it over and over with a hateful glare in her watered up eyes as a streak of uncontrollable tears rolled down her face, but not once did she let up on and stomping that pinball machine into shattered pieces over the arcade floor.

But a lone and familiar voice however seemed to wake Bonnie from her moment of blind rage as her name was spoken, causing Bonnie to cease her destruction of the machine and turn towards the voice. It was Adrian Kytes. Her ally in The Avengers and a friend of sorts.

"... Adrian Kytes..." Bonnie would mutter out with her head down before turning her head to wipe the tears from her face, not wanting them to be seen. "The hell you doin' here?" Bonnie would ask.
Last edited by 621 on Sat Nov 19, 2011 4:34 pm; edited 1 time in total
"M-me!?" Adrian responded defensivley, taking a better look at the situation. A broken pinball machine with the wrecked forms of Sarah and the "wonder twins" as they had named Nha and Sha, and Bonnie looking down with a bitter tone in her voice and a foot still in the machine, maybe she could be truthful with her and sighed. "Trying to hide my crazy that made me attack someone I always wanted to call a friend by numbing my mind by spending all my pocket change here instead of seeing a shrink... you?" she asked, moving closer to try and sit down next to Bonnie.
_________________
Under construction

Adrian Kytes (Face/Tweener)
 Outspoken All-Rounder
Rebecca Tomko (Tweener/Heel)
 Amazon Enforcer
Sabine Shanoa (Tweener)
 Sensual Succubi
Tina Armstrong (Face)
 Blue-Eyed Superstar
Yelena Turova (Face)
 Crushing Powerhouse
Pantha (Face)
 Pride of the Jungle
Anna Silver (Face)
 Ardent Angel
"Yeah you! You the only one im talkin' to!" Bonnie would say while pulling her foot out of the smashed up machine with a slight hint of aggravation under her reddened cheeks that came from her recent whiskey consumption. It was clear to see that Bonnie was a bit drunk and very upset, but she didn't drink enough to rid herself of most of her sober senses. She knew her mood was rather shitty and full of bitter anger but she wasn't mad at Adrian and didn't want her to think she was mad at her. So Bonnie tried to calm herself down and take a deep breath before she turned her ally or 'friend-of-sorts' into an unwanted enemy.

Bonnie's eyes then widened a bit in surprise upon hearing what Adrian told her. Trying to hide her crazy? Attacking a would be friend? Avoiding a therapist? Bonnie didn't understand what the cosplayer was talking about or what was going on with her, but she figured that things weren't go too well for Adrian by the way she was talking.

"Damn... Wonder what's wrong with her..." Bonnie would think to herself with a small frown upon her still slightly teary eyed face, wondering what could be troubling Adrian. Even though Bonnie considered Adrian to be a close ally, she didn't know her very well and wasn't even sure if the cosplayer considered her to be a friend. Regardless, Bonnie felt that Adrian was at least a friend to her and wanted to help her, It didn't seem normal for her to be acting this way.

"Uhh... Me? Well... To be honest... I don't even know... I sorta wrecked my truck, came in and saw ol' fuckin' Sarah Gatt with those two punk ass bitches, Nha and Sha on this here Pinball Machine..." Bonnie would say to Adrian, looking over at the girl as she sat down beside her, not bothering to explain why she took her anger out on a pin ball machine that had a picture of 3 out of 5 women that Bonnie hated most right now.

"I guess Im here cuz I ain't got nowhere else to go and Im pissed as hell. I wanna tear those Gatt-Attack bitches apart and beat the shit outta em' now! But apparently we ain't doin' nothin' against em today. Cec and Heather are out havin' fun and tag teamin' against 'Akashi The Champ' and some 'Bue-Haired Shit-Talker' instead of doin' what they promised... On top of that my brother still ain't awake..." Bonnie would say in an angry, bitter tone of voice full of regret and frustration, clinching her fists tightly while looking down at the floor as she spoke out before turning to Adrian.

"I was just about to ask... Why ain't you out gettin' ready to fight this goddamn war... But I can see that you got some troubles of your own... You talkin' 'bout hidin' your crazy, attacking a friend and not seein' a shrink... What happened? You ok?" Bonnie would ask with a great bit of concern in her voice despite her still angry and disgruntled attitude.
Last edited by 621 on Sun Nov 20, 2011 5:08 pm; edited 1 time in total
Adrian looked down at the wrecked machine, sure enough: pictures of three of the worst members of the enemy faction were... well they were on there till Bonnie had a go at it, even still she could see the outfits. How'd they even get that popular? she wondered, before snapping back to what the Gastin girl was saying.

"Well...I was doing something to help... I'll talk about it later." She mumbled, not thinking this was exactly the right time to recount her tales of trying to recruit new allies, wincing when she mentioned who Cecilia and Heather were going up against, not really wanting to talk about it much, just settling for a small "yeah..." in agreement. Everyone was so for it yesterday now that enthusiasm for it seemed to have petered out for everyone except Bonnie.

"Me? Well... I..." She started, looking around and trying to get closer to Bonnie. "Promise you wont laugh?" She asked. "Well, I saw a friend of mine, the first friend I got here in Japan, hanging out with someone I hated. Me being the stupid crazy bitch that I am thought she was betraying me and that she'd rather hang out with her, got into an argument, had a breakdown, kicked my friend in the crotch, had another breakdown and got told I need to see a shrink..." She summerized, not really wanting to mention any names. "Wanna... be miserable together?" She asked, shrugging her shoulders.
_________________
Under construction

Adrian Kytes (Face/Tweener)
 Outspoken All-Rounder
Rebecca Tomko (Tweener/Heel)
 Amazon Enforcer
Sabine Shanoa (Tweener)
 Sensual Succubi
Tina Armstrong (Face)
 Blue-Eyed Superstar
Yelena Turova (Face)
 Crushing Powerhouse
Pantha (Face)
 Pride of the Jungle
Anna Silver (Face)
 Ardent Angel
"You were? Well glad to see at leassst someone is helpin' 'round here!" Bonnie would say to Adrian, slurring out her words as she spoke. "...I ain't mad at you though. Even if ya didn't do a damn thing useful today like me I wouldn't be mad at ya... You ain't the one who promised to avenge my brother or said you loved em, cried for him and swore revenge but goes off doin some pointless tag match the next day. Nah, I wouldn't be mad at ya." Bonnie would say in a rather disgruntled tone of voice, feeling the need to continue ranting, but avoided it due to Adrian's apparent reluctance to talk about it, probably because she was mentioning Akashi, whom Bonnie found out last night was someone that Adrian seemed to dislike a lot.

Later, when Adrian cautiously spoke to Bonnie and said "Promise you wont laugh?" the Texan would raise her eyebrow in response to the words before nodding, wondering what could possibly be affecting the cosplayer this much. However, upon hearing Adrian's story, Bonnie released a sigh of relief as she felt Adrian's problem was not as major as she once thought it was, save for the breakdown. But Bonnie found the cosplayer's situation to be rather understandable because she had dealt with a similar incident not too long ago involving Heather and Clyde.

"Is that all!? Hell I thought it was a lot worse!" Bonnie would declare in a relived and somewhat more upbeat manner as she kneeled down next to Adrian. "I honestly don't think you need a shrink, hun. Believe me when I say 'I've been in your shoes'. Dunno why you call yourself crazy... You ain't actin crazy now! Only time I saw ya actin' that way was when was talkin' 'bout takin' Gatt down. And who wouldn't get exited over that!? Cuz I sure was!" Declared Bonnie in far better mood than she originally was, trying to cheer Adrian up as best she could.

Upon hearing Adrian's offer to be miserable together, Bonnie couldn't help but release a slight huff of air from her nose. Truthfully she was rather miserable, but she didn't want to admit that. Nor did she feel it was that big a deal since it was a problem she could easily get rid of with a bottle of whiskey, much like how she had been doing lately. "I ain't miserable... Im just pissed off... Really, really pissed off..." Bonnie would grumble out with her bitter tone of voice returning.

"But I guess whatever we're feelin'... We can share it..." Bonnie would say before releasing a sigh sat down on the floor, pressing her back up against the leg of another pinball machine. "You know I'd offer ya a drink but uhhh... I smashed the bottle I was carryin.'" Bonnie would mutter out, almost apologetically to Adrian.
Adrian sat down, leaning her back against another one of the machines "You haven't really seen crazy me, not super 'Just as Planned' crazy but seriously, scratch and claw and bite crazy. Got accused of having rabies once." the cosplayer added, resting her head on the texan's shoulder. "You really don't think I need a shrink?" She asked, in hindsight it was probably not the best thing to ask advice from a drunk who had in the past hour, crashed her truck then wrecked an arcade. But still, hearing that she wasn't a complete wreck helped out.

"Yeah... that way if anyone comes here we can lay a two person ambush pincer movement.... thingy." She suggested "Or we could leave before the cops come and tazer our asses. They do have tazers in Japan right: or is that American police and assholes?" The cosplayer asked.
_________________
Under construction

Adrian Kytes (Face/Tweener)
 Outspoken All-Rounder
Rebecca Tomko (Tweener/Heel)
 Amazon Enforcer
Sabine Shanoa (Tweener)
 Sensual Succubi
Tina Armstrong (Face)
 Blue-Eyed Superstar
Yelena Turova (Face)
 Crushing Powerhouse
Pantha (Face)
 Pride of the Jungle
Anna Silver (Face)
 Ardent Angel
Upon hearing Adrian's words to describe her 'Just as Planned' crazy side that Bonnie had seen, the Texan would simply nod in response before hearing the cosplayer describe the other crazy side that she had not seen. The Scratch, claw and bite crazy side, which according to Adrian, earned her an accusation of having rabies. This caused Bonnie to let out a light chuckle for a moment, which eventually began to intensify as Bonnie started cracking up before it turned into a loud, full bellowing laugh with a few more tears forming out the corners of her reddened, watery eyes, finding Adrian's remark to be rather hilarious.

Bonnie laughed her heart out for quite a while until she finally calmed down, just before Adrian rested her head upon the Texan's shoulder and asked her a question, to which Bonnie would simply look to the cosplayer with a concerned expression on her face before wrapping her arm around the girl. She then pulled Adrian close by her shoulder to give her a comforting hug of sorts while sitting beside her. "As far as I'm concerned... Naw... You don't need no goddamn shrink." Bonnie would say with small smile across her face before lifting her head to look into the distance of the arcade as if contemplating something.

"...Me and My brother have been side-by-side since the day we was born. An inseparable team. Trusted eachother with everything and had no secrets... Well... At least that was the way things had always been for the past twenty-one years of our dang ol' lives... It didn't change until last week when Heather first showed up..." Bonnie would say. Her words being proud at first but would slowly change into a more saddened tone.

"To make a long story short... Heather was a real bitch at the time and I hated her. She sunk her fangs into my brother and took him away... Clyde chose not to tell me anything about him and Heather... He bottled it up and just said he was going to live now and leave me, his one and only sister who had been takin' care of his ass since before we could walk! I couldn't see why she was always on his mind. I felt betrayed and replaced. I turned my back on him too because of that. Things cleared up eventually though when Heather came to make peace... I'd still be pissed at her if she didn't have the guts to do that." Bonnie would say as she lamented over the recent and complicated events of the recent past before turning to Adrian.

"...I don't know the exact details of what went down for you and I dunno if you could settle things like me and Heather did but... Reacting the way you did is normal, I think everyone fears to be betrayed by someone they trust, because it's hard to find people that you really can trust. You don't find em' too often..." Said Bonnie in a calm demeanor as she slouched against the leg of a pinball machine, not knowing if her words were even helping Adrian, but still hoped they were. Her advice however did not cover Adrian's state of madness as Bonnie did not know the extent of her condition.

"Ummm... I dunno what the hell the cops be packin' here in Japan... But I sure as hell don't wanna find out. C'mon missy! Let's skedaddle!" Bonnie would exclaim in rather startled manner, forgetting about cops. She scrambled to her feet quickly and offered her hand to Adrian to hurry and leave the arcade as soon as possible.
"Shut up!" Adrian whined, lightly thumping Bonnie on the arm before resting back down. "Thanks Bonnie..." she said, sighing somewhat as the two huddled together on the floor of the otherwise empty arcade.

Listening to Bonnie's story she couldn't help but nod along and make her think. She hadn't been with Natalia nearly as long as the Gastin's had. Well it was physically impossible to have. Both of them were siblings and older than her. But still, the feeling of betrayal, she could relate. It didn't stop the fact she went crazy, but still... it helped a little. To hear other people having similar problems, to not be alone in this. It felt... better.

"Wah!" She yelped, brought out of her state of thought, grabbing Bonnie's hand to pull herself up "Where we gonna go? Traffics stopped because someone crashed a truck." she asked.
_________________
Under construction

Adrian Kytes (Face/Tweener)
 Outspoken All-Rounder
Rebecca Tomko (Tweener/Heel)
 Amazon Enforcer
Sabine Shanoa (Tweener)
 Sensual Succubi
Tina Armstrong (Face)
 Blue-Eyed Superstar
Yelena Turova (Face)
 Crushing Powerhouse
Pantha (Face)
 Pride of the Jungle
Anna Silver (Face)
 Ardent Angel
Page 1 of 2 • 1, 2



Similar topics
---
Permissions in this forum:
You
cannot
reply to topics in this forum