Who is online?
In total there are
59
users online :: 15 Registered, 0 Hidden and 44 Guests :: 1 Bot
Alexandra
,
anime_hentaifighter
,
Cirno
,
Clobber Jobber
,
CybeastGregarX
,
k0hryuu
,
kagestar
,
LadyX
,
Mystery Dragon
,
RJD
,
shanecawf
,
TheEditor1023
,
TheWamts
,
Un3xpected
,
Underdog21
Most users ever online was
155
on Sun Oct 09, 2016 8:33 am
Champions & #1 contenders
I'm starting my new job soon, so I'll be more free
Tue Mar 28, 2017 9:24 pm by TheWamts
Yes, I know that sounds fucking stupid, but with only one thing to focus on instead of 5 subjects and 5 groups, I should have more time to spend on the site, and so I'm open for new matches, send me a pm or I'm me on Trillian (same name thewamts if you don't have me already) if interested.
Comments: 0
Lucy's Debut
Tue Mar 28, 2017 8:11 pm by kagestar
Well what can i say really?
After the warm reception here i am looking for my first Character
Lucy Kage
to have her debut.
This doesn't have to be in the form of a debut match, though i am not going to say no to that of course, but it could even be that she appears at the end of another match etc. I want Lucy to arrive, not with a bang per se, but with more of a determined swagger.
I want her entrance to pretty much be believable, sellable but also meaningful. It sounds snobbish, especially …
[
Full reading
]
Comments: 0
Looking for debut match for new jobber Lilly Maringly
Tue Mar 28, 2017 2:37 am by shanecawf
Spoiler:
Lilly is looking for matches so she can earn enough money to get out of the AFW. She doesn't care how big her opponent is or how strong they are, She's willing to take a massive beating if it means she can earn anything towards her get out fund.
Please have fun with her and don't be afraid to give her hell!
(Please no tension males) Lilly has one condition to this. She will not fight a male. Only females.
Link to her profile below
[url=http://www.afwrpg.com/t16448-lilly-maringly#453493]…
[
Full reading
]
Comments: 0

OOC

Comes from [url=http://afwrpg.informe.com/forum/discussion-f4/test-your-luck-t5293.html:mvij8m4k]here[/url:mvij8m4k]

This is an open thread. Anyone can post an participate with a Friction character. The limit for fighters is four.

The posting order will be established as players join and one player cannot post until all other participants have answered.

Only one character per person. Put a pic of your character in your introduction post.

The match takes place in a cushioned pit filled with toys (most sexual in nature) Fighters must enter the arena blindfolded. Removing the blindfold is not allowed. To win you must make your opponent say "I Quit" while holding a microphone to their mouths. The microphone is somewhere around the pit.


With a firm but somewhat gentle push Natsumi was sent stumbling inside the cushioned pit. The young blonde was wearing a skimpy blue bikini and a black silk blindfold covering her lovely blue eyes.
The roar of the crowd let Natsumi know that she was being watched by at least a few hundred people. The first thing she did was to check her blindfold and realize, much to her despair that it was so tightly tied that she would probably need a pair of scissors to remove it. That and the fact she had been threatened with harsh punishment if she took it of convinced the blonde to leave the blindfold in place.
She stretched her arms, having to rely in all her other senses but sight to perceive her surroundings. The pit was somewhat warm, althought a cool breeze seemed to come from above, probably the more open area where the crowd was. The fans seemed to be quite excited about this, unlike Natsumi, and the uproar they were making only made everything more dissorienting. If there was someone in this pit with her, Natsumi would most likely be unable to hear it. Still, she asked.
"Uh?... Hellooo?... Somebody here?" The cute blonde asked as she carefully walked forward. Suddenly she stepped on something that made her barefoot slip. She gasped waving her arms in the air trying to balance herself or grab something to stop her fall, but it was useless and she soon found herself on the padded mats. She was lucky enough to fall forward which allowed her to use her hands to break her fall and end up on her fours on the mats.
Natsumi decidad that staying on her hands and knees was going to be best. She moved one hand to rub the sole of her foot, that ached after having stepped over something and in the way she found that something that had tripped her. She took the object with her hands and sit back, on her knees, over her haunches.
It was a long thick object that seemed to be shaped like a big banana but made of slick somewhat flexible plastic. She raised a cute eyebrow over the blindfold as she continued feeling the object trying to guess what it was, and as an idea of the purpose of this thing began to form in her mind, her lovely face turned more and more reddish until she was blushing deeply.
"NO WAY!" Natsumi yelled throwing the dildo away, disgusted, humiliated and quite scared about the situation.
The whole concept sounded so fun. So much fun that when she heard about it, a certain someone couldn't resist jumping in. Possibly literally. Now as she was willingly stripped naked and blindfolded, Sabine Shoana walked slowly into the padded pit.
wading through some of the various objects, some round, some long, some that buzzed a little much to the Brazilian's delight, as she tried to follow the scent of cherries. She could hear someone shriek out, and could smell them. Time to find out who'd her playmate would be
_________________
Under construction

Adrian Kytes (Face)
Rebecca Tomko (Heel)
Sabine Shanoa (Face)
Tina Armstrong (Face)



Posts

: 6057


Join date

: 2011-04-25



Natsumi could hear someone shuffling with stuff that she guessed were the toys. The confirmation that she was not alone in the pit made the cute blonde tremble. She crawled back on her fours, trying to get away from where she thought she had heard the noise, trying to be as silent as possible. Little did she knew that her bathing cherry lotion was giving her position away.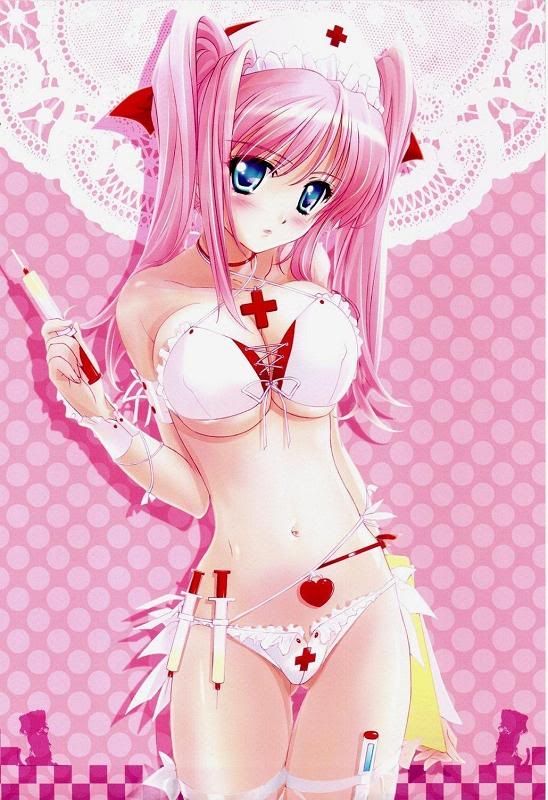 Joy was conflicted about how she thought about this match, first she was nervous as she was going to be blindfolded but her second thought was that who cares if she couldn't see, she was going to have some hot sex with some other people. Joy slipped the blindfold over her eyes and stepped through the door into the ring with a little help from the stage hands. Joy stumbled about as she walked around the room almost tripping over some toys which she would have to try and find later but as she walked she decided to just announce her presence and hope that whoever she found she could have some fun with them "Hello anyone in here?" Joy yelled out as she picked a toy which seemed like a rather large dildo to her.

_________________
Characters

The Den



Posts

: 8243


Join date

: 2009-03-02



Natsumi was crawling backwards, away from where she had heard someone shuffling with the toys, when she suddenly heard a door oppening to her right and then a girl spoke, way too close for Natsumi's liking.

The cute blonde gasped and froze in her place. Whomever that was she was right behind Natsumi. At least it was a girl, and it didn't sounded like she was too big or particularly mean. Maybe she could take that other girl down, Natsumi thought. She was tired of always losing and getting humiliated. This time she was going to win! Natsumi told herself with a determined look in her lovely blindfolded face.

Natsumi turned around and crawled in the direction where she heard the voice, stretching her left arm forward to feel what was in front of her before crashing head first into it. Soon Natsumi touched something that felt like a leg; without thinking it the cute blonde lunged forward trying to hug that leg and tackle whomever was standing there.
Another voice, another playmate thought Sabine as she followed the cherry scented trail to it's source. The blindfold meant she couldn't quite see what or who was giving off the delicious scent so she had to feel around with her hands, smiling when she felt someone's smooth, bikini covered ass. "Hello..." she purred. Thinking that this was maybe the person who asked if anyone was there, but if she wasn't well... this match was going to be fun either way.
_________________
Under construction

Adrian Kytes (Face)
Rebecca Tomko (Heel)
Sabine Shanoa (Face)
Tina Armstrong (Face)



Posts

: 6057


Join date

: 2011-04-25



Joy heard someone else in the room but thanks to the blindfold she couldn't see who it was. Joy however felt her opponent arrive as someone placed their hand on her ass "Oh my hello" Joy said before she felt someone else grab her but this one touched her leg but before Joy could respond she was tackled into the girl behind her causing her to smack her head in the girls head while she fell to the mat with Natsumi laying on top of her.

_________________
Characters

The Den



Posts

: 8243


Join date

: 2009-03-02



Natsumi felt her opponent go down and then heard what sounded like the collision of two bodies. "I'm...I'm...s-sorry..." she said feeling horrible with herself for having two people crash into one another.

"A-are you ok?" she asked as she let go the leg she had grabbed and caressed the side of someone.
"H..hey wait I can do that myself!" Maya complained as she was led through the backstage area by a couple of AFW staff, her outer clothes being stripped off by one pair of far too friendly hands while another pair worked to tie a blindfold around her eyes, leaving her in her skin tight body suit. In truth she had been considering backing out of this unbelievable match and they must have noticed that hence why they were giving her a hand while leading her out to the ring. Maya, whose face was blushing a bright crimson all the while, continued to voice her dissent but put up little in the way of physical resistance for deep down she was eager to get into this sensual match, even if she would deny that to anyone including herself.
She couldn't see anything the sound of a roaring crowd was quickly growing louder and when it stopped doing so she realized she was now out of the back and in the arena proper. Suddenly she felt the floor become plush and the hands that had been guiding her leave, Maya guessing she was now in the padded pit, her assumption confirmed moments later as she picked up on two different voices.
Is the fourth girl here too?
Maya thought to herself as she dropped down onto her knees and began crawling towards the voices she had heard before, not wanting to trip over anyone or on anything.
Her right hand would feel something underneath it as she crawled forward, Maya snatching her hand back away from whatever it was on instinct before she hesitantly reached back down to see what it was. Her fingers brushed against what felt like a button, pressing down just a little too hard as the object suddenly sprang to life vibrating in wildly, Maya grabbing hold of it with both hands trying to turn it off as she now realized what it was, a vibrating egg. She managed to find the button again and shut if off but everyone had to have heard it by that point, Maya looking back and forth frantically despite knowing she couldn't see anything.
Last edited by 10067 on Mon Sep 16, 2013 4:41 pm; edited 2 times in total



Posts

: 3707


Join date

: 2012-03-31


Age

: 26




Similar topics
---
Permissions in this forum:
You
cannot
reply to topics in this forum