Champions & #1 contenders
The Austrailian Mudslide is Back.
Sat Apr 21, 2018 6:20 am by Softsquad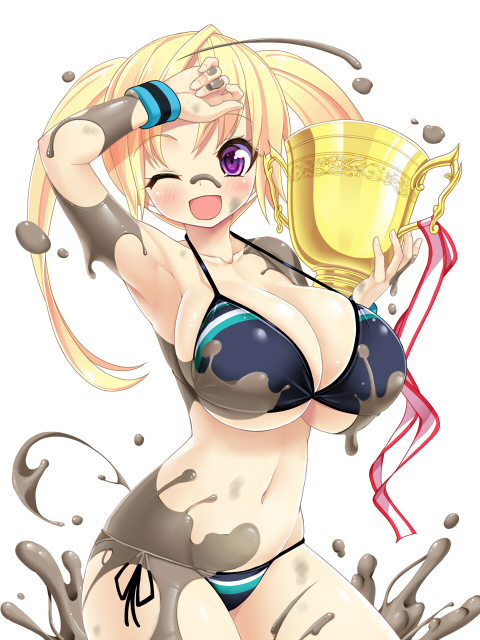 Granted that most of you won't know me or remember me, but I've had a few matches here and there some time ago. Well I think its time to become a regular around here and try to have some fun again, but at the same time keep coming back. Anyway I think its time to jump into some matches with Zoe Taylor, my mud wrestling character from Australia and get her back into the squared circle. Furthermore I will update my characters as I think some proper changes need to happen.
So if anyone would …
[
Full reading
]
Comments: 4
Looking for debut thread.
Sat May 12, 2018 9:28 pm by Hedgehawk
Hello All.
I am looking for a debut for my girl Trinity (http://www.afwrpg.com/t18107-trinity-cordova#495678).
This doesn't have to be a match, it could be a gym battle, interview or anything else. I just want something to help get Trinity off the ground. If you wanna plot feel free to reply to this message or fire me a PM.
Many thanks in advance and thank you for reading my message,
Hedge
Comments: 0
Page 7 of 7 •

1, 2, 3, 4, 5, 6, 7

Allison looked at Jocelyn as though she were clearly missing the point. "I intervened because despite winning the fight, it was clear that she, through whatever feelings you have about the girl, was controlling you. How can you have your way with someone if you allow them to dictate what you do? You're telling their story doing what you do, when they should be only a part of yours. You won't understand now."

She raised an eyebrow. "What would I have done?" She said, and laughed. the tone of her voice fell to a purr, low and dangerous. "Whatever I wanted."

Allison showed only a pleasant smile as Jocelyn went on. Of course she wanted Allison on her level. Then she could understand her without needing to grow. Then she could compete and control her. Allison could never be no her level, though. It wasn't in her blood.

Jocelyn's loathsome words raised Allison's eyebrows, and aroused a complex mixture of passions within her. She shared Jocelyn's disgust so thoroughly, as well as the inverse of Jocelyn's infatuation, and she felt a burning, hateful lust for the vulgar little girl. She inhaled sharply, and her face hardened.

All at once, and without warning, her hand shot to Jocelyn's throat and shoved her forcefully against the wall. She planted her lips on Jocelyn's and stole a passionate kiss while she squeezed her throat. After a moment, she drew back, dropped her hand to her side, but remained standing close enough to Jocelyn that their dresses brushes against each other. She silently fixed her eyes on Jocelyn's, as if studying her intently.
Jocelyn snapped to attention becoming defensive suddenly. "What.. I..." But she was hushed by Allison's words, especially when she answered her question. Jocelyn DID do what she wanted, didn't she? She broke the girl's nose and left her bleeding and crying in the parking lot. The Chistralian couldn't understand what Allison meant at all.

Confusion and embarrassment washed over her pale face while Allison looked over her and contemplated the young punk. That was until Allison's face hardened. The hair stood on end on Jocelyn's body and she felt goosebumps on her suddenly. Jocelyn's eyes shot wide as Allison lashed out. She felt the tight grip on her throat and even though her hands went up to grab at Allison's wrist, dropping her glass, she was still forced back against the wall.

"K-kh..."

Her eyes narrowed but her mouth twisted into a grin and her eyes grinned, taunting Allison to try and keep it up. Jocelyn suddenly seemed itching for a fight with Allison but when she was kissed it was worse than being punched in the stomach. Her breath was taken away and her eyes fluttered shut. Her mouth opened invitingly, submissively.

kr...nnn...kh..."

She moaned and gagged as she was squeezed and kissed. Her fingers slid so they were barely hanging onto Allison's wrist. When Allison pulled away, Jocelyn bent forward, almost leaning against Allison as she tried to catch her breath.

"Hah... hah... damn... you..." Jocelyn said as she only glanced up at Allison's eyes briefly before gazing back downward, sliding her eyes down Allison's form while she blushed still from the kiss. She couldn't reconcile her hate of this women with her secret, or probably unsecret, passion and desire for the woman, both as an object of carnal desire and an envious desire to BE the woman and have that kind of unflinching control.

"W-why..." Jocelyn said weakly, lowering her head as she reached out to try and grab for Allison's hand and hold it delicately in her own. But she wasn't looking to plead to Allison, she just wanted to get hold of her hand and pull the Brit forward so she could ram her shoulder into Allison's chest and try and knock her down to the ground.

"Rrrrrgh!"
"Because I wanted to." Allison whispered.

She wasn't surprised when Jocelyn lashed out at her, but she was unprepared. Jocelyn's shoulder knocked some of the wind out of her and sent her down to the floor. She held tightly onto the girl's hand, and as she fell she yanked her down on top of her, in between her thighs.

"Now what do you think you're doing?" Allison asked, a hint of delight in her voice. She wrapped her legs tightly around Jocelyn's waist, wrapped one arm under Jocelyn's arm and around her back, and placed her other hand on Jocelyn's cheek. She held her tightly while looking her in the eye. "D'you want to ravage me like you did to the woman in the parking lot? Do you want to dominate me? Why d'you think that is?"

Allison couldn't keep from grinning, devilishly, almost sinister looking. She was not at all rattled by Jocelyn's sudden outburst, because she knew that whether the girl was begging for her attention or trying to beat her to death, she was in control. She didn't always do whatever Allison wanted, but the things she did were always the result of what Allison planted in her. The vines grew how they wished, but Allison planted the seeds and tended to the plants.

"Jocelyn," Allison said, sounding deeply sincere. "I love you." Behind the veil of her practiced, composed voice was deep and sincere malice. She loved seeing what she could do to this girl.
Last edited by 1167 on Mon Mar 12, 2012 4:10 am; edited 2 times in total
"Whatever I want!" Jocelyn shouted back as she fell to the floor on top of Allison. She felt the vice of the Brit's taught thighs and groaned, reaching out to bury her fingers in Allison's short blonde locks just so she would have a point of attack if necessary. Jocelyn's eyes lit up as Allison asked her a question. "Yes!" She said almost without thought, like her mind had said it for her.

She then hesitated. "I mean..." She averted her eyes from Allison for the moment. "Not like her... not completely like that!" She admitted sounding defensive suddenly. She tugged on Allison's hair just because she thought it was the best thing to do but then stopped. "I just... well.." She didn't exactly know what her end game with Allison was. The word ravage definitely seemed to apply though but did she mean it in a purely physical sense? Not quite. There was certainly an amount of sexuality to it too. Jocelyn definitely felt a hot passion for this woman but trying to define what was hate and what was lust was difficult for the Chistralian.

Her brow furrowed as she seemed lost in a paradox of her own making but she was snapped back into reality by Allison's words.

"Jocelyn .. I love you."

Jocelyn's eyes widened and her mouth fell open. Her eyebrows twitched, her obvious reaction was to scream at Allison for lying and trying to trick her but her eyes searched Allison's. She didn't understand this woman at all! The only person who had ever said that to her before was her mother. She almost felt love another time before but like everything else in her life, it was destroyed. How could this woman say it... so casually... after only meeting twice. And yet... it felt right. Her cheeks reddened and she felt an overwhelming heat wash over her. Was it rage? Lust? She didn't know.

She used her free hand and balled it into a fist and punched the ground next to Allison's head before leaning in and sighing hotly, pressing her top lip against Allison's lower lip and looking into Allison's eyes.

"Sarah..." She said from her position. Her body tensed and then she kissed Allison's chin needfully and lifted her head up. "I... can't be that confident yet..." She turned her head and blushed, out of shame and embarrassment. "I'm passionate about you in ways that probably include love. I just want to be by your side. I wanna be with you... I guess that's love... but I hate you too. I just want to destroy you and rip you apart and bring you down. How could I say that's love? You're the most interesting goddam fucking cunt I've ever met and I hate myself for having any kind of feelings for you but I'd hate myself if I didn't!'

Jocelyne's eyes narrowed "Fuck you! Fuck you!" She spat and tried to slap Allison as hard as she could across the face before going in for another hard kiss on the lips, suddenly finding a few tears leaking from her eyes as she snorted a hot breath from her nostrils.
Last edited by 445 on Fri Jan 13, 2012 1:54 am; edited 2 times in total
Allison delighted in Jocelyn's convoluted, knotted up emotional state. She did not delight in that moment in having her hair pulled. She inhaled sharply and narrowed her eyes, and while she didn't so much mind her hair being pulled she logged away Jocelyn's pulling it to be addressed in the future.

Allison allowed Jocelyn to do as she wished, and felt powerful for it. Jocelyn was unaware that her own will had come to bear a striking resemblance to Allison's for her. Her lips curled into a smile when Jocelyn began shouting, but out of the corner of her eye she saw the girl's hand come up. That wouldn't do.

She reached out and caught Jocelyn's wrist before the slap could land and kicked against the floor to suddenly roll Jocelyn onto her back. She didn't let Jocelyn's advance go to waste, though, and she kissed her while she pinned Jocelyn's arms up over her head. She kissed her just long enough to make her want more, and then pulled back so that Jocelyn could almost feel the nearness of her lips but never touch them.

"Is this what you want, darling?" She purred. Her voice was sultry, silky. "Collect your thoughts and tell me exactly what it is that you want."
Jocelyn was surprised when Allison grabbed her hand and rolled her onto her back. They kissed and Jocelyn was left wanting, just as Allison had wanted. Jocelyn's read cheeks were bright with embarrassment, desire and heat. She pushed her hips up so Jocelyn's body pressed against Allison's hips and she craned her neck and tried to push her quivering lips against Allison's only to fail. A tear dripped down her face and then suddenly she collapsed on herself.

She let out a hot, emotional breath against Allison's face and then turned her head, panting softly. "Yes.." She muttered and then turned her eye up to look at Allison through her peripheral vision.

"No!" She shouted and turned her head, struggling to try and get Allison off her. "Rrrrgh! Damn you!" She said and then dropped again, relaxing once more.

"Hah... hah..." She looked up at Allison, staring in her eyes. "I'll.. never... let you have what you want..." She said sternly. "Or... I'll fight you every last step of the way. And I don't care if I have to destroy myself to bring you down..." She added before closing her eyes.

"But... until that time comes... I ... just want to be with you... in ... whatever way I can..." Tears leaked out from her shut eyes once more. She felt sick and dirty for saying those words. Had her life beco9me this way? where she felt like she was this woman's slave? Her own personal caged beast? The worst part about it was, she didn't think it was all that bad of a situation to be in.
Allison smirked. Jocelyn's turmoil was even more pleasant than her complicity, such that it was. "In whatever way you can?" She said, and leaned in close to Jocelyn as if to kiss her, but stopped.

"I need you to do something for me." She whispered.

Then she stood up, without giving Jocelyn a second thought. Part of her did want to take the night for a carnal romp with her new toy, but that wouldn't do at all. Thinking about her next use for Jocelyn, though, she became rigid, and her face hardened. All humor, what little there was, left her.

"Get up. You're dirtying my floor." She commanded. She crossed the room back to the bottle of wine by the fireplace and picked it up, and the glasses. She turned to face Jocelyn.

"Have lunch with me tomorrow at Meiji-no-Yakata. Goodbye." She said dismissively, and directed her attention elsewhere.
Jocelyn watched as Allison suddenly became rigid and got up for her and acted like she was just an inconvenience. let out a huff and nodded at Allison, hopping up to her feet and running her fingers through her head. "Yeah..." She said in a stiff tone. It was like they were in a play just now and now that it was done, the actresses were just going to part ways like nothing ever happened, reuniting for another scene on another day.

Jocelyn walked to the door and gave a passing glance to Allison. "Thanks for the wine, and the make up tips. See ya tomorrow." Her voice held no tone. No indication of any of the emotion that she had displayed only a few moments before. Without waiting for an answer, she walked out of the apartment and closed it without another thought. Then, when the moment passed, she let out a heavy sigh and fell backwards, pressing against the door.

She slid down the unforgiving door at the pace with which the tears began to roll down her face. As she hit the ground with her butt, the tears that clung to her lower jaw, dropped and fell onto her palms which pressed flatly on the ground. She leaned back and sniffled before letting the tears flow freely, crying as loud as she thought she could get away with so that Allison could not hear if she came near the entrance way.

She didn't even know why she was crying but the tears came. She never cried and here she was like a child who scraped her knee. She felt like she had just been date raped and then cased aside after she had been used up. She allowed it to happen and she felt dirty and used. Her fingers curled up against the ground. She was angry at her self. She had not won a match yet in the AFW and yet, she felt far more humiliated than she ever could have int hose matches and the worst part was, she had no idea why.

After what seemed like an eternity, she would crawl a few feet away from the door and hobble down the stairs, calling a taxi before having it pick her up. She'd stop at a small convenience store and pick up a pack of rice beer and walk the rest of the way to her apartment where she would spend the rest of the night drinking and throwing things until she finally wore herself out and passed out on the floor.
Allison put the bottle and Jocelyn's glass in the kitchen and then returned to her chair in front of the crackling fire after turning out the lights. She sat and watched the dancing shadows play over the rug and sipped her wine while listening to the unmistakable, though barely audible sound of Jocelyn crying outside the door.

She smiled, terribly pleased with the outcomes of the evening. It was a nasty bit of business they had ahead of them, but Allison had the stomach to do what needed to be done. Jocelyn would quite enjoy herself if she would let go of this idea of hers that she was somehow better than her... but that wouldn't be half as enjoyable. She would hear sounds much worse from the girl before their time together had run up. Just thinking about it gave her such pleasure that she couldn't help but laugh out loud.

Today had been such a good day, but the fun ended tomorrow.
Page 7 of 7 •

1, 2, 3, 4, 5, 6, 7

---
Permissions in this forum:
You
cannot
reply to topics in this forum