Who is online?
In total there are
43
users online :: 9 Registered, 0 Hidden and 34 Guests :: 2 Bots
GrandAkumaShogun
,
Gwyndolin
,
Harrier
,
LunarWolf
,
Miss_Blackbelt88
,
Nelv
,
Old_Man_Tai
,
SleeperAgent94
,
TiefBlau
Most users ever online was
155
on Sun Oct 09, 2016 12:33 am
Champions & #1 contenders
Hi I'm back...I don't know where to begin...
Fri Sep 15, 2017 10:43 am by Silentcoins
Hello everyone. I'm not too sure if anyone still remembers me, but if you do thanks.
I haven't been around for a long time for reasons I guess. If there's still anyone out there who wishes to play with me or to continue whatever we left off, please don't hesitate to reply.
It's kind of awkward just saying this.
Comments: 7
I'm Back
Fri Sep 22, 2017 3:57 am by RadiantKarna332
Alright, after a few days of hiatus, I'm back. I'm sorry for my absence, for those who have threads with me here.

Comments: 4
Looking for a match.
Wed Sep 20, 2017 1:27 am by Silentcoins
As the title says, I'm looking for a match up.
I can do just about any kind of match up, though I prefer one with some hentai elements mixed into it. Wonder if there's anyone interested in a match of any kind?
Comments: 0
Name: Rias Estatica
Alias: Ria the Crimson/ Ria /
Sex/Gender: Female
Age: 18
Eyes: Amber golden
Hair: long reddish pink and free flowing
Height: 1.6 meters tall
Weight: 118 lbs
Nationality: Japanese/American
Citizenship: American
Wrestling Information
Strategy: Defensive and reactive
Style: Reactive and attack
Type: Attack and counter
Preferred Attacks: Punches, submissions, low blows and ACROBATIC counters despite its low chance of success.
Preferred Matches: Standard matches or hentai.
Fighting style: Counter base even though she sometimes goes overboard, often trying for a one turn around counter. Which sometimes backfires.
Often she tries to counter because her attacks are often more terribly done.
Her punches arenâ€
t strong, but they can still stun and hurt someone. However her counters are quite good, provided she doesnâ€
t try to go overboard with the fancy moves, but if she does succeed or so the damage would far exceed a regular counter move.
Her defense however is terrible, mainly because she lacks experience in taking hits, and that sheâ€
s afraid of taking them.
Submissions are quite decent, since she knows how to break free of a number of them. But grapple moves rip her apart easily.
She has no qualms to fighting dirty…to a certain extend. Mostly trying seduction and all. She doesnâ€
t use things like lowblows until the final moments or so until she thinks that she has a match in the bag.
*Update*
RPG Style Stat spread(out of 5 stars)
Endurance:★★
Strength:★★
Speed:★★★★
Defence:★★
Technique:★★
Favorite moves:
Apperance:
Causal outfit when she goes out for some fun with her friends.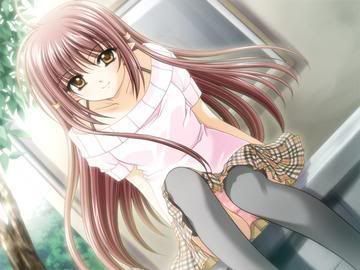 Her in her school uniform.
And her in her swimsuit.
Sweet chin music and Hurricana.
Finishing moves:
Crimson Wall: She Irish Whips an opponent to the ropes, or she simply spins around their back so as to when they turn around, they are greeted with a hard sweet chin music to their face. Unlike a normal kick, this one is angled even higher and uses momentum against them, making it more painful.
Crimson Shower: Whenever she ducks underneath a charge or anything, she is capable of flipping herself onto her opponentâ€
s arms, and wrapping her legs around their neck, positioning herself for a frankensteiner, once then she would then flip around, smashing their heads into the ground.
Though despite its name, its only as heavy as a regular frankensteiner, but one more easy to do.
Hentai Finisher: (Unfortunately, she has yet been able to come up with one)
History: Ria was born into a slightly well to do family. It was just her, her younger siblings, her mother and her father. From young, Ria was always somewhat spoilt, always receiving things from her family. Whatever she wanted she would get.
Because of this, she eventually got a chance to audition for the spot of an idol back in America. Many thought as a spoilt girl she was going to fail, but they were soon proven wrong, when she came out on top, and surprisingly caught the attention of several professionals.
Her talent when it came to showbiz was nearly unrivalled. In the shortest record throughout history, her name was made far and wide.
Sadly it had become so big, she wasnâ€
t able to keep up with the demand, and thus she finally decided that it was time to take a break. She requested a somewhat leave, saying that sheâ€
ll be back, and that she needed to take some time off.
But the truth off the matter was that she was still a bit upset that while she was famous, it was only in her country. Granted she was still somewhat popular in other countries as well, but not enough to compete with the other idols.
She knew that the main reason was because they were more outgoing and had other skills, and so in order to combat them, she knew that she needed to make a name for herself in another department as well.
However the only names that she knew that would really matter happened to be those combat spots, and most famous of all, wrestling, she knew what she had to do.
Become a wrestler. Although she has near zero experience, she knows that win or lose in the AFW, this would only serve her greatly, as she can use it to further her popularity.
Personality: Ria can easily be described in three words to those who know her partially.
Vain, selfish and stubborn.
Ria likes to think of herself when she is doing things. She doesnâ€
t think about the sake of others, whenever she sees something for herself, sheâ€
ll just want it, not caring how much inconvenience it is for the others around her.
The decisions she makes are all centered around herself, and never for anyone else. Once she makes a decision she is completely committed to it.
This also means her personality as well. For even when sheâ€
s in the wrong, sheâ€
ll always try to talk her way out of it, and the only way your going to beat her is to spend a lot of time talking her down, and even then at the end of everything, sheâ€
ll just apologize, but never learn.
Still beneath all those terrible flaws, lies a good person.
She is compensate and understanding to those who support her. And will in turn look out for them. She knows that she is selfishly forcing her whims onto others, but her pride will allow no less. She believes that many donâ€
t have the guts to go forward with new things, and the only way at times is through force and inconvience, something she is really good with.
Though she doesnâ€
t like the constant complaints of the people around her, sheâ€
ll easily put up with it, seeing how people around her work as hard as her so as not to lose to her in the end. The very note alone gives her motivation to continue on in life, be it whether as an idol, or as a wrestler.
Fun facts:
Ria loves photoshooting a lot. Whenever someone asks her if they can a picture of her, she jumps around like a kid before saying yes instantly.
When sheâ€
s alone or not at work, Ria is a fun person to be with, if you can keep up with her insane energy, most boys or girls just donâ€
t have the ability to keep up with her energy, only several people can when sheâ€
s having fun. Several examples are her little brother, her manager and her best friend.



Posts

: 2990


Join date

: 2010-10-14




Similar topics
---
Permissions in this forum:
You
cannot
reply to topics in this forum