Champions & #1 contenders
Highfly Flying Out Of Town
Tue May 22, 2018 1:31 am by HighFly
Hello everyone, I just wanted to inform all I have threads with that I will be gone from this coming Wednesday through Sunday. I won't be able to post consistently if at all during this time, but I will try to make up for it next week! I am sorry for the inconvenience to everyone.
Comments: 7
The Austrailian Mudslide is Back.
Sat Apr 21, 2018 6:20 am by Softsquad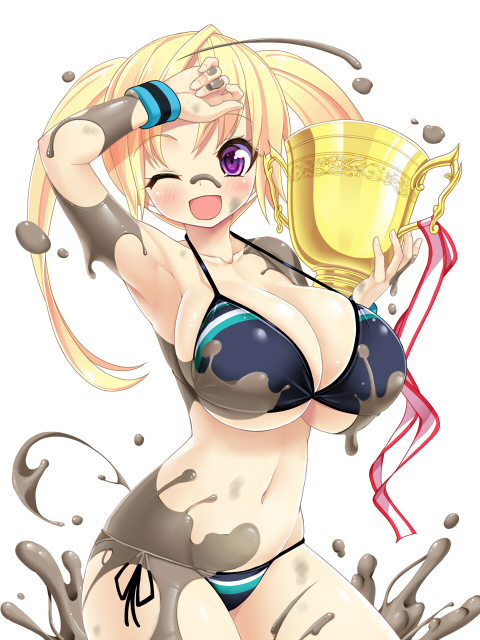 Granted that most of you won't know me or remember me, but I've had a few matches here and there some time ago. Well I think its time to become a regular around here and try to have some fun again, but at the same time keep coming back. Anyway I think its time to jump into some matches with Zoe Taylor, my mud wrestling character from Australia and get her back into the squared circle. Furthermore I will update my characters as I think some proper changes need to happen.
So if anyone would …
[
Full reading
]
Comments: 5
Page 5 of 12 •

1, 2, 3, 4, 5, 6 ... 10, 11, 12


Cecilia was kinda liking this so far, her question had not been the best ones, and as for question that went deep there were the ones that Mamouru was asking, she didn't really know what to ask though, she was learned what she wanted at least most of it, the rest would only be for fun or for giggles, maybe she could throw in a deep question or something like that.

Cecilia did have to laugh a little as she heard Mamouru's answer, as she would smile a little after, " I am sure I can show you those tricks Mamo-chan" Cecilia said, trying to sound a bit cute and nice while she did, having more of a friendly tone than a seductive one, either he was overestimating his abilities or he was just very good, or maybe he was lying, of course such a thing could easily be learned later when they arrived at her place.

Cecilia had to raise and eyebrow though as he talked about having her in a corner and her being on the loosing end, it was kinda true, but when she heard his question, she kinda let out a little sigh or relief, " That was the big killer question, well let's see if I can answer it" Cecilia said but she kinda realized that it was a tough question, she didn't really know what was the kinkiest she had ever done, after a short while, a few seconds she would answer, " It depends, but I would say...hmm something like Kama Sutra positions whit another girl...or maybe whips, chains and leather....or maybe whipped cream" Cecilia said before she began to quite down a little, " I don't know, I am not really into all other kinds o Kink, I kinda prefer to just let me or my partner do the work, but sometimes such things can be fun to try." Cecilia said with a little smile before sh would turn to Mamoru and smirk.

" My turn, let's see...ehm Taylor hates you and Johnny you already told me about your sibling rivalry, but what to ask then....hmm...You the kind of guy looking for a relationship?" Cecilia blurted out without strictly thinking it through, she didn't even know if she wanted to know the answer or if it was a descent question to ask even.
Mamouru quietly eyed Cecelia as she said she would teach him. That would be fun, Even more so as she answered his question. It was an interesting answer but he thought that maybe she passed the buck a bit. He would have to see if she really had any leather, whips or chains around in her house.

But then it was his turn again. He was more interested in winning the 'game' now so e tossed away any pretenses and smirked at Cecelia. "I'd prefer a girlfriend over a one night stand, if that's what you're asking." He said slyly. He wondered if he should indulge her further. As in, why he preferred a girlfriend over a one night stand. That would be good for now he said and then be question. He had began to think of his next question. He had been hitting her with more sensual, erotic questions and they hadn't seemed to phase her too much. He decided to try a different approach.

'Cecelia-san." He said in a calm fashion. "When was the last time you cried because you were sad?" If she was going to answer questions about her sexuality so readily, maybe she would be hesitant to respond to more emotional questions.
Cecilia did have to almost freeze for a second, while she was still driving, she should have been glad that there seemed to be nothing in her path on the road, cause it took her a second or two before she regained herself, she hadn't honestly been expecting Mamouru to say that he was looking for a girl friend, more so than a one night stand, it was kinda nice to hear, but surprising as hell, it felt almost as if she had been sucker punched.

Cecilia didn't have any trouble answering the more sensual questions, there was not much she was embarrassed about, if she was then she wouldn't be in any Hentai matches or anything like that, the fact that Mamouru's questions didn't face her at all seemed to bother Mamouru, well it bothered her a little that her question didn't cause to much trouble for him either.

But when she finally heard Mamouru's next question she didn't show much sign of anything in fact she was quite quiet, up till this point she had been having quite a deal of fun, but now, that kinda question was not something she would want to answer, it hadn't been long since she came to AFW, and before that, Life hadn't been a walk in the park, there was a lot of things that she didn't want to talk about, most of it had to do a bit whit why she was more or less a player.

" Mamouru...I...I don't think I want to answer that, it's kind of a mood breaker, but I agreed to the game so if you really want to push it....then I guess I will answer" Cecilia said, but there was not even the slightest trace of joy in her voice, it was solemn and saddened by her bad memories and her troubling thoughts that Mamouru's question had brought up.
Mamouru was surprised when Cecelia reacted the way she did to his question. Though, he shouldn't have been surprised, he was a little glad. He had the upper hand and was going to seize any chance Cecelia had to get it back. His face became serious for a moment and he looked at Cecelia.

He then smiled softly and slid his hand over to Cecelia and set it against her thigh and gave it a gentle squeeze. "Cecelia-san." He said in a quiet tone. "I'm not such a brute as to make you answer something that you don't want to just for the sake of a silly game." He said and offered her a smile.

He then lifted up his other hand and brushed back some hair that fell in his face. "How about this then?" He suggested. "Have you ever been embarrassed in the ring? During a hentai match at all?" He wondered. "I mean, you're aver beautiful and certainly confident but has the great Cecelia-san ever even been a little bit shy about revealing herself in that setting?"
Cecilia wasn't really up for talking that much about the bad things of her life, she usually left things that really bothered her behind and never looked back, of course that was easier said than done, she hoped she could go longer without thinking about her past troubles, but Mamouru had sent the rushing back and they were so fresh in her mind now that perhaps the time would come for her to cry yet again from sadness.

But that's when something unexpected happened, Mamouru's hand was placed on her thigh, and she could feel him hold onto her, somehow it felt reassuring, it felt like she wouldn't be dragged into her own sadness and when he spoke she kinda had to smile a little, she couldn't really explain this feeling, it was as if someone was looking out for her, as if Mamouru was looking out for her, and that made her smile, to think that the same person who had caused her to remember the bad stuff, had also made her forget about them, quite easily.

Cecilia blushed a little as she felt Mamouru brush back her hair and gave him a soft little smile, she spoke softly and quite quietly as she said, " Thank you" it carried more meaning than just for the hair that was brushed off her face, when she heard Mamouru ask his other question she had to smile and blush a little again, " I think I can answer that...It is a tough one though, I think it's been about two times in my entire life that that has happened." Cecilia said as she kinda slowed down with the car a little before she looked over at Mamouru and winked a little.

" You remember my friend Cat, I showed you a picture of her ? Well first match I had against her was a Hentai one, or well one of the falls was a hentai thing you know...and well the other time would have to have been my first match in front of a crowd, I was a bit intimidated and well, embarrassed." Cecilia said before she would glance over to Mamouru again.

" So Mamouru-sama, have you ever been in love ?" Cecilia would ask with a little giggle, wondering what he would answer, seemed most likely that it would be a suave and carefully thought out answer as usual, but maybe such a question could get to him, maybe not...all the Queen could really do was to try.
Cecelia was actually pretty adorable when she answered his question. He was glad that he was able to pull her back so quickly and now he was sure that she was his for now. There was just one last thing that he had to do, but he wasn't sure if he would be able to pull it off. That was, until Cecelia asked her next question.

He turned his head to keep her from seeing his eyes light up. He also had to think of the best way to go about answering her. His fingers pressed into her thigh a bit and then when he was composed he turned his head and put on a soft face. He looked introspective, almost thoughtful and closed his eyelids a bit.

"Ah..." He was about to speak but then closed his eyes and shifted his gaze over to her. "I'm sorry, Cecelia-san. I'm afraid I can't answer that question. Looks like you win the game."

He could have answered that question easily but this was perfect. Now Cecelia would be curious or make up some story of unrequited love. Not only that, but he had given Cecelia "the game" Now she was feeling good and in control. It was the perfect way to manipulate someone. He hoped that she would fall for it, though at this point it seemed almost moot to try and play his games. She already seemed to be taking him back to her place for what he was looking for. Ether way, if he could establish a good connection, he might just be able eat out of the palm of her hand for a while. All the while making her think it was her own idea.
Cecilia smiled a little at Mamouru, they weren't far away and it seemed like the perfect moment now, Mamouru was gaining her trust and perhaps more than that, he seemed so sweet and nice to her, but if he now was as he had said was a player than this could all just be a game, Cecilia didn't like that she might be played, but she didn't really think clearly, maybe this was a plan, to get her to think about sad things and than swoop in and comfort her from it, should she take her chances and give in a little or should she deny him this window.

Her heart spoke for her, before her mind could answer, as she had already thanked him, and was close to becoming putty in his hands, but no, her mind would not have it, she was at least not going to fall in completely.

Cecilia felt as Mamouru's hands held onto her thigh, and his fingers moving in a little more, was the question she had asked so provoking, or was it that he had gotten an idea of how to play her, she didn't know, and with her emotions and her mind fighting with each other it made it all harder, her heart and emotions wanted to give into Mamouru, the cute and nice guy that he was, and just be with him for now, lose herself in it all, but her mind and intelligence spoke of dark times, and reminded her to stay sharp, a player is player cause he breaks hearts, it was plausible that Mamouru might break hers.

Cecilia did have to look quite sad when she saw Mamouru's reaction, how he behaved seemed to say that he had been in love and it had ended badly, and all she wanted to do was be there and comfort him, but her mind still screamed insider her, IT'S A TRICK Cecilia didn't know what to do, but when Mamouru spoke she had to lean in closer for a second and actually move in to kiss him on his forehead, " Nope! I don't win like that, I would rather lose than win in that manner" Cecilia said with a kind and honest smile to Mamouru, " Tell me about it, It might feel better and if you don't like to then..I can maybe make you forget about it all when we get to my place..if that's okay" if she couldn't beat Mamouru in a battle of minds, then she would just settle for making him fall madly in love with her on her throne, the bed!

She wanted to know quite badly what exactly had happened to Mamouru, and if it was true, it added a layer of mystery to the guy, and she wanted to know, would it be wise to tell him her story, in truth she didn't want to, she wanted to just forget about it and let i pass, but now it wasn't much time before they reached their home, and there had been no message from Fredrik, was he out or something ?
Mamouru leaned in to let Cecelia kiss him on the forehead, though he squeezed Cecelia's leg. "Ahh, Cecelia-san." He said and laughed a little. "That's quite daring of you." He said in response to a mid-drive smooch.

But then Mamouru raised an eyebrow when she declared that she didn't win. That was surprising, but the fact that she was so curious was exactly what Mamouru wanted from the girl. "What manner is that, Cecelia-san?" He asked curiously, knowing the answer. He then turned his head and lifted his hand up, trying to hide a smile. When he composed himself, he tilted his head downward to look a little sad.

"Cecelia-san..." He said. "I would rather not speak about it..." He then looked up at her and smiled weakly. "I'd rather just focus on you." He said smiling at her and rubbing her thigh with his hand.
Cecilia did have to coo a little after Mamouru squeezed her thigh, she did have to admit that just on her thigh and through her jeans he had a very nice touch, and she enjoyed it quite a bit, " I am quite a bit daring, If I weren't then you wouldn't be as interested in me " Cecilia said with a sly smile on her face as she looked over to Mamouru a little.

Cecilia thought that Mamouru would know what kind of manner that was, perhaps he was playing coy or he was playing the part of th fool, but she knew that this was a game, it's wasn't just the question and the answers, the game was them playing off each other and trying to out play the other, and she knew that Mamouru had won, in the back of her mind she knew all this, but she didn't care, " You know what manner that is..it's the same kind of thing as when you allowed me to answer another question instead, I can't be so soulless as to not allow you to do that, if you even want to ? "

They weren't to far away from Fredrik's place, and Cecilia had completely forgotten about her phone and not getting a text, she was very focused on Mamouru and was sort of worried about him, even if he was a player, he was sweet and kind, and he seemed to be fond of her well enough to take pleasure in her company, at least that was how Cecilia viewed it, " It's okay Mamo-chan...just remember I am here if you want to talk" Cecilia said as she glanced over to him as he rubbed her thigh, she blushed slightly as she would shoot him a little cute wink.
Mamouru smiled as Cecelia announced herself as daring. She was right. He wouldn't be interested in her if she was so daring. She was making all the right moves and was keenly aware of the game as well and pretty good at playing it.

Mamouru smirked as Cecelia called his bluff. "Ahh, yes... I suppose they are similar." Mamouru said. He raised an eyebrow. "That is one mulligan apiece then, I guess. Do you want to continue then?" He asked. "Or just call it a draw?"

Mamouru then turned her head and smiled softly. He continued to rub her thigh with his hand. "Arigatou, Cecelia-san." He said. "I do enjoy talking to you, you know." He looked back at Cecelia. "And you as well. The offer stands for you, too." He said with a smile.
Page 5 of 12 •

1, 2, 3, 4, 5, 6 ... 10, 11, 12


---
Permissions in this forum:
You
cannot
reply to topics in this forum