Champions & #1 contenders
Moonhearts Promo intro thread is O p e n.
Mon May 21, 2018 4:21 am by XSirenX
Feeling brave?, lost?, or without a thread to post in?, hit up the newest Moonheart if any of those apply!
CLICK HERE
What Moon has to offer?, many things...:
Comments: 0
The Austrailian Mudslide is Back.
Sat Apr 21, 2018 6:20 am by Softsquad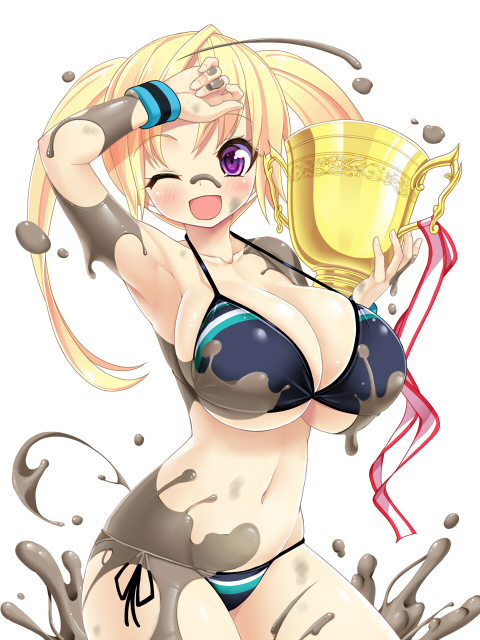 Granted that most of you won't know me or remember me, but I've had a few matches here and there some time ago. Well I think its time to become a regular around here and try to have some fun again, but at the same time keep coming back. Anyway I think its time to jump into some matches with Zoe Taylor, my mud wrestling character from Australia and get her back into the squared circle. Furthermore I will update my characters as I think some proper changes need to happen.
So if anyone would …
[
Full reading
]
Comments: 4
Page 1 of 12 • 1, 2, 3 ... 10, 11, 12


Cecilia was finally alone with Mamouru, she hadn't planned any of this, she just wanted to go out and have a nice and wonderful night with two cool guys, Johnny and Mamouru, but it turned into a little bit of a disaster, she seemed to have made a new enemy, she seemed to be making a lot of enemies in tension, but she was making friends in Friction, well Taylor was a Friction girl, so she couldn't really say that she had made enemies in Tension only, but still she didn't like her so far, and she kinda wanted to just be rid of her, unlike other people who she wanted to smash their face in when she didn't like them, she just wanted to be rid of this girl for now.
Cecilia was kinda dressed a bit to risquÃ
, but still she looked great, she kinda wanted to fix her hair a little, it got a bit roughed up during the short fight, so she decided that she would put it up in a ponytail, who knew, maybe Momouru was one of them who liked a girl with a long golden blond ponytail, she pulled out a stretchy out of her jeans pocket and put up her hair in a ponytail.
And that had kinda happened, Taylor and Johnny seemed to walk away from The Golden Queen and Mamouru alone, she looked on as the two of them left, before turning to Mamouru, " Well now that the kids have finally gotten lost, what say we get to know each other" Cecilia said seductively, to the cute boy that Cecilia had to be honest had taken a great interest in, she had to admit that she had gotten taken in by his wonderful charms, but that wasn't why she had stayed with him now, she had stayed with him for one reason, Taylor offended him and she felt like she had to protect him, because he had invited her, because he had been nothing but nice to her, or maybe because she thought there was something good buried under all that charm.
" Mamo-chan did I do something bad by standing up to Taylor?...I mean I think you and Johnny seemed to like the little fight, But I really mean it, was I just being stupid for wanting to stand up for you? Did i hurt your pride or something or did I overreact to her words?" Cecilia asked as she stared up into his eyes, she didn't know why she was saying this really, she kinda wanted to know if she had acted rashly and such, she could get a bit hot headed sometimes, and she felt like Taylor was just asking for it since they met, but still she only snapped when she began to insult Mamouru, which was a bit odd to her.
" Anyways what do you say about us getting out of her, maybe do something fun, haven't really been in Kyoto for that long so I don't really know where we could go, I do have an apartment here though for later on" Cecilia said with a nice smile as she moved up to kiss Mamouru on his lips, hoping that he might have something fun planned for her, other than a passionate night that he would never forget.
Last edited by 2237 on Wed Oct 12, 2011 12:05 am; edited 1 time in total
Mamouru was finally glad he was getting to spend some time alone with Cecelia. As much fun as it was seeing her and Taylor cat it out a bit and to tease and mess with Taylor and Johnny, he wanted to get to know the beauty in front of him better. She was interesting certainly, exotic by his usual standards. Tall and statuesque. A little hot-headed, which made things that much more interesting, but also someone who seemed to be fond of his charms.

Mamouru smiled as Cecelia spoke so derisively about Taylor and Johnny. But it was true. Johnny refused to grow up and it seemed like Taylor was in the same boat. "Ahhh, yes." Mamouru lowered his head. "I am eager to see how deeply such a woman as yourself runs, Cecelia-san." Cecelia was aggressively seductive but Mamouru liked it.

Mamouru turned his head and looked at Cecelia with a curious eye at her question. "Of course not, Cecelia-san. Taylor-san is a brat. If she's allowed to be that way without repercussions then it will be even worse for her when she picks a fight with the wrong person. Honestly, I feel sorry for her." Mamouru then took Cecelia's hand and clasped his fingers around Cecelia's. "Cecelia-san, I am truly honored that you would stand up for me. I did nothing to give indication that I needed it and yet you felt that you needed to do so anyway. It means a lot to me, really." He said, reassuring Cecelia.

Mamouru then smiled at Cecelia. "I'd love to, Cecelia-san." Mamouru then lifted his head in thought. "I'm afraid I don't know Kyoto as well as Tokyo though." He hadn't been here too much. He mostly stayed in Tokyo chasing girls up there. He then smiled. "Ahh.. Yes, it would be best to avoid my apartment for the time being unless we want to repeat the incident we just had. I'm sure that Junichi and Taylor-san will most likely end up there."

Mamouru began to move out through the crowd, leading Cecelia to the outside, in front of the entrance. He looked at Cecelia. "I assume we're done with the club for the evening? We could grab some food or perhaps some other activity?' Mamouru was mostly interested in getting back to their final destination but had to at least put out a suggestion or two.
Cecilia did have to say that she was quite a bit happier with just Mamouru, and not Johnny being here, in some cases three is a crowd, and in the case or brothers, then it is certainly a crowd, since she didn't think that they would be fit so share her, Johnny most likely wasn't the kind of guy for that sort of thing, Mamouru would most likely have nothing against it, but not that it mattered, she didn't think any of them would like to share a woman, although that would maybe improve their chances of handling the Golden Queen.

Cecilia was glad to hear that Momouru didn't mind, but also seemed quite glad that she had protected him, and stood up for him, it was true that she only did it cause she didn't like Taylor, and she felt like what she said wasn't very fair, besides it wasn't like she hadn't been begging for it since the moment they saw each other, but it was best this way, to just let the go and spend some quality time with the man who had invited her to this little party time, but now it had been time for the kids to got to sleep and it might be so that it was time for the grown ups to do so as well, in time.

"Good, I wouldn't want to over step any boundaries you might have or anything, and I am glad to hear that you liked me standing up for you" Cecilia said with a smile as he clasped her hand, she blushed ever so slightly, and looked up at him, " You can't tell me that you didn't enjoy it a little right? I mean all guys seem to enjoy that kind of thing" Cecilia said with a smirk as she was referring to the cat fight she had with Taylor, or maybe not a cat fight, more just a normal fight, there are certain prerequisites for a cat fight, that that little scuffle doesn't meet up to.

Cecilia was lead out of the bar by Mamouru and she smiled quite a bit, he was different than Johnny kind and all the like, but well mannered and seemed to know his way around women, even if he did seem to be a bit of a player, not that she really minded it, anybody can be a player, of course that's until they meet someone who is just better than them.

"Too bad, I mean the place isn't mine, it's my brothers, But I suppose I can call and tell him to get out or something, We might not even have to do that, I mean it is a rather big place and all" Cecilia said, thinking about her brothers place, just like her, he had gotten himself a nice big penthouse, so there was certainly room for the two of them, it was just the question if her brother wanted there to be another boy around in the apartment.

" How about something to eat or such first, I'll try and get a hold him and tell him to scram! ehmm did we leave my car at the arena....maybe we should pick it up or something?" Cecilia asked with a smile as she looked on at Mamouru, she kinda remembered that she and him didn't know much about each other, so this would really be a good time for them to learn something more about each other.
Mamouru smiled at Cecelia's words. "Never. I would have to think twice if you lacked that kind of passion."Mamouru stated with a coy smile. He then lifted up is hand and blushed, covering up a small laugh. "Well... I can't say it wasn't exciting to see..." Mamouru then turned his head. "Though certainly Taylor-san was wise to retire from the fight when she did." Stroking Cecelia's ego now should provide some good credit for later on.

As they left the bar, Mamouru noticed that Cecelia had been smiling quite a bit. He had to admit that it was actually pretty infectious. His brother Was someone that smiled a lot as well but he just thought that it was a stupid grin.

"I would be honored." Mamouru said as she suggested her own apartment but the drawbacks. "I'm sure that your brother is more engaging than my own." Mamouru teased. "Though, I do hope that we'll be able to spend some time together."

Mamouru then raised his eye quizzically. "You drive to the arena?" He asked. Mamouru wasn't sure if he'd ever really known anyone that owned a car. Living in Tokyo meant walking or taking a train. There was obviously something more to Cecelia and Mamouru was suddenly even more interested in the girl.

"Very well. We should probably go pick it up. On the way,we can decide where we want to eat." Mamouru looked over at Cecelia and gave her a coy smile. "Obviously you're not from Japan." He said, trying to get to know Cecelia. "So, where might you hail from? No offense, but from a cursory glance I wouldn't pit you for the wrestling type. Surely there are better things to do with all the assets you have been gifted with than terrorizing young men in front of a few thousand people.
Cecilia did enjoy the compliments she was getting, it was certainly what she needed right now, and she supposed it was true that she was passionate about more than a few things in this world, and from how she was starting to enjoy Mamouru, she had to admit that he could be one of those things, and of course he did enjoy that little tumble, still he was fair enough to admit it, it was what he said after that made Cecilia put on a blushing smile for Mamouru, it was always nice to her compliment's or get your ego stroked every now and then, and it seemed like with Mamouru that was what you were going to get.
"No we should spend some time together, without my brother, I'll text him and tell him to get out of there, he won't mind" Cecilia said to Mamouru with a warm smile, as she took up her phone from her pocket and began to write the text message for her brother, as they walked, trying to make sure the texting didn't disturb their walk or their conversation at all, it was something that Cecilia was good at doing, texting was a second nature to her, still she didn't want her brother there, even if it was a pretty big place to live in, and she did have her own very large room, she still didn't want to have her brother there.
*Numbskull !
Need you're penthouse for the night.
Scram!
Love you're awesome sister Cecilia!
" title="Very Happy" />*
Was the text that she wrote, to her brother, it wasn't like she tried to hide it or anything, in case Mamouru glanced over to check what she wrote, then she wouldn't hide it, she looked over at Mamouru after she send the text, " Oh yeah! I love driving, it's quite therapeutic for me. " Cecilia said with the same smile she had had as soon as they had left the bar and gotten rid of the kids, better to be alone with Mamouru, rather than with Johnny if Taylor was going to be there, and she did have to admit that Mamouru was more...compelling than Johnny was, and certainly gave off and aura that seemed like he at least knew what he was doing.
It was always fun to spend sometime alone with a person that you liked, at least it was for Cecilia, of course she couldn't tell if Mamouru like her, or if he just wanted to get her into bed, still at least she had enough time to try and change that a little, and if not, this night would be a great stress relief, So now it was off to the car and then it was time to get a lovely meal with Mamouru, she had been calling him Mamo-chan for the evening, but she didn't know if he enjoyed it or not, maybe she should ask him that over dinner.
"Yeah, and nope, not from Japan, but I do have to say that I'm loving my time here so far, it's a great place and there is a lot of fun to be had" Cecilia said as she moved in a little closer to Mamouru as they walked, almost so they would be a bit closer to each other, "I hail from the cold north!" Cecilia said before she gave him a joking smile, " No but I hail from Sweden, and I won't take any offense of that statement, unless you mean I don't look tough enough to be a wrestler...you're not are you?!" Cecilia asked back with a bit of a stern tone, " Still, I've been into wrestling for quite a while now, and It was what I wanted to do, and I think I am pretty good at it" Cecilia said with a smile, " As for terrorizing young men, don't worry only did that to Johnny, that match was all about having fun! like most my matches in Tension so far, friction is a bit more serious though" Cecilia said as she then decided to try and change the subject.
" So how do you feel about Sushi? " Cecilia asked trying to think of something they could eat, and thinking about it, Sushi might be one of the best things, to eat a night like this, were she was most likely going to spend the night with Mamouru, at least it would be a nice evening if nothing else, or at least she could hope, after a few minutes of walking they came to the parking lot, most of the cars seemed to have cleared out, there were only a few of them left, Cecilia looked around for a second before pulling Mamouru along with her, towards the direction of where her car was parked, tonight she was kind of happy with the choice of car she had picked was, maybe it would impress Mamouru a bit, for the evening she had picked her wonderful [url=http://www.thesupercars.org/wp-content/uploads/2009/04/black-lamborghini-gallardo.jpg:32a6osre]Black Lamborghini Gallardo[/url:32a6osre] as she approached her car she looked back at Mamouru to see what he thought of it.
"If you wish, I would also like that, Cecelia-san." Mamouru's words were polite and his tone collected but inside he was smiling quite wide. But honestly, Mamouru had to carefully consider Cecelia. Obviously she was a woman who knew what she wanted. She wasn't afraid to speak her mind and she seemed well off. She was thoroughly attractive and energetic. Other than her temper, Mamouru was having difficulty finding fault in the woman. Though, he couldn't blame her for reacting to Taylor the way she did. That woman could grate cheese just by talking to it and only the patience of a saint, or someone as stupid as Johnny would be able to keep cool around her.

Maybe Cecelia was terrible in the sack? That could be a deal breaker but if she was good in bed there as well, Mamouru had begun to highly consider the possibility of keeping her around longer than a night or two. She'd make one helluva 'trophy wife' or girlfriend as it may be. Plus, she seemed just aloof enough to not be able to figure out, or care, if Mamouru sneaked around behind her back. He was seriously considering sending Johnny a text and thanking him for getting Taylor ff his hands. Though, if things had gone the right way, he'd had already fucked her and kicked her out on her ass. It was a shame that this time he'd simply have to settle. But Mamouru looked over at Cecelia. He certainly wasn't 'settling' He was getting the better deal, but Mamouru liked to have his cake and eat it too.

"I don't think I've ever driven before." Mamouru said, blushing a bit in embarrassment. "Around here, we're used to walking and taking trains everywhere so it's rare to have a car. Especially in Tokyo. It's a little more relaxed down here in Kyoto though..." Mamouru said the last part a little absentmindedly.

When Mamouru saw Cecelia leaning in for him, he blushed and bridged the gap, pushing his shoulder against hers. Then he slid his hand over and wrapped his fingers around hers and clasped hands with her. She seemed like the kind of woman who would like that sort of thing and he wanted to enjoy her touch as well.

"Sweden?" Mamouru spoke it like a question but really he was saying it aloud for his own sake. He tried to picture it in his head and guessed it was one of those finger looking countries near Russia but wasn't sure which one. He wasn't all that interested in geography anyway. All those mountains and forests and jungles were just places where women weren't. He loved conquest but he had no interest in taming mother nature. There was another wily feminine beast that he preferred to hunt. "Well, I'm glad you're having fun in Japan, I would hate for us to be inhospitable to those from other lands."

Mamouru then turned his head away from Cecelia's scornful gaze. "Of course not.' He said defensively. "it's just, you are certainly not bulky like a lot of wrestlers. You are quite lithe, like a ballet dancer." Mamouru tested the waters with that one but felt it necessary to qualify his statement. "They are also very strong but you wouldn't know from looking all you see is 'beauty'. He then turned and smiled softly at Cecelia.

Mamouru nodded when Cecelia mentioned sushi. Of course he liked it. It was a staple in Japan and her smiled eagerly. "Yes, of course. That sounds wonderful.' But when they reached the garage, his eyes widened at what he saw. She was riding in probably the most expensive car he had ever seen or would ever see in his life. He had to double take. "This, is really your car, Cecelia-san?" Just who was this girl? He thought she was well off, but now it seemed like she was just flat out rich. He was even more intrigued now.
It was difficult to try and keep herself from getting sucked in by Mamouru's charms, one thing that Cecilia had always liked was compliments, even if they by any chance were far fetched, or silly, she still liked them, and Mamouru was certainly giving her a lot of that, it wasn't like she was shallow and needed to be complimented every time, but she still liked it, and she was quite happy still that she hadn't scared him of when she had that little tumble with Taylor, seemed like that was a good move now, Mamouru seemed to have appreciated the gesture of her standing up for him.

There was one thing that Mamouru didn't know, or maybe he did, maybe that was why he wanted to be with her, perhaps that was why he seemed to stick to her a little and went a head and invited her to the party, Cecilia was a pretty well experienced hentai wrestler, on both guys and girls, and she certainly knew how to pleasure both, hopefully Mamouru wasn't just with her because he wanted to be pleasured for a night by her, not like she wouldn't if that was the case, she wouldn't screw his brains out and make sure she would have to walk side ways for the rest of his life.

But as of late, Cecilia was looking for something more, maybe Heather and Clyde had gotten to her, and gotten her to change a bit from what she used to like, it's seemed sweet to have someone like that, but she had her doubts that someone as suave and charming as Mamouru would be that type of guy, in any case she liked him and she wanted to get to know him a bit more, but seemed like he wanted the same with her.

"Yeah I noticed that, still driving is pretty fun sometimes, I know it might be weird around here, but I just love it" Cecilia said as she smiled and blushed a bit again, as they were close now, so very close and wrapped his fingers around hers, the warm feeling of his hand was quite a nice sensation, perhaps this would be good, better than she had thought earlier, "Yep Sweden, it's a pretty good place, and most people here in Japan have been nice to me, so I should say that I have greatly enjoyed my time here".

The Continued compliments she got were just enough to cause her to blush again, it seemed like Mamouru wouldn't give up until he had made her face red for the entire evening, Beauty huh... Cecilia thought as she looked up at him, there must be something she can say, " Well, thank you, handsome" Cecilia said, trying to throw a compliment his way.

Sushi it seemed to be, and Mamouru's reaction was almost like most peoples reaction when they saw her Gallardo, it just never got old to see that type of reaction, maybe it was because she wasn't a part of some famous wealthy family outside of Sweden, but nonetheless, " Great then Sushi it is!" Cecilia said with a smile as she went up and unlocked her car and got in, "It sure seems that way" Cecilia said with a smile as she got in, and then looked on at Mamouru, " You like it?" Cecilia asked with a little smirk, she never tried to act like some rich girl, even though she usually spent money like crazy every now and then, she still enjoyed the simple stuff in life, and it was all just because she didn't like the whole rich aristocratic style, she like to have fun, and Mamouru might be the perfect guy for that.

She waited for him to get in, while she did she put her keys in the ignition and started her baby up, letting it purr for a moment, if he got in she would drive of and then glance over to Mamouru, " So know any good place or should we just wing it?" Cecilia asked as she pressed a button on the dashboard, and a tiny LCD screen popped up and the GPS was turned on.
Mamouru slid into the seat and looked around. He was riding in some kind of steel chariot. It was really amazing. He had never felt anything like it before. He would have to tell his mother. He would have to tell Johnny. Well he wouldn't tell Johnny, he'd rub it in his face.

I'm not too familiar with the area but there was a decent Sushi place close to the arena." Mamouru then grinned. "But it would be a shame to have such a beautiful automobile and take it a few blocks away. "Maybe we should see if we can't find something closer to the outskirts of town." Mamouru lowered his head and bowed. "That is, of course, if you don't mind. This is rather thrilling for me.
Cecilia smiled as she glanced over to Mamouru, it was all pretty fun, Johnny most likely missed out on something amazing, and Mamouru was the lucky guy in this situation, to Cecilia it didn't matter, Mamouru had been nicer to her than Johnny had, and it was in any case better to be with the nice guy, Johnny seemed like the kind of guy who would settle down and stuff, while Cecilia kinda wanted that, she didn't know if anyone of the two was right for it, Mamouru was at least someone she could try things with and see how they went.

"Come on Mamo-chan, you're so cute sometimes! Why would I mind, let take this baby for a real spin" Cecilia said with a smile, as she began to drive quite fast, stepping on the gas peddle and letting the engine purr like there was no tomorrow, " Maybe some day, You can take her for a spin as well" Cecilia said with a kind smile, as she thought to herself, that is after I take you out for a little spin...

she began to drive through the streets, a bit passed the speed limit, but it didn't really matter, it was sort of late and there wasn't that much to encounter as far as traffic was concerned.

She drove for quite sometime, before she decided to start some kind of conversation with Mamouru, " SO where are you from, I mean I know Japan right? but where in Japan ?" Cecilia said with a little giggle.
Mamouru blushed as Cecelia complimented him. "Thank you, Cecelia-san. I think you're cute all the time." He said and turned his head away, a little embarrassed. He eased into his seat and looked around atthe interior of the car. He could feel the soft purr of the engine against his body and looked over at Cecelia. "I am honored... but perhaps we should see if I could even drive a regular car before you let me behind the wheel of this on?"

Mamouru liked to pretend that he was the best at everything and any attempt to make himself look bad he usually disregarded but he seriously doubted he could drive this car, or any for that matter, and wasn't going to let bravado tempt him into wrecking with Cecelia inside.

The jerk of the car as they speeded off was an especially neat feeling. As the drove off and Cecelia began to spark up a conversation, Mamouru took to it eagerly. "I was born in Tokyo." He said. "Ironically enough my mother was bornhere in Kyoto but we rarely visited. Her family is rather small." He paused for a moment. "But considering she has been in wrestling most of her life, it's only natural she would settle down in Tokyo.

Cecelia's laugh was rather adorable. Mamouru knew not of the sort of 'dumb blonde' stereotype that seemed to permeate int he west and so thought nothing more than it being a childish affect ation. Something he lingered on for a moment and found pleasing. "What about you, Cecelia-san? Why did you decide to move to Japan?" He asked. He didn't think it could be JUST for wrestling but maybe he was wrong.
Page 1 of 12 • 1, 2, 3 ... 10, 11, 12


---
Permissions in this forum:
You
cannot
reply to topics in this forum