Champions & #1 contenders
The Austrailian Mudslide is Back.
Sat Apr 21, 2018 6:20 am by Softsquad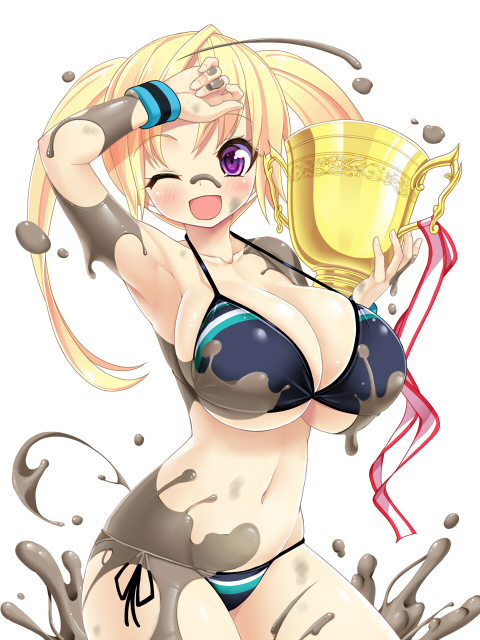 Granted that most of you won't know me or remember me, but I've had a few matches here and there some time ago. Well I think its time to become a regular around here and try to have some fun again, but at the same time keep coming back. Anyway I think its time to jump into some matches with Zoe Taylor, my mud wrestling character from Australia and get her back into the squared circle. Furthermore I will update my characters as I think some proper changes need to happen.
So if anyone would …
[
Full reading
]
Comments: 4
Looking for debut thread.
Sat May 12, 2018 9:28 pm by Hedgehawk
Hello All.
I am looking for a debut for my girl Trinity (http://www.afwrpg.com/t18107-trinity-cordova#495678).
This doesn't have to be a match, it could be a gym battle, interview or anything else. I just want something to help get Trinity off the ground. If you wanna plot feel free to reply to this message or fire me a PM.
Many thanks in advance and thank you for reading my message,
Hedge
Comments: 0
Page 7 of 8 •

1, 2, 3, 4, 5, 6, 7, 8


As soon as Sha was released from Sabre's leggy prison her head dropped to the mat with a low groan. The red twin had recieved the more viscious of the punihsment thus far, enduring slams, a pummeling, and now a deadly headscissor. Sha was tough, but enduring so much had barely left her conscious. Thankfully she was released, and her sister Nha quickly went to check on her after stomping on Sabre. "You okay?" Nha asked worriedly.

"S-Sure," Sha rasped, giving a weak little grin at Nha. "S-Should have f-finished her."

Nha smiled reasuredly at her twin. "Don't worry. We'll get her now!" With that Nha would leave Sha for the moment, then grab Sabre by her legs to drag her away from Sha, making sure she couldn't harm her any more. Once she was sure they were at a good distance, Nha would use Sabre's legs to twist together, and then fall back to trap her in a figure four leg lock.
The groggy cave girl was sprawled on the mat, clutching and rubbing her tender belly where it had been stomped, when she felt her ankles being grabbed.
"Gahhh…." she groaned aimlessly, flailing her arms as she was pulled across the canvas. Her outstretched arm reached for Shaâ€
s slumped figure, looking for something to grab to stop herself being dragged, but shrewd Nha had taken Sabre away from the more vulnerable of the twins.
Being pulled across the ring actually gave Sabre slight friction burns on her ass, and the dazed amazon rubbed her scantily-clad butt indignantly, but this really was the least of her worries. As she lay weakly on the floor, Nha would have no trouble folding her legs into a textbook figure four. Sabre was vaguely aware of her legs being repositioned, one across the other, but couldnâ€
t do anything about it until it was too late.
Suddenly, Sabre felt a searing blast of pain in her knee, as the hold was locked on.
"AAAGGGGHHHHH!!!" she shrieked, her limp and weary form jolted into life by the brutal pain. Sabre grit her teeth to try and stop herself from further screams, but her whole body was trembling and shaking, and her balled fists pound against the mat in pure, helpless agony.
"No, no, no…." she whimpered desperately, wincing as her knee joint was stressed. All her energy was focused on surviving this brutal hold, and she couldnâ€
t even think about extracting herself from it right now. There was a vulnerability about her now as she sexily arced her back, clutching at her own hair as she tried to ride out her painful position.
Nha was holding nothing back against Sabre because it was clear that Sabre was holding nothing back against them. She cranked the figure four with aganozing pressure. As an expert in submissions Nha knew just where to apply pressure to make it as excutiating as possible just short of breaking something. "Scream for me you big brute!" Nha hissed, applying even more pressure to Sabre's tangled legs.

Meanwhile Sha, despite having taken quite a beating thus far, was not one to stay down while a fight was going on. With a grimace she would roll onto her front, and then start to slowly crawl her way to where Nha was torturing Sabre, intending to throw her own into this.
The anguished cave girl scowled bitterly at Nhaâ€
s taunt, biting down hard on her bottom lip, not wanting to give her tormentor the satisfaction of a scream. Though she badly wanted to - the pain was steadily increasing, and she was flustered, red and sweaty just from the effort of riding it out.
Fists clenched, she cast around helplessly, looking in vain for any escape options. As she did so she saw Nha crawling her way, ready to make a bad situation worse and lessen the cave girlâ€
s odds still further.
It was too much for Sabre, she couldnâ€
t hold it in any longer. Staring right at Nha, she would let out an angry, tormented howl.
"GAAARRRHHHHH!!!" Sabre screamed in pain and frustration, clenching her fists and writhing on the mat. She tried to channel the cry into a warning for Nha - Sabre was like a wounded animal caught in a trap, and still dangerous to approach at this point. Despite the pain of the figure four, she would swing a punch at Nha as best she could, even though she knew her perilous position would severely hamper the accuracy and power of her attack.
It was more about pride at this point - and Sabre was still the kind of girl who would unthinkingly try and punch her way out of a figure four leglock.
Nha was relishing in the screams that she made Sabre emit with the mere shifting of her legs. A wide smile spread across her face. If Sabre wanted to know the pecking order around here she would be glad to establish it for her. Sarah may have taken a liking to this brute but that didn't mean she had Sha had to. "So Sabre," Nha chuckled, leaning fowards in the hold to witness Sabre's reaction. "Feel like giving up now? Don't worry. We'll take good care of - UUGHH!!" Nha's face snapped to the side from the brutal punch Sabre managed to catch her with when she made the mistake of leaning forward. The power behind it sent Nha into a daze, and she fell back to the mat with a groan, her legs now loose around Sabre's.

In her effort to get back into the fight Sha would witness the hit her sister would take, and cursed under her breath. "D-Dammit," she growled, and would attempt tp reach the both of them before Sabre could retalitate, though at the rate she was going it seemed unlikely.
Sabreâ€
s groggy, tormented form sat upright, staring rather stupidly at Nha. It took her a few seconds to realise that sheâ€
d gotten lucky with her wild, unaimed swing, and clocked her opponent in the face. She could almost gloat, if she wasnâ€
t still in such dire straits.
With sudden urgency, she started to kick her legs free from the torturous pretzel they had been held in. As she did this she winced at the pain in her knee, it felt like Nhaâ€
s merciless cruelty might have done her some lasting damage. Sabre did her best to extract herself, all the while worried that Sha would come up behind her and finish her off.
If the cave girl was quick enough, she would escape and start retreating to the side of the ring. She wouldnâ€
t try and put her full weight on her leg, though, instead crawling straight towards the ropes in hope of using them for support. Sabre was a little unhappy at attempting such a retreat, especially while Sarah was watching her, but she was in so much pain that pure survival took precedence for now.
Sha would crawl over to check on her sister now, getting close to look down at her. Nha's world was rocked by Sabre's punch, which was not only hard, but it felt like getting hit by a sledgehammer. Nha groaned in a daze from where she lay, clutching her jaw in pain. Sabre may have retreated for now, but now both of the twins were in a bad way, not uch better than Sabre was in fact. Sha didn't know what was going to happen now.

Then a shrill whistle sounded outside the ring. "Alright, that's enough!" Sarah shouted, declaring the match over as per her own rules. Nha and Sha looked to the Queen of Brawl with perplextion, but Sarah's reasons were her own. She had seen enough of the fight to make her judgement on Sabre's entrance into her little group. She had to say, she had been damn impressed at what the cavegirl had managed to dish out against two opponants.

Sarah would then climb into the ring herself, slowly approaching Sabre to where she had retreated to the ropes. Sarah would look over the state of Sabre, and she would grin amusingly. "Sit!" Sarah comanded, fully expecting Sabre to do so. And when she did, Sarah would shout out again, "Shake!" Sarah extended her hand to Sarah to do what she had ordered of her, and if the cavegirl did all these things, sarah wouls smile at her. "Your in. Welcome to the Gatt Attack."
Close to breaking point and barely able to stand, Sabre used the ring ropes to haul her sweat-drenched body into a kneeling position, where she hung limply, facing back towards the centre of the ring. The cave girl didnâ€
t show much emotion as the whistle blew, Sarah ending the match, though behind her mask she was secretly relieved at the chance to get some breathing room. It had been a gruelling bout, and though a part of her was disappointed not to have outright beaten the twins, she also understood that she was a little lucky to have passed through this test without suffering any more of Nha and Shaâ€
s double team moves.
Sabre did her best to retain her composure in Sarahâ€
s presence, though she was clearly drained by the fight. As her mistress barked "sit", Sabre simply let go of the ring ropes, bumping down onto her ass, slouching back against the ropes. She reached up and shook the hand offered down to her, showing no objection to being treated like a dog at this point. Not that she had lost her pride, she was simply too tired (and slow-witted) to notice.
"Thank you…" Sabre replied, panting. "You not regret it. How well I do in test? Oh, and almost forgot, are Red and Blue okay? Hope so… we on the same side now guys, yeah?" Sabre called to Nha and Sha, the fierce emotions of the initiation fight fading, now sheâ€
d received the good news.
Sarah grinned as Sabre took her hand, accepting the invitation to join their little group of 'friends'. Sarah would then haul Sabre to herr feet with her hand. Even if the cavegirl didn't outright beat Nha and Sha she had put up an impressive display none the less, btter than most who went up against both twins at the same time. In her eyes that was reason enough to let her into the Gatt Attack.

Nha and Sha meanwhile, also dissapointed that the two of them couldn't defeat Sabre outright though at the same time glad they could get some rest, starting helping each other to their feet as well. Sha was forced to lean against Nha, the red twin having taken the majority of the punishment in this match. Once they were up Nha and Sha were surprised when Sabre actually asked how they were doing. The sisters looked at each other uncertainly. "Uh, we're fine," Nha answered hesitantly. Sha merely nodded in answer. "That was a good fight. You're very strong."

"Damn right she is," Sarah snickered in approval, wrapping her arm around Sabre's shouders. "And now she's a member of our family. Cool, huh?" She looked over at the taller woman. "Now come on. I'll show you your new room." Sarah would then lead her new charge out of the ring, leaving Nha and Sha to collect themselves. Sarah would lead Sabre out of the main living room and down at hall of doorways, where other members of the Gatt Attack lived with her. There were names on the doorways, one of which read RIKA SMART, and another that read VERONICA. What Sarah would lead Sabre to was a door that has her name written on it with crude primitive letters.

"Welcome to your new home," Sarah would say with a grin, and swing open the door to reveal Sabre's new room. It was a rather spacious room, considering the fact there was nothing in it. Just four blank white walls. But in the corner was a bale of hay, Sabre's apparent preffered means of sleep. And in front of the bale of hay, sitting ssteaming on a plate, was the nice juicy steak that Sarah had promised.
Sabre stood in the doorway of her new room, silent for a few seconds, scanning the surroundings. Then suddenly she barrelled forwards, unthinkingly, even pushing Sarah quite roughly to the side.

"Steak!!" she cried out gleefully. She bent down and snatched the meat up off the plate, gripping it in her hands and taking a huge first bite.

"Mmmm, tasty," she muttered as she chewed hungrily. "This good!!" she said in between bites, all the while making gushing noises that sounded like pure bliss.

After devouring the first half with terrifying speed, Sabre would sit down on the straw and set to work on the rest of the meal.

"This awesome," she said gratefully, greedy mouth still full. "Not had in ages!" In no time at all it would be gone, leaving Sabre to lick her greasy, spattered fingers.

"Thank you Sarah," she sighed happily, focusing on her hands and looking to suck every last drop of juice from them. "I like that all the time, please," she smiled.
Page 7 of 8 •

1, 2, 3, 4, 5, 6, 7, 8



Similar topics
---
Permissions in this forum:
You
cannot
reply to topics in this forum