Who is online?
In total there are
60
users online :: 11 Registered, 1 Hidden and 48 Guests :: 2 Bots
321Shazam
,
acuya
,
daemongirl
,
dragonswill
,
Harrier
,
killcarrion
,
KillerV
,
LARIATO
,
OmegaVan0
,
SimplyMoon
,
Teenwrestler
Most users ever online was
155
on Sun Oct 09, 2016 8:33 am
Champions & #1 contenders
Reduced Post Rate
Tue Jun 27, 2017 12:14 pm by RadiantKarna332
For those who are currently roleplaying with me in threads, you guys may have noticed my reduced post rate. I'm sorry for being so late to inform you guys about this, but due to some real-life businesses, I have no choice but to post infrequently compared to usual. I'm so sorry about that.
So, I will return to my normal schedule next week, so please don't worry about me not posting. Have a nice day.

Comments: 3
Catching up and stuff
Wed Jun 28, 2017 4:19 am by LARIATO
Hey guys.
First, trying to finally get my ass in gear and get caught up with threads and everything. Pretty sure I've finally posted to all active threads I'm involved with now. But I can be very scatterbrained and forgetful at times. So if anyone's got an active thread still waiting for a post for me, it probably just means I've forgotten, so PLEASE let me know about it so I can get on that asap.
And second, I'm aware it took me a long ass time to get around to a lot of these posts, and some …
[
Full reading
]
Comments: 0
Active Kawaiis
Sat Jun 24, 2017 1:25 am by Daaharu
Hey, guys. I'm hoping to get a sense from everyone of where the active kawaii girls are at. No guarantees or anything, but I am looking to figure out who is out there consistently making matches because we are looking to inject some new blood into the kawaii title scene, and I don't want to have tunnel vision on just the players and characters I know.
So, if you've got a kawaii girl who's had at least one match and is currently active, can you let me know either here or via PM or IM? This …
[
Full reading
]
Comments: 6
Page 1 of 8 • 1, 2, 3, 4, 5, 6, 7, 8

Comes from here [url=http://afwrpg.informe.com/forum/the-ring-f8/josey-wales-vs-tannis-no-holds-barred-casket-match-t5056.html:214e8jyb]OOC[/url:214e8jyb]

All Tannis could see around her was darkness, well darkness and a mini Josey who kept insulting her and punching her in the forehead "Hey mabye if i keep punching you in the head it will knock the crazy out of you" the mini Josey said. Tannis had been enduring this for many hours but to her it seemed like an eternity since she was trapped in the coffin. After her recent match the ref and stage hands just took the coffin and placed it backstage not caring that it still held a crying Tannis. "Please just go away" Tannis said as tears continued to sttain her cheeks. "I'm not going anywhere, this is way to much fun" the mini Josey said with an evil laugh. After a few more minutes of torment however Tannis couldn't take anymore and she began to bang on the coffin lid again while screaming for help "Please someone let me out of here" Tannis screamed before the mini Josey laughed at her "No ones going to save you. Its just going to be you and me in this box for the rest of your life" this comment made Tannis scream in desperation as that was a fate worse than death for her at the moment.

_________________
Characters

The Den
Liana hadn't spent much time in this Friction place, she was brand new, signed on earlier today and was just taking a look around backstage, she had watched a couple of matches of the night, but never watching an entire one, Cecilia hadn't showed up at all tonight, but Liana guessed it was for the best, she didn't want to deal with that now, for now she just wanted to check out the place and see if there was any good reason to even stay here.

Liana was wearing a pair of black pants, and black shoes, and a red bikini top to cover up her breasts somewhat, she had a Mini Python draped around her shoulders, one of her five snake, She had named him Lucifer, but she called him Luci, he was her little cutiepie, a nice scaly lovely snake that she brought with her quite often.

While walking down Liana could swear she heard screaming and banging, it was quite muffled and she didn't really get where it came from, she looked around and walked a bit more, the noises were getting louder and louder, and finally she came upon a black coffin, black as black can be, she stepped up to the coffin and looked down, moving in to knock on the lid, "ehmm...anyone in there?" Liana said as she listened closely.
Tannis continued to knock and scream in the coffin until she heard someone knock back "Let me out" Tannis said screaming hoping that whoever was out there would be kind enough to release her or at least she hoped it wasn't Josey again. "Hey whos trying to ruin my fun" the mini Josey said before dropkicking Tannis in the head "Shut up. IF you stay quite they will go away" however Tannis did the exact opposite and began to pound on the lid while screaming for release.

_________________
Characters

The Den
Liana was surprised by the great screaming and pounding that occurred after she knocked on the coffin, Luci hissed at the scenario, and Liana turned to look at him, "you think we should let her out" Liana said, and Luci answered with another his, as he began to snake his way down Liana's arms and wrap himself around her wrist.


"Hang on..." Liana said before she grabbed onto the lid of the coffin and pulled it up, and opened the black dreadful thing, to see a little girl, at leasts that was what she thought at first, she was short to say the least, must have been a Kawaii wrestler.
[url]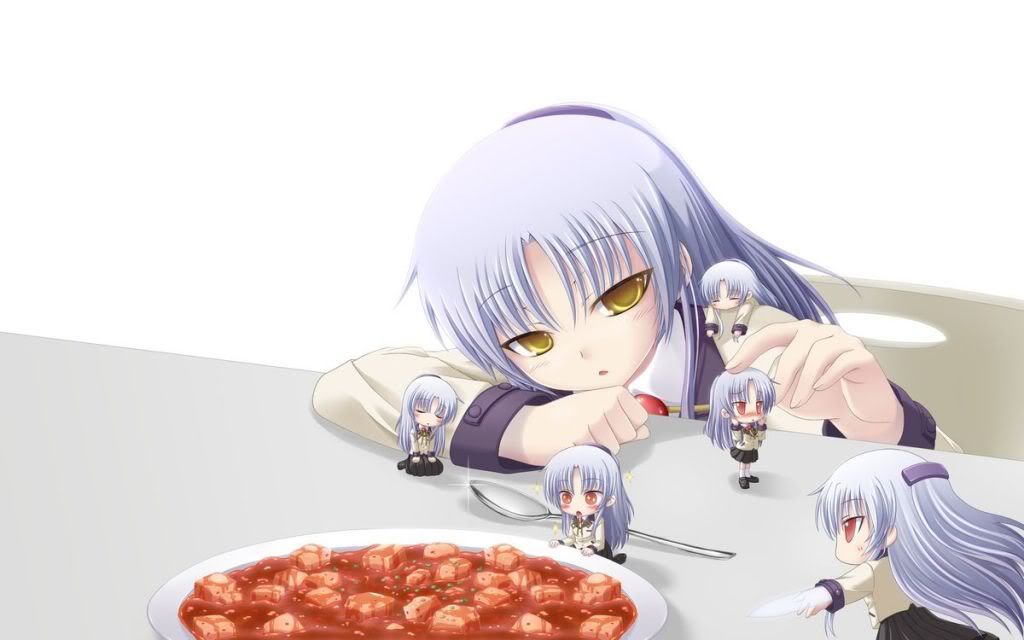 [/url]
Tannis was shocked suddenly by the bright lights and she moved her hands to cover her eyes "Thank you" she would say weakly as she treid to figure out where she was. Now as soon as the coffin opened the mini Josey seemed to disappear altogether leaving Tannis alone for the moment as her other mini versions seemed to scared to appear to her. After a few seconds Tannis's eyes adjusted to the lights and she looked to see Liani standing above her and Tannis cringed in fear as her mind seemed afraid of everyone at the moment even though this girl let her out of the dark box.

_________________
Characters

The Den
Liana looked on and smiled a little when the girl thanked her, a refreshing feeling for her, she didn't usually get thanked, still the girl didn't seem to be doing so good, she seemed scared of her, "Hey...ehmm silly question but....why are you in a coffin little one?" Liana asked as she looked the girl over, she remembered then that there was going to be a casket match with some new girl, but still wouldn't they have let this girl out right after the match or something.
"Ehmm..you okay?" Liana asked disregarding her earlier question, about that time Luci started to unwrap around Liana's wrist and begin to slither off into the casket and onto Tannis.
Tannis didn't look at Liani as she spoke to her as she was indeed scared of the girl but Tannis was at least polite enough to answer the girls questions "I lost my match and a really mean girl threw me in here. How long have i been in there?" Tannis asked as she lost track of time while lost in the dark with the mini Josey. Tannis tried to get out of the coffin but as she did her body exploded in pain and she fell back down. This time however Tannis was greeted by a snake staring her right in the face causing her to jump in surprise "Was this always in here with me?" Tannis asked herself.

_________________
Characters

The Den
Liana looked on the girl as she seemed to be quite rattled up, mean girl huh.....that used to be what people called her after she beat them up, although Liana never beat anyone up unless she felt they deserved it, sad that this little girl had to be put into this cruel box.

"Don't worry...it's only me here just relax" Liana said as she gave her a soft fake smile, but a very convincing one at that, before she girl fell back down into the coffin again as she tried to get out, "Take it easy" Liana said as she had no idea how to answer the girls question, the matches ended a long time ago, " ehmm...little one....it's been like hours since the last match of the night" Liana finally decided to answer her questions.

Liana couldn't help but laugh at Luci and Tannis, "Luci don't scare her...that's not nice" Liana said as she grabbed onto Luci and hung him over her shoulders, before she offered Tannis a hand to help her get up, Luci seemed to like this girl, so Liana would at least try.
Tanniswas shocked when Liani told her that she had been trapped inside the box for hours "Why would they leave me in there?" Tannis said as she bega nt ocry again "Why?" Tannis said as she began to curl into a ball inside the coffin. Tannis then looked at Liani as she removed the snake "Who are you?" Tannis asked "And why did you let me out?"

_________________
Characters

The Den
Liana felt a bit bad for the girl as she began to cry, reaching up for her, but not really sure what to do, she wasn't used to dealing with these kinds of situations, " I sure they wouldn't...just calm down" shit....this really wasn't to fun for Liana, she had no idea how to deal to this, Luci slithered around on Liana's shoulders a little, when Tannis asked her those two questions.

"Sorry...I don't know why they left you in here....I am Liana Wilson....and I let you out because you asked me too....and I guess it would have been kind mean to just leave you in there" Liana said as she tried to grab a hold of Tannis and pull her out of the coffin, whether she wanted to or not, she wasn't going to stay in there, not while Liana was around.
Page 1 of 8 • 1, 2, 3, 4, 5, 6, 7, 8

---
Permissions in this forum:
You
cannot
reply to topics in this forum