Champions & #1 contenders
Highfly Flying Out Of Town
Tue May 22, 2018 1:31 am by HighFly
Hello everyone, I just wanted to inform all I have threads with that I will be gone from this coming Wednesday through Sunday. I won't be able to post consistently if at all during this time, but I will try to make up for it next week! I am sorry for the inconvenience to everyone.
Comments: 7
The Austrailian Mudslide is Back.
Sat Apr 21, 2018 6:20 am by Softsquad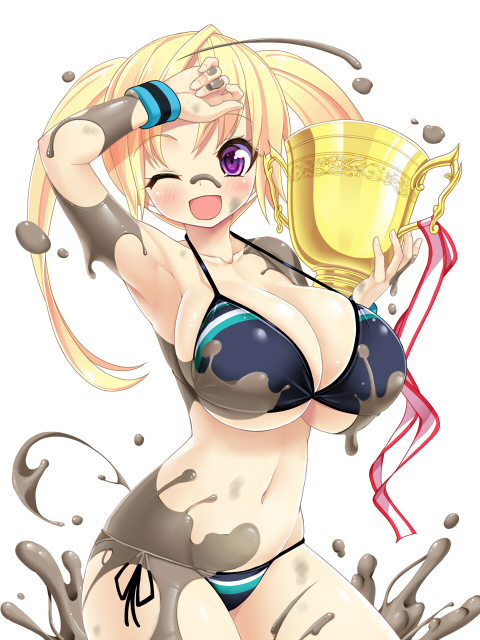 Granted that most of you won't know me or remember me, but I've had a few matches here and there some time ago. Well I think its time to become a regular around here and try to have some fun again, but at the same time keep coming back. Anyway I think its time to jump into some matches with Zoe Taylor, my mud wrestling character from Australia and get her back into the squared circle. Furthermore I will update my characters as I think some proper changes need to happen.
So if anyone would …
[
Full reading
]
Comments: 5
Page 1 of 19 • 1, 2, 3 ... 10 ... 19


Prostyle match
1 fall
Pinfall, submission or KO.


"So what did Ms. Sellers say?" Toshio asked as he sat on a nearby bench, tying up his boots. He'd been going through his usual preparation regimen before the match, doing a few stretches and crunches, and, just because, combing his hair and applying some Old Spice as he changed. He'd always reasoned that because he was (probably) about to face some fine ladies in the ring, it was wholly possible that he might get lucky. Kyo had always told him that it didn't matter, he would soon be sweating enough that the aftershave's smell would be gone, but Toshio always applied it anyway. In many ways, it was his good luck charm.

Kyo stood by the doorway, already in his wrestling gear, wearing just a simple t-shirt over the top. Both brothers were wearing knee-length trunks, Kyo in dark blue and Toshio in black, with matching boots and pads. As usual, Kyo's expression was stern and serious, the perpetual counterpoint to Toshio's mischievous smile.

"She was being very vague on the match. Deliberately so, I think," Kyo replied. "All she would tell me was that we would be fighting in a triple tag match, mostly against people we 'already know.'"

Toshio's eyes widened in surprise. ""Triple tag?" He whirled around on his brother. "Did you tell her that Makie is already scheduled for another match?"

Kyo nodded. "She already knew," he replied. "Apparently she has a third person to tag with us for this match. She didn't say who, though."

"Hmmn." Toshio's face became thoughtful. "Is this mystery person a girl or a guy?"

"She didn't say," Kyo replied.

Toshio grimaced. "She'd better not have paired us with that Tai Kamiya guy," he grumbled. Kyo simply sighed. He never understood his brother's animosity towards Tension star Tai Kamiya. Kyo reasoned it was jealousy-- in many ways, Tai was apparently similar to Toshio in personality, except apparently he'd also slept with half the girls in AFW by now.

Kyo, for one, was a little more concerned about Ms. Sellers' statement that they would be facing someone they knew. He and his siblings had kept mostly to themselves during their time in AFW, and they knew relatively few people. Could she have meant Haruka? Or Mimete? He shuddered when he considered that she may have also meant Kelli deVanetti or Tsuzaki Shizuka.

"All Miss Sellers said was that we'd be meeting our teammate on the way to the ring," Kyo said.

At this, his brother suddenly grinned. "It's a girl then," he said. "If our teammate was a dude, he'd just be sent straight here to the men's locker room."

Kyo sighed. Although his brother did have a point, Toshio's excitement over the matter might be problematic when it came to the actual match. "Just try not to hit on her so much," he said. "We have a match to focus on, remember?"

"Ah, don't worry about me, bro," Toshio said, standing up and giving Kyo a playful punch on the shoulder. "You know me. We both fight to win, remember? No matter who they throw at us, we'll be raising our arms in victory at the end of it all."

Kyo smiled at his brother...and then frowned. "If only Makie could be fighting alongside us," he muttered.

"Ah, give her time to fight on her own for a while," Toshio said. "She needs to build up some confidence fighting on her own. Let her make a name for herself. Then we can fight together, all three of us."

Kyo nodded to his brother. His smile slowly returned.

"All three of us."
Last edited by 137 on Sun Sep 25, 2011 10:40 pm; edited 1 time in total
For this one night, Haruka, Daisy Cry and Midori Himeno were being given this one locker room to prepare in since tonight they would team in this triple tag match. Haruka and Midori knew each other somewhat and had respect for one another. They were already greeting each other and mulling over strategy in the ring. Midori was dressed in her usual attire and Haruka was going with her leotard look.

"So Haruka," asked Midori as she pulled on her glove. "You think we will be facing any men in this match?" She seemed excited at the prospect.

Haruka shrugged. "If we do they better be bringing their game and not just be looking for a cheap thrill."

"Speaking of which," Midori looked coy. "I saw you at the restaurant last night with Kyo, hmhm? What was that all about?"

Haruka hid her blush with a casual snort. "Tsk. It was nothing really."

Midori just crossed her arms and gave a knowing look. Haruka rolled her eyes.

"Oh he's ok. But nothng is going on right now. It was just a dinner date."

"Oh he doesn't seem so bad. I think you two could work."

"We'll see..."

Daisy Cry had been sitting on a bench nearby taping up ehr hands and mostly ignoring the two women. Then she spat on the ground and looked up irritably.

"Are you two ready yet or are you going to keep talking bullshit?"

She got up and headed out clearly ready to get the match out of the way. Despiteher attitude Haruka almost sighed in relief that Daisy broke up that talk she was having with Midori.

"Hmph. Someone is antsy." Midori shook her head at Daisy.

"She has a point though, let's go." Haruka followed.

Midori seemed to sense what Haruka was stewing on about and just grinned before following too.
A few minutes later, "battery" by Metallica played as the Akamatsus entered the ring, to the cheering of their fans. The two brothers could not have reacted to their fans any differently: Kyo would only acknowledge the cheering crowd with the occasional faint smile or nod. Toshio, on the other hand, exalted in the crowd's adoration, pointing and gesturing to them appreciatively and, at one point, running along the side of the ramp with his hand extended to hi-five several people in a row. Compared to Kyo's stoic, serious attitude, Toshio's enthusiasm stood out that much more. All the more evidence, it seemed, that these brothers were in many ways polar opposites.

The two of them slid under the ropes as they reached the ring, hopping to their feet. Toshio grabbed the ropes and began to tug on them for some last-minute exercise on his arms, while Kyo stared out at the opposite end of the arena.

"Our teammate should have been here," he said, frowning.

Toshio frowned back. "Maybe she didn't get the memo?" he wondered aloud. "Or maybe she's late, or..."

He was cut short when the peppy, face-paced theme "Prismatic Stars" began to play. In the distance, pyrotechnics and flashing lights lit up the ramp, and a second later, a busty, pigtailed figure stepped into the arena, smiling as she gave the audience a V-sign. She wore a tight, blue and white lycra outfit with a white heart over each ample breast, and a blue band ran across her eyes like a bandit's mask. The Akamatsu brothers were speechless as their tag team partner sprinted across the ramp, waving to her fans as she went.

"Rainbow Mika," Kyo muttered, recognizing her even before the announcer named her. He'd followed enough of the Street Fighter tournaments to recognize her.

"Bro, our teammate has a rack and ass I could only have dreamed of," Toshio muttered as he stared at Mika. "This is proof that there is a god."

Kyo could only facepalm in reply before Mika leapt into the ring, somersaulting over the ropes and landing in such a way that her breasts jiggled enticingly.

"Tadaaa!" she exclaimed cheerfully. "I, Rainbow Mika, am your teammate for today!" She frowned. "So, um...which of you is Kyo, and which of you is Toshio?"

Kyo straightened up, extending his hand to Mika. "I'm Kyo," he replied, "and this is my brother Toshio."

"You can call me anything you like, though," Toshio added with a grin. Kyo resisted the urge to slap his brother across the back of the head.

Mika, however, seemed oblivious to Toshio's attempts at charm as she cheerfully shook their hands. She had to admit, they were both rather handsome...and in more ways than one, they kind of reminded her of Ryu-san and Ken-san from back in the Street Fighter tournament. Both of them had been nice to get along with, although neither had compared, either in skill or in sheer masculinity, to the wrestling god that was Zanghief-sama...

She snapped out of it. "Pleased to meetcha!" she exclaimed. "Ms. Sellers told me your sister wasn't available to help you out, so she asked me! I hope you don't mind!"

Toshio grinned. "Oh, I REALLY don't mind." he replied. "Heck, you can tag with us as often as you want!"

Again, Kyo frowned at Toshio, but then smiled at Mika. "We're grateful, Mika-san," he said with a slight bow. "I'm honoured to have an experienced wrestler like you as our teammate."

"Great!" Mika beamed. She turned in the direction of the other end of the arena. "Let's see who our opponents are..."

As Mika turned her back towards Toshio, Kyo reacted quickly. "Eyes on the arena door, Toshio," he whispered.

Toshio's face reddened, his eyes quickly moving up from where they had been staring. "Uh...that's...where I was looking!" he hissed back.

"Right."
Last edited by 137 on Sun Sep 25, 2011 11:09 pm; edited 1 time in total
Midori, Haruka and Daisy would enter at relatively the same time. Haruka and Midori looked a bit surprised when they saw who two of their opponents are. Daisy looked at them and snorted.

"Tsk. What are you two gawking at. Come on..."

Daisy headed down to the ring. Midori and Haruka would snap out of it a bit and follow.

"Well, well, Haruka, isn't this a coincidence. And we had dinner with them just last night."

Haruka said nothing to Midori and just eyed Kyo intently.

Midori would return a few high fives. Daisy would shrug some of them off.
The moment their three opponents arrived, Kyo rotated his arms, loosening his shoulders in preparation for the match. He stopped immediately, however, when he noticed who their opponents were.

Toshio noticed it as well, leaning forward on the ropes. "Bro, is that.."

"Haruka-san and Midori-san," Kyo breathed. Cassandra Sellers' words came back to him clearly now. "Someone we know."

That was an understatement. He had been out with Haruka Tenou on...well...I guess you could call it a date...last night. It didn't end well, partially due to Makie's interference, but all the same, Kyo admitted he felt some emotional attachment to Haruka. He had known that he would wind up facing her in the ring again eventually-- in fact, he looked forward to it, since their last match had been so hard-fought and enjoyable. But he hadn't imagined them facing off again in a situation like this.

Midori Himeno was another matter. He had mixed feelings about the woman, but Makie had befriended her rather quickly after their first match. She had been helping to train Makie ever since. While he was ambivalent towards Midori, he knew that Toshio still held some unspoken bitterness towards her over how badly she had beaten Makie the first time around. Kyo frowned, glancing at Toshio. His expression was unreadable. He hoped Toshio managed to keep his self-control in this mtch, otherwise, things could get ugly.

The third woman with them...was a mystery. Tall, slender, wearing a grey and black one-piece, the woman looked to be a foreigner, and given her gloves and pads, also looked like a striker. Her hair was short and blonde like Haruka's, but was swept backwards, and her expression was one of impatient aggression. Kyo knew how tough Midori and Haruka were, but this new woman and her skills were a complete unknown. They'd have to watch out for her.

Mika leaned on the ropes, watching their opponents walk towards them. Her bubbly expression had dissipated into something more serious. "You know these girls, Kyo-san?" she asked.

"Not the one in grey," Kyo replied. "I've fought the blonde in the leotard before, however, and know that she's pretty tough. The redhead fought and defeated my sister. She had a pretty high level of endurance."

Mika suddenly smiled. "That's okay," she replied, turning to grin at him. "So do I."

"Eyes open, bro," Toshio suddenly said. Turning back to Haruka and Midori's group, Kyo saw that they had reached the ring. He took a step back, eying them as they approached.
The three ladies got into the ring. Daisy simply turned to the corner to stretch a bit but Midori and Haruka came forward almost as if curious if Kyo and Toshio might say anything prior to the match.
For a moment, the brothers were silent as Midori and Haruka stepped before them. The crowd went silent as well as, in their eyes, a standoff began between the two teams.

Kyo was the first to break the silence. "Haruka-san," he said with a polite nod.

"Midori-san," Toshio echoed with a nod.

Kyo glanced at Daisy, who was stretching in the corner. "Who's your friend?"
MIdori smirked as she jerked a thumb over at Daisy. "Smily over there is our partner for the night."

"Her name is Daisy Cry." Haruka shrugged. "So...you ready to do this?"
The name "Daisy Cry" rang a bell for Kyo. As far as he could remember, she was part of the old "Wrestle Angels" federation. Quite a few Wrestle Angels had apparently transferred over to AFW, though Kyo had never known of any doing mixed matches.

He nodded to Haruka and gestured to Mika. "This is our teammate, Rainbow Mika," he said.

Mika smiled brightly. "Hiya!" she said. "Pleased to meet you!"

Turning back to Haruka, Kyo gave her a polite nod. What happened last night is irrelevant for today, he told himself. I can't hold back against either Haruka or Midori if we're to win. "We're ready to do this when you are, Haruka-san," he said.

"HOW are we doing this, though?" Toshio asked, crossing his arms. "We'll need to decide which of us is going up first. Unless we want to start three-against-three once the bell rings."

All three of them were staying ready and alert, in case the bell rang on them in mid-conversation.
Haruka and Midori would both smile to Mika and shake her hand. They considered it an honor stepping into the ring against a fellow power girl.

Eventually Haruka and Midori retreated to their corner to confer with Daisy while eying their opponents. It seems they were going to wait and see who got chose to step in first.
Page 1 of 19 • 1, 2, 3 ... 10 ... 19


---
Permissions in this forum:
You
cannot
reply to topics in this forum