Champions & #1 contenders
Highfly Flying Out Of Town
Tue May 22, 2018 1:31 am by HighFly
Hello everyone, I just wanted to inform all I have threads with that I will be gone from this coming Wednesday through Sunday. I won't be able to post consistently if at all during this time, but I will try to make up for it next week! I am sorry for the inconvenience to everyone.
Comments: 7
The Austrailian Mudslide is Back.
Sat Apr 21, 2018 6:20 am by Softsquad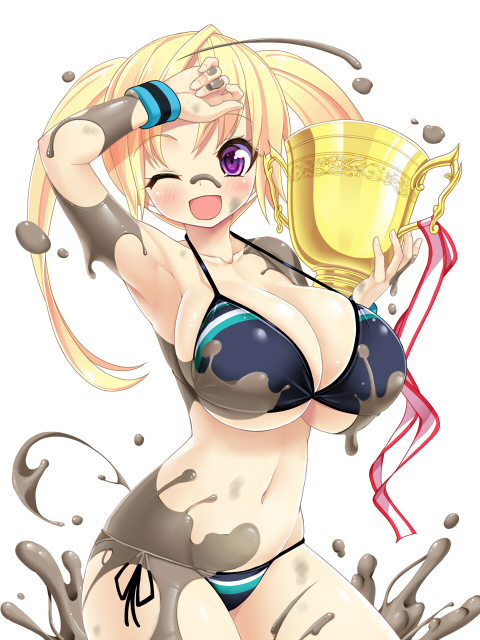 Granted that most of you won't know me or remember me, but I've had a few matches here and there some time ago. Well I think its time to become a regular around here and try to have some fun again, but at the same time keep coming back. Anyway I think its time to jump into some matches with Zoe Taylor, my mud wrestling character from Australia and get her back into the squared circle. Furthermore I will update my characters as I think some proper changes need to happen.
So if anyone would …
[
Full reading
]
Comments: 5
Moonhearts Promo intro thread is O p e n.
Mon May 21, 2018 4:21 am by XSirenX
Feeling brave?, lost?, or without a thread to post in?, hit up the newest Moonheart if any of those apply!
CLICK HERE
What Moon has to offer?, many things...:
Comments: 0
Page 1 of 4 • 1, 2, 3, 4


Violet leaned against the door of the bathroom. From what she could hear, Ivory had stopped sobbing by now. "Sis...come on, get out of there. We'll be on in a few minutes."

"I told you, sis, I'm not going out there," Ivory's voice came back. "And I don't want you going out there either."

Violet sighed. "Sis...please...we can't just stay out of the ring forever."

That, at least, had been what Violet kept telling herself after the disastrous match against Mimete and Bunny. She had come out of that match so badly beaten and hurt that she had had to spend a few days in the infirmary. Once she had gotten out, she didn't know how to feel. Angry, for certain, at being beaten and humiliated so cruelly in the ring. A little ashamed as well, since it was mostly because of her that they had lost. But her usual fire, energy and aggressiveness was gone. It was like a switch had been flipped. She felt...defeated, pure and simple.

Ivory, however, had taken it much worse. She had been unable to help Violet for most of the match, and had been largely forced to watch as her sister had been brutalized by Mimete and Bunny. She hadn't been her cheerful and bubbly self since the match: now she was sombre and silent most of the time. Violet knew that Ivory blamed herself for what had happened, and had tried to talk it over with her. All their talks, however, did little to diminish Ivory's feelings of guilt.

Then they had recieved notice that they had another match down the road-- a handicap match against a tough competitor. Although a part of her was terrified by the prospect of going back into the ring, she knew she had to. She had to win in the ring again if she was ever going to get things to go back to normal. At least, thats what she told herself.

Ivory, on the other hand, had become weepy and terrified at the news. Even now minutes away from their match, she was locking herself in the bathroom and refusing to come out.

"Sis, please...we can't hide like this."

"I don't want it to happen again!" Ivory blurted back. "I don't want to have to be forced to watch while you get hurt like that again!"

"Sis, I' won't..." Violet began.

"And how do you know?" Ivory interrupted. "What if I can't help you again? What kind of tag team are we if I can't help you?"

Violet sighed. Truth to be told, she suspected Ivory was even less ready for a match than she was.

"If you fail to save me," Violet said, "then it won't matter. You'll still be my sister, Ivory. You still are. Now please...get out of there. We need to go back into the ring and get ourselves a win if we're going to get over this. Please, Ivory, do this for me."

For a moment, there was silence on the other end. Then, slowly, the door opened and Ivory stepped out. She was clad in her wrestling attire, and her cheeks were red and tear-stained. Slowly, though, her sombre face managed to crack a smile.

"I'm sorry, sis," she said. "I was just so afraid, I...I. didn't..."

Violet smiled back and leaned in to hug her sister. "It's okay," she said. "We'll win this match, you'll see. Up for getting some ice cream afterwards?"

Ivory cleared her nose as she hugged her sister back. "Y...yeah," she replied.

"Great." Violet pulled back. "Now...let's go kick some ass."
Akiko is sitting all alone by herself in her own locker room which The AFW officials provided only for her. She is totally naked without any single clothes on her body as she relaxs all of her hard muscles on the couch and checking her opponents' background by reading the documents one by one. She reads it carefully about the two sisters' personalities ,about their bio ,about their favorite moves ,attacks and even finishers but Akiko laughs as loud as she could when she takes the photograph which was slipped between the documents. She can't even to hold her laughter for a moment as she notices that the girls who are going to fight her are just two cute girls.

"HAHAHAHAH" Akiko keeps laughing and then she try to stop it for a second ,"Hmm...these girls have very delicious bodies and i must have them" Akiko said in her heavy Russian accent as she licks her lips and then winks at the photograph ,"I'm going to own you ,young girls" Akiko close her eyes and imagine that she is having a sex with her right now ,she puts the photograph on her crotch and rub it around her wet pussy while moaning. Akiko does has a sexual disorders ,her nipples will erect itself if she sees a pic of young and hot girl but two girls in the same pics made her even wilder.

Akiko plays with herself as long as she wants to until she had her orgasm in her locker room ,"This is going to be fun" Akiko's lips form a kinky smile itself as she puts one of her wet fingers into her mouth and dry it up.

"Well...i better have a shower first and surprise these young girls later ,HAHAHAHA" Akiko laughs again and walks to the bathroom in nude to have that shower. Akiko plays with herself again during the shower as she can't take the girls' pretty faces and hot bodies out of her mind. Her mucles tensed as she pounds her own pussy with her own fingers back and forth and then she gives a long and loud moan as she had the second orgasm in the night.

Akiko breathes heavily but really satisfied with herself and know that it'll be more interesting if those girls can join her in her locker room. Akiko get herself out of the shower room and quickly dry herself before she get dressed.

She puts on the black MMA fingerless gloves onto both of her hands and then her favorite black bikini bra and also with the same colour satin short and boots but she realizes that she needs to give those girls a sight of her firm and gravity defying mamaries if she wants to surprise them so she unhooks the bra and throw it onto the couch ,"Sorry...i don't need you for the night.

Minutes away from the match and Akiko is ready to fight and bring the two young girls back into her locker room as her sex slaves. Akiko aggresively makes her way out of the locker room but still can mantain her "Terminator look a like" style when she is walking and making her way towards the ring.

The whole arena holds the breath as they all notice that Akiko is not wearing anything on her top. They keep holding their breath before it turns out to be the wildest cheer for Akiko but Akiko ignores all of them cause her interest is only with her hotties opponents not with some old and fat guy who cheers at her.

Akiko hops onto the ladders and easily slips herself between the ropes and making her way to a vacant corner to wait for her two luscious opponents' arrival.
Last edited by 6123 on Mon Sep 19, 2011 6:36 am; edited 1 time in total
A few minutes later, Ivory and Violet entered the arena. They were wearing their usual two-piece outfits-- Ivory in white, Violet in purple, and both had matching boots and pads. Ivory was letting her long her flow down freely, while Violet, as a change of pace, wore her hair in two long, braided pigtails. The crowd cheered them on, though it seemed to Violet that they were getting fewer cheers than before. The audience, she thought distastefully, still remembered how Mimete and Bunny had humiliated them in the ring.

We'll show them, she thought bitterly. We'll show them all.

Ivory, meanwhile, was smiling and waving to the crowd, but Violet could tell that this was forced-- that she didn't want to be in the ring at all. When her gaze shifted to their distant opponent, however, Ivory frowned.

"Sis...she isn't wearing a bra."

Violet turned in the direction of the ring. Ivory was right: their opponent's breasts were bared for all the world to see. She also quickly noticed that her opponent was big: chords of muscle rippled under her bronzed skin, and her short silver hair glinted in the light of the arena. Violet suspected that they would be facing someone tough, but she had never anticipated an amazon like this.

"Keep it together, sis," Violet replied as she slid under the ropes. Ivory tentatively followed, and the two of them hopped to their feet, staring Akiko down.

Violet gazed defiantly at the big woman. "Hey Silverdome, unless your top is at the cleaners, I thought there was a dress code in the ring? Then again, maybe you just don't bother changing after your day job..."
Akiko is just standing like a robot in her corner with her arms on both of her sides and leans her chest forward ,gluing her eyes on both of the sexy wrestlers as they make their way into the ring. Akiko then hears that one of them is talking to her.

"Well there's no code for me in the ring ,The AFW agreed to let me to choose if i want to get dressed or not before the match. Besides ,i don't really like to hide my stuff inside a clothing cause fighters shouldn't be ashamed and should be proud to show their 'stuff' during the match ,darling" Akiko replies the girl with her heavy russian tone as she usually does when she is talking to someone.

She walks closer to both of the hot wrestlers and puts both of her hands on her hips ,intimidating the girls with her muscles and her gravity defying titties ,"well my name is Akiko ,it's pretty strange name for a Russian ,isn't it??" Akiko keep continuing her conversation ,"Well...lets make a stake ,shall we??? what you both want if you win this match??? i'll give you a time to decide what you both want ,i'll be waiting at my corner".

Akiko winks to both of them and then start to walking back to her corner and then wait for the two hot and innocent godesses' answer.
Ivory's face turned red. "St...stakes?" she gasped. "But...but...we don't...we never...I mean, our opponents don't usually..."

Frowning angrily, Violet pushed her sister aside as she strode towards Akiko. "I don't need to wait," she said. "If we win, then you'll have to acknowledge, on live TV, that we're the better wrestlers. That we kicked your ass, that we'd kick it again, and that you're a stupid floozy who has no place in the ring." Normally, she wouldn't have picked something extreme, but her last humiliation at the hands of Mimete and Bunny had left something of a vicious streak in her. She was not going to allow something like that to happen to her again, and if heels like Akiko needed to be taught a lesson, then so be it.

She folded her arms. "Now name your stakes."
Akiko just laughs and then smiles at both of them before she answers ,"Alright and i also will protect you anytime you need any help since you both were badly humiliated in your last match" Akiko gives them a glance and wait for their reaction before she continue ,"Well...and for me ,i want you both become my sex slaves...like forever! ,you're going to strip yourselves whenever i tell you to and do everything that i wish for and if you don't ,you're going to get a punishment that you won't forget in your entire life".

Akiko gives them another glance and stops talking for a moment before she slowly extends her right arm and offers Violet a handshake ,"Do we have a deal?? or your little sister there is too scared with this kind of deal" Akiko taunts at them and trying to make sure that they accept the deal.

"Do we have a deal?!" Akiko repeats again with a louder voice as she hasn't got the answer yet from the sexy sisters.
Ivory stared flabbergasted at Akiko. "Wh...whaaaaat?" she cried. Cringing, she backed away, glancing at Violet. "Sis, we can't...we mustn't...if we lose, we'll...we'll..."

Violet didn't flinch, even as Akiko stated her price. Instead, she gave a firm nod. "We accept," she said.

Violet's words caused Ivory to go as white as her outfit. She began to shake uncontrollably, and began to look like she was about to break down. Noticing this, Violet quickly turned and place both hands on her sisters shoulders.

"Ivory...Ivory...calm down," she said soothingly.

"B-b-but...no...no..." Ivory shook her head. "I can't live with that, if we lose, we'll...I'lll..."

"Ssssshhh...calm down," Violet said, her voice almost a whisper. "Ivory, we won't lose. Repeat that."

"Whu...but..."

"Repeat that," Violet said, a little more firmly.

For a moment, Ivory looked like she was on the verge of tears. Then, she gave a slight nod. "We...we won't lose..." she murmured.

Violet smiled and nodded back to her sister. "That's right," she said. "If we work together, there's no one we can't defeat. And I promise, I won't let her do anything like that to you, no matter what. Just work with me, and we can win."

Sniffing back tears, Ivory nodded. She looked a little more confident this time, but only a little. Turning back to face Akiko, Ivory hoped that it would be enough.
"Attagirl!!" Akiko gives them a murderous smile ever as they accepted the stake. Her hands are still on her hips as she is smiling to them and then bell rings ,"DING!!! DING!!! DING!!!!"....making the crowd to jumps on their feet as they're so eager to watch the amazoness beat the crap out of those two sexy models and humiliate them badly in the cage.

Akiko is just smiling ,doing nothing at all except for flexing both of her arms and tensed her abs...intimidating those sexy models with her hard biceps and abs before she starts to talk again ,"Well...since you're weaker than i am ,i'll give you the very first chance to attack me cause i'll look like a pussy if i'm attacking first ,especially attacking two hot models like you".

The crowd seems a little bit dissapointed ,seeing their favorites fighter standing still and not pulling any punches when the bell started. They start to "BOOO!!!!" at Akiko and some even throw their soda can and food to the iron-bars but Akiko ignores all of them and still doesn't change her mind to let the two sisters to attack her first.
For a moment, the two sisters were hesitant. Akiko actually wanted them to take the first shot. Was she crazy? She looked tough, true, but letting the opponent make the first move was usually a very bad idea. Unless Akiko was up to something. Given how evilly she was grinning, the sisters didn't put that past her.

Nonetheless, the sisters quickly sprang into action. Violet came charging straight at Akiko, seemingly aiming to tackle her head on. At the last second, though, she shouted her sister's name. Ivory quickly ran up behind her, placing her hands on Violet's shoulders to handspring off of them, launching herself feet-first at Akiko in an airborne kick. At the same time, Violet dropped down, aiming to grab at Akiki's heels and trip her to the mat the moment Ivory's kick connected.
Akiko is standing still like a rock and doesn't move at all when Violet tries to give her neck a clothesline but it appears it just some sort of trap for another more powerful attack since that the two sisters are already learned their lessons and become the better fighters after being humiliated badly by Mimete and Bunny.

Akiko's thought was absolutely right and completely surprised her when Ivory suddenly jumps and kicks her right on her proud chest causing her mouth to forms an "O" itself when it impacts and then falls onto her back hardly at the same time when the kick impacts cause Violet pulls her ankles really hard. It's obvious that Ivory and Violet have a really nice chemistry between both of them and it is what it takes to perform this kind of move.

Akiko lays on the canvas ,stunned for a moment before she starts to kicking her legs around and then rolls herself away from the sisters before she gets onto her feet slowly ,"Wonderful...amazing move" Akiko claps her hands and then rubs her titties for a couple of seconds and then stop it like it was nothing happened to her at all before she slumps her head forward and manages to give the murderous smile ever to those two hot sisters ,"but it's my turn now". Akiko gives a couples of cracks on her knuckles before she suddenly runs towards those two sisters and attempting for the double clothesline.

Akiko then will choke both of them before she lifts them up and will give them a double chokeslam if the clotesline attempt works and not countered by those two sexy sisters.
Page 1 of 4 • 1, 2, 3, 4


---
Permissions in this forum:
You
cannot
reply to topics in this forum