Champions & #1 contenders
Moonhearts Promo intro thread is O p e n.
Mon May 21, 2018 4:21 am by XSirenX
Feeling brave?, lost?, or without a thread to post in?, hit up the newest Moonheart if any of those apply!
CLICK HERE
What Moon has to offer?, many things...:
Comments: 0
The Austrailian Mudslide is Back.
Sat Apr 21, 2018 6:20 am by Softsquad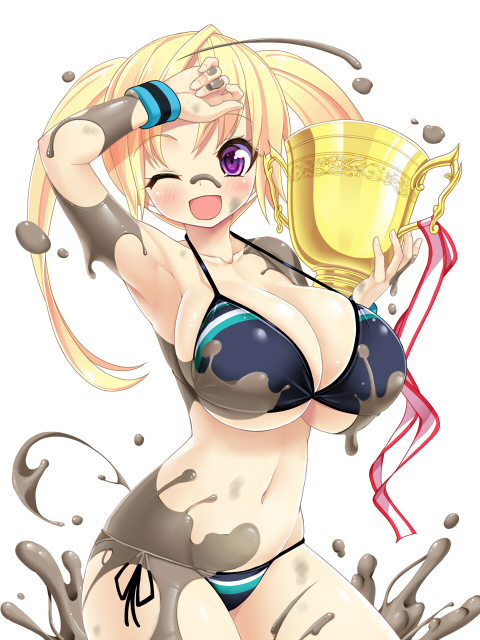 Granted that most of you won't know me or remember me, but I've had a few matches here and there some time ago. Well I think its time to become a regular around here and try to have some fun again, but at the same time keep coming back. Anyway I think its time to jump into some matches with Zoe Taylor, my mud wrestling character from Australia and get her back into the squared circle. Furthermore I will update my characters as I think some proper changes need to happen.
So if anyone would …
[
Full reading
]
Comments: 4
Page 2 of 3 •

1, 2, 3


Catelyn winced and whimpered, seeming like she wanted to scream as Sarah put out her cigarett on her arm and rubed and grinded it into her flesh.

Josey looked on as Sarah told her about her problem...some little girl had beaten up her *crew*...hmm wait Gatt...Gatt....feel like I have heard that before.... Josey thought to herself, "Wait...why do I feel like I have heard about your last name before" Josey asked before she just disregarded her own question and looked over at Sarah with gun in hand, "If you want I can take care of the blond bimbo for ya...if the price is right of course." Josey said before she would spin the chamber of the revolver.

And then press the tip against Cat's head and pull the trigger *click*, with nothing happening, "awhh empty chamber....you were lucky there little red!" Josey said as she went up to a stand tall, she was quite a tall gal, standing 6'0 feet, as she spun the chambers again and pulled the barrel up to the side of her head, only to pull on the trigger, and *click* nothing happened, "Looks like I was lucky as well" Josey said as she turned to Sarah, " oh what this thing is a real as I am suger" Josey said before sending another kick to Cat ribs.
Sarah scowled as Josie aimed the gun at Catelyn, but before Sarah could make a move to stop the cowgirl she had pulled the trigger. Thankfully nothing happened, but yet again Josie brought the gun up, this time pointing at her own head, and again nothing happened. Sarah was not amused by Josey's antics. As a former gang leader, Sarah had encountered a lot of violence on the streets as a result of fights with other gangs. While Sarah's gang never went near guns, other gangs did not share such sentiments. Sarah had lost two friends because of cowards with guns.

Sarah did not like guns.

"Sure," Sarah replied, never taking her eyes off the revolver. "You know, if you're serious about taking out the blond, there may be a spot for you in my crew. We\re called the Gatt Attack. Ever heard of it?"
Josey opened up the chambers of the revolver and took out the bullet, putting it back in her pocket, before she placed the revolver in it's holster, she moved back to face Sarah, and raise an eyebrow when she seemed to to agree to go fighting against this blond bimbo, and offered the cowgirl a place int the Gatt Attack,
...Gatt Attack.....that's were I have heard the name before.... Josey thought to herself before she smiled a little
, "Gatt Attack...I've head a ya...you're those gals who beat up on people for money right?....Hell if you had started out with saying that I might have fallen on me knees and begged ya to let me join" Josey said with a slight smirk and a little chuckle.
"So is there really a whole crew fighting against this one Blondie....cause if it is..then I have to say that the Blondie sure has some major cojones " Josey said as she took out the pack of cigarettes and the lighter from the pockets, taking one out and offering one more to Sarah, she lit up the cigarette and placed it in between her lips.
Tears were streaming down Cat's face mixing in with the blood and sweat, she was whimpering but it could barley be heard and her body was twitching a little, her body was bloodied bruised beaten and broken, but oh what a sight it was for Josey, but then all of a sudden she started hearing a ringing, she looked over at Sarah...no the ringing wasn't coming from her, it was coming from Cat...more precisely her pockets, the cowgirl quickly went down and pulled out the phone from Cat's pocket, looking at the screen there was a picture of a blond girl on the screen
She turned the screen towards Sarah, "anybody you know?" she asked with a raised eyebrow.
"Actually she's a fucking idiot. She's fighting against us, and we'rejust putting up with it." Sarah took the offered cigarette again, and again placed it between her lips. She was fishing for her lighter in her pocket when she heard the sound of a phone ringing too. The first thing she did was look to Josey, thinking it was her's, but that wasn't the case. It was coming from Catelyn. She watched as Josey grabbed the phone from Cat's pocket to see who was calling. That was when she showed the phone to Sarah.

Sarah's mouth curled into a grin. "Oh, this is rich," she chuckled, and would take the phone from her hand. Flipping it open, she would put it to her ear. "You've reached the Gatt Attack," Sarah answered into the earpiece in a sing-song voice. "All of our operators are currently busy beating the shit out of some unlucky red-head. We will get back to you as soon as we can." She would then send a harsh kick straight into Cat's stomach, hoping she would cry out and allow Cecilia to hear.
"Hehe...guess some people just can't take a defeat huh?" Josey said as she looked at Sarah, before she took the phone from the cowgirls hand, "Let me guess...blond bimbo right?" Josey said with a little smirk, fate has certainly turned it's wheel in a funny way this time, she thought to herself as Sarah answered the phone and began to speak, Josey couldn't help but snicker a little.

"hey Cat.." Cecilia managed to say before she was interrupted by Sarah's voice, it felt like her heart stopped, what is Sarah doing with Cat's phone....what has she done to Cat , The Golden queen thought to herself as she could only fear for the worst.
"Gah!" Cat yelled out from the kick as a hefty amount of spittle escaped her mouth, the scream was enough to set Cecilia off, "YOU FUCKING BITCH! I swear I will kill you ! I will fucking kill you for this!" Cecilia yelled in a fit of rage into the phone.

Cecilia yelled loud enough for Josey to hear, she let out a little whistle, as she would step up to Cat legs and spread the a part, leaving a wonderful little target that would surely five off some lovely screams, all to please Sarah, and to piss of the blond girl on the other side of the phone, but maybe the biggest reason for it was because she just wanted to hurt Cat some more, she would look over to Sarah and nod, before sending an extremely brutal kick to Cat's crotch.

"AAAGH!!!" Cat screamed out, almost loud enough to be heard through the hallways, "Send my regards to the Blondie" Josey said to Sarah as she began to grind her foot down on Cat's crotch.
Sarah grinned to herself as the unmistakeable voice of Cecilia started screaming at her through the other end of the fun, so loud that Sarah actually had to keep the earpiece a little farther from her ear. "She sounds mad," she chuckled to Josey. "Music to my ears." She then turned her attention back to the voice on the other end. "Oh, is that you, Cecilia?" Sarah asked in mock surprise. "What coincidence! We were just talking about you. You see, me and my new friend here were just discussing ways on how we could take care of an annoying prick like you. So we started practicing on this little girl right here."

It was then Cat would scream from the crotch kick, which Sarah would make sure was heard by Cecilia. "Didn't know she was a friend of your's though," she went on. "Sometimes you just get lucky I guess."
Josey began to snicker again as Sarah mocked the girl through the phone, she couldn't help it, it was just to much fun, but she tried to keep it quite enough so that it wouldn't disturb Sarah's little conversation.

Cecilia had never been filled with more rage than she was now, Cat was a friend of hers, and had been one for a few years now, one of her closest friends in fact, and Sarah and some friend of hers were beating her up, "You Leave her the fuck alone GATT!..." Cecilia yelled into the phone, "She's got nothing to do with you and me bitch!" she shouted once again.

Josey was having so much fun right now, pissing of this girl and beating up another girl, Sarah seemed to know how to have a good time, and the cowgirl couldn't help but smile at this, "Now I have to be apart of the Gatt Attack" Josey said with a vicious smile on her lips, as she stomped a bit on Cat's crotch, getting a few weak screams and shouts of pain from the girl, that Cecilia heard over the phone.

" I will MURDER YOU!... LET HER BE! you fucking whore!" Cecilia shouted into the phone, never in her life has she wanted to kill hurt someone as much as she wanted to do to Sarah now.

All the cowgirl did was smile and stomp on Cat.
"Oh Cecilia," Sarah sighed in a calm manner, smiling despite Cecilia not being able to see. "You know that's not true. Let's just face facts; you brought this on yourself. You couldn't just leave well enough alone after our match. No. You had to go and take it out on my little ninja, didn't you? That's not cool, Cecilia. Not cool at all." Sarah paused to take another drag from her cigarette.

"That was a real fucking cute note you left for me," Sarah growled, smoke billowing from her mouth. "What did you think it would mean after you sent it you moron? It means if you fuck with my people, than I start fucking with yours. Seems like a fair trade, don't you think?"

Sarah would then kneel down so she was next to Cat's face, and she would take the cigarette out of her mouth. "You want a war, Cecilia?" Sarah asked, idly twirling the cigarette between her fingers. "Congradualtions. You got one." And then she would take the cigarette and grind the burning tip into Catelyn's cheek. her screams would be the last thing Cecilia would hear before Sarah hung up the phone.
Cecilia was cursing herself at the moment for starting that war, but she knew that she couldn't just let Cecilia just do as she willed with her and her friends anymore, but she never wanted Cat the be involved, she hadn't asked her to join, and she hadn't joined her in a tag match or anything after the war had started, trying not to let it be too known that she and Cat were friends, but now....it seemed that it was all for naught.

Sarah words stung, because she knew she was right, Cecilia had started things up, yeah Sarah had screwed with her after the match and tried to shave her bald but she could have just walked away, but that was not who she was, and she hated herself for that now, she was rendered speechless by anger, at Sarah, at this other girl she had heard in the background, and most of all herself, but that was before she heard the bloodcurdling scream that Cat let out as Sarah grinded down the cigarette tip at her cheek, "GAAAAAH!" she shouted out.

Josey took a deep drag on her cigarette, and when Sarah hung up the phone, the cowgirl began to clap, "Wow...I gotta say...that was something else" Josey said with a smile on her lips, with them holding the cigarette in her mouth, she walked up to Cat's head and would pull her leg back a bit, before she would send a devastating kick to the girls head, crushing it between her foot and the wall, which knocked Cat out almost instantly.

"So I am to be in this little war of yours....sounds like fun!..." Josey said keeping that viscous smile on her lips, a smile said more than needed to be told, the cowgirl was taking a liking to Sarah, her style her attitude and most of all the way she was beating up on Cat with her, and the way she talked to the girl on the other end of the phone, all of it was pure gold to Josey, and now the fact of joining the Gatt Attack was almost to good to be true for her.
Sarah tossed the cellphone over her shoulder once she was done with it, turning to smile at Josey as she was appluaded for her actions. She then watched with approval as the cowgirl sent Catelyn into dreamland with a single kick, ending the poor girl's suffering at the hands of the two heels.

"I'd be happy to accept to the gang!" Sarah said, spreading her arms in a gesture of welcome. She looked down at Cat and chuckled. "You certainly know how to do the job. And you've got a nasty side that reminds me a lot of myself. There's just one thing you gotta remember...."

In a flash Sarah would be on Josey, and would grab her and slam her against the wall. She would then immediately press her arm against her throat, pinning her against the wall. Once there, sarah would grab Josey's revolver out of its holster and hold it up to display. "No guns," she growled. "Got it?"
Page 2 of 3 •

1, 2, 3


---
Permissions in this forum:
You
cannot
reply to topics in this forum