Champions & #1 contenders
Moonhearts Promo intro thread is O p e n.
Mon May 21, 2018 4:21 am by XSirenX
Feeling brave?, lost?, or without a thread to post in?, hit up the newest Moonheart if any of those apply!
CLICK HERE
What Moon has to offer?, many things...:
Comments: 0
The Austrailian Mudslide is Back.
Sat Apr 21, 2018 6:20 am by Softsquad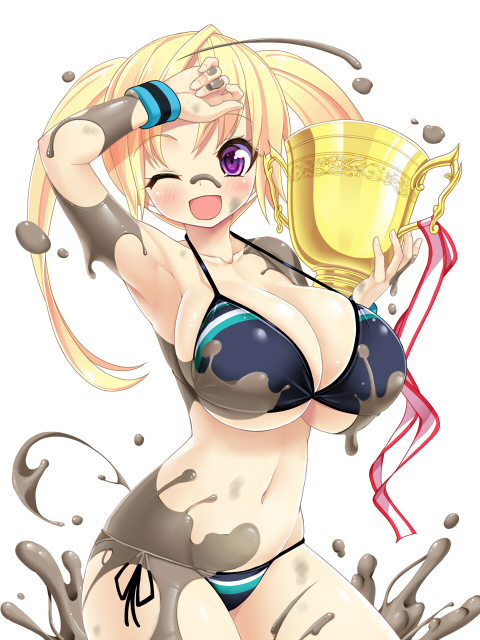 Granted that most of you won't know me or remember me, but I've had a few matches here and there some time ago. Well I think its time to become a regular around here and try to have some fun again, but at the same time keep coming back. Anyway I think its time to jump into some matches with Zoe Taylor, my mud wrestling character from Australia and get her back into the squared circle. Furthermore I will update my characters as I think some proper changes need to happen.
So if anyone would …
[
Full reading
]
Comments: 4
Page 6 of 12 •

1, 2, 3 ... 5, 6, 7 ... 10, 11, 12


As Heather would pursue Natalia, she would curse to herself the entire way. She was heavily disappointed in the fact that she couldn't follow up with her signature move types. The thrill of flying through the air robbed from her from Natalia and her submission holds. Heather was incredibly frustrated and she wanted nothing less than to show Natalia the consequences of taking such a thing away from her even if it was only temporarily. However her anger would cloud her mind as she should have realized that Natalia would have seen her coming by then.

"Guagh..D-damnit" Heather lets out as she reaches for Natalia only to find an elbow placed directly into her gut. She stumbles backwards a step or two, holding her gut as she does, squinting her eyes from the feeling. "Lucky..shot.."
_________________
Friction/Tension:
| | | | | | |
| --- | --- | --- | --- | --- | --- |
| Heather Sunderland| | Alessa Mason| | Sena Iwakura| | Cristina LaBrie| | Victoria Baynes| | Cheryl Pride |
Alternative/FnF
Trisha Birkin
Tension:
| | |
| --- | --- |
| Dante Sunderland| | Ambrogio Mastrostefano |
"Luck?" said Natalia as a smile returned to her lips, loving the feeling of catching her sexy opponent by surprise and sinking her elbow deep into Heather's tummy. The Dream knew she was kind of crazy and it wasn't right to get aroused by knocking another girl's air, but she couldn't help it, she enjoyed it and it excited her. "This has nothing to do with luck,..." Natalia said as she turned around, making a pause to consider if the situation deserved a curse word and deciding for it"...cheap...whore..." The Dream added giggling.

Now that her opponent was stunned, Natalia knew it was the perfect time to nail her with something good, that would most likely hurt a lot more since ther were away from the protection of the ring; unfortunately, her arm still hurt a lot and so her options were limited to moves she could use with just one arm. Fortunately, Natalia knew plent of moves that required just one arm.

The Dream took a step back to wind up and then, stretching her good arm fully, Natalia jumped at Heather, trying to impact with her forearm right under the chin of her opponent, aiming to take Heather down with a flying clothesline.
As Heather steps back from the impact, holding her gut in the process, she looks up at Natalia smiling and shakes her head. "Kh...smile..while you can. You..won't be smiling after I cuff you just wait.." Heather would say, gritting her teeth as she did before she hears Natalia's words, soon accompanied by her calling her a whore. "Wh..whore!? L-look who's talking!" Heather would let out before she would try to realign herself and go back after Natalia.

The girl was just getting to her more and more. Every action she was making and every word that came out of her mouth drove Heather more and more nuts. She wanted to get at her and tear her apart but her recklessness she knew would end up costing her. It already did when she attempted to hit her with an outside dive, a type of move that she should have known beforehand that she wouldn't have been able to perform with the pain that was still in place in her leg, although it was slowly going away.

As Heather finally get her bearings back, coming off the surprise elbow from Natalia, she found that she might have taken too much time in giving herself to regain her thoughts as she would suddenly see the girl jumping in the air towards her. "Ah!?" Heather would let out before Natalia's flying clothesline would come crashing into her, sending her down onto the thin mats on the outside of the ring. "Gugh!" Heather would let out as she clenched her teeth, feeling for her back and head that bounced off the mats.
_________________
Friction/Tension:
| | | | | | |
| --- | --- | --- | --- | --- | --- |
| Heather Sunderland| | Alessa Mason| | Sena Iwakura| | Cristina LaBrie| | Victoria Baynes| | Cheryl Pride |
Alternative/FnF
Trisha Birkin
Tension:
| | |
| --- | --- |
| Dante Sunderland| | Ambrogio Mastrostefano |
Natalia smiled and took a second to recover her breath before moving up to continue her attack. With Heather holding her head and back the girl's sexy legs were ripe to be taken punished again. The Dream licked her lips like a hungry kitten as she bent over to take Heater's hurting leg with both hands and pull it up while she massaged it sensuously, feeling Heathe's muscles and smooth skin almost like caressing it.

"yes...a...whore..." Natalia insisted giggling loving to make her opponent angry and ashamed. "Don't be coy..." The Dream insisted as she pulled Harshly on her opponent's girl trying to make Heather roll over to her belly. "That's why you joined Tension, right?" The blue-eyed girl taunted, steppeing over Heather's leg to trap the girl's lower leg between her thighs, planning to then let herself fall forward on top of Heather and bend her opponent's leg to the side while she reached with both hands for Heather's chin, trying to trap her in an STF kind of move.

"You wanted boys to grope you..." Natalia stated as if it was a matter-of-fact, being unable to contain the giggles and sound as serious as she would have liked."Couldn't find another way to get a boyfriend, uh?"
[/color]As Heather lie on the ground from the heavy impact of the flying clothesline, she would continue to rub at the back of her head and upper back, trying to numb the pain that she felt in them. It left her slightly dazed as she would suddenly feel Natalia lift up her leg. She knew there had to be another submission coming, but what the girl did before that definitely took her off guard. "Wh-what are you..g-get out!" She would let out as she felt Natalia caress her leg. She would shake at it, trying to get the girl away from her but her struggles were stopped when Natalia pulled harshly at her leg, causing her to turn over.

"Wh-what!? Shut the hell up! That's definitely not what I wanted you b-gaagh!" Heather would let out before she was trapped in the STF move, tearing at her leg and back as she was stretched. "Agh..I-I said...shut up! Least I'm not a...l-lesbian slut like you!" Heather would yell out in the hold, trying to reach out for something to get her loose but being on the outside of the ring made that quite difficult.

Heather would do all that she could to try to struggle out. The pain of another submission was both frustrating and taxing on her as she would reach up for Natalia's hands, trying to pry them off her chin.
_________________
Friction/Tension:
| | | | | | |
| --- | --- | --- | --- | --- | --- |
| Heather Sunderland| | Alessa Mason| | Sena Iwakura| | Cristina LaBrie| | Victoria Baynes| | Cheryl Pride |
Alternative/FnF
Trisha Birkin
Tension:
| | |
| --- | --- |
| Dante Sunderland| | Ambrogio Mastrostefano |
Natalia had Heather right where she wanted her, tightly locked up in one of her favorite submissions. Not only that but being of the ring meant Heather was not going to reach the ropes, and since this was a handcuff match there was no countout rule in effect, which meant The Dream could hold Heather prisoner for as long as she wanted...and she wanted a lot.

The only problem were Heather's attempts to escape. Natalia struggled to keep her hands on Heather's chin and pull it back trying to wreck the Tension girl's neck at the same time she slammed her sexy body on Heather's back and pulled with her legs trying to really hurt that sexy leg. All the while she continued taunting, trying to keep Heather off focus so the girl couldn't think of a more effective way to get free.

"Oh...I am lesbian...VERY lesbian..." Natalia said with a flirtacious tone as she moved her face close to Heather's head to almost whisper in her ear and then give her a teasing kiss right below the earlobe. "... But unlike you... I am not a... whore..." She continued now licking Heather's ear lasciviously. "Unlike you... I don't get in the ring to get fucked..." The Dream said giggling with her lips pressed against Heather's ear. "...just admit you got into Tension because you felt lonely and wanted a boy to make you his..." Natalia hissed before biting Heather's earlob and sucking it, deciding to stop there with the verbal abuse, at least for now, since she kind of felt she was going a little too far.

When Heather finally managed to pull Natalia's hands off her chin, The Dream quickly moved to reattach the hold. One hand went to grab Heather's hair and vicously pull it back, while the other slid under the two hotties bodies as Natalia tried to grab one of Heather's breasts and grope her. "Stop struggling sexy Heather..." Natalia went back to teasing giving Heather lovely face a long lap, leaving a trail of warm saliva on the girl's skin. Despite she felt a little like a bully, there was something about Heather that made it so delicious to taunt her... And aroused Natalia so much that she just couldn't stop. "I can make you mine much better than any boy" The Dream whispered very softly in Heather's ear as if sharing a very intimate secret.
Heather let out one frustrated groan after another. The hold was wrenching her up intensely and she was slowly getting on the brink yelling out from the pain. she girl was staying on her expertly and there was nothing stopping her from continuing to pull Heather apart within the hold. It didn't help that the match called for no countouts. Heather was in deep trouble if she didn't escape and escape soon.

"A-ah d-don't do that!" Heather would let out as she felt Natalia's teasing kiss below her earlobe. Her teasing words and tone just added onto it as Heather would clench her teeth tightly, trying her best to endure it. "Y-yeah right...you..sure as hell are...j-just get off..s-stop!" She would let out as she felt Natalia's toungue lick at her ear. It sent a shiver down her body and Heather wanted to get out of there as soon as she could. "N-no way! Th..that's not....even close." Heather would say, trying to fight back at Natalia's words as her body ached in pain, accompanied by Natalia's biting and sucking at her earlobe, causing her to tense up, hating the feeling that she was giving her wanting to get rid of it with all she had.

Finally, she would feel herself be able to pry Natalia's hands off her chin. She would immediately struggle to get out from under her but would soon find her hair being violently pulled back, accompanied by the feeling of Natalia's hand sliding onto her breast, groping at it. "Gh-aaaahn!!" Heather would let out in a sudden surge of pain and pleasure at Natalia's maneuvering. She would hear the girl whisper in her ear after feeling her lick across her face, sending another shudder through her. "N-no f-forget it...I...I hate this!" Heather would let out in protest as her eyes were closed shut tightly from the feeling, she would reach down to Natalia's hand that was groping at her breast, trying to pull it off while her scalp was burning from the pulling of her hair.
_________________
Friction/Tension:
| | | | | | |
| --- | --- | --- | --- | --- | --- |
| Heather Sunderland| | Alessa Mason| | Sena Iwakura| | Cristina LaBrie| | Victoria Baynes| | Cheryl Pride |
Alternative/FnF
Trisha Birkin
Tension:
| | |
| --- | --- |
| Dante Sunderland| | Ambrogio Mastrostefano |
"Awwwww... You hate it?" Natalia asked overacting her disappointment as she nuzzled sweetly her cute nose against Heather's neck. "Then your nipples must be hard because of the cold..." The Dream stated with a giggle as she squeezed hard on her victim's boob. Natalia was greedily groping Heather's tit, firmly squeezing it without being harsh, diggin with her fingers against the gland to massage it expertly, first rubbing the nippled with her palm until it was hard enough to begin circling it with her thumb.

"Or is it that you are one of those whores that get turned on by pain, mmmmm?" the blue-eyed cutie asked while she rained kisses on Heather's cheek. "How about we find out?" Natalia proposed as she let go Heather's hair to grab the girl's chin with one hand again, forcefully turning Heather's head to the side so she could lock lips with her, giving the Tension girl a full passionate kiss while lustfully groping her tits...

...And at the same time, Natalia gyrated her hips, aiming to twist Heather's leg further to the side as if she was trying to make her victim's foot actually touch the floor in such wrecked position. Causing pain and pleasure were the only two arts Natalia knew, and she excelled in both. Which was, together with being so hot and sexy, one of the reasons why she was so beloved by the fans, who were on their feet showing their appreciation for Natalia's technique, and curvaceous body, by cheering wild and non-stop. Even those fans who were unlucky to be on the opposite side of the arena from where the action was taking place, could appreciate the kissing and torturing, thanks to the huge titantron screens that hadn't lost any detail of the hold and were actually making some impressive, and inappropriate, close ups on the two tangled girls
"Wh-what??" Heather would let out, trying to ignore the fact but it was definitely the truth that her nipples had become hard from Natalia's treatment. She cursed her body for seemingly turning on her in this situation as she tried, albeit a bit weakly because of her body tensing up, to keep struggling to get out from under her. She kept wrenching for Natalia's arms, trying to pull them away but it seemed like she just couldn't. Her body was giving in way too much at the moment and Heather let out a groan in frustration as she would breathe heavily from Natalia's continued expert-like work on her breast.

"N-no just get the hell off me!! L-let go let go!! I-Mmmmm!!?" Heather would let out, interrupted by Natalia's forceful turning of her head followed by her pressing her lips against hers, still working her breasts like it was nothing. Heather's eyes would widen as her struggles would shorty stop from the shock and feeling, but would continue as the feeling of Natalia ramping up the pain in the hold.

"Mmmmmmm!!!!" Heather would let out a long moan of pain and pleasure within Natalia's kiss, her eyes watering up from the feeling as she would wave her arms around, trying to do all she could to escape. The pain was excruciating, but the pleasure was causing her body to weaken and offer up less of a fight then she would have hoped for. The predicament Heather was in she never would have imagined she would be thrown into. The girl had her in quite the spot and Heather was running out of options by the second, her body giving in more and more. In a last effort, Heather would attempt to reach back and slam her palm into Natalia's side. While it would be weaker than usual, Heather would still try as it was one of her last chances of escaping.
_________________
Friction/Tension:
| | | | | | |
| --- | --- | --- | --- | --- | --- |
| Heather Sunderland| | Alessa Mason| | Sena Iwakura| | Cristina LaBrie| | Victoria Baynes| | Cheryl Pride |
Alternative/FnF
Trisha Birkin
Tension:
| | |
| --- | --- |
| Dante Sunderland| | Ambrogio Mastrostefano |
Although she hated it and it deeply ashamed her, Natalia couldn't deny she was a little bit of a sadist... maybe more than just a little bit, and she was having the time of her life. There was something simply delicious about having a strong, tough and proud girl like Heather trapped like this; captured and immobilized, draining her power slowly and mercilessly. The Dream enjoyed the kiss thoroughly tangling and tightening her grip on Heather almost like a boa conscrictor curling in coils around its prey suffocating it before devouring it. She loved how Heather's body felt, panting and struggling for release, growing weaker by the second. It was clear how much Heather was suffering and at the same time enjoying the hold, and Natalia kissed her passionately and almost lovingly as she let herself get lost in the dominant kiss.

"Ughhh!" Heather's slap on Natalia's side brought the blue-eyed girl ack to reality, and although it wasn't hard enough to break the hold, The Dream decided to take a brief rest and let Heather go. Rolling off away from her opponent, Natalia broke the kiss and the hold, kneeling besides Heather, panting heavy and soaked in sweat.

"Phew...that was intense...uh, Heather?" Natalia commented casually as she got up back to her feet and adjusted her attire. "...some people are very good at taking pain...and resisting pleasure..." The Dream continued her lecture as she grabbed Heather's hair with one hand and her right arm with the other to pull the girl up. "You are very tough, I must say...But you know what?...No matter how tough they are...nobody can resist pain and pleasure at the same time... " the blue-eyed cutie continued her explanation. "It will break anyone's will... See?" The blue-eyed beauty asked, but she wasn't expecting an answer as she was pulling Heather's arm violently trying to whip her back into the ring under the bottom rope.
Page 6 of 12 •

1, 2, 3 ... 5, 6, 7 ... 10, 11, 12



Similar topics
---
Permissions in this forum:
You
cannot
reply to topics in this forum