Champions & #1 contenders
Highfly Flying Out Of Town
Tue May 22, 2018 1:31 am by HighFly
Hello everyone, I just wanted to inform all I have threads with that I will be gone from this coming Wednesday through Sunday. I won't be able to post consistently if at all during this time, but I will try to make up for it next week! I am sorry for the inconvenience to everyone.
Comments: 7
The Austrailian Mudslide is Back.
Sat Apr 21, 2018 6:20 am by Softsquad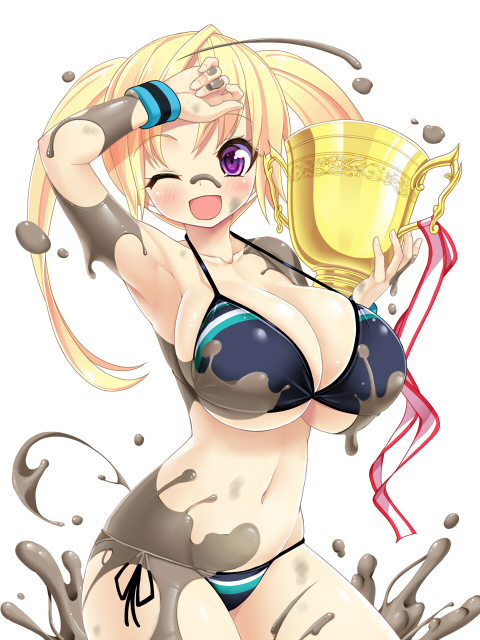 Granted that most of you won't know me or remember me, but I've had a few matches here and there some time ago. Well I think its time to become a regular around here and try to have some fun again, but at the same time keep coming back. Anyway I think its time to jump into some matches with Zoe Taylor, my mud wrestling character from Australia and get her back into the squared circle. Furthermore I will update my characters as I think some proper changes need to happen.
So if anyone would …
[
Full reading
]
Comments: 5
Page 6 of 9 •

1, 2, 3, 4, 5, 6, 7, 8, 9


"No."

Johnny said between kisses. The way his soft lips pressed against her firm neck. Feeling the ridge of her collar bone, the the salty taste of her skin mixed with her perfumy aroma made for an intoxicating combination.

"Not really." He added as he listened to her ramble on. It was cute, which Johnny found both odd and good. The way she seemed to need to fill the silence with something. But more importantly that she liked what he was doing to her. As much as Johnny liked it. He trailed downward once more and occasionally he's press his tongue out before he kissed her to wetten his lips and leave a moist spot on her skin for the cool night's air to wash over.

"It doesn't matter, babe." Johnny said after testing the waters just a bit to try and suck on her neck a little. He was cautious, and nervous but curious. But right about that time, Taylor had decided that she was no longer willing to be complicit to Johnny's teasings and demanded a more mutual role in their cavorting.

"Woah, hey!" Johnny shouted as he was suddenly flipped. and slammed, not too hard, into the tree. He then looked at her with a wide grin as she pressed up against him. Practically getting mauled by Taylor, the most he could manage before she forced her mouth onto his was a goofy and excited,

"Woah..."

He inhaled sharply through his nose as they kissed. They had tenderly probed before but Taylor's passion seemed heated and Johnny reciprocated, meeting her with the same fierceness.

While their tongue wrestled, Johnny's hands had a new found freedom to explore. His hand had felt Taylor's back plenty throughout the evening and so it slid down her body and began to caress her ass. Not needing to just hold her in place, he wandered a bit though made sure to get to close to the inside of her thigh.


His other hand went upward and ran his fingers through her silky blue hair, having never gotten a chance to touch it before and loving the look and feel of it. Really every where he touched was wonderful and as their body's pressed together, he hoped that it could last forever.
Taylor's breathing became heavier, heated, as the two passionately kissed. She couldn't get enough of Johnny's mouth, it was intoxicating, addicting, and his hands... She liked those too.

"Hnnn..." She moaned softly and grinned between kisses. She wriggled her hips a little to get the most out of Johnny's hand on her butt, and slipped one hand up under his shirt. The warm skin of her stomach pressed against his, and the feeling of it, the heat, made her want more. She had to remember that their tree in the park was far from a hotel room, and... she wasn't sure she wanted that anyway. She slid her hand up to caress his chest.

"Well... you're a... natural talent." She said, between kisses. She pulled up the hem of his shirt a little more and dropped down to kiss his taught stomach, working her way up to his chest before dragging her tongue across under his pec. She grinned devilishly and straightened up, grabbed his jeans on either side and pressed her hips against his, sliding up slightly and back down. She could feel how hard he was through his jeans. It was almost too much. It made her sweat.

"Soreallylike, never? Never ever ever? It's not that I've been with like, lots of guys, but ya know it's not like my first kiss I guess, but it's been a while ya know I guess I just wanna... I... Well there's a lot I wanna do, but I just don't want you to, like, I want to be on the same page." She paused, took a breath, and looked up at Johnny with big, pleading blue eyes. "Idon'twannagotoofast." That was kind of hard to say. "I want you. But... maybe we could... I don't know. Hang out... first."

Suddenly her confidence was gone, and the moment seemed to hang in the air. Visions of Johnny blowing her off and leaving ran through her head... Though that seemed a little crazy. She held her breath.
Johnny too was getting really worked up by their hot kissing. His cheeks were red and his body was hot, hard and heavy with pleasurable feelings. The kiss was amazing, the touch wonderful but Taylor decided to do something that he didn't expect.

WHen she wiggled her hips, he ended up sinking his fingers into her ass and grinned when there was a small break in the kiss. When her hand went under his shirt and ran across his chest, he shivered in delight and couldn't help but let out a moan of his own. "Shit." He huffed.

Johnny grinned at her when he was complimented. "Thanks." He said in a breathy huff. As Taylor broke the kiss and began pulling up his shirt, He grinned.

"You're pretty damn good t-hooooolyshhiiit!" As Talor began to tantalize him, Johnny Couldn't even decide where to even begin as she felt im press hard against him and rub, stimulating him even further and assaulting him from many directions.

"N-never been all the way." He said in a sharp panting breath. He couldn't help but push into her as she ground against him with his hips. He pulled his hand down and ran it up and down her back as she made her declaration.

Johnny grinned and brought her is hands up and cupped her cheeks and brought her close to him. He then smiled as he searched her eyes. "Yeah." He said. "I think that's cool." He said trying his best to act cool.

"I'd love to um... you know.." Johnny said as he shifted and looked away from her. "but, you know... I just wanna be with you, be around you, get to know you, hang out... and junk like that. Neither of us are going anywhere right?" He said looking at her with a hopeful grin.

ohnny then kissed Taylor gently on the lips and smiled as he kept their faces close. "That doesn't mean we can't fool around a little though, right?" He said as he laughed softly and kissed her again.
"I guess not." Taylor replied, with a soft laugh. It seemed like they'd already established that fooling around was in the cards.

"I... have. Been all the way. It wasn't... great." It was actually more than once, but Taylor's sexual history had been wrought with cataclysmic mishaps. She traced her fingers over Johnny's stomach and rested her forehead against him as she went on.

"Are you going to come to my match? The tag one? It's in a little bit. Do you watch Friction? You should. Most of them suck, but some are awesome, like me! And Akashi... and someone else probably." She suddenly stopped and stood up straight to look Johnny in the eye. Her giddiness made her seem like an energetic 13 year old.

"DoyouwannagowatchFrictionatmyplace?" She said, as though it were the single greatest idea she'd ever had. "I've got like... everything that's happened in the last year recorded. And... my DVR is actually kind of full. I wish I could transfer stuff to my computer, but it's... dumb. I dunno. Do you wanna?" She asked again, bouncing in place and doing a funny little dance with her hands.
Johnny's face settled into a peaceful smile. He listened to her speak of her own failings in the sexual arena. "Damn." He said. "Well.. um..." He said shifting a bit as she leaned into her, her gentle touch relaxing him a bit.

"If I get, uh.. I mean.. if we..." Johnny wasn't at a loss for words often but he swallowed hard and tried again. "If we ever get to that point, I hope I can change that!" He declared. Hopefully that would give Taylor the reassurance she was looking for. That Johnny was looking past just tonight and into the future and wasn't just looking to get into her pants. But then Johnny began to think. The two of them weren't really anything besides a couple of kids fooling around. Would his words scare Taylor off? Well, regardless, he wasn't going to take back his words and didn't regret them.

Her sudden change of subject was something Johnny was grateful for and something he was interested in. "Hell yeah!" He said. "I wouldn't miss if for the word. I was.. actually gonna ask if I could come. I'd love to see you kick some butt!"

Johnny then chuckled a bit. "Yeah, I spend most of my free time in or around the Friction Arena. It's.. kinda weird I guess but, yeah. Women's wrestling's in my blood." Johnny then laughed. "Haha, That's so stupid!" He admitted. "Though I guess with the Tension stuff, I haven't been paying as much attention as usual so It's been a while since I've seen a match., match."

Johnny's nervous self description was halted by Taylor's sudden question. He looked into her eyes and his hands fell around her hips and hugged against her. "Hell yeah!" He said with a grin. Johnny's enthusiasm matched Taylor's. He wasn't good at being very discreet.

Johnny smiled widely as Taylor bounced up and down. He grabbed her hands and held them close to his chest before bringing them up and kissing them. "Just lead the way. It sounds great." He said and leaned in and gave her another kiss before moving away from the tree.
With a big grin, Taylor seized Johnny by the wrist and took off out of the park. She wanted to run the distance to her apartment, but it wouldn't really be wise with what she was wearing. Her ankles would get angry, at the very least, and she didn't want to get sweaty.

Still, she dragged Johnny along, alternating between an uncomfortably fast walk and joyful skipping. She stayed mostly quiet on the way. It was only a few blocks, and she couldn't think about anything other than getting there.

She led him into her apartment building, up a few flights of stairs, and pulled her house key out of her sock to unlock the door. "Well, here it is..." She said, suddenly a little apprehensive about someone seeing her apartment. There was nothing wrong with it, but no one had ever seen it before. Not even Akashi.

There was a small kitchen, with a small table with one chair and a laptop. Opposite the kitchen was the living space, one side of which was monopolized by a large TV and an upscale stereo with gigantic speakers. The other side was occupied by a wooden framed, western-type futon, covered with a pile of blankets and a pillow, somewhere between sleeping and sitting-mode. Somewhat surprisingly, the whole place was mostly clean.

All the way around the room and into the closet and bathroom there were posters covering the walls. There were countless posters of bands, one of Kurt Cobain, one of Zach De La Rocha, and then at a certain point the posters all became wrestling related. She had CM Punk, Paul London, Ayako Hamada, Tacaco Inoue, Cheerleader Melissa, Canadian Ninjas, and off toward the corner by the closet, inconspicuously set apart from the rest, Akashi Tanikaze.

Taylor went to the futon and pushed it the rest of the way down into bed mode, gathered all the stuff on it and dropped it in a heap on the floor. She picked out one blanket from the pile and wrapped it around her back, then hopped onto the bed and laid down on her stomach while she felt around under the futon for the remote. She looked over at Johnny with a grin, having mostly forgotten about her worries about the apartment.

"Coming?"
Johnny followed quickly behind Taylor. Without the shoe problem, he was able to keep any pace she wanted.He stayed behind her just so she could lead him around to her apartment. He kept quiet as she decided to as well. t was fine with him though if he had to admit, he was able to catch a few glimpses of her backside as she bounced around in her short skirt.

When they got to the apartment, he took a few moments to look it over. It looked pretty normal, at least compared to his own it was vaguely similar in shape, size and decoration. The posters were also kind of similar except more athletic and more suited to her tastes. It was pretty cool and Johnny kept a goofy grin as he scoped it out.

As he looked around, Taylor had unfolded her bed and plopped down on it. He looked at her with a wide smile as she invited him over. He beamed at her, and with a quick flip of his shoes, he was over to her and flopped next to her on his stomach. He scooted up close to her and wrapped an arm around her.

"So?" He asked. "What kind of matches do you like? Do you have a favorite or a favorite wrestler?" He then chuckled. "Or do you just like to put on a video of you kickin some other girl's butt?"
Taylor lifted one side of the blanket to let Johnny in and wrapped it around him. She snuggled up to him while she turned on the TV and the stereo. "Well, I haven't really had a match that I'm really proud of yet. I don't really sit around watching myself get my ass kicked. I do have a few people I like watching, though..."

She sifted through the list of recorded things on her DVR until she came to one in particular that she was looking for. "I like this one, though. It was my first win, if you can call it that."

She watched as a girl with black hair, red eyes, and a guitar made her way to the ring, followed shortly thereafter by herself. On the video, Taylor bounded down to the ring, played to the crowd, and immediately started mercilessly taunting her opponent.

Taylor looked over at Johnny. "That's Karina. Her sister tried to beat me up and stuff in the gym once and I kicked her ass and made her cry. I guess she hooked up this match to try to get back at me." She explained, and nuzzled her head into his shoulder.

She yawned, suddenly, and was surprised by how tired she apparently was now that she was back in her own bed. She shook her head and watched as the match started off, Taylor and Karina began to mix it up with neither one accomplishing anything significant and Karina charging around like a rhino while Taylor danced away from her. "Here comes the good part..."
Johnny went back and forth between watching the match, and watching Taylor. He made sure, however, that he always had at least one eye on both. johnny chuckled and looked on as Taylor worked the crowd and taunted Karina.

"She looks like a bitch." He commented. "And sounds like she fits the look." He added after she explained the situation that got her into the match into the first place.

He then nuzzled Taylor a bit, hugging her close. "You're kind of a showoff, aren't ya?" He said teasing her a bit and kissing her cheek. "I'm looking forward to seeing you in action up close and personal."

When Taylor said the best part was coming up, Johnny turned his attention towards the television as his hand went up and down the side of her body.
On the TV, Taylor was backed into a corner by Karina, and when Karina charged in Taylor hit a hurricane. She started pounding Karina on the ground, put her in a little gogoplata, pounded on her some more, and then finally put her in a surfboard hold that ended with a curbstomp. "Woooo..." Taylor couldn't help but smile. Curbstomps were bad ass. Bad fucking ass.

"Then here comes her sister and they try to kill me, and I end up punking out her sister, kinda, and Karina grabs her guitar and kills her own sister, the one she was trying to avenge in the first place, while trying to beat me to death." Taylor rattled off the latter half of the match like she'd seen it a few times. She had to watch it to remind her of what happened... The beating she took at the end left her a memory a little hazy.

She felt so relaxed there with Johnny. She knew that he would give his left nut to have sex right then and there, but he was such a sweetheart to just lay there with her and indulge her craziness. She felt comfortable, not pressured, and she liked it. A lot. She smiled at him and shuffled around under the blanket to crawl on top of him, so that she was laying with her stomach against his back, her legs on top of his, and wrapped her arms around him while she rested her head on his.

"Then I get the shit beaten out of me and Akashi saves the day. It was a very big moment for me. I won by DQ, by getting my ass kicked illegally, and Akashi... sometimes I get bitchy with her, but really, she's the..." She yawned. "Best thing that happened to me here." She said sleepily.

"One of 'em, anyway." She added with a smile. She pillowed her head on the back of Johnny's neck and closed her eyes, wriggling into him to get comfortable. He'd have to move eventually, but she was too comfortable and too damn happy there to give up her position voluntarily.
Page 6 of 9 •

1, 2, 3, 4, 5, 6, 7, 8, 9


---
Permissions in this forum:
You
cannot
reply to topics in this forum