Champions & #1 contenders
Moonhearts Promo intro thread is O p e n.
Mon May 21, 2018 3:21 am by XSirenX
Feeling brave?, lost?, or without a thread to post in?, hit up the newest Moonheart if any of those apply!
CLICK HERE
What Moon has to offer?, many things...:
Comments: 0
The Austrailian Mudslide is Back.
Sat Apr 21, 2018 5:20 am by Softsquad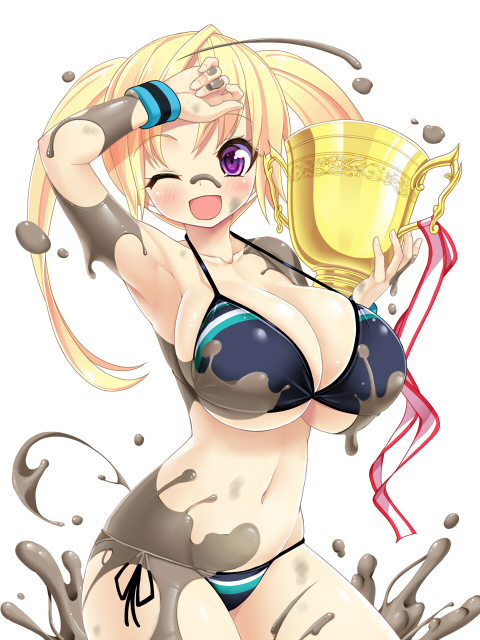 Granted that most of you won't know me or remember me, but I've had a few matches here and there some time ago. Well I think its time to become a regular around here and try to have some fun again, but at the same time keep coming back. Anyway I think its time to jump into some matches with Zoe Taylor, my mud wrestling character from Australia and get her back into the squared circle. Furthermore I will update my characters as I think some proper changes need to happen.
So if anyone would …
[
Full reading
]
Comments: 4
Page 3 of 9 •

1, 2, 3, 4, 5, 6, 7, 8, 9


Johnny and Mamouru exchanged looks when Taylor decided for their apartment. Mamouru was just throwing it out there as an option but he never expected Taylor to go along with it. Johnny too thought Mamouru was just being himself and regardless of how the rest of the evening turned out, they could both chalk it up as a small victory.

"My apologies, Taylor-san." Mamouru said and nodded his head a bit. "Don't say i didn't warn you." He added and flashed a smooth smile.

When they were pulled close, Johnny looked at Taylor and smiled. Mamouru leaned his head against Taylor's to make more contact.

"It's not too far, one of the perks of being int he AFW is we're able to get pretty cheap living quarters close to the arena." Mamouru said.

"Haha, yeah. Even though Tension's all the way down in Kyoto, we have our place up here. This is just a better scene, ya know?" He then cringed at her comment about her mother. "Uhhh. That old bag?" He said. and looked at Taylor and then side. 'I love my ma an all but I don't exactly want to tell chicks about her." He said and looked away, blushing a bit.

"Johnny's worried, that's all." She said. "Our mother is the reason we've grown in the wrestling business. She used to be a famous manager and managed the Women's champion "Rosie the Rumbler." Mamouru then blushed. "She's... like a second mother to us." He added. "But after a pretty messy divorce with our father, she's joined Friction and thinks she can wrestle. She's going to end up getting hurt." Mamouru said as he shook his head.

"Yeah right." Johnny interrupted. "Now that she's single, she's just trying to cause trouble with Aunt Rosie like the 'good 'ol days." Johnny then looked down at Taylor. "But seriously... the thought about you two even coming in contact is weird enough so.. can we stop talking about her, please?"

They walked for a bit longer, a few blocks more before coming to an apartment complex.

"Home sweet home." Mamouru said and managed his keys to get into the building where a few flights of stairs led them to another door which he unlocked, pushed open and flicked on the lights before bowing and allowing the other two to enter.

Inside the room looked mostly like a typical bachelor pad. One futon was rolled out and messily unmade with some clothes by it. The other space for the second Futon was tidy and kept neat. The room had one couch on the one wall and a television against the other. To the right was a kitchen area with a small table with some cans of juice and beer on it and an open box of take out food that looked like it was from earlier int he day. two pushed in chairs and one that looked like a passing attempt to push it in adorned the table and beyond was a stove top a sink and a refrigerator.

Other than that, there was a small hallway with a toilet at the end, a second closet and the bathroom.

"It ain't much but it's home!" Johnny said and leaped onto the couch and patted the seat next to Taylor. up by the television was a few posters of crazy looking Japanese things, mostly girls and bands.

There was a definite sense of where Mamouru roamed and where Johnny roamed in the house but it looked cozy enough.

"Would you like anything?" Mamouru said and stepped past them into the kitchen.

"Grab us some beers, mmaaaam." Johnny said as he stuck his tongue out at Mamouru who shook his head and went into the kitchen.
"Woo!" Taylor dashed a few quick steps past Johnny and swan dived at the messy futon. Before she hit, she tucked and landed in a front roll, ending up laying on her side with her head closest to the rest of the room. She propped herself up on an elbow and crossed one leg over the other as she stretched them out.

"Yeah, Mams, bring us something." Taylor said with a faint smile as she watched Mamouru in the kitchen. "So, Junie, your mom already gives me the willies but tell me more about your brother. How come he's such a stiff? Why is he so much taller than you? Are you sure that he's even in to girls?" She said, her voice taking on her inevitable taunting tone. She wasn't sure why she was so fixated on Mamouru. Clearly Johnny was more fun, but there was something drawing her back to the taller, brown haired twin.
Mamouru shook his head a bit and smiled as he opened the fridge and grabbed three beers from the fridge, stalling for a moment as he heard Taylor's words to Johnny.

Johnny, meanwhile, sat down next to Taylor and looked down at her with a grin. But when she asked about Mamouru, Johnny wrinkled his nose. 'Who cares." He said turning his head. He then sighed and looked back towards Taylor. "He's just always been like that. It's sort of the way it is around here. Really, he's just normal. I'm the one who's out of place. Guess that doesn't seem like it to you though?" He asked, smirking a bit. "Is it common for westerners to be rude and the polite ones are seen as unusual?" He wasn't being sarcastic, he just really didn't know.

Johnny then blushed again when she mentioned Mamouru. "Well.. yeah... if he's gay, then he's the best ever at hiding it considering all the chicks he's always bringing home." His tone was a little salty. He was the cool one and didn't understand why Mamouru was able to score all the time and he had barely even kissed a girl.

Before he could say any more, Mamouru came back and handed Johnny and Taylor a beer and sat down on the opposite side of Taylor and cracked open his own can.

"Johnny's just looking for the right girl, he'll catch a good one someday, I'm sure." She said as he eyed Johnny with a sly smile.
"Well, it doesn't matter how many girls he brings home, it's what he does with them." Taylor said while she rolled onto her stomach and folded her legs up behind her, so that her boots almost rested on her butt.

"Though, to be honest, I don't really see the appeal. What's this guy got that anyone else doesn't? He's as skinny as he is cocky." She said, talking to Johnny, but keeping her eyes on Mamouru. She opener her beer and took a little sip, then dangled the can from one hand off the edge of the futon. "Maybe he does get all the girls in the world, but he'd be lucky to get me... But maybe luck wouldn't cut it, since I think his odds are somewhere around 'not a chance in hell'. What do you think Junie?"

The longer she talked, the more hostile she started to feel. Something about Mamouru was under her skin. She didn't know if she was attracted to or repulsed by him. Poor Johnny, though, maybe she should be more considerate of him.
Mamouru continued to listen to Taylor's words as she dissected him as if he wasn't there. Mamouru simply smirked as he lifted up his beer and took another gentle sip.

Johnny, meanwhile, gritted his teeth at Taylor's words. Mamouru, Mamouru, Mamouru. Taht's all he heard. She really didn't see what girls liked about him so much when she couldn't shut up about the asshole? He cracked open his beer loudly and took a huge swig of it, downing half the can in one shot. He tried his best to play it cool, even though he was starting to get pissed.

"Haha, yeah." He said. "You probably shouldn't have anything to do with him." He said with a chuckle. "But.. I don't think you're like the rest of the girls who just end up being another lay. You're better than that. You're awesome, right?" He said and looked down at her and gave her a hopeful look that begged her to answer yes.

Mamouru, meanwhile, played it off. "Ahh." He began. "You are right, Taylor-san. You are certainly a woman that I don't think I am worthy of having and it shames me to admit it aloud." He turned his head to look away from the other two and took one more sip from his beer before looking back. "What can I do?" He asked as though there was a key to unlock Taylor's heart if only he could find it.
Taylor smirked back at Mamouru as though she was dead-set on winning their smirking contest. "What can you do, huh? Does it bother you that you can't have me? That must be killing you. I know what I do to you and everything. You can't hide your flushed cheeks and... perky... parts." She said coyly, closing one eye and reaching out to draw a circle in the air around Mamouru's crotch.

"I know your type, man, and your mom probably never said no to you either.But really, what can you do?" She looked into Johnny's eyes and smiled at him, though she'd all but ignored whatever he had just said. "Be more like your brother."

That ought to rile him up. Not that she was just trying to instigate... but, in a way she was. Sort of. She didn't have a plan. She wasn't devious enough to try to play people a certain way. But... there was something in Mamouru that was asking for it. She wanted to be the girl that disappointed him. But there was more... She found that she wanted to be wanted by him too. It was a convoluted mess of emotion. Maybe the beer would help. She took a big sip.

"Can you do that? Maybe he'd give you lessons. What do you think, Jun-Bug?"
Mamouru lifted his free hand and ran it through his bangs and flipped them a bit as he turned his head to hide a smile. He then took a sip from his beer and turned back.

"Taylor-san." He said. "You still cruelly tempt me with what I seem to never be able to obtain. Indeed I am truly injured."

He said and placed a hand against his chest. He blushed when she circled his crotch. Of course he wanted her. He wasn't lying to her at all. And his body could not deny it. When they were close, he was certainly betrayed by it in their sultry dance. But the walk tot heir apartment had rid him of his betrayer for now.

Johnny grinned when Taylor pointed at him. "Yeah, man. I'm the cool one around here." He said with a bright grin. He then smiled at Taylor. "Yeah, I can totally make it work for him." He said. "We should start with that stupid hair first." He said with a grin.

Mamouru let out a sharp laugh at Junichi's words. "Ha!" He then slid his gaze towards tTaylor and smirked at her. He didn't trust her as far as he could throw her really. She was deliberately playing with him and his brother.Johnny was pretty easy to pull around but he was the one in charge. Though funny enough, the two of them seemed a lot alike despite outward appearances and demeanor. It made him trust her even less but also made him desire her even more. Such a woman would be a truly worthy conquest in his eyes. Someone he could be proud of. And, perhaps, maybe someone worth investing real time into? But how long could they play these games before one got sick of the other? Mamouru was at least a little curious and decided to see how well Taylor was at playing the game.

"Yeah." He said with a chuckle. "Like I should take lessons from him. Why don't you tell her the last time you kissed a girl, Jun-bug?

Johnny froze and his hand tightened visibly against the can of beer, crushing it a bit. "Hey, Fuck you, bitch!" Johnny yelled and threw the can of beer at him. Mamoru ducked it but was splashed with beer and wrinkled his nose at Johnny.

"At least I don't have to be a fake ass piece of shit to get tail like you! I'd rather be alone and me than have a hundred girls and be somebody else, man!'

Mamouru ignored Johnny and looked at Taylor. "Ahhh, forgive him. I try and encourage him but I guess with you around, it's hard for him to keep his composure. Please forgive his rudeness. I hope he didn't spill anything on you."
"Easy, Johnny, don't let him push you around like that. Just throw something back at him, other than a beer can." Taylor said soothingly to Johnny. "Like, you could ask him where all those girls of his are now? Why none of them bothered to stick around? Or how lonely it must feel to have had sex with a billion girls but never felt anything for any of them, much less from any of them. It's hard to watch, really."

Then she seemingly changed the subject and moved on to Johnny. "And no, not everyone is rude... like me... back in the states. People are polite and all, but they're a whole lot friendlier than all the stiffs here. Here everyone's so fake I shudder to think about what they'd be like if they dropped the act and were just themselves for a bit. It's crazy."

She took another sip from her beer and reached out to pat Johnny on the knee. She thought she had something else snarky to say, but for the moment it escaped her, and then she pulled her hand back and turned her head to the many posters adorning the walls.
"Johnny turned his head a bit as Taylor spoke. "Sorry." He muttered though it was hard to tell if it was directed towards Taylor, Mamouru or both. But at Taylor's words, Johnny seemed ready to fight again. "Yeah, how about THAT!?" He said and smirked.

Mamouru merely grabbed the beer that was thankfully empty enough not to be pouring out of the can and then finished off his own beer. He then stood up. "I'm going to change my shirt, I'll be right back. Would anyone like anything while I'm up? another beer or something?" He said mostly to Johnny.

"Yeah." Johnny said quietly and Mamouru waited a few seconds in case Taylor wanted something before heading to the kitchen and then to the closet and bathroom.

Johnny, meanwhile had listened to Taylor's words and grinned. "Yeah, guess you're right. "I don' think YOU'RE rude though." Johnny said."What's rude about saying what you mean?"

Johnny was feeling pretty good and when Taylor put a hand on his knee, he blushed but found he had the confidence to reach out and put his hand on hers only to have her pull away before he could get hold of it. He tried to play it cool and act like he was just going to rest his hand there.

"Pretty cool, huh?" He said, seeing her look at the posters. "I go to a show here and there and usually a poster is the cheapest thing there so sometimes I'll buy one just to help me remember. Looking over, there were some posters that looked pretty old. "But shit, some of them don't survive the move too well, kinda sucks." He said making idle conversation. "Maybe I should take better care of them but I just like having a picture book on my wall, or some sappy junk like that and I think it's cool to just tape them up however, I guess."
Last edited by 445 on Wed Aug 17, 2011 7:31 pm; edited 1 time in total
"Oh, look, you gave him an excuse to take his shirt off. What an opportunity. I don't think it'll have the effect he thought it would, though. Oh, and I'm good, thanks. Hearing you cry in the bathroom will be plenty for me."

Oh, man. Taylor felt herself getting a little too prickly for anyone's good. There was really no reason for it, as usual. She was just like that... Something she couldn't explain about someone who'd done nothing to her just got under her skin so badly that she started getting all snarky about it. Should she apologize?

No, not to this smug bastard. Wait, what was Johnny saying?

"Oh, yeah, it's cool. I've got a lot of posters everywhere too, but you've probably never heard of a lot of the bands. They're like 70% bands, 30% wrestling-related. You... don't look like a fighter, really. You look too, uh... nice." Talking to Johnny was soothing after yelling at Mamouru.

"So... um, you've really never actually caught a girl before?" She asked as if testing the waters in the subject, with a little smile tucked away in the corner of her mouth. "How old are you guys?"
Page 3 of 9 •

1, 2, 3, 4, 5, 6, 7, 8, 9


---
Permissions in this forum:
You
cannot
reply to topics in this forum