Champions & #1 contenders
Moonhearts Promo intro thread is O p e n.
Mon May 21, 2018 4:21 am by XSirenX
Feeling brave?, lost?, or without a thread to post in?, hit up the newest Moonheart if any of those apply!
CLICK HERE
What Moon has to offer?, many things...:
Comments: 0
The Austrailian Mudslide is Back.
Sat Apr 21, 2018 6:20 am by Softsquad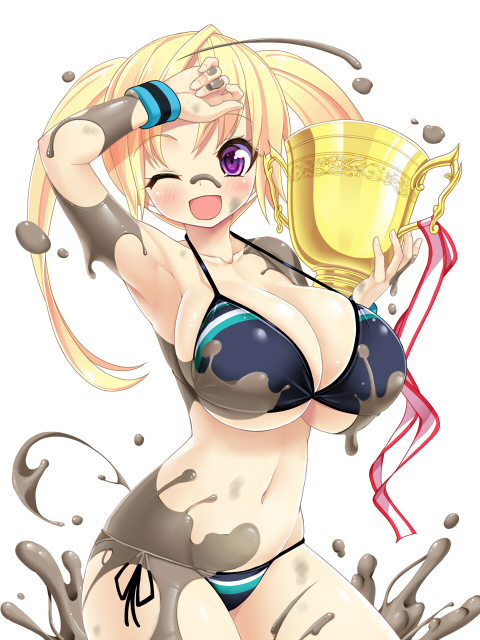 Granted that most of you won't know me or remember me, but I've had a few matches here and there some time ago. Well I think its time to become a regular around here and try to have some fun again, but at the same time keep coming back. Anyway I think its time to jump into some matches with Zoe Taylor, my mud wrestling character from Australia and get her back into the squared circle. Furthermore I will update my characters as I think some proper changes need to happen.
So if anyone would …
[
Full reading
]
Comments: 4
Page 1 of 4 • 1, 2, 3, 4


Akashi sat nervously as she waited fro Taylor to arrive. She had planned reservations the day after their big Tension victory. She was excited but nervous. She hadn't seen Taylor since the match and basically just left a message on Taylor's phone. She wanted to give her friend and partner time to really think on Akashi's words. Akashi herself needed time to think about them as well. So she invited Taylor to a relaxed atmosphere where they could eat and talk and decide their futures, whatever they could be.

She let out a sigh as she tipped back a shot of sake. She had reserved a private room for the two of them. She keeled on a pillow in front of a low table. She had ordered some sake to calm her nerves but knew that if she had one more beyond what she just drank, especially before eating, she would be facing Taylor buzzed. She didn't want that. As it was, she tugged at her purple Kimono. It had a dragon print running along it but it was still quite open and revealing, showing off her womanly assets.

She looked around at the scenery. She hoped Taylor would show. Even if she had reconsidered her offer, Akashi hoped Taylor at least had the decency to tell her no in person. Akashi looked at a notebook she had brought, just in case. She wasn't good at this sort of thing. She was good at Sumo, at wrestling, not... whatever was going on here. She picked up the empty shot glass and lifted it up. She let a a stray drop fall on her tongue and grimaced. "Ah..." She said as her cheeks blushed. "So... tempting.." She said as she put the glass back down and glanced at the door once more.
It took a long, long time for Taylor to soak up what had happened the day before. When she woke up the morning after her tag match with Akashi, she stared at the ceiling for what seemed like hours just thinking about it. She played back every step of the match in her head, everything she did, everything she could've done. She wanted to be critical of herself and think that she shouldn't have got knocked around by Brad, she should've put Tai down herself... nevermind the point at which she almost derailed the entire match by accidentally making Akashi botch a risky move. But she couldn't think that way. She felt too good.

It was the first time in her life that she didn't feel scared. She didn't feel like lurking around the next corner was someone who, if she let them, would try to hurt her and put her down. The fear seemed so small now next to what she'd accomplished or what she'd received or however it went. In less than a year, she'd gone from a nervous, inexperienced girl from NY, far away from home, a nobody, to a Friction wrestler with a winning record, and the tag team partner of the Friction champ. Hell, the friend of the Friction champ. Her best friend, Akashi was, Taylor figured that Akashi had plenty of friends and Taylor might not rate very high for her, but Taylor didn't have lots of friends. She'd met a few people that didn't hate her, but... none that she'd call friends. Except for Akashi.

After her workout, while she was sitting on her bench outside the Friction building letting the breeze cool her sweat-soaked body, her gym bag resting on the grass between her feet, she checked her phone and noticed a new voicemail. It was from Akashi, inviting Taylor to dinner at... some restaurant. She was immediately excited, though she held it in, showing only a pleased little smile. She realized that without knowing how to write the name of the restaurant, it'd be rather difficult to find out where it was.

She glanced around, suddenly a little nervous that she wouldn't get the right place and end up missing it and Akashi would hate her and then she'd never get to be her tag partner and just die anonymous and alone in her apartment. She hurried over to the sidewalk and bothered a passing girl. On her second try, she had a girl listen to the voicemail and then tell her where the place was. Good.

That evening she arrived at the place with a little trouble, a little late. She'd begun to obsess over what to wear earlier, but eventually decided to stay simple, with a good pair of dark jeans and a snug-fitting long sleeved t-shirt with thick horizontal red and dark gray stripes. As much as she wanted to impress Akashi, she wanted her to like her as she was, without having to dress up a certain way like she... usually did. An excessively polite waitress led her back to a private room and slid open the paper-and-bamboo door. Taylor stepped inside.

"Akashi!" She knew she probably shouldn't be all loud in the comparatively quiet restaurant, but she only had so much self control on tap. "Hi! I, uh, got your message. Sorry I didn't call back, I... forgot. Hi!" She moved to the table and looked down, suddenly confused. "Wh...where the hell are the chairs?"

The waitress politely closed the door behind her.
Akashi turned herhead and and eyed the door nervously ats the doors opened. She hoped it was Taylor and if not then she hoped that the server would read Aashi's mind and bring her some more sake. But thankfully it was Taylor and Akashi hopped up. "Taylor-san!" She said and bowed deeply. "I'm so glad you could come!" She lifted her head up and grinned brightly.

She turned and swept her hand forward, offering Taylor to sit. She chuckled at Taylor's words. "Oh!" She said. "Well... the pillows." She said and knelt down, showing Taylor how it was done. "In this type of place, this is how we eat. I hope it's ok. I know it's not a..." She paused trying to think of something American that Taylor would eat. She decided even if she thought Taylor might not eat it. "Ham Burger... But I wanted to take you to the nicest place I could think of!" She said. "Please sit! Ahhh.." Akashi turned her head and blushed. "I... hope I'm not being too forward." She said not turning back to look at Taylor.
Taylor watched Akashi quizzically as if she expected her to say something else. When she didn't, she realized it was her turn to speak. "Oh, um... no? I think this is a normal amount of... forwardness."

Somewhat awkwardly she knelt down on the pillow in front of the table and looked around. "This does look pretty fancy. So, um, thanks for the invite! We should do something like this after every win. Of course if we do that, we might start getting fat," She said, raising and eyebrow and a sly smile at Akashi's extra padding. "I intend to win a whole lot. We... um, like that's still the plan, right? You didn't bring me here to tell me the deal's off or anything, did you?"

Suddenly she was nervous again. The thought of this arrangement falling through was horrible... but predictable. Maybe she'd got ahead of herself, let herself get too excited. She should've known that things like this never really worked out for her. But... maybe she was just being crazy. She looked back at Akashi.

"Sooooo... food? Drinks? Eh?"
Akashi sighed in relief. "Good." She said As Taylor questioned where the food was, appetizers, soups and rice were brought out along with dishes and plates. A drink menu of various kinds of alcoholic beverages, teas and coffees was handed to Taylor as well as Akashi.

Akashi grinned and nodded. "Um... just tea, oolong." She said for herself and then lifted up her hand to whisper. "But keep a bottle of Sake chilling." She said and blushed as she looked at Taylor. "Um... you can go ahead and drink whatever you want. I'm trying to be a good girl." She said and turned her head, a little embarrassed that she couldn't hold her liquor very well.


She then beamed at Taylor again. "Yes!" She said. "We should. We'll definitely be winning a lot so I hope it will be ok." She said with confidence but her features waned slightly. "Oh... Of course not, Taylor-san!" She said as she tilted her head. "Why would you think that? I'm... not a bitch." She said as she glanced away. "I would never bring you to a place like this just to turn away an offer I made." She pulled up a bowl of rice and poured some sauce over it before beginning to wolf it down with her chopsticks. She then looked up. "Um, Taylor-san?" She said, a few pieces of rice on her lips as she looked at Taylor cutely. "Why would you think something like that?"

She then sighed and snagged a small bit of fried octopus with her chopsticks and shoved it into her mouth. "You know." She said barely realizing that she was talking while eating. Akashi didn't really have the best table manners. "You should be more confident." She said. "I didn't pick you to be my partner because I pitied you or something like that. It's because you're pretty talented and your style compliments mine because of... because of how agile you are. Also, I think that we are pretty good friends." Akashi lowered her head. "You might think that a Nihon like myself is weird for saying something like that but we take relationships very seriously." She said nodding in affirmation.

"Honestly." She said blushing again and turning her head. "I... I'd prefer to call you Taylor-chan." She said as she stuffed some food in her mouth as if it would hide her embarrassment.
"You're a what now? You can call me whatever you want, I dunno." Taylor looked over the drink menu, couldn't read it, and so just pointed at Akashi's and tried to convey to the waitress that she'd have whatever Akashi was having. The waitress smiled and nodded and quietly made her exit.

Taylor quickly surveyed the table and grabbed a bowl of rice. The one thing she'd actually managed to adapt to since moving to Japan was the use of chopsticks. She was proud of herself that she could actually eat rice with them. "Well... I don't think that, really. It's just... I guess I'm not really sure. I don't know what it's like to be sure. How do other people do it, I dunno. I, uh..." She paused for what seemed like a long time, reddening a little and staring at Akashi. "I'm just... really glad that... ya know..." She couldn't seem to find the words to finish the sentence, but it seemed like she'd said enough. She moved on.

"I AM confident, though! Like, I'll fight anyone, I don't even care. I'm the best wr-" She stalled, "Er, I'm gonna be the best, or... ya know, something like that." She didn't really want to get herself into a situation where she'd be bragging about being able to beat Akashi. Who knew, anyway. "I think we make a great friggin' team, yeah. There's a tag title, right? It's so totally ours. Are you planning on winning any other belts? Not the... skeevy-perv belt I hope."
Akashi turned her head when Taylor didn't understand. "Nihon.. Japanese. I'm Japanese." She said pointing to herself. 'You really need to start picking up the language gaijin-chan." She said as she wink as she teased Taylor. Akashi shoveled more food into her mouth as she listened to her speak. Actually it was pretty cute watching Taylor become befuddled. "It's great to be sure! She added. "And you know how to do it. You do it all the time." She then grinned. "Unlessssss" She said raising an eyebrow. "You only know how to be sure when you're acting like a braggart!" She said and pointed her chopsticks at Taylor accusingly. "Be sure around me, Taylor-chan." She said and pointed a thumb to herself. "Just like I'm sure around you!"

Akashi grinned. "That's right!" She said. "You'll be the best someday I'm sure of it." She said it sincerely. "After I retire, of course." She grinned. "Yosh! We're going to get those belts and then never let anyone take them from us! And I don't plan on stopping with just the tag team title or the friction belt. I want to be the first Triple Crown winner in Friction history!" She then looked at Taylor. "And yes, that means taking the skeevy perv belt." She chuckled.

"Taylor-chan." She said with a chuckle. "My whole life I grew up wanting to be a sumo wrestler but I couldn't. Because of that I found any alternate route I was able to. Woman's sumo... wasn't exactly professional and.." She blushed. "My libido is just as big as my body or my fighting spirit and so.. well.. I kind of started off doing that sort of thing. It comes natural to me." She then beamed proudly. "And it's who I am and I'm not ashamed!' She said. "I'm not ashamed... that I'm a total... slut..." She said turning her head and blushing. "Well... my family doesn't need to know anyway.." She muttered.

She then looked at Taylor. "But don't worry about that!" She said. "No matter how much I want to do all those great things to you, I know how to keep it in my pants. I know when that sort of thing isn't welcomed and I am pleased with our relationship." She said smiling at Taylor. "Just... try and keep me off the alcohol otherwise I can't promise I'll be a good girl.' She said as she chuckled.

Soon the drinks were brought in and the tea was set before Taylor and Akashi. Akashi grinned and took a sip. "mmmm." She said and looked up. "So..." She said as she glanced up at Taylor. "We're going to need a name, right? As much as I think our names work well in showing our opponents who we are up against, I kind of always wanted to do something cool like name a tag team or something." She said as she took another sip.
"Oh, man." Taylor said, a little uncomfortable about the pervy thing. She wouldn't be a jerk about it, because it was Akashi, but that whole thing just gave her the willies. It was pretty gross. They were like porn stars that did porn in a wrestling ring, or wherever. It was sort of offensive to Taylor, because she worked really hard to stay in great physical shape and to be as good as she was at what she did. She didn't appreciate it when some little skeez-bags just came in and grossed up the ring that she'd worked so hard to be in with their grossness. None of that would affect her with Akashi, though. It was easy to overlook with her.

"I can do that. I'm not much of a drinker myself, so I'll just make sure you play along with me. Keep us both out of trouble, unless we mean to find some. With you, though, I think fun would be a better word for it. And yeah... team name, umm..." She thought while she ate rice and sipped some water. She found something on the table that looked safe and chopsticked it onto a small plate in front of her.

"Well, like you're from Japan, I'm from the states. You're like a bear and I'm like... I don't know. A squirrel. Squirrel's are pretty metal if you actually watch them, like how they move. Maybe like a flying squirrel. They're pretty awesome. WE'RE pretty awesome. Man. The other teams I've seen... they're either like a gimmick or a giant squad of tiny little girls that couldn't beat shit by themselves. We're not like that, we're the real deal."

There was always something in the back of Taylor's mind that nagged at her whenever she was with Akashi. It was only a matter of time before it came up to the surface. She paused, looking down at her plate and playing with her food before finally blurting out "I'm nothing like Sarah." She caught Akashi's eye and held her eye contact. "I'm serious. You told me, I think, if I remember, that we were similar. Me and Sarah. We're not. She is the opposite of me. Like... maybe hawks used to eat lizards and so the lizards grew shells and became turtles. To protect against... birds. Man, I sound retarded, but that's me, okay, I'm the turtle. Get it? I... I can't stomach the thought of someone thinking I was like... that. I want you to promise to beat me to death if I ever become like that... thing. Okay?" It was easy to see that she was serious.
"Eh?" Akashi said at Taylor's small outburst. She didn't know Taylor had such strong feelings against the sensual arts and Akashi would certainly try and make Taylor see that it wasn't just something gross. She was actually proud of it and didn't like it when others didn't take it as seriously as other wreslters. But she knew that it did make Taylor uncomfortable so she kept her opinions to herself especially since she didn't even really know why Taylor was saying "Oh man."

She grinned at Taylor's words. "Arigatou, Taylor-chan!" She said and smiled a little wider. "I'd like to have some fun some time." She added asher smile turned mischievous. "Maybe even a little trouble."

"Ahhh! Name.." She said as she thought about it and listened to Taylor. "My ring nme, Hikyuu means Leopard." She added. "Oh, that's like shield and Fang!" She said. "Which is kind of weird sinc e you're like a fang and I'm like a shield... Huh..." She added. "Before se could continue Taylor began to speak more personal.
Akashi's eyes widened as she listened. "Ah..." She said quietly. Shr lowered her head. "Taylor-chan..." She said meekly. She turned her head. "Gomen.. You aren't like Sarah-San." She said. "You're a good person who is a little roug around the edges.." She hoped Tayor didn't take offense. "Sarah's little nugget of good is hidden inside a big bitchy rock that is going to take a damn pickaxe to find. I can barely hang out with her let alone tag with her or have anice meal like this with her." She smiled at Taylor. "She's my friend becuse I'm a stubborn fool but you're my friend because I like you alot so I'm sorry if I've caused you some distress over my words." She said as she lowered her head in apology.
"It's okay." Said Taylor. She didn't mean to get all serious with Akashi and ruin the night, but she had to get it off her chest. "I mean you know me a bit better now, and... I know that, like... I don't always come off, I dunno, nice or anything. I know I talk too much and stuff, ya know, but like I try to do the right thing. Right? Isn't that the difference? Like I might talk and fight and talk and fight but I'd never do ANY of the things SHE does... Shit, the stuff she does to girls. To ME." She said, raising her voice as she got riled up. She calmed back down. "It's not right. That's not me. I want to get rid of people like her. I want to be... good. Or something. Okay? I try, okay, that's all I'm trying to say."

Taylor filled in the silence that followed by eating. She didn't know what half of it was, but she was getting used to the food in Japan and this stuff was way better than what she was getting used to. "Fang and shield? You're too dangerous to just be a shield. And I don't think of myself as a tooth. Hmm... maybe there's something there, I dunno. Hey!" Taylor exclaimed. She thought of something. "What was, like, your best match? Your favorite? Or like... your hardest... you've had a lot more than I have, tell me about 'em!"
Page 1 of 4 • 1, 2, 3, 4


---
Permissions in this forum:
You
cannot
reply to topics in this forum