Champions & #1 contenders
Summer Splash interest in Natasha Loclear?
Mon Apr 09, 2018 11:30 pm by daemongirl
Well my girl hasn't missed a summer splash yet, would anyone be interested in a match with her? Open to just about anything match wise, just pm me!
Comments: 1
Been Out with the Flu
Sun Apr 22, 2018 7:47 pm by daemongirl
Just letting those I have threads with know I've been out with the flu since early last week, but I will be back to posting tomorrow.
Comments: 0
The Austrailian Mudslide is Back.
Sat Apr 21, 2018 6:20 am by Softsquad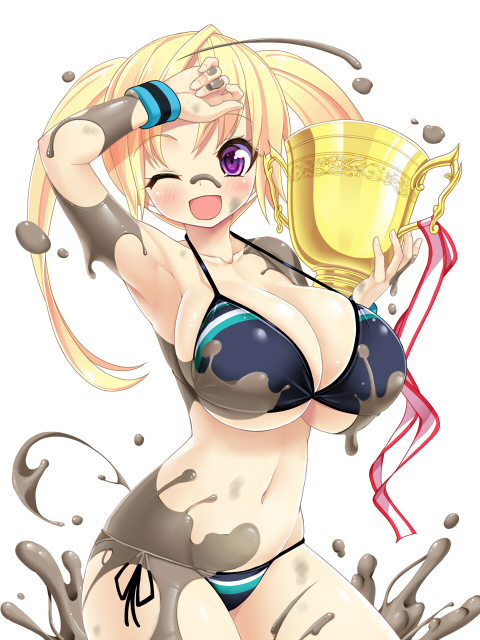 Granted that most of you won't know me or remember me, but I've had a few matches here and there some time ago. Well I think its time to become a regular around here and try to have some fun again, but at the same time keep coming back. Anyway I think its time to jump into some matches with Zoe Taylor, my mud wrestling character from Australia and get her back into the squared circle. Furthermore I will update my characters as I think some proper changes need to happen.
So if anyone would …
[
Full reading
]
Comments: 0
Page 1 of 14 • 1, 2, 3 ... 7 ... 14


Kat had been bouncing around the apartment ever since they had gotten home. Fortunately for Seele, Kat had spent that energy cleaning up the apartment and cooking dinner. "I can't believe we get to spend the whoooole night with them!" She exclaimed, as she came in from the kitchen and looked at Seele who was lazing about on the couch. Her eyes were half shut as she looked like se was almost falling asleep.

"Hey!" Kat said and shoved Seele with her foot.

"Ach! What're you doing!?" Seele said as she sat up shaking off her daze.

"Don't you care that our friends are coming over?"

Seele groaned. "Of course." She said grinning at the thought. "I can't wait to do everything to them!" She said grinning even wider at the thought. "Though I don't know if they really are our friends..." She pondered.

"You didn't seem very excited." Kat pouted. "And of course they are!" She said with renewed vigor.

"Blah." Seele said wrinkling her nose. "I'm not going to waste all my energy when the night is still so young." She said as she fell back into the couch. "I don't know how you do it but that dinner smells good." She said with a yawn.

"Wellll." Kat called out as she scampered back into the kitchen. "It's just something I whipped up but I hope they like it. I haven't learned how to cook any of that weird Japanese food so I really hope they like it!"
Kikio and Kagome were standing outside Kat's and Seele's door for around ten minutes arugueing about why Kikio shouldn't pick a fight with Seele tonight "Look just because she beat us doesn't mean she's not nice and besides we have to do what they say anyway it was in the contract for that fight" KAgome said to her rather angry sister "Look lets just see how the night goes and who even knows you might have fun" Kagome then reached over and knocked on the door as she was starting to smell something rather delicious through the door and it was making her hungry.

_________________
Characters

The Den
As soon as the knock was heard, Kat bounded out of the kitchen. "Weeeee!" She exclaimed. She had been wearing an apron over her jeans and blouse. She tossed it aside and was halfway tot he door when the lethargic Seele suddenly regained her energy and hopped up and stuck out her leg. Se tripped Kat who went crashing to the ground with a loud yelp.

"Gaaaah! Sully!" She cried out.

"Teehee!" Seele said as she swung the door open and looked at the two girls. She had a bright grin on her face. "Hey!" She said and pushed herself into the hallway, hooking her leg around the door and pulling it shut and grinned at the sisters.

She then flung her arms around the girls and pulled them toward her, bringing each one into the side of one of her big breasts. She too was wearing jeans and a blouse. If she could rub them against her boobs for a few seconds, she would pull them up. "Introductions can wait, I don't have much time!" She said as she would attempt to push them back against the opposite wall. She hoped to slide her hands down and cup one of each of their breasts with her hands before leaning in to try and kiss Kiko first and then Kagome, deeply if she could as she would try and give their breasts a healthy squeeze.
Kikio and Kagome heard a loud thumb from within the room and they began to winder what was going on in there when Seele stepped out and greeted them "Ah Hello mmmmph" was all KAgome was able to say before Seele had shut the door and pulled her into her breast, Kagome didn't resist Seele even though this was quite humiliating but Kikio on the other hand tried to push herself away from her so-called rival. Kikio suddenly stopped struggling as her and her sister were soon against the wall with Seele's hands on their breasts, Kikio was about to say something when Seele Placed a deep kiss on her which caused Kikio to stop fighting for a second and enjoy the moment. Kagome say all this happen and knew that she was next and she figured why not try to throw Seele off balance. So when Seel moved in for the kiss Kagome grabbed her hair and pulled her in close to french the girl, a technique Kikio had instructed her on many years ago, and while she was kissing Seele Kagoem would try to return the friendly breast squeeze.

_________________
Characters

The Den
Seele enjoyed the kiss that she gave Kikio especially when she felt the girl succumb to her. She let out a soft purr of appreciation at Kikio's acceptance but quickly moved on to Kagome but was surprised when she was pulled into a kiss. She returned it eagerly and as she felt her breast being squeezed, she pulled away from the kiss to leave their lips just barely touching. "Oh, we're going to have fun.." She whispered as she squeezed Kagome's breast and pushed her thigh between Kagome's breast, leaving Kikio to watch for the moment.

But before she could do much else, the door swung open and cat stood with her arms crossed and a wooden spoon in her hand, tapping her foot with a scowl on her face. "Sulwen Fae!" She yelled and stormed towards Seele She swatted Seele in the back with the spoon and grabbed her by the ear, pulling her away from Kagome.

"Ahhh! Dammit Kat! Lemme go!"

Kat swatted Seele again. "Have you no shame? Can't you go for two seconds without being a gross pervert!?" She said as she shoved Seele into the house, swatted her in the butt with the spoon and then slammed the door. She then spun around and grinned at the two sisters. "Eheh." She said scratching the back of her head. "Sorry about that!" She then bounded towards them and hugged them both against her. "I'm so glad you could come!" She said and pulled away. "I hope you're hungry! I whipped something up. It's nothing fancy but I hope you'll like it." She said with a bright grin. Se spun around and opened the door and turned back and winked at the girls. "Thanks for not having any sour grapes." She said. "Sully's pretty rough in the ring but it's only cause she's worried about me and she really likes winning."

She then stepped in and swatted at Seele again. "Gah! Put that thing down Kat!" Seele said as she scrambled off to the kitchen. "You get those pervy thoughts out of your head!" Kat scolded once more. "They are guests not ... not play things!" She said flabbergasted and blushing a bit."
"Uh oh looks like your in trouble" Kikio and Kagome said at once as they watched Kat scold Seele. Kikio was smiling from ear to ear as she watched Seele get hit with the spoon but Kagome being the more sensible one decided to ask Kat "Mmmm what ever you made Kat it smells delicious, i can't wait to have some of it" Kagome then moved towards the door as Kikio followed right behind her but not before saying "Don't worry Kat we will make sure that Seele here isn't to perverted tonight" and with that said Kikio winked at Seele before entering their room.

_________________
Characters

The Den
Seele could only give Kikio a glare as she was forced to retreat into the kitchen. She sighed once she got there. She didn't really want Kikio and Kagome to see her like this. In the ring, Seele was the mastermind, the professional and the boss. But at home, despite being the older one, Kat was in charge. She was the one who was responsible and took care of things while Seele mostly practiced her wrestling and lazed about the house.

"Thank you!" Kat said with a grin. "It's just Shepard's pie though, no big deal." She said as she inhaled the savory smell and grinned. "Mmmm.." She said. "It does smell good. "Come on then!" She said and trotted off to the kitchen.

Seele was putting down a big dish of the Shepard's pie. There was also a a bowl with salad in it and a few dressings sitting on the table. "Ok!" Kat said as she pulled out a chair for Kagome and Seele did the same for Kikio. "Go ahead and help yourselves!" She said and busied herself cleaning the kitchen while the sisters served themselves. Seele sat there ant watched quietly, looking them over.

"Ahh.." She said and then closed her mouth. She blushed and turned her head. ""So... that was a pretty fun match, sorry about kicking your guys' asses but if you're ever up for another round, go ahead and say it."

Like a flash, Kat was next to Seele and tugging on her ear. "What did I tell you about being a brat!" She said. "Especially at the dinner table!"

"Gaaaah! OW! OW! OW! KAT DAMMIT!" Kat released Seele and the girl sighed. "I was just trying to make conversation." She muttered and grabbed some food.

Kat sat down as well. "That's certainly not how you do it!" She said and looked pleasantly at the sisters. "So? Where are you from?" She asked. "We're from Wales!" She beamed proudly. "If you couldn't tell by our accents, hehe." She said blushing a bit. "It's pretty there."

'If you like looking at sheep." Seele muttered.

"Shush!" Kat said. "But.. Japan is pretty too!" She added with a chirp.
Kikio and Kagome smiled as Kat and Seele served them dinner and they graciously grabbed a modest amount of Salad and shepard's pie. The two were enjoying their meal until Seele mentioned their match but before Kikio could even open her mouth Kat was already beratting Seele. This brought a smile to Kikio's lips as she just looked at the two and continued eating.

However Kagome beginning the better guest responded to the two girls "Well another match would be fun but i don't know about the stakes, mabye we could try something different next time" Kagome said before taking a bit of salad from her fork. After she swallowed Kagome continued to talk "We are actually from a small town on the island of Kyūshū. We actually grew up like most other normal family's would just with me being the tomboy of my town as i always picked fight with girls and guys. My sister over here was always the talk of the town though as she flirted with every guy and girl she laid eyes upon which is the reason why i had to fight most of the people in town our age." Kagome then took a sip of water before continuing "And it is a really beautiful nation but i would love to travel to Wales some day i hear it is quite beautiful."

_________________
Characters

The Den
Kat seemed to pout a bit as new terms were suggested. "Awwww." She said. "Aren't you having fun?" She didn't believe or didn't want to believe that anything sexy could or would happen tonight. "It's of Sully, isn't it?" She said giving her sis a glare.

"Gah!" Seele said and pulled away. She grumbled as she went into the kitchen. Kat smiled as she chewed on her food an listened to Kagome. "Ooooh." She said. "I've never heard of that place!" She said and tilted her head. "But.. that sounds pretty neat. I.." She then glanced back at Seele wo had her back turned to the girls, looking like she was fishing for something as her butt wiggled back and forth. "I guess it was a little different for us." She then leaned in to whisper. "Sully's... always kind of been a brat." She said and glanced over at Seele. "But.. it's not really her fault." She then grinned. "I hope you like the food by the way." She said,. "Oh! What do you want to do after we eat?"

Suddenly Seele appeared with four glasses in one hand and a bottle in the other. "How about some of this, ladies?" She said with a grin and set down a big bottle of wine.

"Sully!" Kat admonished the bigger girl. "I don't think that's very appropriate!"

"Psh!" Seele said dismissing Kat's words as she poured a lass and then took a sip. "Ahhh!" She said and refilled her glass. "It's just while we're eating. Don't be a spoil sport, Kat!" She then poured two glasses and shoved them towards the sisters. "Don't tell me you two are prudes and don't drink!" She said as she poured a last glass for Kat before she sat back down.
"Well of course we are having fun but i question the motives of two people in this room on what they want to do tonight" Kagome said as she looked at Seele and Kikio "But of course i wouldn't mind having some fun with you Kat" Kagome said with out any real type of perversion behind her statement.

Kikio looked at her sister with a scowl but then she was offered a glass of wine which she took without even saying thank you.

Kagome also took her glass but she didn't chug the glass like Seele. Kagome nodded her head in thanks and slowly took a sip of wine from her glass "This is quite delicious" Kagome said taking another small sip.

_________________
Characters

The Den
Page 1 of 14 • 1, 2, 3 ... 7 ... 14


---
Permissions in this forum:
You
cannot
reply to topics in this forum