Champions & #1 contenders
Highfly Flying Out Of Town
Tue May 22, 2018 1:31 am by HighFly
Hello everyone, I just wanted to inform all I have threads with that I will be gone from this coming Wednesday through Sunday. I won't be able to post consistently if at all during this time, but I will try to make up for it next week! I am sorry for the inconvenience to everyone.
Comments: 7
The Austrailian Mudslide is Back.
Sat Apr 21, 2018 6:20 am by Softsquad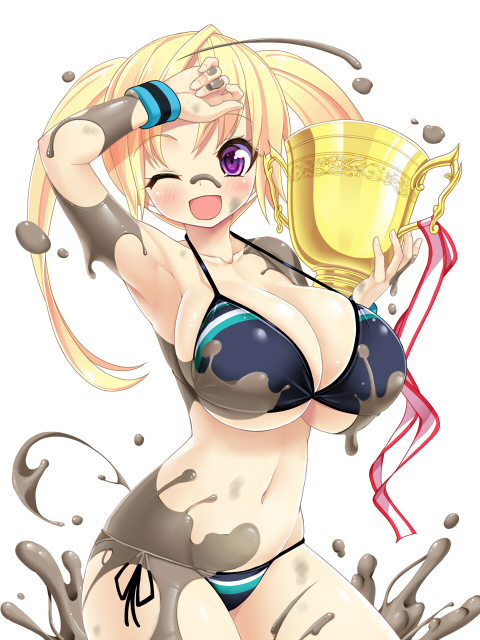 Granted that most of you won't know me or remember me, but I've had a few matches here and there some time ago. Well I think its time to become a regular around here and try to have some fun again, but at the same time keep coming back. Anyway I think its time to jump into some matches with Zoe Taylor, my mud wrestling character from Australia and get her back into the squared circle. Furthermore I will update my characters as I think some proper changes need to happen.
So if anyone would …
[
Full reading
]
Comments: 5
Page 7 of 8 •

1, 2, 3, 4, 5, 6, 7, 8


Haruka moaned as Megumi carefully rinsed off her still-sore crotch. But it wasn't the moan of a sexually aroused girl. No, it was the moan of a young girl who was enjoying her big sister's tender care. "It sounds great, Megumi-oneechan," she sighed happily.

So this was what her little brother felt like when her parents, grandparents, and Haruka herself spoiled him. No wonder he was so clingy. Haruka supposed she had once been like this, when she was very young. But she had had to grow up so quickly when she became an idol and a wrestler. Now, though, she was reliving her childhood with a girl who seemed to her the perfect big sister.

"You really know everything..." She said this proudly, as if sure that Megumi could indeed do anything.
_________________
ACTIVE:
Friction:
Momoko "The Sumo Fan" Hanayama
INACTIVE
Friction:
Yatori;
Kawaii:
Haruka, Ort;
Alternative:
Harumi;
Tension:
Shizuka, Rena, Taka
RETIRED
Nina & Anna
Megumi took her time rinsing Haruka's crotch off, moving the showerhead aside after a moment before slowly reaching in with soap in her hands and rubbing it in gently into the girl's crotch. "Tell me if it starts to hurt," Megumi said, "Oneesama doesn't want her cute imouto to be in pain!" Slowly Megumi began putting her fingers inside of Haruka as well, "cleaning" her throughly. Her other hand proceeded to start massaging Haruka's other sensitive parts as well, namely her breasts, running across them to spread the soap out, and moving up and down her body to make sure it was even. She even used her body to help out, rubbing it up and down Haruka's back to clean her from behind as well, while pressing her much more substantial bust in to give Haruka a deep clean!

"Oneesama can do a lot for you Haruka-chan" she said, "Just tell me and I will try."
Haruka alternated between moaning and sighing as Megumi's fingers gently applied soap to her sore sex. "I will, Megumi-oneechan... but I'm sure you'll know if it will hurt..." And amazingly enough, her adopted big sister touched just all the right spots in just the right way, not just between her legs but also all over the small bumps that were her breasts. They were pleasure spots, all right, but they didn't feel erotic, merely intimate, the way two girls who were were comfortable with each other would feel.

"Ah... oh... oneechan," she breathed heavily as the rest of Megumi's body joined the soapy fray. "Your skin is so soft... and your breasts feel so nice... I wish I can have breasts like yours one day..." Hearing Megumi's promise, Haruka perked up. "T-t-then can I wash you later? I feel bad about interrupting your shower, and I want to make it up to you..."
_________________
ACTIVE:
Friction:
Momoko "The Sumo Fan" Hanayama
INACTIVE
Friction:
Yatori;
Kawaii:
Haruka, Ort;
Alternative:
Harumi;
Tension:
Shizuka, Rena, Taka
RETIRED
Nina & Anna
Megumi nodded, elated at Haruka's confidence in her. Even if this was only play, this felt so right to Megumi, to have a younger sister like Haruka was simply amazing. She kinda wished Haruka would work with her and Chigusa and Tomomi in their idol group, despite the girl's refusal before. It would be like a family, with all the girls being the cute Haruka's oneesamas.

She snapped out of the trance and immdiatly went to work to finish cleaning Haruka though. Megumi honestly couldn't believe Haruka was as old as she claimed, considering how underdeveloped her body seemed to the idol. Espeically now that Megumi got a good feel of Haruka's breasts... but she wasn't going to pry.

"I'm sure you'll grow into an amazing woman Haruka," Megumi said, reassuring her imouto, "You're already beautiful, and I don't think you're finished growing quite yet!" When Haruka made her request, Megumi felt elated. "Mmm! Of course you can," she said, "I'll leave my body in your hands Haruka-chan!"

Megumi sped up her pace, her fingers still gentle, but moving in and out of Haruka's sex a bit faster now. She throughly cleaned every part of Haruka's body with her hands, even going as far as reaching down to soap up her butt, and going in between! She might seem like a big sister to Haruka right now, but it was obvious that Megumi wouldn't consider Haruka clean until she had made the younger idol cum for her once more!
Haruka's happy sighs tapered off as Megumi placed the finishing touches of foaming soap upon her body. "Thank you, Megumi-oneechan... you're so nice... I hope to grow as beautiful and kind as you..." And she really meant it. Haruka outright admired the older girl without a trace of jealousy. When her turn to wash Megumi came, she promised herself to make her older sister figure happy, just as happy as she felt now.

Part of her happiness was with how Megumi cared for her sensitive spots. Her breasts, her sex, even her butt... they were now squeaky clean after such thorough scrubbing. Haruka's cheeks grew red and her head felt light from having those intimate parts of hers toyed with. "Megumi-oneechan," she panted, "Why are you embarrassing me again..." But she wasn't protesting the treatment. No, she was enjoying it, though strangely she didn't feel lusty, only content, very content as she cried out "Oneechan!" while cumming into Megumi's hands, her cum washing out the soap, her small body resting upon her supposed sister's front. "It was so good, oneechan," she moaned.
_________________
ACTIVE:
Friction:
Momoko "The Sumo Fan" Hanayama
INACTIVE
Friction:
Yatori;
Kawaii:
Haruka, Ort;
Alternative:
Harumi;
Tension:
Shizuka, Rena, Taka
RETIRED
Nina & Anna
"Oneechan has to make sure you're totally clean," Megumi explained as she worked on all of Haruka's sensitive parts, "All these dirty places from that match, let oneechan wash away all those bad memories, ne Haruka?" She soon made the cute little girl cum in her arms, with a cry of "oneechan!" which made Megumi feel elated and so inexorably attracted to this beautiful imouto she got. She let Haruka rest and catch her breath, as she reached and grabbed the fallen showerhead to finish rinsing Haruka off.

Running her hands through Haruka's hair, Megumi hummed to herself as she cleaned the soap suds off Haruka's sexy body. She finished washing the girl off completely, making sure no soap was left and Haruka was all squeaky clean! "There! All done!" Megumi said, happy with her work.
Delighted with her new cleanliness and recent orgasm, Haruka remained snuggled upon Megumi for a while, soaking up the redhead's scent and bodily warmth. "Thank you, Megumi-oneechan," she murmured. "I really liked it..."

When at last she felt recovered from her climax, the younger idol would reach out for the showerhead. "Now it's time for me to clean you up as I promised, oneechan..." Haruka made sure to properly soak Megumi from head to toe while maintaining their closeness to one another, having become quite the clingy girl.

Satisfied with the rinsing, she took the bottle of body shampoo and poured it upon her chest while blushing cutely. "They say breasts grow bigger when you rub them a lot," Haruka stuttered. "So..." She began by rubbing her pert little breasts into Megumi's rather broad back, moaning as her nipples grew stiff and poked about the sud-covered skin, adding shampoo when necessary. "I know my breasts are nothing like yours, oneechan, but I hope you will like them..."

After she was done with Megumi's back, Haruka swallowed nervously. "Can you lay on your back, oneechan? So I can soap your front..." Soapy suds streamed down her cute front.
_________________
ACTIVE:
Friction:
Momoko "The Sumo Fan" Hanayama
INACTIVE
Friction:
Yatori;
Kawaii:
Haruka, Ort;
Alternative:
Harumi;
Tension:
Shizuka, Rena, Taka
RETIRED
Nina & Anna
Megumi held Haruka close, becoming quite protective of this girl. After a few moment though, Haruka broke away, and began to clean Megumi up. The idol stood back, letting Haruka do her work, helping her out a little by holding Haruka close while the idol sprayed water over both of them. Then Haruka took the body shampoo and poured quite a bit onto her small breasts. Megumi turned her head as she felt Haruka's stiff small nipples poking into her back, as the smaller idol did her best so soap up every little bit of Megumi. "Mmm... well i certainly hope that's true Haruka-chan," Megumi said, "Because Megumi-oneesama's going to rub your chest every time she gets, to make sure your breasts grow nice and big so the crowd loves you!"

"And don't worry about me Haruka, oneesama loves your breasts!" she said happily as Haruka's nipples ran up and down her back, tickling her as she went. Soon Haruka was done, and Megumi turned around to face her, blushing slightly at the sight of her cute imouto all covered in soap suds.

"Hmm, ok," Megumi said, sitting down and the laying on her back. "Go ahead, Haruka-chan~!"
The happily blushing Haruka took a moment to admire the sexy sight of her adopted big sister laid out on the wet tiles of the bathroom floor by her request. "You are so sexy, Megumi-oneechan..."

She dribbled body soap all over Megumi's bust, belly, and crotch before putting the bottle away. Haruka would then kneel beside Megumi, gently lean over until her breasts rested on either side of Megumi's right forearm, and begin rubbing the body soap into suds with her cleavage and breasts.

Groaning nonstop, the red-faced Haruka progressed up that arm until she reached Megumi's shoulder. She skipped the temptations of Megumi's twin mountains, instead choosing to rub down Megumi's other arm first. Such was her treatment for Megumi's long legs, too, and she lingered upon those strong thighs.

Then the kawaii girl plopped her young top onto Megumi's left breast. Haruka moved her torso in a circular thrusting pattern so that her shallow cleavage could massage her big sister's tit while her stiff nipples traced semicircles around the base of that breast.

She bestowed the same loving care for Megumi's left breast. Megumi's belly received a loving rubdown punctuated by her poking nipples. And then Haruka was sliding between Megumi's legs, carefully parting them so that her big sister's sex spread before her. Taking a deep breath, Haruka would brush her left breast up and down Megumi's crotch, grinding the fatty flesh of her small breast upon the sensitive skin of her big sister's womanhood, her nipple parting Megumi's cunny as it slid inside, in between, and out. Several naughty strokes later, Haruka switched breasts, ensuring both of her small bumps had equal time with Megumi's intimacy.

All throughout the treatment she was murmuring little requests in between incoherent moans. "Please make my breasts as nice and big as yours... keep liking my breasts if they stay this small or if they become as large and pretty as yours..."

Finally, her task done, Haruka returned to a kneeling position between Megumi's legs. "Did you like that, big sister?" she asked with all the hope of a younger sister who did her best.
Megumi looked at Haruka's shining wet body for a moment, before closing her eyes and letting her do her work. She moaned softly when the soap got dribbled onto her body, a rather slimy and cold feeling that was slightly uncomfortable if Megumi didn't know what it was. But that was all dispelled when her imouto began using her body as a loofah to spread the soap out and clean her up. Haruka's small breasts ran down her arms, rubbing in circles to lather the soap up. Then, surprisingly, Haruka skipped over her breasts to clean her other arm first. By the time she went for Megumi's breasts, Megumi was so aroused her nipples stuck outwards like small jutting peaks. The treatment she recieved felt delicious, as Haruka's small but firm chest massaged her bigger breasts. Megumi's mouth opened and let out a slight moan.

Then Haruka was sliding down, her breasts and nipples tracing lines along Megumi's body. Her legs parted instinctively to allow Haruka access to her sex. She was surprised when Haruka pressed her breasts in to pleasure her. "Ahh~ Haruka-chan!" Megumi moaned. Her hands reached up to pinch her nipples as her cute imouto worked over her sex, leaving her feeling all hot and bothered at the end, her sex slick not just with soap.

After Haruka was done, Megumi lay there for a moment. "Ah, I enjoyed that a lot!" she said, slowly sitting back up. She reached out and grabbed Haruka, pulling the smaller idol in close. "You're absolutely amazing Haruka. Thank you, for all this..."
Page 7 of 8 •

1, 2, 3, 4, 5, 6, 7, 8


---
Permissions in this forum:
You
cannot
reply to topics in this forum