Who is online?
In total there are
40
users online :: 11 Registered, 1 Hidden and 28 Guests
acuya
,
axe2029
,
Cicilia
,
FlameofHope
,
Harrier
,
Hedgehawk
,
kerflubble
,
Mystery Dragon
,
RadiantKarna332
,
scorn53
,
Teenwrestler
Most users ever online was
390
on Tue Jan 02, 2018 2:02 pm
Champions & #1 contenders
Highfly Flying Out Of Town
Tue May 22, 2018 1:31 am by HighFly
Hello everyone, I just wanted to inform all I have threads with that I will be gone from this coming Wednesday through Sunday. I won't be able to post consistently if at all during this time, but I will try to make up for it next week! I am sorry for the inconvenience to everyone.
Comments: 7
The Austrailian Mudslide is Back.
Sat Apr 21, 2018 6:20 am by Softsquad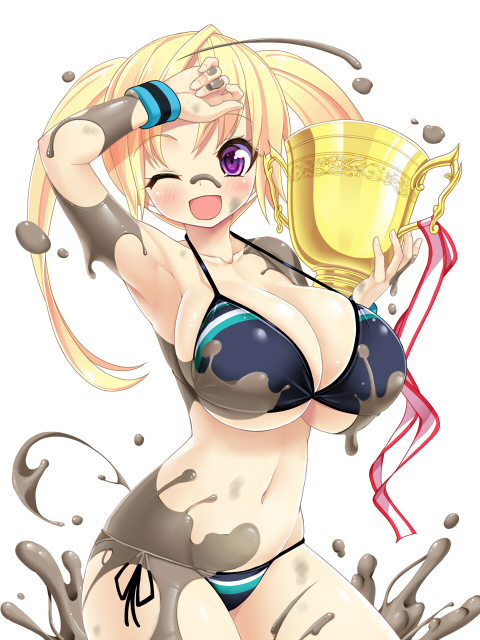 Granted that most of you won't know me or remember me, but I've had a few matches here and there some time ago. Well I think its time to become a regular around here and try to have some fun again, but at the same time keep coming back. Anyway I think its time to jump into some matches with Zoe Taylor, my mud wrestling character from Australia and get her back into the squared circle. Furthermore I will update my characters as I think some proper changes need to happen.
So if anyone would …
[
Full reading
]
Comments: 5
Page 1 of 8 • 1, 2, 3, 4, 5, 6, 7, 8


After Da Xia's match against Tatyina, Lukretia escorted the winner and her personal servants out of the backstage area. There were more matches to come but Lukretia wasn't interested int hat. She casually walked through the halls of the backstage until she came to a spot with an elevator. Inside was a fancy looking elevator with gilded handles inside and classy music playing. It seemed twice as big as a normal elevator and was almost a room in and of itself. There was a small table int he corner which had a basket full of towels. and a bit of perfume. In another corner was a plant and the elevator smelled luxurious. Indeed, Lukretia had to swipe a card just to get the elevator to open. Inside it didn't even feel like it was moving as it softly whirred. The three maids stood behind Lukretia, arms folded in front of them and remaining silent. Lukretia herself would not speak if Da Xia did not.

The elevators opened to reveal a plushly carpeted hallway that was obviously part of the AFW arena. Lukretia continued to walk until she reached a door and with another swipe of her card, opened it. She entered and the room looked like a spacious hotel suite. There were couches and chairs everywhere,. There was a full bar and even another door attached which presumably led to other parts of the spacious area. But the distinguishing feature was that the back half of the room was made entirely of glass. A view of the whole arena could be seen from up here. and even now as the newest competitors came down the ramp, a perfect view of the action was seen. There were television screens for an up close view but still, it was magnificent. Lukretia stepped to the center of the room and turned around. Vat do you think, meine frau?" She asked with a smirk on her face.
Like any other time where she had defeated and humiliated another girl, Da Xia was extremely proud of her work. However that only lasted an instant as she would being lead backstage by the beautiful Lukretia. Da Xia was overwhelmed with nervous feelings as she was never in the presence of a woman who commanded her's with such power as she acted like a shy school girl as Lukretia was leading her backstage with all of this special security stuff as they entered the last room.

Da Xia's eyes widened upon the sight of the room, she had never seen such a room that was so...high class as this. Her mouth was open in sheer awe at the room as she looked around. Upon hearing Lukretia, Da Xia spun around as she nodded her head, "This room is amazing! I've never seen anything like it!"

_________________
COME HERE FOR THE COLLECTION
Lukretia smiled wryly. "Of course you haven't." Lukretia said as she stepped closer to Da Xia. She lifted her hand up and touched the girl's chin. She leaned in close so their lips almost touched. "Is it something you vant, meine frau? zis is just a taste. Who knows. maybe you have vat it takes to seize zese sorts of things for your self." She then pulled away just as they were about to kiss and strode away. "Sit." She commanded, waving her hand as she strode to the couch that was facing the Arena. She took a seat and crossed her legs. Next to her was Macha, who had made her way tot he bar and returned with a tray. "Mistress." She said in a cool voice as she offered the tray.

Meanwhile, Morrigan, who had an irritated look on her face, looked at Da Xia and lowered her head. "This way, please." She said and escorted her to the seat next to Lukretia. "Take anything you desire, meine frau." She said as Lukretia took a dark glass bottle of beer with German print off the tray and took a long sip. Macha offered the tray to Da Xia. It had another bottle of beer, a red and white wine bottle, a sake bottle and a bottle of very fancy water. There was a glass as well. Macha offered it to Da Xia. While Da Xia chose her drink, if any, Lukretia looked over the girl. "You are very... cute..." She said with a soft grin. "Vat is it zat you vant. If you could have anything in ze vorld?" She asked curiously.
Da Xia was still marveled at the sight that the room had as she look down at the ring to see the action going on in it, until she had her mind pulled back into reality by Lukretia as Da Xia looked into her eyes. Those deep blue eyes were placing some kind of trance on Da Xia as she couldn't pull her eyes away, then her beautiful lips were moving in as if they were going to envelop her own. Da Xia barely caught what Lukretia was talking about as she moved her lips forward, accepting the (apparent) offer to kiss, until Lukretia strode away. The Chinese Bully was left in a slight daze as she then followed Lukretia to the couch.

Upon reaching the couch, Da Xia would sit next to the GM as she then looked to the tray of alcohol that was laid out before her. Da Xia wasted little time in grabbing the beer, since she was never found of the powerful taste of anything stronger. Taking her glass, Da Xia would hear the comment of Lukretia as she blushed slightly, "Well...a lot of people tell me that." Da Xia responded as the GM asked a somewhat serious question.

What was the thing she desired most? Da Xia thought as she searched her mind for the answer as she quickly found it. "I'm fine as I am now." Da Xia answered as her smirk appeared on her face, "I'm perfectly fine beating up hopeless girls and humiliating them in front of thousands..." the Bully claimed as she reach for her head to pull off the ears of Mai, burning holes into the prop, "Like that stupid Fox Freak, I would love to humiliate her again."

_________________
COME HERE FOR THE COLLECTION
Lukretia was actually a bit surprised that Da Xia took the beer over anything else. She raised her eyebrow as she watched the girl sip at it. She then leaned back in her couch and glanced towards the ring. She cared little for the match that was actually going on and quickly turned aback to Da Xia as she waited for an answer. Though she was anticipating it, her face fell visibly at the response she got.

She looked at the ears and then back up at Da Xia and smiled. "Zat is it?" She asked. "Und how long do you think zat you can continue?" She then chuckled suddenly and pressed her hand against Da Xia's shoulders. "I am glad zat I decided to contact you." She said with a genuine smile on her face. "You are everything I hoped for." She then paused and lifted her hand up and pointed her index finger upwards. Suddenly the red headed Maud was standing in front of them.

"Zere is so much more. Do you like dominating?" She asked. " What kind of thrill do you really get? Zere is a different sort of power you know." She said and then without warning, she stood up and punched Morrigan as hard as she could in the face. The maid's eyes rolled back in her head and she fell against the glass, a little blood dripping from her nose. Lukretia then lifted up her head and cleared her throat.

"T-t-thank you m-mistress." Morrigan said as she pressed her hand against her face, blinking tears away. She was leanign against the glass , her knees bent partially. Lukretia looked at Da Xia. "Und zere is more." She said and lifted her finger up. The blonde then came over, her eyes looked hopeful. Lukretia then looked at Da Xia. "Take care of her." She said to Babd who sighed. The Blonde then knelt down and took Da Xia's foot in her hand and began to massage it carefully. Unless Da Xia kicked her away, she would continue.

"Zese girls vorship me as if I am a goddess. Und to zem I may as vell be. Vithout me zey are vorthless. Power liek zis intrigues you in no vay?" Lukretia reached over and ran her finger along the fox ears. Content to humiliate little clowns?"
Da Xia's face went from shining and feeling great about herself the moment she saw Lukretia's face changed as her words left her mouth. She felt a tug in her gut, had she said something that offended Lukretia? However Lukretia's face would then turn into a smile as she placed her hand on shoulder. Da Xia had really no idea what to expect from Lukretia anymore as she continued to talk, talk about things like power. And then suddenly, Lukretia blasted one of the maids in the face for no reason whatsoever! Da Xia was taken back by the sudden action, puzzled to why Lukretia would do such a thing...then again she didn't know Lukretia that well. Even as she punched the maid, Lukretia was still in her talk about power as another one of the maids would follow her command and begin to massage Da Xia's foot.

Da Xia was very interested now. The power that Lukretia had and was showing over the maids as the blonde one was now continuing to give her a relaxing massage. However Lukretia continue on with her power talk as she successfully reeled in Da Xia, "How...do you get power like this? How do you make them worship you like this?"

_________________
COME HERE FOR THE COLLECTION
Lukretia turned and looked at Da Xia with a smirk on her face. "It is not easy meine frau." She said. "You have to earn it. You have to take it." She turned and grabbed Morrigan by the hair and brought her forward so that she was on her knees, panting and looking up at Lukretia as best as she could. "She knows." Lukretia began. "No matter how cruel I am to her zat vithout me she is nothing. I have forced meine vill upon zis girl., isn't zat right?"

Morrigan looked down in shame. "Yes, mistress. You're my world and I love it."

Lukretia smirked and then pushed Morrigan up. "But look closer into her eyes meien frau. "Somewhere deep inside of her smolders a hatred for me. I have to be careful vith zis one. She is not completely broken like her." She said as she pointed at Bab. "But zat one wants to be broken by someone liek me. She craves ze feeling of being destroyed." Lukretia tossed Morrigan aside and sat down next to Da Xia. She leaned in and slid a finger along Da Xia's thigh. "You have to know who you are dealing vith und zen you have to put yourself in a superior position."

Lukretia leaned in close to Da Xia. "Do you think you have vat it takes?" She said practically whispering into Da Xia's ear.
Da Xia was marveled at the sight and words that Lukretia was saying and showing her. She couldn't believe that she had these maids at her will, that she could do anything she wanted at a quick notice and they wouldn't question her at all. Da Xia wouldn't be surprised if she commanded them to fight each other and watch them tear each other apart. That kind of power. That power was amazing.

When Lukretia was moving in, Da Xia could feel her heart beat faster. If she didn't have what it took to have this power, would Da Xia end up like these maids? No. She knew. She knows that she have what it took to attain this power! "Y-yes." Da Xia stammered, trying her best to sound as confident as possible, despite having her heart beat at an alarming rate.

_________________
COME HERE FOR THE COLLECTION
Lukretia could almost feel Da Xia's heart beat. She knew it from the countless others who had been in Da Xia's position before. She smiled and pulled away. "Das gut, meine frau!" Lukretia said with a sly grin on her face. She then looked down at the girl. "Mavbe ve should see?" She said and then looked down even further. She snapped her fingers and Babd stood up. 'Zee her?" Lukretia said to Da Xia.

"Do vat you vant to her." She said simply. "but I vonder if you can make her feel true pain?" She said tilting her head curiously. The blonde eyes widened as she looked at Lukretia and then turned and looked at Da Xia, almost expectantly.
Da Xia widen her eyes as she then looked to the maid that was apparently being thrown to the wolves, namely her. So she was expected to inflict true pain on her? It must of been easy right? But no, Da Xia knew better than that. In the short dealing with Lukretia, Da Xia had figured that she wasn't the person who smiled upon brute strength as evident when she delivered the final blow on Tatyina. So she must be expecting her to do something that is stronger than strength, she must want her to break her pride or something like that.

Under that impression, Da Xia would step up to walk towards to Babd, looking down on the smaller girl before she would try to shove the maid on to her back. If she was successful she would then drop down to straddle Babd on her stomach as she would then lean forward to fiercely plant her lips on to the other girl and roughly kiss the girl. Da Xia figured that if their was anything more humiliating, was having someone else force their will on to you and you can do nothing to prevent it. Da Xia's intent was to humiliate this girl in front of Lukretia, wanting to show her that she knew that hurting someone on the inside was far worse than hurting someone on the outside.

_________________
COME HERE FOR THE COLLECTION
Page 1 of 8 • 1, 2, 3, 4, 5, 6, 7, 8


---
Permissions in this forum:
You
cannot
reply to topics in this forum