Champions & #1 contenders
Moonhearts Promo intro thread is O p e n.
Mon May 21, 2018 4:21 am by XSirenX
Feeling brave?, lost?, or without a thread to post in?, hit up the newest Moonheart if any of those apply!
CLICK HERE
What Moon has to offer?, many things...:
Comments: 0
The Austrailian Mudslide is Back.
Sat Apr 21, 2018 6:20 am by Softsquad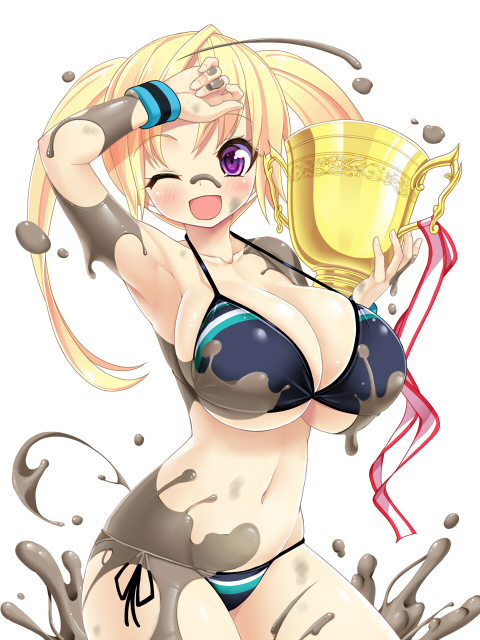 Granted that most of you won't know me or remember me, but I've had a few matches here and there some time ago. Well I think its time to become a regular around here and try to have some fun again, but at the same time keep coming back. Anyway I think its time to jump into some matches with Zoe Taylor, my mud wrestling character from Australia and get her back into the squared circle. Furthermore I will update my characters as I think some proper changes need to happen.
So if anyone would …
[
Full reading
]
Comments: 4
Page 9 of 10 •

1, 2, 3, 4, 5, 6, 7, 8, 9, 10


The Dream gritted her teeth and growled as she unleashed the full power of her incredibly strong and sexy legs on Megumi, trying to crush the mean idol as hard as she could so the lack of oxygen will make her pass out. Natalia knew surrender was not an option. This was now way too personal and the dark-haired beauty knew that if Megumi was as proud as she was, she would never surrender. This was going to end with one of them out cold and Natalia didn't wanted to be her.

The punches to her legs were quite painful, but not as nearly as painful as the two shoots Megumi had taken at her cute face, so Natalia was more than willing to get her gorgeous legs all bruised if that kept her face away from danger. She leaned back, trying to put her face and neck completely out of Megumi's reach at the same time that helping her abs to start helping her legs with the pressure around the idol's head.

On normal situations, Natalia would have been completely sure on the near absolute inescapability of this hold, once between her legs it was over, she thought;, but in this slippery situation her enemy and her were...and she couldn't blame anyone but herself for it... she wasn't so confident. So she hurried to take meassures to prevent or at least make it harder for Megumi to escape. Coiling her legs like two jungle pythons around Megumi's head, Natalia tried to keep the idol's right arm trapped with her right hand, while with the left she began pushing Megumi's chin, trying to slide it above her thighs so she could choke directly against the throat and preventing Megumi from biting anything bit air. Then Natalia grabbed Megumi's slick hair with one hand, sinking her fingers to the roots and closing her fist firmly, pulling it with the clear intention of not letting the idol go.

Natalia then took a deep breathe and squeezed, squeezed, squeezed...hoping her sexy legs would be strong enough to put Megumi out before the oil allowed the idol to escape her clutches.
Last edited by 909 on Thu Jun 09, 2011 4:36 pm; edited 1 time in total
Megumi felt Natalia tightening more and more, knowing full well that she couldn't last much longer in this hold. Things were going all the way bad already, Megumi's punches were weaker and weaker, and she could barely even struggle anymore. Megumi knew that she was going to pass out soon. She didn't want to lose though, now like this, not to Natalia. Megumi barely knew the girl, but she knew enough that if she lost, she wouldn't be able to face anyone anymore.

"N-nooo..." Megumi moaned. She had one chance left. Reaching up, she grabbed Natalia's thong by the strap on the side. Megumi then summoned up the last of her strength, and pulled upwards as hard as she could, hoping to give Natalia a horrible wedgie!
Natalia was completely focused on holding and crushing Megumi with her legs, burning her muscles as she put all the power she had in the squeeze, when she suddenly felt how Megumi grabbed her thong´s side. Her right blue eye opened wide in surprise and terror, and the other would had opened too if it wasn´t so swollen and already turning purple. Natalia immediately guessed what was coming and knew there was no way to prevent it. She bit her lower lip and braced to take the pain.

"uhghh...ughhh...ghhhhhhhhh...... [size=150:13z8b8bu]AIGHHHHHHHHHHHHHHHHHHHHHHH!!!!!!"" Natalia tried not to scream at first but the pain quickly became unbearable and her mouth opened wide to howl her agony, her still cute beat face twisted into a grimace of pure suffering. The thong that was already maladjusted from the struggle, parted Natalia´s lips, pinching them against her own body, slipping into her slit like a cutting knife. Tears immediately rolled down Natalia´s cheeks profusely from both eyes. The blinding pain made Natalia´s legs spasm and feel numb for a couple of seconds, but The Dream legs were well trained and she knew that once you have the opponent in you 'jaws' you have to lock them. So despite the horrible intimate pain, Natalia didn´t let go. She kept her legs around Megumi, her right ankle trapped under her knee, her left hand on Megumi´s hair, but she did released Megumi´s hand, so she could use her right hand to grab the hand pushing her thong and try to alleviate the agony, while she started to bang her head on the bottom of the pool in desperation.
Megumi pulled upwards with all her strength, using a death grip on Natalia's thong. But still Natalia's legs didn't let go. Megumi was the one who was going to lose in this case; she lacked the strength to keep this up for long. It wasn't long before Megumi's hand started to weaken, her grip slackening and her arm slowly falling.

"N-noo..." Megumi groaned. She didn't want to lose here, not like this! This was never supposed to have happened. Megumi looked up, her already glassy eyes fixing Natalia's face with a sad stare. Her body slowly began to loosen up, as Megumi lost all control.

"I don't want to lose like this..." Megumi said, voicing her thoughts. Even so, she was powerless to prevent it. Natalia's hold succeeded in choking her out. Megumi's body loosened up, her eyes closed, and she slumped against Natalia, falling unconscious.
Natalia continued wailing as the pain in her most sensitive area just didn't seemed to stop. Even now that she was pushing Megumi's fist on her thong down, the fabric of her bottoms kept pinching and felt like it was rending her sex. Natalia closed her only good eye left and bit hard her lower lip, which only helped the cut Megumi's punch to her cheek had caused to widen and soon a small thin trail of blood started to from from the right corner of Natalia's lips down to her chin.

Still the dark-haired battered beauty could feel how her prey was weakening, and the excitment of putting such a tough vicious foe out started to mix with the pain overwhelming Natalia's senses and making her mix some moans that were a sort of mix of agony and delight. The more Megumi faltered the harder Natalia squeezed, she could feel it was time to move in for the kill, so she released Megumi's hair with her left hand and grabbed her own left ankle, pulling it hard to add to the clutch around the idol's head the power of two legs and one arm.

It was almost over now, Natalia could feel she was so close to putting Megumi out and consumate her vengance. The sensation was so thrilling. The Dream opened her eye and looked at Megumi's despair and sadness and althought she couldn't completely ignore that biting guilt feeling, she enjoyed it thoroughly. The Dream's bloodied lips formed a wicked smile when she heard Megumi saying she didn't wanted to lose like this..

"But you will...because I am better than you. Sweet dreams bitch." Natalia said with a cute evil tone. Then she blowed Megumi a kiss and squeezed with all of her remained strength. When Natalia felt on her pulsing legs the last breathe of Megumi before the idol went fully limp she almost climaxed despite the pain. She arched her body and howled in pleasure. She shook her body, thrashing a little enjoying how Megumi was forced to thrash limply with her. She felt so powerful. All those emotions, all the frustration, humiliation, jealousy and desire for revenge finally released of her body.

Natalia panted heavily and held Megumi between her legs although she didnt squeezed her anymore. "I got you bitch!! I fucking owned you ass!!" Natalia yelled to the uncouncious Megumi.

Once the burst of adrenaline died down, Natalia begun to feel all the pain again, just that much worse. She wimpered and unwrapped her legs from Megumi's head, immediately pulling her thong down and spreading her legs, she rubbed her hurt pussy with the oil. But even more than her sex hurt her cute face, specially the left eye that was now fully black and swollen. Her right cheek had swollen too, bulging as if Natalia had a small potato in that side of her mouth.

The dark-haired beauty used the back of her hand to clean the trail of blood from her jaw and crawled to Megumi, admiring the idol's beautiful vanquished figure. She rolled Megumi on her belly and placed the idol's hands behind her own back. Then Natalia reached for her bikini bottom and tied Megumi's hands together on her back. She gave Megumi a spank before moving down to pull the Crimson warrior's pantied down to leave her completely naked, just as Natalia was now.

Despite how badly hurt she was, Natalia was planning on ravaging and fucking Megumi. This was not only for humiliation. In Natalia's twisted world-view, beating someone and not fucking her was akind of a lion killing game and not eating it. It was a waste... And it was dishonorable. Now that she though about it Natalia started to realice why she had been so humiliated and riled by losing to Megumi in the first place. The idol had handed her a sound defeat and didn't had the decency of fucking her after it..
After Natalia had finished stripping Megumi bare both the referee and Lukretia stepped forward. The referee came over and raised Natalia's hand in victory while Lukretia stepped forward clapping lightly in celebration of Natalia's win. "Congratulations meine frau." She said as she stepped over Megumi's body and squatted to face Natalia, resting her ass on Megumi's naked butt. "Oh, but look at you. It seems as zough you've gotten a little boo-boo." She laughed and reached out her hand to cup Natalia's uninjured cheek and pull it forward. She would then lean in herself and kiss the swollen side of Natalia's face. "Let me kiss it und make it better." She said breathily while their faced were still close. She then traced a hand down Natalia's naked body before clutching her hand with both of hers, leaving a little present for Natalia. A small egg shaped vibrator in Natalia's hands. "To ze victor..." She said and chuckled before pulling away from Natalia.

She then looked down, seeing Megumi's naked thighs, she gave a small sigh. "How unfortunate." She said as seh ran a finger up Megumi's leg before dipping a finger into Megumi's exposed pussy. She then pulled the finger out and brought it to her mouth, wrapping her tongue around it and licking it sensually before standing up. "Vunderbar." She mused. "Just as I remember." She said before stepping off Megumi. "I'm jealous, meine frau." She said to Natalia. "You've caught yourself a good one." Lukretia then stepped away to give them some room. If she was not addressed further, she would take her leave, giving a few glances back to the naked beauties.



Posts

: 27237


Join date

: 2009-04-02


Age

: 97


Location

: VIP Box inside the AFWDome



Natalia was completely absorbed by her victory and by her prize, Megumi. The pain, the thrill of victory and the lust clouded her mind to the point that she had nearly completely forgotten about the referee and Lukretia. So The Dream was actually startled when both girls entered the pool. She looked confused at the referee for a second before she realized what was happening and why this girl was holding her hand up in the air. She couldn´t help but smile. Then she noticed that the other woman standing there was Lukretia and she raised and eyebrow looking at the German girl with a conspicuous mocking smile. Natalia tried to move her head away from Lukretia, but she was too tired and didn´t had the will to struggle. The Dream winced as Lukretia´s lips, as silky and luscious as they were, hurt on her swollen cheek.

Almost without knowing it, Natalia ended with an egg vibrator in her hands, and the remote control attached to it. She blinked her only left good eye surprised until she realized what it was. Once she did, Natalia looked up at Lukretia with a evil grin. And as the German girl walked away, turning around to see the too battered fighters, Natalia blew her a kiss. "You are a bitch, Lukretia..." Natalia said with a pained smile and a faint tone, she was exhausted, but she tried to be loud enough so Lukretia would her her. "A real smart tricky bitch..." Natalia giggled.

Then The Dream turned to Megumi and rolled her over, so she would be laying on her back. "Seems like you have powerful enemies, Megumi-chan.... and resourceful too.... not very smart of you" Natalia cooed at the uncouncious Megumi as she placed the egg vibrator on the oil, coating it and lubricating it. "I think sooner or later I will have to teach that Lukretia a lesson... " Natalia continued speaking with her fallen prey, as she slowly started to to slide the vibrator between Megumi´s labia. "But for now, I am going to enjoy her generosity" The Dream continued as she now slid her right leg over Megumi´s belly, leaving her knee right above the belly button, and rested her sex on top of Megumi´s own, so that the egg dildo would be pressed against the idol´s clit hood. "and she is certainly, very generous" Natalia added with a purr. Holding the remote control of the vibrator in one hand and moving her other hand to grab hold of Megumi´s left tit and squeeze it, Natalia turned on the little toy at minimum speed.

Natalia let out a sigh of relief "I have waited so long for this"
Unfortunately for Megumi, she was completely out of it. She didn't notice her hands getting tied behind her back, or Natalia stripping naked, or Lukretia coming in to taunt her and give a small gift to Natalia. She lay on the mat, eyes closed. It almost looked as if Megumi was sleeping. She barely breathed, a barely perceivable rise and fall in her chest. She had no strength or will to fight Natalia back.

She stirred a little when Natalia finished tying her arms behind her back and flipped her back over. Megumi's body glistened with oil; it was beautiful and enticing, despite the bruise forming on the side of her ribs. Megumi let out a small moan as she felt her breasts groped so roughly, and something was pushing up against her sex. When Natalia turned the vibrator on, Megumi's eyes slowly opened.

"Wha-" Megumi groaned, looking up to find the victorious Natalia grinding herself against her sex, a vibrator sandwiched in between them. An involuntary blush crept across Megumi's face. "Ohhh... ahhh..." she moaned with every breath. Megumi tried to move her arms, but found that they were trapped, tied behind her back.

"No, what is this... what are you doing?" Megumi moaned, shaking he head as Natalia enjoyed her victory by humiliating Megumi.
"Well... I am fucking, Megumi-chan" Natalia said trying to sound casual, but the situation just didn't allowed it. Her body and face had received such a beating that she was left extremely sensitive and the rubbing of their pussies , the beautiful sight of the defeated Megumi all oiled up and the thrill of victory and vengance had Natalia extremely aroused. She moaned too as she struggled with her sex against Megumi's sex. Battling for position, trying to make sure the egg vibrator 'punished' Megumi's pussy more than it punished her own. Of course Natalia has the position advantage being on top and the added advantage that she had placed the vibrator deeper and closer to Megumi's clitoris. It wasn't a fair battle.

Natalia reached for Megumi's left leg and pulled it up, forcing the idol's pussy to spread even more and preventing her from trying to use that leg for support. Natalia then hugged Megumi's leg against her equally oiled chest and began to mive her hips like dancing. I was a victory dance all over Megumi's vanquished sex.

[color=#0040FF"I won Megumi....kicked your ass... Put you out cold...K.O.!!"[/color] Natalia said between moans, her own words reminding her victory turned her on more and more. "I have proven I am better than you... And now...thanks to Lukretia...it is official... Your defeat at my hands will be forever in your career record.." The Dream kept teasing, hugging greedily on Megumi's legs almost like making out with it while she hammered down her sex on the idol's own vagina. Natalia reached for the vibrator control and increased the speed, arching her body to let out a loud moan as she felt the jolt increasing.

"Despite your cheatings...I won.." the dark-haired beauty continued her verbal assault once she managed to control herself again. "I beat you...so I am fucking you... It is my right...you are mine..." Natalia licked her lips sensuously after saying that and increased the speed of the vibrator and her own brutal humpings on Megumi's sex.

"You will have to excuse me if I don't fuck you throughly and completely like a cheating whore like you deserves..." Natalia said with a broken tone of voice, all this rubbing and vibration was taking her close to th edge extremely quickly. "But I really need to put ide in my eye.." How would Natalia have liked to be able to see Megumi's broken form and defeated expression with both eyes now.
Megumi moaned in despair as Natalia humped her sex, driving that vibrator hard against her sensitive lips and her clit. She didn't want any of this, especially not losing and getting raped by her victorious opponent. But she couldn't fight back. Not with Natalia in such a dominating position, and herself so weak. With each push the vibrator drove deeper and deeper into Megumi's sex, forcing the beautiful idol to arch her back in pleasure.

"Noo...." Megumi moaned. She looked up at Natalia with sad eyes, knowing she was beaten, "Natalia, why do you go so far? Why are you doing this?" Megumi said, "This isn't- ahhhh... this isn't right!" Megumi was visibly in distress now, the vibrator turned up a notch and Natalia's grinding even more forceful.

"Ahh! Ah, Stop!" Megumi moaned, "Don't do this to me!" It wouldn't be long before Natalia had the idol cumming underneath her.
Page 9 of 10 •

1, 2, 3, 4, 5, 6, 7, 8, 9, 10



Similar topics
---
Permissions in this forum:
You
cannot
reply to topics in this forum