Champions & #1 contenders
Highfly Flying Out Of Town
Tue May 22, 2018 1:31 am by HighFly
Hello everyone, I just wanted to inform all I have threads with that I will be gone from this coming Wednesday through Sunday. I won't be able to post consistently if at all during this time, but I will try to make up for it next week! I am sorry for the inconvenience to everyone.
Comments: 7
The Austrailian Mudslide is Back.
Sat Apr 21, 2018 6:20 am by Softsquad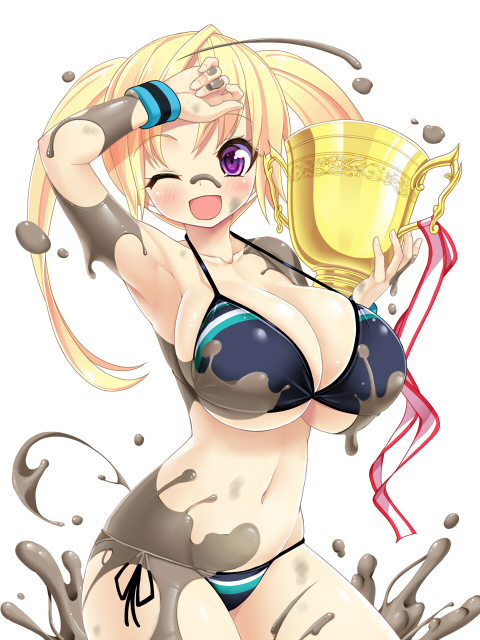 Granted that most of you won't know me or remember me, but I've had a few matches here and there some time ago. Well I think its time to become a regular around here and try to have some fun again, but at the same time keep coming back. Anyway I think its time to jump into some matches with Zoe Taylor, my mud wrestling character from Australia and get her back into the squared circle. Furthermore I will update my characters as I think some proper changes need to happen.
So if anyone would …
[
Full reading
]
Comments: 5
Page 2 of 5 •

1, 2, 3, 4, 5


Sininen's eyes fell and she slyly grinned at Cassie as she scooted her chair next to the girl, putting her arm around the red head and leaning in close. "Well, I'm actually, I'm actually current Finnish Special Forces specializing in demolitions and chemicals." She whispered before looking around carefully and giggling softly. She pushed away from Cassie. "And, and! The art of seduction, hehe! She then ran a hand down her slender, nearly curveless body and winked at Cassie. "Like, like what you seee?" She said in a teasing manner before laughing again. "Haha! I'm told I'm told I'm pretty decent at one of them. I'm not sure if it's blowing things up or having sex though!" She shrugged and stuffed her hand into her bag and pulled out a lollipop and began to suck on it after unwrapping it.

"Simo comma Valkoinen, Spetsnaz GRU, 1136397." Sininen said with the grumpiest voice she could muster, furrowing her eyebrows and lips. "Kyllä, Kyllä!" She exclaimed. "Valval is my cousin!" She scooted closer to Cassie a little bit, lifting up her hand to whisper once more. "I'm actually, I'm actually here to bring her back home. Everyone in the family misses her so I've been sent on a secret assignment to bring her back by any means necessary." She pulled away again and nodded. "It took, it took a long time to track her down!" She exclaimed. She then glanced downward. "I'm not, I'm not doing a very good job though. Haha! It's too much fun here!" She said brightenign back up again.
Of course, why wouldn't she be Finnish special forces? Is all of Finland defended by 100 pound girls? Cassie didn't bother to react to Sininen's more suggestive line of conversation.

She cracked a smile at Sininen's impression of Val. "That was with the being pretty good." She said in her own impression of Val. She laughed quietly. Then the questions came.

"Why is she here in the first place? Why is she avoiding you? Why do you need to bring her home? Why haven't you just talked to her?" It was all very weird. She understood, in a way, but it was still weird. Maybe it wasn't the situation that was weird and just the people.
"Haha! Yep yep! That's Valval!" She said. "you were you were definitely with the meeting her!" She exclaimed cheerfully. She pondered Cassie's questions by lifting her hand and twirling her lollipop in her mouth. "Hmmm hmmm." SHe said thoughtfully as she looked at Cassie. She then grinned. "That's, that's a lot of questions!" She exclaimed. "And they are all super secretly classified!" She grinned and then shook her head. "Just kidding! Just kidding! You seem very friendly with Valval are you friends?" She asked. 'I shouldn't, I shouldn't be telling total strangers stuff liek this buuuut It's Valval's fault if she can't take care of herself, riiiight?"

She giggled and then began to answer Cassie's questioning. "Well you see, well you see, Valval is here, we presume, because she's on an assignment. After she left the Spetsnaz she became a merc. She's not avoiding, she's not avoiding meeeee. Or anyone really. Valval is just Valval. She's always been the loner out of us." She then crunched down on her lollipop, breaking it open as she chomped it into swallowable pieces. "numa numa!" She exclaimed before reaching into her bag to grab another one. "I don't need, I don't need to bring her home but My CO wants the family back together. She says, she says we aren't getting any younger and she'd like to have a reunion with everyone. Even though Valval is 'with the being grumpy pants' She's still family, right?" She said tilting her head and smiling.

Sininen then looked a little nervously. "Well... you see, you see... I just wanted to enjoy myself here cause it's super fun and everyone is super nice. Plus, plus! I think that Valval is actually a little happy doing what she's doign now. I wouldn't I wouldn't want to take that away from her right?"
"That's right, family is family." Cassie said with a smile and a slow nod. "You seem like a good cousin. You're very considerate."

On one hand, Cassie found herself already fond of Sininen. On the other hand, she found that some part of her wanted to just... fight her. Which was terrible. There was no reason for that. But... she just wanted to... but that's terrible. She was super nice. Cassie couldn't really fault her for being completely insane.

"CO... you mean, like, commander...ing officer, in the military? You're officer is your family? What family do you mean? Is... are your parents your... supervisors?" More questions. This was a very thick bit to weed through. She felt like she wanted Sininen to draw her a diagram. Still, while she spoke to the girl and watched her devour her candy stash while listening to what she had to say, she was struck by her... maybe her vulnerability? Maybe she could take care of herself in one way, but she seemed like such a child that maybe she was still emotionally vulnerable or naive or something. Cassie wasn't one to talk, but this girl seemed like she was a dog sniffing the ground and running from point to point like a bumble bee, going to each next place without any idea where the hell she'd end up. She wanted to hug her, but she needed to recharge her hug batteries. Val had taken a lot out of her emotionally.

She finished her volley of questions and gave Sininen a warm smile.
Sininen beamed proudly. "I suppose, I suppose I am!" She exclaimed with a toothy grin. "Even though I haven't seen Valkoinen for a few years I have been trying to keep tabs on her here and there." She nodded.

Hmmm, hmm hmm." Sininen said thinking it over. She blushed a little bit. "I guess I guess I really do have a big mouth. Some things are still classified. Perhaps perhaps, My CO wants to make sure all her little ducklings are accounted for or perhaps she really is flesh and blood. It's up to you to take your guess, though I suppose it wouldn't be too hard to figure out." She then giggled. "Haha! That's why, That's why they gave me all that sugar to keep my mouth full of something so words don't get out! Haha!" Sininen then stared at Cassie after her questioning was finished. "Is everything, is everything alright?" She asked raising an eyebrow.

"Casscass isn't upset is she?" She then scrutinized Cassie. "It does look, it does look like you have had quite the day today already though." She grinned. "Even though, Even though I've been doing most of the talking, your body language runs it's motor mouth a mile a minute!" She said and then laughed at her words happily.
Cassie gave Sininen a look that was both curious and amused. Definitely these Finns were among the most difficult people she'd ever met. She was done being surprised, she just didn't have the energy for it and the Finns had already thoroughly proven that they were made almost entirely of surprises.

"Oh, no, I'm not upset. Just a little bit tired is all." She scraped up the last little bit of her now melted ice cream with her spoon and let the spoon linger in her mouth for a moment. "So... your family situation is classified? Are you and Valkoinen really cousins or just like military family? And... you said there's a third one? She's here too? Is she also in AFW?" The barrages of questions kept coming.

Cassie's violent irritability seemed to have passed for the most part. She did have a little headache, though. Hopefully Sininen would be easier than Val was. A large part of her wanted to ask her "Do you want to take a nap right here on the floor?" and then lay down and go to sleep. If Cassie didn't get enough sleep she crashed hard, and missing a nap wasn't something she was generally brave enough to do.
Last edited by 1167 on Wed Mar 16, 2011 10:04 pm; edited 1 time in total
Sininen looked over Cassie curiously. "I see! I see! Maybe you should take a nap then?" She said and made a big squeaky yawn. "But it's not, but it's not a very good idea to nap after eating sweets." She wagged a playful disciplinary finger at Cassie before giggling. "Make! Make! I need to work off all this sugar and have a regular meal." She pushed herself out of her seat and stood up. "Back to the gym Back to the gym for me!" She exclaimed. "After I take care of some things first." She said as she looked around curiously as though people might ask questions.

"Casscass." She said simply. "Valval is indeed my true blue coz. And and so is the other one here." She furrowed her brow. "If I am going, if I am going to get in trouble I might as well get in as much of it as I can, haha!" She exclaimed. Sininen then winked at Cassie. "I guess, I guess you'll just have to find out on your own about her, haha! No point in ruining the fun! Though she isn't nearly as exciting or super grumpy as Myself or Valval."

Sininen then held out her arm. "Would you, would you like an escort back to the AFW complex, my dear! Sininen then laughed at herself for the gentlemanly pose she was taking. "Haha! That's pretty funny!" She paused in word to vocally exclaim the funniness of her words. "Or are you, or are you going off somewhere else? Hehehe I should have said 'going, going my way?' right?" She said saying the last part in as deep a voice as her squeaky vocal box could muster.
Cassie laughed softly and stood up, hooking her elbow around the crook of Sininen's arm. "Home, actually. My apartment is right near the AFW building, so it's on the way. I've spent more time in the gym today than out of it." Cassie gave Sininen a tired eyed grin. "You're funny."

"I've got to ask, though," Cassie began as the two started for the door. "How do you fight? I can imagine that your training is probably the same as Valval's, but you don't seem to have a knife, so... I mean you look like you do less stabbing than she does. I think. I dunno. I think I'm asking if you think you could take me." She said with a quick laugh. She was around halfway kidding.
Sininen grinned widely and pulled Cassie close when she hooked her arm. She skipped out of the ice cream parlour with Cassie in tow, making sure she didn't go at a fast pace. "Yay, yay!" Sininen exclaimed. "Then, Then I'd be happy to oblige you as long as I can!" She then paused. "Thank you, thank you! You're cute, Casscass! And, and you make me smile, hehe!" Sininen was merely trying to return the compliment. She liked Cassie a lot even if it was hard for Sininen to show any kind of personality other than unending effervescence. In some ways she was a lot like Valkoinen. The scowly Finn seemed to show almost no emotion or only that of a slowly smoldering annoyance with all things that weren't stabbing. Sininen on the other hand seemed to be singularly cheerful to the point that it seemed impossible for her to show any other emotion.

As she walked with Cassie, she listened tot he question. "well I don't well I don't usually do a whole lot of fighting. I am trained though and Valval has never beaten me in a fight before. But I think that, I think that has to do with some kind of super older cousin magic!" She said with a gleam in her eye. She then chuckled at Cassie's words. "Haha! Casscass I don't like, I don't like stabbing at all! I like blowing things up! I don't have a knife on me right now but I wouldn't say that I'm not unarmed!"

She then pondered on Cassie's question for a moment. "I do! I do!" She said. "I'm pretty strong and I haven't gotten a chance to use all my moves yet here." She exclaimed. Sininen eyed Cassie carefully. "Do you, do you want to have a fight, Casscass?' She asked slyly.
Cassie's eyebrows lifted and she smiled almost apologetically. "Oh really?" She found she was a bit more intrigued by this platypus of a Finnish girl with that on the table. She automatically had her doubts, no one so little and scatterbrained and weird could beat her, right? The uncertainty set her mind moving again.

If took a few moments to find a pace that kept up comfortably with the bombastic girl's skipping. She gave her a sidelong glance. "Well, I wouldn't want to try anything now. I'm pretty beat, and I'd want to be nice and fresh if ever I was to have a go with someone as great as you. Although... if you fight anything like Val, and you don't have a knife, you might as well just tap now and save yourself the trouble, eh?" She taunted, playfully poking at Sininen's ribs.
Page 2 of 5 •

1, 2, 3, 4, 5


---
Permissions in this forum:
You
cannot
reply to topics in this forum