Champions & #1 contenders
Highfly Flying Out Of Town
Tue May 22, 2018 1:31 am by HighFly
Hello everyone, I just wanted to inform all I have threads with that I will be gone from this coming Wednesday through Sunday. I won't be able to post consistently if at all during this time, but I will try to make up for it next week! I am sorry for the inconvenience to everyone.
Comments: 7
The Austrailian Mudslide is Back.
Sat Apr 21, 2018 6:20 am by Softsquad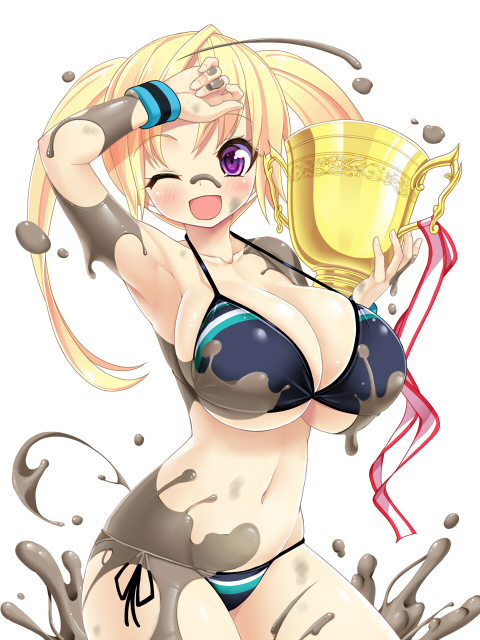 Granted that most of you won't know me or remember me, but I've had a few matches here and there some time ago. Well I think its time to become a regular around here and try to have some fun again, but at the same time keep coming back. Anyway I think its time to jump into some matches with Zoe Taylor, my mud wrestling character from Australia and get her back into the squared circle. Furthermore I will update my characters as I think some proper changes need to happen.
So if anyone would …
[
Full reading
]
Comments: 5
Page 1 of 6 • 1, 2, 3, 4, 5, 6


HardCore Striptease Match

A Fall is scored by Pin, Submission or Knockout however the fall will not count unless the opponent has been stripped naked.

Hardcore Rules apply and weapons have been provided for the wrestlers.

The lights dimmed on TheAfW arena almost to blackness. The suddenly the haunting echo of "Hellraiser." Began to play and the crowd suddenly erupted in boos. The General Manager of Friction, Lukretia Von Creuzfeldt, strolled out from the back with her usual smirk. She held a microphone and wore a stylish black dress. When she got to the ring, she stepped forward. The lights came back on slowly and she looked around.

"Do not vorry..." She said as her smirk widened. "Tonight I am merely here to announce ze next match. From time to time I do enjoy vatching a match from ringside, so please forgive me." She bowed slightly as though she were trying to win over the crowd. In reality she could care less. With the lights on, however, something new was revealed. Outside of the ring were trashcans that were filled with various weapons from bats and kendo sticks to hockey sticks and tonfas.

Lukretia cleared her throat. "Ladies und Gentleman. Now entering ze ring, Hailing from Melbourne Australia, via Beijing, Lu Jiao Jocelyn." Lukretia waved her hand as the lights dimmed again. "Gender" by Orgy began to play and out strolled a rather angry looking Chistralian in a black Chinese dress. Her fists were clenched tightly and she avoided eye contact with Lukretia. She was furious over this match, but she could do nothing. She marched up to the ring and was about to go directly to her corner when she was halted by Lukretia's hand on her shoulder. She winced and shivered but turned around to look the cruel German in the eyes.

"I have seen zat your record is less zan respectable, meine frauline." She said in a sharp tone, making sure her silky words pierced like aknife. "So I have decided to offer meine assistance. Zis match vill be a hardcore match und you are free to use any of ze veapons I have so graciously put near ze ring. Perhaps zis vill aid you in your success. I.. should hope I am not disappointed despite my best efforts..."

Jocelyn clenched her teeth and fists even tighter but simply nodded her head. She was feeling utterly humiliated by this woman but could do nothing.

"Also, to help you out, your opponent vill be someone who has not yet wrestled in ze league. Everyone, please give a circular applause for our newest Friction member, Vang, Yuanji."

The lights dimmed again and a spotlight focused on the arena while the entrance music began to play. Jocelyn gasped as she heard the clearly Chinese name and instantly she focused her attention to the curtain.
Wang Yuanjin was getting herself ready backstage while announcer, that sounded pretty German, was speaking to the crowd. Yuanjin was tigtening the laces of her boots, making sure she was well equipped and ready for a match she didn't think was right for her. A hardcore match, which meant that the actual wrestling was quickly discarded when caught in a pinch, she just had to focus on the martial arts she had learned from her father..

Thinking back, was this really the place to be? She had no time to think about it, the recognition of her theme came flowing into her mind, it was a certain song that hold no beat, no action, no.. It held the truth of war, between two greedy leaders who want everything. For a few moments she made quick prayer, to her family, to everything she stood for, they had to make her stand firm in this first match. She came out from the backstage and standing still to gaze out at the crowd and the ring where her opponent stood. Many were surprised to see her, Yuanji seemed young, innocent... If only that were true. Her song could explain her entire life up to this point, stepping down the ramp, a rather calm and steady pace, she saw Lukretia but said nothing to her, she had no information about her, about anything about this organization for that matter, she just had to start from scratch and build up from there.

She went into the ring, the numerous weapons that were around her didn't go unnoticed, she was certain some were of use to her specialty, but for now she didn't came here, she looked over at the other girl, the oriental sight of Jocelyn was the fist that caught Yuanji's gentle eyes, so without further ado, she stepped a little closer to her, bringing one hand up and pressing her other fist against the palm, wrapping her hand upon the fist and bowed down gracefully, of respect and honor. She did not know her, but it was common for her to show respect to others, especially towards people that were more of the Eastern side of the world.
Jocelyn's eyes narrowed as she watched the blonde youth come down the ramp. She gritted her teeth and clenched her fists. What was this!? This girl wasn't Chinese! Jocelyn was being mocked once more! She would show this girl what it meant to insult her proud heritage. She folded her arms just below her chest, waiting for the girl.

Meanwhile, Lukretia also watched the girl. Not as carefully as Jocelyn, an amused smirk on her face as she caught sight of the Chistralian out of her peripheral. Lukretia waited for Yuanji to enter and greet Jocelyn before continuing.

Jocelyn returned Yuanji's gentle glance with a hard stare. She saw her press her fist into her hand and was expecting something that was far from a bow. Her eyes widened and her face fell flush. "err..." She muttered. She then sighed. Well, she didn't do anything to deserve such a greeting so she figured that maybe this girl wasn't so bad? She pressed her fists against her palm and returned the greeting. "Let's... have a good match..." She muttered. Well, just because the weapons were THERE, didn't mean they HAD to be used right? Jocelyn was feeling pretty good about the match until she heard the German domme's next words.

"Oh, und one last stipulation." Lukretia said, smiling cruelly. "If you vant to score a pinfall, you must remove your opponent's clothes entirely. Pin, submission or knockout vill only be accepted if ze wrestler is naked."

Lukretia then slid gracefully out of the ring. Jocelyn instinctively, covered her chest with her hand. How many matches would she end up naked!? Well, not this one! She'd beat this girl to a pulp and not even loose a stitch of clothing." She then narrowed her eyes and got into a fighting stance. Just to satisfy her curiosity she spoke in Chinese.

-Don't take this personally, but I can't let you win if those are the conditions of the match-
While Yuanji wasn't exactly sure what went on, she knew she had to be ready for everything, the rumors of a soon to be all out war that would rage in this federation had to be stopped, no matter if it was for entertainment purposes, so she didn't like to see anyone hurt. She accepted that her opponent didn't seem all that bad, it could be a good match despite not favoring the type of it and then when Lukretia added another rule into the match, did Yuanji falter, this was not something she agreed to.

She didn't want to be one to speak against it though and with great displeasure she accepted it, looking back at Jocelyn when she heard her opponent speak Chinese, it was actually something that put her more at ease, and with a fluent, soft and also quite a cute tone of voice, she spoke back in a perfect manner of the language.

" I understand, I sadly did not know it would come to this, but I will still fight you with all I have. May it be a fight for both of us to remember, in a good way. "
-They've been pulling this bullshit on me since I debuted...- She said back in Chinese. She inhaled deeply and took her stance, showing off her particular form of Wu Shu that she had mastered. Something about this girl though, made her feel a little more relaxed. Maybe she would... have fun? She doubted it. When the bell rang, Jocelyn sturdied herself. Her left foot slid backwards and her hands were held out in front of her with her fingers outstretched and her palms flat. Her style was one that relied mostly on inside work and she had to get close to Yuanji to be effective. There was a good chance that she was proficient in some variety of Wu Shu as well, but she had to figure out what it was. She began to circle, not wanting to be reckless. And in fact this match was really thrilling to her.
When Jocelyn said those words, she knew that that girl would be the first one she would help, just looked at Jocely made Yuanji knew that she was a proud warrior, someone who just need a better future, and with a smile that only showed pure honesty, she said her last words of kindness to Jocelyn. " I will help you after this match, even if I lose, I will make sure no one will dishonor you anymore like this. "

Yuanjin then took her own stance, it was a rather unusual stance, one hand infront of her, an open palm, faced at the ceiling, looking like a chopping motion with her hand while her other hand was behind her back, she wasn't taunting Jocelyn or anything like that, instead she was going to use the one style her father treasured, only the people that Yuanjin truly found worthy of facing, would see it.

She started to counter circle Jocelyn, waiting untill the girl was close enough and then tried to send a viper like chop towards her opponent's left rib side.
Jocelyn was glad to see Yuanji take a proper fighting stance. She waited for the moment when someone would make a move and Yuanji was the first to stroke. Jocelyn believed in using her hips, elbows and knees to wear down her opponent. This made offense tough against distance fighters but the compactness of her style made her defense rather superb when she decided to use it. When she saw the strike coming, Jocelyn dropped her elbow downward to try and block the strike. She would then try and aim a forearm into Yuanji's chest by rolling her right foot forward. It was a good way for the Chistralian to get in close.
Yuanji did not blink in surprise when her blow was blocked, she should have figured not to go for experimental strikes against a fellow oriental warrior and she paid the price when the forearm came against her chest, forcing Yuanji to take a single step back but she replied rather quickly by taking out her hidden hand from behind her back and tried to send a hard fist towards the girl's gut while she was still close.
Jocelyn was looking to close in when her first strike hit. She wanted to get close to aim a knee strike but she saw the fist hurtling around when she stepped forward. With her momentum commited, she could only lift up her knee to protect herself, turning her side enough to take the blow sharply in the ribs. She clenched her teeth to fight back the pain. With her unusual defense, she'd have her balance on one foot alone. Though she'd try and compensate by attempting to grab Yuanji's fist and using that momentum to force the girl into a throw. Hopefully tot he ground if it connected but she'd take a whip to the ropes as long as it kept the Chinese girl at bay and prevent her from takign advantage of Jo's circumstances.
Yuanji found herself at a new advantage when her hit connected quite more effective then she thought it would be, but following up was a harder thing to do when Jocelyn grabbed at her fist and threw her down onto her back, with her hand still caught in Jocelyn's grasp, Yuanji couldn't just roll away from her, though to yank her arm free from her so she could roll away and create distance between them again, so far she had to make sure to keep herself focussed on Jocelyn's style so she could counter it when she had seen enough of it.
Page 1 of 6 • 1, 2, 3, 4, 5, 6


---
Permissions in this forum:
You
cannot
reply to topics in this forum