Who is online?
In total there are
43
users online :: 11 Registered, 0 Hidden and 32 Guests :: 2 Bots
anime_hentaifighter
,
BloodstalkerZ
,
bricktown
,
DizzyKnight
,
Harrier
,
Jaystar
,
Liesmith
,
Lobo
,
LunarWolf
,
PrizewellStar12
,
xalex
Most users ever online was
155
on Sun Oct 09, 2016 8:33 am
Champions & #1 contenders
Impromptu Break
Thu Mar 23, 2017 7:47 pm by Gadot
Hello,
I'm just leaving this here so people know! I'm dealing with a lot at my new job (coming in as a manager with a person on my team who's been there for years and being a bit of a bitch about it), and I'm trying to finish up my last year of college. So for right now, I'm probably not gonna be around. I'm sorry for everyone I'm leaving up in the air with matches, and that I vanished without saying anything to. If you need me, feel free to message me on Trillian. I'm on it from time to time, …
[
Full reading
]
Comments: 2
Might be a bit slow
Fri Mar 24, 2017 2:33 am by noob
hi people that im rping with. I'm gonna be away for a bit so I might be a bit slow with posting. Sorry xp
Comments: 2
Duo from Iceland has arrived!
Thu Mar 23, 2017 9:38 pm by Jaystar
Hello again everybody!
I managed to get creative, with the result of having two friends,
Isa
and
Julie
flown in from Reykjavik, who are ready to rumble in AFW!
While not sure if they get to decide, Isa is still a little bit reserved and is hoping to get a smaller opponent that she could use her lower body strength on, while Julie is very excited and eagerly up for pretty much anything!
If you have any characters who might want to challenge either one of the newcomers, or basically any fun …
[
Full reading
]
Comments: 0
Page 4 of 5 •

1, 2, 3, 4, 5

You should know Kitten's are happy feline's
" title="no no.." />
... *steel chairs Blue for no reason*
_________________
~More Fighters~
Fun thread, here! Most of my characters are inspired by different aspect of pro wrasslin that I enjoy, mixed with different influences from pop culture and other crap that (hopefully) will make for something enjoyable, to RP with. So, to throw in my two cents:

SANTA TIGRESA IV: I'm a huge fan of lucha libre, and the culture that springs from that. When I got around to writing my luchador character for AFW, I wanted to base her off of Padre Tormenta, one of my all-time favorites. Going from there, I thought it might help to differentiate her to make her a slight bit older than other characters, and give her a different body type, with all of the hangups that might come from that. Hopefully, it makes for a character that's fun to RP with.

PHDOOM: When creating PHDoom, I was trying to make a fun heel. Mostly, she was inspired by cartoonish-yet-formidable heels from recent years. Characters that were over-the-top, but still believable in an over-the-top way. People like CM Punk in "straightedge savior" mode, or Cody Rhodes when he was wearing the face mask. So, with that in mind, I decided to base the character off of an overly critical academic-turned-cage-fighter, more than a bit preachy with her views and meta-commentary, and went from there. I kind of wanted to base her off of a character like Doctor Doom, which is where the godawful pun name came from. All that said, I'm trying to figure out how I might revise her, but for now, that's where I'm at, with that one.

GEMMA FARADAY: Obviously, inspired by my love for the whole steampunk culture, with all of the crazy linguistic tics and alternative culture that comes with that. Also, though, Gemma draws a lot from what I've enjoyed in the independent scene, with the up-and-comers that I see, there. Thought it might be fun to have a character that was just trying hard to please everyone back home and in the audience with an over-the-top gimmick, and struggling to balance the crowd-pleasing stuff against actually trying to win.



Posts

: 1560


Join date

: 2013-05-30



They're making a new Mirror's Edge game! Woo!

Faith was one of the early inspirations for Taylor, stylistically. There are a lot of other people involved with Taylor, too, but they'd be hard to explain.



Posts

: 11144


Join date

: 2010-10-13



Its just Taylor
" title="no no.." />
_________________
~More Fighters~
" title="no no.." />



Posts

: 11144


Join date

: 2010-10-13



Rebecca's inspiration was a combination of Awesome Kong/Kharma and Kevin Nash. With Adrian being the 90s HBK... only with a lot less coke.
_________________
Under construction

Adrian Kytes (Face)
Rebecca Tomko (Heel)
Sabine Shanoa (Face)
Tina Armstrong (Face)



Posts

: 6055


Join date

: 2011-04-25



Team Starmage

Now I actually created them before I joined the AFW, although after having enough time to develop them on writing.com. I thought about placing them here, although the main protagonist was 17 and at the start of the school year there. So I decided that a 2 year time skip had to be done so that all of the team would be 18 or older.

Ryan Carlson - I wanted to have a reluctant hero as the centre of the story, someone who has all the stuff that a hero would have. But have him as a person who never wanted it, so a big part in the interactive story was how he'd deal with it. He has a good heart but doesn't want to get involved in big quests to save the world and all that shit, but yet he does it anyway as he believes he has no choice.

Chon Kay - In my first design for him I was thinking of a blind oracle, someone who lost their eyesight due to his psychic powers. Although after looking at Kenshi from Mortal Kombat I decided to go with "Blind marital artist" And a big part of his arc is how he copes with his feelings of revenge, does he try to turn and walk the path of redemption? Or will he press on and consider himself dammed?

His other main arc is taking in a pair of kids who were the same age he was when he lost his Brother, so he doesn't want them to turn out like him. Chon also turned out to be the most popular member of the whole team, to the extent that I might consider doing a spin off series with him in the future.

Jenny Forth - This character is inspired by my actual girlfriend, as well as the fact that I like Neko's. XD
I figured that the reluctant hero should have a morality pet, someone that gives him the reason to keep on fighting regardless of if he wants too or not.

I also thought that in a world where all the supernatural exists, a cat girl wouldn't be unreasonable. Considering that witches tend to have cats, so the premise behind the cat girls is that their ancestors tried to learn how to shapeshift into cats. Only they botched the spell and became part cat. Plus I believe that my girlfriend would be a cat if she were an animal, don't get me started when she gets moody. XD

Light Killer: I figured every hero group should have a "Big guy." the large dude who towers over everyone else, and at 6,9 he certainly does that lol. I felt having him as a wild man would help balance the mostly city-raised group, considering that Light grew up in a testing lab and spent some time in the wild. As a running gag when asked to write his name he puts down "Jane Doe." instead of calling himself John Doe as he had no knowledge of reading or writing.

Amy Don: Well to be honest I only really made her to balance the group out, she was a nice contrast to Chon. A moody goth girl who dislikes guys, whereas Chon is an angry guy who lost his Brother to witches. And at the same time play with them having a potential relationship, you know opposites attract. XD

Lunar Messiah: I figured I could use a contrast to Light as well, considering that he was raised with magic blood in his veins. A good counterpart would be a female cyborg, also dresses elegantly as opposed to Light Killer who could pass off as a random hobo on the street.
_________________
Check out my wrestlers
here
, but PM me for match requests.
Solaire of the AFW.



Posts

: 5607


Join date

: 2013-04-18


Age

: 22


Location

: In a secret place in Edinburgh.



I actually stole a couple of character hooks from some of Luffy's femfight short stories. In particular, there was one where a perfectly pleasant girl became a different person when she wore her mask in the ring. I outright stole that angle for Sabre. And got away with it! Yay theft.



Posts

: 2051


Join date

: 2010-06-04



_________________
~More Fighters~
Valley Doll is a semi-original creation. The character is from this webcomic that's been defunct for years now - you can only find it on the Wayback Machine with
http://www.valleydoll.com
, and most of the links on that page are dead. Still, I liked the name and the character design, so I took her from there. The version I play as on this site is a lot different from her, though - I made her entire history pretty much from scratch, and in the comic she was more of an all-around wrestler, as opposed to the high-flying kicker I play her as.
She was also a bit more of bitch.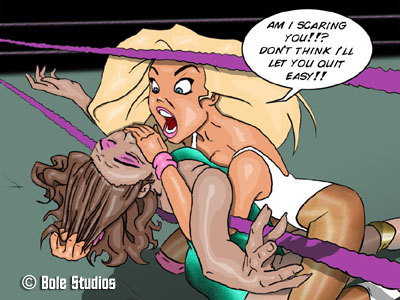 Posts

: 11326


Join date

: 2014-02-14


Age

: 30


Location

: Charlotte, North Carolina, WOOOO!



Page 4 of 5 •

1, 2, 3, 4, 5


Similar topics
---
Permissions in this forum:
You
cannot
reply to topics in this forum