Champions & #1 contenders
Highfly Flying Out Of Town
Tue May 22, 2018 1:31 am by HighFly
Hello everyone, I just wanted to inform all I have threads with that I will be gone from this coming Wednesday through Sunday. I won't be able to post consistently if at all during this time, but I will try to make up for it next week! I am sorry for the inconvenience to everyone.
Comments: 7
The Austrailian Mudslide is Back.
Sat Apr 21, 2018 6:20 am by Softsquad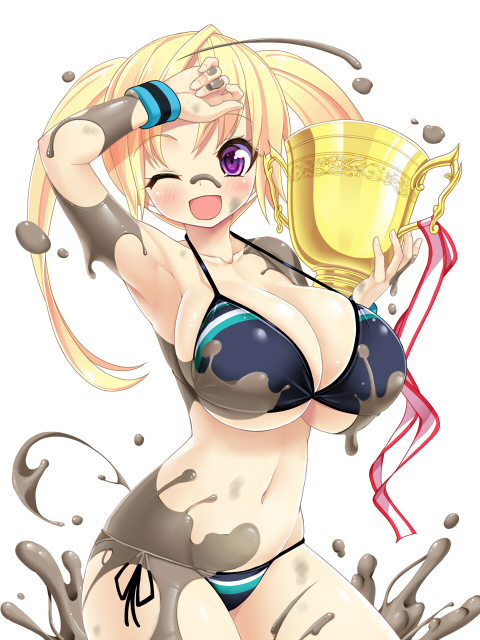 Granted that most of you won't know me or remember me, but I've had a few matches here and there some time ago. Well I think its time to become a regular around here and try to have some fun again, but at the same time keep coming back. Anyway I think its time to jump into some matches with Zoe Taylor, my mud wrestling character from Australia and get her back into the squared circle. Furthermore I will update my characters as I think some proper changes need to happen.
So if anyone would …
[
Full reading
]
Comments: 5
Page 7 of 10 •

1, 2, 3, 4, 5, 6, 7, 8, 9, 10


Lia raised and eyebrow and flashed a wry grin, "I assure you, I was a woman last I checked. I don't recall a time where I stopped being a woman for any length of time. I can be a woman just fine anywhere..."

She continued, "And, technically, that's the sort of thing traffickers WOULD say, wouldn't it?" She took a sip of the lemonade, "I am so, so glad I don't work for those employers any more, so the point is really moot."

Lia let out a hearty laugh at Violate's description of Margaret, "Oh, I bet the lawyer fucks like a tiger."

As Violate discussed her past, Lia nodded politely. As she finished, Lia's lips curled into a thin smile, "Quite a story, and you withhold just enough information to keep the audience hungry for more." Lia leaned in, "The German and I... we do have a good bit in common, come to think of it," A lie. At least as Lia saw it. But, if all the major players here spoke of Lukretia with the utmost praise, it was probably worth pretending. "I doubt we'll see eye to eye on everything, but I think I could learn to like it here." Lia pointed at Violate and winked, "You though... There is never a dull moment with you around, is there?" Lia took a swig of the lemonade, finishing the glass. She motioned to the maid for a refill. "I think you and I could get along juuust fine, especially if you can keep providing me with lemonade this good," Lia deliberately ignored Macha. The maid surely knew calling her 'mistress' was like nails on a chalkboard to her by now, but she did not seem to care. "And if you can manage to avoid fucking my food and drink," Lia added dryly.

Reaching into her pocket, Lia produced the business card she received earlier, "By the by, is this phone number worth the card stock it's printed on? I confess to not being that much of a troublemaker. I tend to be more of a troubleshooter." Lia produced a finger gun and punctuated the joke with a "Bang bang!"
Last edited by 241 on Tue Jun 07, 2011 7:40 am; edited 1 time in total
Violate grinned cooly at Lia's declaration. "Fufu. That's what I like to hear. A woman who is confident in who she is is the best kind of woman." Violate said as she licked her lips. She then mused at Lia's next words. "Oh? real traffickers wouldn't have even brought the subject up as a joke or let you see the hired help." Violate then grinned mischievously. "Or so I'm told, fufu."

Violat then joined Lia in her laugh, stifling her own quieter laugh with her hand. To boil it down into the bases of statements, yes." She said with a grin. "I think it may have to do with how unalike we are though. Brings out a different kind of passion, if you get what I'm saying?" Violate tilted her head curiously. She mostly wanted to hear how Lia would react. Maybe she did understand. That would prove to be quite interesting.

When Lia applauded Violate's story telling skills, the gardener tipped her hat in acknowledgment. "If I have anything to say about it, there's not, fufu." Violate said with a soft smirk as she listened to Lia speak of Lukretia. She had her doubts about Lia's comparisons but kept silent. "Hopefully you like it here. I hope you will be a welcomed change of scenery." She said with a slightly wider grin. She then chuckled to herself. 'Macha will keep the lemonade flowing at my request, won't you?" She said glancing to Macha who stood by diligently. "Of course, Mistress." She said and stepped away once more.

"Violate smiled and looked at Lia, raising an eyebrow. "I assure you, I have no interest in that sort of reckless debauchery. I prefer something a little more exhilarating, something more contained and yet unbridled..."

Violate then raised her eyebrow at Lia. "Oh my." She said smiling. "I shan't know the answer to that. I'm quite an innocnet thing myself." She then chuckled. "Fufufufu. Ms. Lawyer's as good as it gets. Maybe you could start being a troublemaker with that card in your hands." She said pulling out her own finger fun and reciprocating as she made a 'bang' noise back at Lia.
Lia nodded at Violate's description of her and Margaret's relationship, "Sounds about right, yeah." She tilted her head to the side, examining Violate, "You don't seem all THAT different though."

Lia folded her arms and gave Violate a cute smile, "I hope I'm a bit more than scenery, but we'll see what happens after I have a meet and greet with that Simo woman..." Lia leaned in, resting one hand on her elbow, "Oooh, exhilarating, contained, unbridled. Now I simply must know, what is it that you enjoy so, Miss Violate!"

Lia paused for a second as Violate reciprocated the gun firing, as if in thought. Then, she recoiled, clutching her shoulder as if shot. Grunting in mock pain that barely concealed a smile, Lia produced a finger gun with her other hand. Mimicking the sound of a powerful handgun, Lia returned fire at Violate.
"Fufufu." Violate chuckled as Lia guessed her and the Lawyer might be a little alike. "Well, then maybe you and I aren't all that dissimilar either, fufu." She then winked at Lia. "I certainly hope so as well." Vi said as she carefully eyed Lia. Indeed she wanted to do more than look at Lia but she was careful not to seem too interested in that. "A bunny mosaic has its charm, but something more lively would be quite nicer, fufu."

Violate's eyes widened when she saw Lia pull out her new gun and aim. She'd giggled a bit from Lia's overreaction and was never one to be outdone. She threw her hands up, tossing her hand in the air as she fell backwards in her seat and rolled out of it. Then she hopped up, clutching her chest as she staggered back into Macha who propped her up, just intiim for her hat to fall askew on her head. She then grinned. "Nice shootin, pardner, fufufu." She then pulled out her finger fun and extended her arm out and shot at Lia. "Bang bang!" She said in a smooth and sultry tone as she darted off down the Labyrinth and turned around to fire a few more shots at Lia. "Pew pew!" She said before chuckling. "Macha! stop her!'

Macha then sighed. "Yes, Mistress." She looked at Lia and took a stance like she had some kind of rapid fire gun. "You'll learn to cross the mistress... mistress.." She said, clearly not enjoying the game but participating in it anyway. "Uh... uh... uh... uh... uh..." She said shooting at Lia like she was Jessie the Body from Predator drugged up on morphine.
The fake pain in Lia's arm was too much, and she loosened the grip on her gun as Violate fell. Unfortunately, the Hatter was quick to her feet and recovery. Lia rolled out of her chair to dodge her next couple of shots, but when the maid produced a machine gun, Lia yelped. Reaching up, Lia grabbed her lemonade to save it. With a heavy shove, she overturned the table and used it for cover, sending the lemonade pitcher and tray flying in a fantastic mess. Poking her head up, Lia produced a grenade. Pulling the pin with her teeth, Lia hurled it over the table at Macha. "Chk! Clink-clink-clink! Chew on that!" She shouted in a heavy, slow-motion voice. In an exaggeratedly slow motion, Lia would duck back behind the table, hunkering in cover.
Macha continued to fire off a dizzying array of rounds at the rabbit with all the enthusiasm of a trip to the dentist. "Uh, uh, uh, uh, uh." She muttered in a a monotone voice. As the table was flipped, she sighed and suddenly found that her machine gun was jammed. "Uchnk." She said and looked down. She banged on the air to try and fix it only to hear the chink of the grenade. She tilted her head curiously and then closed her eyes before sighing again. "Oh no. A grenade. Pleas hel-ah." She then stiffened and fell backwards before readjusting her body so that her legs and arms looked more appropriate to someone who just ate a grenade.

Meanwhile, Vi was near a hedge. 'Oho!" She exclaimed as she pulled out her gun and shot a few more times at Lia. "It seems as if the Hare has come prepared! But she doesn't have what it takes to defeat me! Fufufu." She said as she ducked behind the hedge and moved deeper into the maze.
Checking over the table, Lia was pleased to see her grenade hit its mark. Vi's reappearance surprised her. Vi's shots would slam against the table right next to Lia's gun hand, knocking the finger gun from her grasp. She ducked back into cover. Catching her breath until Violate ceased fire.

She almost could not believe how quickly this broke out. It was hard to dislike Violate's enthusiasm. Maybe the two really were opposite sides of the same coin... Lia still trusted Violate as far as she could throw this house, but, hell, there were not many girls that something like this could happen with...

"I'm coming for you, Hatter. You don't stand a chance!" Lia called out as she reached behind her back, pulling out, with two hands, a pump-action shotgun. She gave it a weighty cock, "Chk-chk!" Aiming out from the side of the table, Lia fired a quick blast, but it missed Violate as she disappeared into the maze. "Keep running! This rabbit is about to hunt YOU!" Taking a last swig of the lemonade, she bolted over the overturned table and ran for the hedge wall. Stopping for a second, Lia turned and fired a blast at the downed maid, to make sure she was dead. Growling out the blast and following up with the heavy "Chk-chk" to chamber the next shell. She spun around the corner where Violate had disappeared, scanning the area down the shotgun's sights carefully as she proceeded with slow, cautious steps.
"Fufufu!" Violate chuckled from off screen, allowing her taunting cackle to reach the Bunny's faux ears. As Lia turned and faced Macha, the black haired maid turned and watched Lia. As the shotgun fired, Macha sighed. "Very good, Mistress. Now I am most certainly slain." She said as she covered her breast with her hand. She then closed her eyes and turned her head.

Meanwhile, Violate trudged through the maze with her finger gun held in both her hands. "Fufu." She chuckled to herself as she listened to the the rabbit's rantings. She stopped as she turned the corner once more and leaned down and picked up a pebble. She then tossed it so it would land in front of Lia. "You haven't won yet, the game is still afoot, Hare!" She called out hoping Lia would follow the pebble and the voice as she turned and slipped through the hedge so that she would be behind Lia and Lia would enter into an empty hallway.
Lia pursed her lips, halfway through the motion of putting six or seven more shells into the maid for continuing to call her 'Mistress.' It grated.

Cautiously, Lia advanced through Violate's maze. She was in enemy territory here; the Hatter's domain. A bad place to engage someone under the best circumstances, but you could not always pick your battlefields. Suddenly, a noise. Then Violate calling out to taunt her. "Hah! We'll see." Lia followed the noise quickly, but keeping her eyes open, expecting the worst... Only to find nothing but hedges stretching on.

She regarded the scene only for an instant. Her ears twitched. Her instincts screamed at her to turn around. In a swift motion, she would turn around, dropping to one knee, preparing to fire on any gardeners that she saw.
Violate grinned as she pulled her gun up. She thought she had caught Lia in a trap. But Violate's eyes raised when as she stepped up to put her gun up, Lia had already zipped around. Vi's gun was at Lia's forehead but Lia's gun was in Vi's gut, creating a tense and dramatic situation. "Fufufu." Violate chuckled casually as a bead of sweat rolled down the side of her face, betraying her nerves.

"So, Ms. Hare," she said with a smirk as she made a clicking noise as she pulled back the hammer of her gun. "It seems as though we are at an impasse." She then grinned. "Do you think you can slide that tasty little finger of yours back before I can? Even if you defeat me, It will be at the cost of your own life. Am I worth it? Is stopping me with dying for, bunny? fufufu." She asked in true villain fashion.
Page 7 of 10 •

1, 2, 3, 4, 5, 6, 7, 8, 9, 10


---
Permissions in this forum:
You
cannot
reply to topics in this forum