Who is online?
In total there are
49
users online :: 9 Registered, 1 Hidden and 39 Guests :: 2 Bots
acuya
,
Berial
,
Cicilia
,
Deus001
,
Hedgehawk
,
Kelsea
,
kerflubble
,
Person
,
RadiantKarna332
Most users ever online was
390
on Tue Jan 02, 2018 2:02 pm
Champions & #1 contenders
Moonhearts Promo intro thread is O p e n.
Mon May 21, 2018 4:21 am by XSirenX
Feeling brave?, lost?, or without a thread to post in?, hit up the newest Moonheart if any of those apply!
CLICK HERE
What Moon has to offer?, many things...:
Comments: 0
The Austrailian Mudslide is Back.
Sat Apr 21, 2018 6:20 am by Softsquad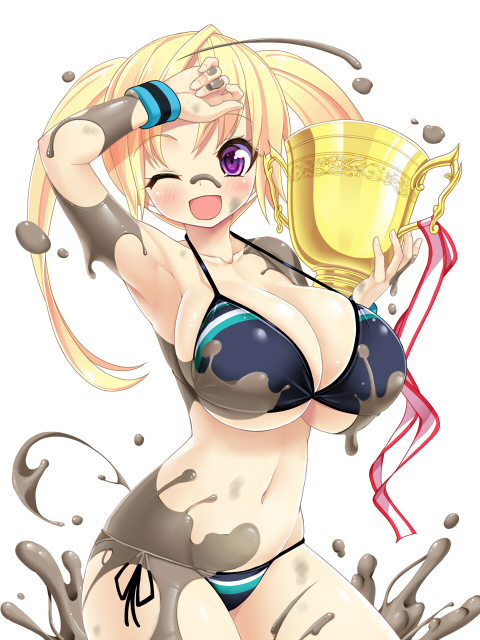 Granted that most of you won't know me or remember me, but I've had a few matches here and there some time ago. Well I think its time to become a regular around here and try to have some fun again, but at the same time keep coming back. Anyway I think its time to jump into some matches with Zoe Taylor, my mud wrestling character from Australia and get her back into the squared circle. Furthermore I will update my characters as I think some proper changes need to happen.
So if anyone would …
[
Full reading
]
Comments: 4
Page 5 of 10 •

1, 2, 3, 4, 5, 6, 7, 8, 9, 10


Lia let out a heavy laugh at Lukretia's not quite subtle flirting. "Ah, ha, haa... Violating the boundaries again! You're the very SPECIAL sort of crazy, aren't you, honey?" Lia bit her lips to avoid letting out any sort of pleasure at Lukretia's admittedly pleasant touch. "We're going to have to talk about my crazy person rates, because you are definitely on that list."

Lia shifted in the clinch, keeping her head over Lukretia's shoulder, not looking at her. "Alright, so if attacked by a swarm of boxers, I let you handle them..." Lia sighed, "You know, it really doesn't count as a notch on your bedpost if you have to beat them down to get them hold still enough for you." Lia stepped into the clinch. There really was no point in continuing this fight. It was not the goal here, and beating Lukretia was not going to happen. Of course, this was even more annoying. "Look, is this one of those things where you go bananas for people who don't want you? Because I could TOTALLY outslut you if it would just get you to behave like a NORMAL person around me."
Lukretia let Lia's chuckle slide for the moment. Her ear twitched as she waited for what else may come. She knew her words would get Lia's attention at the very least. It would make her stop the fight if only to make a snarky comment. Lukretia then slid her hand up Lia's breast, making sure she pressed firmly into it before grabbing Lia's tie and holding on oi it tightly. She would pull forward so that their cheeks touched, bending Lia over a bit. Her other hand, against Lia's waist, pushed forward.

"You are right, meine frau." She said in an even tone. "It vould hardly represent a mark of accomplishment if I simply seized you und fucked you here und now." She then paused and turned her head a bit so that her breath could roll over onto Lia's ear. "But it's also another thing entirely for zat person to be vorthy of meine efforts. Do you think at zis moment I think you vorthy enough for me to try und seduce? Or are you just someone who I could fuck und leave in a pile of zere own juices."

Lukretia turned her head fully and pressed her lips against Lia's cheek, leaving a mark of lipstick on the side of her face before pushing away. She brushed herself down before bending over and picking up her dress. "It's been a pleasure, meine frau. i look forvard to vorking vith you in ze futre." She said as she turned around nd picked up the dress, holding it up to gaze at it before turning her head. "If you ever call me honey again I vill make zis meeting look like a tea party, understand?"

Lukretia then folded the dress over her arm before turning around to look at Lia. She glanced over the bunny girl one more time. "If you have no further questions zen I vill see you tomorrow at 9 o clock sharp. Ve vill discuss your room und board und get you settled in."
Lia took several deep, slow breaths as Lukretia spoke. Her scent was... something else. As irritating as the German was, she had all the "it" she would ever need to back up her bitchy attitude.

Lia took a quick step back as Lukretia broke off the clinch... by then it resembled more a sensual embrace... but Lukretia was of like mind with Lia. The fight was over, well before that clinch. And Lia was right, that fight was not the point.

"I get the idea," Lia nodded mindlessly, taking a chance to catch her breath and calm herself down. She was more than a little hot under the collar after that. Lukretia was a tough woman to resist.

As Lukretia turned to leave, Lia's presence of mind returned. This was the first battle in a very long war. Sex she did not particularly want was not something Lia was unaccustomed to, but with this woman, it was something different. Something wrong. She could not let Lukretia get away with this sort of thing. Letting out a last sigh to clear her head, she called out, "Excuse me, we're not done." She fixed her face to a stern glare. "I... think I have been a bit too cutesy as you clearly do not understand me." It just struck Lia... "You just threatened me with violence over a pet name and ignored my only term." Lia grit her teeth, realizing what had just happened as she said it. Stuck up whore! Anger steeled her resolve. "This... this..." She gestured back and forth between the two of them, "Can not happen. If you really want to vork vith me, you need to behave yourself like a proper business woman and not some self-entitled whore." This was also a last chance to escape this obviously awful job, so maybe laying on the offense thick was a good way to do it. Lia raised an accusatory finger at Lukretia, "Maybe I don't speak Eurotrash inbred slut so this is not getting through to you. I. DO NOT. WANT. ANY. FORM. OF. SEXUAL CONTACT. FROM YOU. We CANNOT work together if you cannot respect this simple rule!"

She took a deep breath and continued in a calmer voice, but kept the venomous tone, "Is this sort of bullshit going to continue to be a problem or can you actually behave like an adult?"
Last edited by 241 on Sun Apr 17, 2011 8:39 am; edited 1 time in total
Lukretia was about to turn and exit the room when Lia called for her attention once more. "Oh?" She said as she looked slyly at Lia. She then listened as Lia demanded to be treated respectfully. At the end of it, Lukretia smiled. "Meine Hase." She said as she smirked at Lia. "If I vas a self entitled whore, as you put it, you vould be laying on ze ground in a puddle of your own juices. Considering ze fact zat you vork for a company zat pays you based on how vell you dominate other girls physically und sometimes sexually und you are griping about zis makes me vonder just a bit. Frankly you got off rather easy all things considered. I vonder if you vould even be able to handle yourself if you vere to be put into a match zat required sexual dominance." Lukretia's eyes flashed at Lia and her mouth widened ever so slightly. Maybe Lukretia would make that happen for her own amusement. But Lia didn't have to know that.

"Regardless, please continue to bring such zeal to ze vorkplace vith you every day, Ms. Cross. I look forvard to vorking vith you." Without waiting for Lia's response, Lukretia turned and walked out of the room, closing the door behind her.
As Lukretia talked, Lia's mind began to wander. That condescending look and tone was all the answer she needed. Everything else was Lukretia's ego. On the plus side, Lia had finally met a woman who even SHE thought talked too much.

Lia was all but ready to bid her good day, but Chesna had put her up to this. She really could not walk away now... Fucking polack addict whore. Lia had to endure this woman, and old instincts began to stir to life. Being combative had no effect. Lukretia was a wrecking ball in conversation as well as combat. She had ignored practically everything Lia had said up to this point. It was like she was back in the military, at the beck and call of preening officers...

Those old instincts kicked in. Bottle up any disagreement, just offer the pleasantries and make it work. "Yes, ma'am." Lia offered dryly as Lukretia left. No direct insubordination. No combativeness. The only way to maintain dignity was to out-dignify her. Decorum, class, stoicism. Well-practiced, but rusty, skills for Lia, but she swore to herself to keep those feelings held tight. For her own sanity.

And, besides, she would still ask for three times the appropriate rate for this job. If she had to take it, feathering her nest egg was the way to go.

I was hoping to retire from this crap, Lia thought as she picked up her blazer and slid it back on, Only things getting retired are my standards. She left the room.
As Lia left the room, there was a maid dressed in black waiting for her. Macha stood stoically by the door and bowed her head to Lia as she exited. Lukretia was no where to be found. "She spoke in a calm manner, never making eye contact with Lia. "Welcome, Mistress.' She said carefully. "If there is anything you would like then I am to provide itt o you to thebest of my abilities. A tour of the facilities or anything at the manor's disposal is to be provided to you as per Mistress Von Creuzfeldt's orders."

But before she could say anything, Violate slid in. "Come now, fufufu." The gardener said. "You need to lighten up a a bit." She said to Macha. Violate then slid over to Lia and inspected her. "Oho." She said looking at Lia with a smile. "Things must have went well." She said with a careful smile. "You seem to still have everything in tact, quite a feat all things considered, fufu." Violate then extended her gloved hand. "Welcome aboard?" She said as she raised her eyebrow and extended her hand.
Lia gave the maid a wary glance, but paid her little mind as she focused on straightening her coat and tie. It was the word 'mistress' that drew her attention. At that word, Lia turned and shot the maid a furious glare. She had no love for this place's 'sex trafficking' theme and certainly did not appreciate the suggestion inherent in the term.

Before she could speak, Violate drew her attention. Lia's glare melted into a courteous smile. Ah, the slightly less annoyingly crazy one. The Mad Hatter. Lia eyed Violate's hand in thought, "Well, I..." She paused, as if mulling over the words. In reality, she almost could not bring herself to say she accepted the German's offer, such as it was. It was degrading. "How to say this... We still have a bit to hammer out with the particulars, but I think the interview went as well as it could..." She took Violate's hand with just the forefinger and thumb, "So let's pencil it in as a 'maybe probably,' alright?"

She glanced up again at Violate's hat, "Nice hat..." She arched an eyebrow in thought, looking back at Vi, "Did I say that already?"
Macha accepted Lia's glare with a placid look of apathy. She had seen worse. It didn't matter if Lia wanted the title or not, considering their positions it was her duty to address her as such. She remained a stoic pillar as Violate approached and hopefully melded into the background as thee two began to talk.

Violate then smiled and tilted the brim of her hat with her gloved fingers. "With Lukretia, that's a practical success, fufu." She said with a smirk. Violate then took Lia's hand as it was grabbed and turned it and bent forward, planting a quick kiss on it. "As you wish." She said softly smiling almost cruelly as she looked at Lia's hand. She then lifted herself up and grinned at Lia. "It is nice enough to speak well of it twice." She said and then smirked. "But compliment it three times and I'm afraid I will have to put it down. I would never wear a hat with an ego bigger than my own, fufu." She then looked up at Lia and smiled. "Still, you managed to keep quite a lot of poise and grace after having just seen Lukretia. Though..." She thought aloud. "If you haven't anywhere to be in particular would you like to join me for a drink of your choosing? Out in the garden perhaps? It's quite lovely if I do say so myself. It will help calm you down after a session with Lukretia., fufufu."
Lia gave Violate a polite, but strained, smile as the gardener kissed her hand. She had her fill of feminine contact for a while now. ... Yeah, that includes Chesna. Cannot BELIEVE she hooked me up with this nutjob. Lia could not resist chuckling at Violate's quip, "I think the hat has a ways to go there, sweetheart."

Lia arched an eyebrow and an ear at Violate's compliment of Lia's supposed 'grace,' "I did some time in the military. I've dealt with plenty of people like Lukretia... So she's always difficult then?" Lia sighed, "I suppose I should get to know some of the folks around here. See the grounds, et cetera. And a glass of lemonade would hit the spot." Lia did not knows what to make of Violate yet, but she seemed to be a mix of psychotic and adorable that ensured she would be interesting but not someone you turn your back to. "Lead the way," she smiled.
"Excellent!" Violate said as she clapped her hands. Whether it was in response to Lia's words about the hat or the decision to come with her to the gardens was unclear. She then looked past Lia and off to Macha. "The March Hare will be having Lemonade and I will be having tea, bring them out to the garden, please and thank you, fufufu." Her politeness had an underlying sinister tone that was only hinted at by her soft chuckle.

"Yes, Mistress." Macha said and bowed before exiting the room. "it depends on what you believe to be difficult? I call it charm myself, fufu. I like the prospect of being around someone like Lukretia but if you're interested in money and business then you may be more like the doctor than myself." She said not knowing the two had a relationship of any kind. She took Lia's arm in her own and began to guide her to the back part of the house and to the back entrance where the garden was. "Lukretia hires two kinds of people, those who work for money and those who work because they are like her." She then paused her thoughts but continued walking. "Oh, and the maids as well but they are of a different breed, as you have seen, fufu."

The back yard was spacious and the two stepped out onto a rather ornate shaded patio. Off to the left was a large pool with a small, nearly house sized building off to the side. Even further back was a shrub wall with a vine covered trellis. Violate then continued walking. "You have access tot he pool should you ever decide to want to cool off, of course. Though the pool house is occupied." Violate paused. "I believe the other body guard resides there along with our pool boy. Both have their charms." She added as they got to the gated trellis and Violate stepped forward and pushed the gate open and bowed, letting Lia pass through first. They then meandered through was seemed to be a partial hedge maze before coming to a clearing. There was a beautiful and ornate table set made of perfectly carved marble. Statues adorned the sides of the small square area as well as flowers of all colors and varieties that gave it a warm and elegant feeling as well as being quite beautiful and aromatic.

"Please sit." Violate said as she pulled out a chair for Lia and gave her a smile.
Page 5 of 10 •

1, 2, 3, 4, 5, 6, 7, 8, 9, 10


---
Permissions in this forum:
You
cannot
reply to topics in this forum