Champions & #1 contenders
Serious apologies to everyone....
Mon Mar 19, 2018 1:59 am by Cy_Man
To those who I RP with, I just want to say that I am terribly sorry for all my delays that I constantly do. I just have been SO unbelievably busy as of late that I hardly have any free time to be able to attempt to make posts to our threads. I really needed to get his off my chest badly, and it makes me feel like a complete piece of shit for doing this all the time. If you don't want to RP with me, I completely understand, there should be no reason or excuse for me to have to keep you waiting …
[
Full reading
]
Comments: 2
Explanations and Apologies
Sun Mar 18, 2018 10:02 pm by acuya
Okay, so.
As some of you may have noticed, the Entropy Title Match from last year's Summer Splash has come to an abrupt conclusion.
The reason for this is because my match with Lies was taking too long, and with the next Summer Splash coming up, the Entropy Belt needed to be put in play for this year.
I won't get into the specifics of WHY that happened, suffice to say it ultimately comes down to my fault, I think. For those who haven't been here long, back in the day, I had a problem with …
[
Full reading
]
Comments: 1
A match for Takeichi
Mon Mar 12, 2018 7:31 am by GrandAkumaShogun
Since both Imai and Takeshi are currently involved in matches I was wondering if anyone is interested in taking on my first wrestler I made for here, Takeichi Mori. His profile says he's a jobber but I intend to change that and hoping a match can help with that. Anyone interested please get in touch with me on here in a pm.
Comments: 1

I too am in need of copying Cirnoâ€
s format because I think Iâ€
m starting to lack effort in making profiles.
=========================================================
Name: Hisako Hanamura
Sex: Female
Age: 18
Eyes: Green
Hair: Purple
Height: 5â€
4
Weight: 115lbs
Nationality: Japanese
Alignment: Face
Entrance Music:
==============================
Combat Information:
==============================
Combat Attitude: Hisako may be meek and shy, but she does like the feeling of winning. Hisako will put her best into her matches, but if itâ€
s not enough, then itâ€
s not enough. She does not like the feeling of being cheated and will do whatever it takes to get revenge.
Combat Strategy: Hisako will try to out wrestle her opponent and bring her to the ground where she can gain control of her.
Combat Style: Amateur Wrestling
Strength: Rank A - Hisako developed her strength by participating at her schools girlâ€
s wrestling club where she out wrestled the other members. Her swimming club also helped her in building her strength with all the swimming she does.
Defense: Rank B – Although great in her wrestling ability, Hisako does not know how to take a Strike since in her wrestling club she only dealt with slams. She can take slams because of this.
Endurance: Rank B – Hisako has some endurance to go on wrestling for quite some time and can come back after a few slams. Although after a while, she start to tire and will have to rest before she will be able to use her slams.
Speed: Rank B – Hisako isnâ€
t that fast and the only time she demonstrates such speeds is when she would charge in for a takedown. In water however, itâ€
s a different story.
Technique: Rank S – With her wrestling ability, Hisako has many ways to slam another girl and since joining AFW sheâ€
s been picking up on more and more ways to do so. Slamming is not the only thing she can do as she can maneuver upon a grounded opponent to control and wear her down.
Counter: Rank B – Hisako has a knack to slip out of her attackers hold and fight back with either a slam or a hold of her own. Although she doesnâ€
t know how to counter strikes at all.
Usual Attacks: Body slam, Belly to belly Suplex, Full Nelson, Slaps.
Usual Matches: Swimming Pool, Water Sports,
Style Information:
Wrestling Style: Rank S
High Flying Style: Rank D
Martial Arts: Rank D
Strikes with arms: Rank A
Strikes with legs: Rank C
Style Strategy: Hisakoâ€
s strategy is to get in close to her opponent and dominate her with her slams. After she has brought her opponent to the mat, sheâ€
ll then try to take advantage by secure some hold on her that would sap the energy out of her opponent where sheâ€
ll then finish her off possibly with her Gut-wrench Powerbomb: Tidal Bomb or her body scissors and body lock combination: Sweet Spot.
Finishing Moves: Tidal Bomb: Hisako would get her opponent to double over, wrap her arms around her waist, while standing a little off to the side, heave her into the air while causing her to turn on her back as she then falls forward and drives her opponent back first into the mat or where ever she is fight. Gut-Wrench Powerbomb.
Sweet Spot: Approaching a downed opponent, Hisako will take her back and apply a body scissors around her waist, while sliding her arms underneath her opponentâ€
s arm and wrap them around the chest and will start to squeeze on both body parts.
Appearance: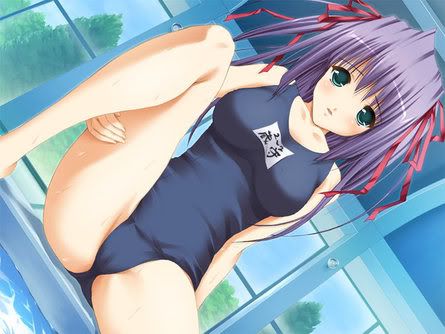 Personality: A shy girl that loves wrestling. Thatâ€
s who Hisako is. During her time in high school, she beat every girl in her club and she loved her swimming club as she participated in both with all eagerness. Because of this, Hisako has pressed her body against many girls and has developed an interest in girls that she is very embarrassed of but that doesnâ€
t prevent her from running her hands all over her opponentâ€
s body. In fact, she would love it if she could wrestle girls in a swimming pool, or one of those inflatable ones.
History: In High School, Hisako was a talented mat wrestler and demonstrated it in her club. When she graduated, her club advisor suggested Hisako should transition over to Professional Wrestling and she did. After finding a trainer to help with her transition (Guess who?) and spent a few months doing as she was told and sure enough she was ready for AFW.
Attire: In pic.
AFW Information:
Championships/Accomplishments:
Wins:
Lost: Vs. Kelly Flowers via pinfall
Draw:
Friends:
Allies:
Rivals:
Enemies:
Crushes:
Last edited by 1079 on Fri Dec 16, 2011 6:04 am; edited 2 times in total

_________________
COME HERE FOR THE COLLECTION



Posts

: 7780


Join date

: 2010-07-05


Age

: 26


Location

: New Mexico




---
Permissions in this forum:
You
cannot
reply to topics in this forum