Champions & #1 contenders
Offline for next week or two
Tue Feb 13, 2018 11:17 pm by peek6
Comments: 1
Thinking about making my return
Thu Feb 22, 2018 11:46 pm by KillerV
After it feels like a long long time, do feel like coming back but gonna keep it minimum on how many rosters Im using, currently three right now? But I am strictly doing male (me) vs female and maybe female (me) vs male, intergender matches that is.
So if theres anyone is interested, please let me know through PM, thanks.
Though I would like to use my King in matches >.>
Comments: 0
Gauging Interest For A Couple Matches
Thu Feb 22, 2018 7:07 pm by HighFly
Hey everyone! I was just throwing this out there to see who would be interested in doing matches with either Suzumi or Peggy! Look them over and if ya have any ideas please PM me!
Comments: 0

Name: Jewel Anderson
Alias: None
Sex/Gender: Female
Age: 18
Eyes: violet
Height: 5'1"
Weight: 111 lbs
Nationality: European
Citizenship: European
Wrestling Information
Strategy: Offensive/Acrobatic
Style: Striker/brawler
Type: Roughhouse
Preferred Attacks: Punches, kicks, elbows, whatever she can use.
Preferred Matches: Standard matches. KO matches
RPG Style Stat spread(out of 5 stars)
Attire: As shown in the picture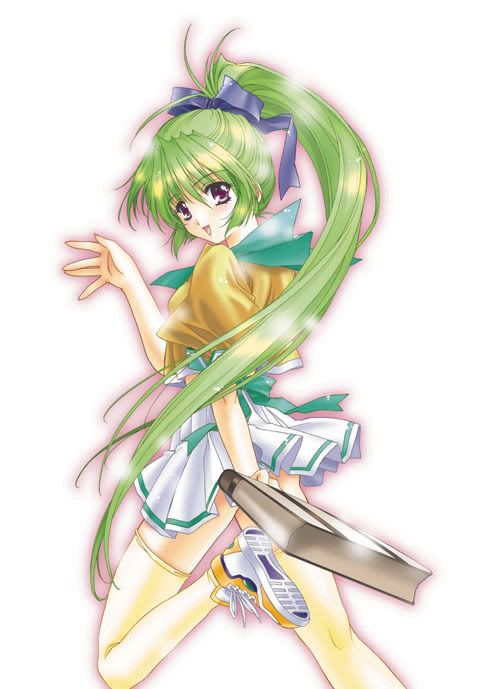 She likes to wear a frilly swimsuit at times though.
Endurance:★★ ★
Strength:★★★★
Speed:★★★★
Defence:★★
Technique:★★★★
Fighting style: She is a striker who likes to use her fist instead of techniques. She is very aggressive and quite sturdy and can take a lot of damage. She would gladly take a heavy attack, regardless of whether or not it's strikes or grapple moves as long as she gets her chance to counter.
She is fast on her feet and can dish out strikes and submissions quickly.
Her movements are wild and very fast, however they are straight forward mostly because of her impulsive nature, but when sheâ€
s in the groove, her movements can change drastically.
But she is very acrobatic and she takes advantage of that fact when moving around, attacking and also to escape submissions.
While she has a frail appearance, and a frail body, that doesnâ€
t mean itâ€
s all right to take her lightly.
She is a striker at heart and likes to strike an opponent, particularly in their stomach and their face. Her wild nature constantly stops her from holding back, and sometimes she goes overboard and breaks some of their ribs or their face.
Occasionally she would try some high flying moves despite the dangers involved. She likes throwing her opponents to the ropes or the turn buckles. There she would use the ropes to humiliate and hurt her opponents or for the turnbuckles where she would beat them and humiliate them sometimes with a face sit. Or just punch and kick the crap out of them.
She also likes to strip them of their clothing whenever she gets a chance.
Favorite moves: Mounting on her opponent, face sit and spear.
Finishing moves: Knock-knock: She punches or kicks her opponent until she stumbles across onto the ropes, then she would tie her opponents arms up as she starts punching them left and right until they submit or are unconscious.
High Fever: She would knock her opponent down first before she jumps onto the ropes and uses it as a spring to propel herself into the air where she spins 360 degrees and then crashing onto her.
Likes: Her family, her boyfriend, sweets and all things furry.
Dislikes: Lectures, teachers, loud mouth people and two face liars.
Personality: Childish and flirtatious. She is however very loyal to her friends and family. She is easy going and likes to take things slowly, however once sheâ€
s in the groove she would go all out. She is like a kid, constantly whining about many things, however one thing she values most would be her friends and family.
She likes flirting with both man and woman, even when she already has a boyfriend. However she doesnâ€
t take them seriously or anything.
History: She was just an average Jane from birth, she didnâ€
t excel at anything, everything she did was average, she also didnâ€
t really have many friends and companions apart from her boyfriend and her family.
No matter what she did she never stood out in anything, apart from her looks and surprising athletic abilities, but even that was nothing special.
One day, while reading some magazines, she came across several models from the AFW, and all she could do was stare in awe of them. However those articles became the trigger for her start.
Determined to make a name for herself, she joined the AFW hoping to show the world what she got.
Fun facts:
She spends a lot of time reading comics and playing games when sheâ€
s free.
She dislikes having to wait for things.
She pouts at every single thing even when sheâ€
s having fun.
Wins: vs faith hentai
Friends/enemies: None at the moment.
Last edited by 1169 on Wed Dec 08, 2010 1:30 pm; edited 1 time in total



Posts

: 2990


Join date

: 2010-10-14





Similar topics
---
Permissions in this forum:
You
cannot
reply to topics in this forum