Champions & #1 contenders
Summer Splash interest in Natasha Loclear?
Mon Apr 09, 2018 11:30 pm by daemongirl
Well my girl hasn't missed a summer splash yet, would anyone be interested in a match with her? Open to just about anything match wise, just pm me!
Comments: 1
Been Out with the Flu
Sun Apr 22, 2018 7:47 pm by daemongirl
Just letting those I have threads with know I've been out with the flu since early last week, but I will be back to posting tomorrow.
Comments: 0
The Austrailian Mudslide is Back.
Sat Apr 21, 2018 6:20 am by Softsquad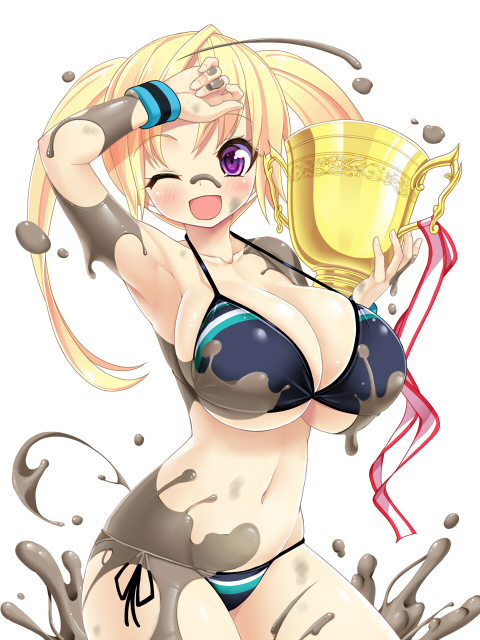 Granted that most of you won't know me or remember me, but I've had a few matches here and there some time ago. Well I think its time to become a regular around here and try to have some fun again, but at the same time keep coming back. Anyway I think its time to jump into some matches with Zoe Taylor, my mud wrestling character from Australia and get her back into the squared circle. Furthermore I will update my characters as I think some proper changes need to happen.
So if anyone would …
[
Full reading
]
Comments: 0
Page 1 of 8 • 1, 2, 3, 4, 5, 6, 7, 8


Standard match
Winner by Pinfall, Submission, or Knockout

Green lights cascaded the entrance ramp as Airbourne's 'To Much, To Young, To Fast' blared over the loud speakers. It was then that Layla MCarthy, the AFW's quite possibly shortest wrestler ame out from backstage, with signarure scowl plastered across her diminuative features. Without further ado Layla started her walk to the ramp, not much one for flashy ring entrances. The crowd cheered loudly at her arrival, many wondering if the small girl had it in her to destroy another larger opponant like in her debut. As it turns out she would be facing a woman who was making her debut in this very match, someone who would no doubt have more than a few inches on Layla. That never stopped the girl from stomping her opponants in the past. She would be sure to do it tonight.

With some degree of effort Layla climbed into the ring, doing a few warm up stretches in her corner as she waited for her opponant to appear.
After the prior athlete had arrived in the ring and had been there for some time, an almost tense moment of delay followed, as if the next competitor was purposingly granting this extra time just to make everyone wait on her. Then, the arena went dark, and the haunting opening of Siouxsie and the Banshees' "The Sweetest Chill" hauntingly echoed through the crowds while a deep blue light flooded the entire place. Every spotlight available seemed to join together as one as a leggy, dark-haired woman appeared at the head of the entrance ramp, and posed expectantly, a smirk played over her lips, as if waiting for the crowd to control themselves before continuing towards the ring.

She stood at an imposing 5'9, and every inch of it exuded power and confidence. She was dressed in skin-tight wrestling attire, dark blue with red and white trim, classy while still showing a bit of skin for the fans...and for her opponent, of course. Lynette de Villiers knew that this first match would be the hardest, with zero reputation and everything to prove, and while she knew only a fleeting amount of knowledge of her opponent, she felt she knew enough to take her advantages and reel in a win.

As she slinked into the ring, one would notice that the smug french girl had a riding crop tucked under her arm, hardly hiding it but not flaunting it, either. As she took her sweet time catering to the crowd and promising them victory with a few choice gestures, she let the riding crop drop neatly to ringside, and then turned towards Layla, their eyes meeting for the first time, and Lynette sized her up. While Lynette definitely had the size and reach advantage, no opponent would be taken lightly.

For her part, the debutante offered a nod of competitive respect to her opponent, before smirking and began to drift through strategic approaches towards dealing with this tiny spitfire. "Bonne chance, mon cher." She offered sweetly, her words dripping with a deceptive honey as she bowed with an almost-mocking French air, before easing into an elegant, poised fighting position, and waited for the bell to sound.

_________________
Lynette: [url:13oxfir8]http://afwrpg.informe.com/forum/friction-roster-f10/lynette-de-villiers-t3230.html[/url:13oxfir8]
Layla tapped her foot impatiently as her opponant took her sweet time arriving from backstage. She was half-tempted to go back there and drag her out when the woman's music started playing before that could happen.

The smaller girl waited patiently with her arms crossed as Lynette cattered the the masses, slightly studying her opponant befor hse even got to the ring. It was obvious that Lynette was taller than Layla, by several inches in fact, but that never bothered Layla before, and it didn't now. She also took note of the whip that she carried with her, wondering if she would be using that in their match. The woman may have placed it down, but Layla wouldn't rule it out as a possibility.

When Lynette finally did make it to the ring, and gave Layla that mocking little bow of hers, Layla reponded with a frown. The haughty attitude surrounding the woman made her want to puke. She hated people like that. "Whatever, lady," Layla replied grudgingly. "You better not be thinking of taking it easy on me." The bell would then ring, and Layla raised her arms in a judo stance, silently beckoning Lynette on.
Last edited by 379 on Tue Sep 07, 2010 4:48 pm; edited 1 time in total
Take it easy? How laughable.

Lynette thought to herself, as Layla was apparently in no mood for games. Ce la vie. The diminuitive fighter wore a grim, antagonistic expression, and while Lynette was far too restrained (for the moment) to likewise let spite cloud her judgment, her delicate expression hardened into a dangerous seriousness. The bell sounded, and Lynette tensed.

Judo, the french noble observed with a flicker of recognition as Layla positioned herself. Lynette was versed in it as well, and already her tactical mind whirred on how to properly deal with it. After only a few moments past the ringing bell, she aimed to make the first move. Those long legs carried her in only a few swift strides towards her opponent, and without hesitation, she made a reserved, careful lunge towards towards the left half of Layla's body.

But what was this? A feint! Before her hands even touched her opponent, she pulled them back, and with a most graceful design, swung her body's center of balance slightly downward, solidly on her left foot, and her right leg locked and swung back, up and around in unusually quick roundhouse kick, the french woman's heel aiming to collide into the side of Layla's head like a mace.

The attack was slightly high-risk for a first move, but if it connected, it would certainly start the match with a clear aggressive advantage for Lynette. Besides, her legs had an almost unfair reach over Layla's arms, and if Lynette hoped to win her debut, she could have no reservations about playing to her strengths, and against her opponent's weaknesses.

_________________
Lynette: [url:13oxfir8]http://afwrpg.informe.com/forum/friction-roster-f10/lynette-de-villiers-t3230.html[/url:13oxfir8]
Layla's eyes narrowed as Lynette approached her, the little fighter's guard up for anything the woman before her might throw. Unlike Lynette, Layla coudn't anticipate what moves her opponant might make, and could only hope to see it coming before it was too late.

Letting Lynette make the first move may have been a mistake, sine the woman learly had a size, strength, and reach advantage over her. Her first instinct was to deal with the supossed lunge the woman made. But when she realized that wasn't Lynette's real attack, her eyes widened when she caught sight of the long leg swinging diretly at her head. She caught it just in time for her to raise her arms and block the heavy blow.

Layla winced at the strength behind the kick, and her defense nearly crumbled as a result, but she managed to stay standing. Despite blocking the kick, Layla had still taken a good amount of damage from it. But now it was time to retaliate. After recovering from the impact, Layla immediately grabbed the offending leg, and would push up on it hard, looking to take Lynette straight to the mat.
A pulse of excitement throbbed for just a moment in Lynette's chest as she watched her offensive make headway against Layla's defense, pun intended. Though the kick was blocked and some of that power had been deflected, she was pleased to have seen it catch the smaller girl enough to deal a lasting first impression.

Lynette's momentary self-encouragement was cut drastically short, however, as Layla recovered in direct fashion, and the french fighter felt hands clasp firmly onto her leg and jerk harshly upward. Yelping out in surprise, Lynette hopped up on her left toe once, trying to keep her balance before it was clear that Layla wasn't going to release her until it was impossible to stay upright. As the stretch to keep on one foot became too much, Layla would get her wish, and Lynette began to tip and fall to the mat.

However, as she lost her balance, Lynette resolved that if she fell, she'd do so on her own terms. Gritting her teeth and offering a little growl of defiance against being taken off her feet so soon, she pushed up off her left foot entirely, springing upward in the air, and with a slightly less elegant but all the more fierce move, aimed to plant a left-footed kick into Layla's chest. Regardless of the delivery of the kick, Lynette was falling; she just hoped that she'd hurt her opponent enough to buy time to get back onto her feet before Layla fell upon her!

_________________
Lynette: [url:13oxfir8]http://afwrpg.informe.com/forum/friction-roster-f10/lynette-de-villiers-t3230.html[/url:13oxfir8]
With a triumphant "Ha!" Layla would manage to throw Lynette's leg upward, and trip her tall opponant right to the mat. Layla's strengths mainly lay in ground attacks, bringing the opponant down to her level as it were. Now that Lynette was down, the real fight could bgin.

Of course, Layla should have been paying attention to Lynette's other foot, and didn't notice it until it collided solidly with her chest. "UGH!!" Layla grunted, stumbling back a step clutching her chest. Layla's tiny couldn't take such heavy hit and not feel it. She ursed herself for being careless like that. "Ugh, damn it," she growled.
A second thrill of success clasped in Lynette's chest as her kick found its target, but once again, it was short-lived. As Layla thankfully reeled away, the tall slim woman fell hard on her back to the floor of the ring and almost had the wind knocked from her; she had been so focused on her counter-attack that there had been hardly any time to prepare to lessen gravity's blow.

Her pretty face showing an understandable amount of chagrin, Lynette doubled back, rolling backward and further away from her recovering opponent, and scrambled (perhaps not quite as elegantly this time) to her feet. She re-established her balance and poise, and locked herself into her favored ready position, her chest out and her chin up high. Though she had only a moment, she Lynette could not resist, and offered just a tiny gesture: her hand elegantly extended, palm up, and her index finger twitched, beckoning Layla to join the fight.

That confident grin eased over her expression once more. While narcissistic and a smidge arrogant, it had tactical reasons as well. Layla seemed the kind to become easily angered and more reckless in the face of a little jabbing mockery...and Lynette was all too willing to comply.

_________________
Lynette: [url:13oxfir8]http://afwrpg.informe.com/forum/friction-roster-f10/lynette-de-villiers-t3230.html[/url:13oxfir8]
Layla glared hatefully at Lynette as she got back up. She ould live with the small victory that her initial throw had caused Lynette some degree of damage, but it wasn't enough to keep her grounded apparently. The pain in her chest started to subside at this time, and slowly moved her arms from her chest into another fighting stance. The small exchange taught Layla to stay away from Lynette's legs, which wouldn't be easy considering her short reach.

Hr fists clenched as Lynnete mockingly beckened her forth, gritting her teeth a little. Combined with the woman's already infuriating attitude, Lalya was already ready to pound her face in something good. Snarling angrily, Layla charged right at Lynette, seemingly falling for her opponant's taunt. It looked like a suicide charge to anyone wathing. For one of Layla's size to charge headlong at someone of Lynette's size couldn't end well for the smaller girl.

Then just as it seemed Layla would collide with Lynette, the girl suddenly dropped down, and to everyone's surprise, would perform a baseball like slide right in-between Lynette's long legs. If it all went well Layla would end up right behind Lynette, with an evil grin on her face. If Lynette was still caught unaware at this ppint, Layla would then grab both her ankles and haul upwards, pulling the woman's legs out from under her so she would slam facefirst into the mat.
At first, Lynette had been sure her little pomp and tease had worked wonders; Layla certainly looked pissed, and then a full-frontal charge instantly followed. Her blue eyes flickering, things seemed to be going exactly how she planned, and she set her stance solidly, bending her knees and spreading them slightly, to prepare for the blow of a much smaller fighter and then promptly beat her back down. Layla just didn't have the size to tackle Lynette; it was a reckless manuever that Lynette would be pleased to take advantage of.

That is, it would have been, had Layla not had something else up her sleeve. For a split second, the Lady de Villiers winced in preparation for Layla's charge, and when it did not come, alarm sprang up in her throat. Before she knew it, she was watching Layla sliding cleanly between her legs, setting herself up at Lynette's back, leaving the taller foe vulnerable. Cursing, Lynette desperately tried to jump forward, up and with a long step, like a dancer's leap at a crucial moment.

It was only a half-successful evasion. While her front foot had escaped Layla's clutches, her other foot had been too late, and with a frustrated dread, she felt a firm grip grasp around her ankle. Even with her driving momentum, she was unable to shake loose or keep her balance, and fell forward onto her stomach, her hands up only in time to take a tiny bit of sting out of the fall.

She was in trouble. Shorter fighters loved ground grappling, and such barbaric tactics (!) were not Lynette's strong suit, unless she had a decisive advantage and was completely in control of the situation. Squirming and twisting in Layla's hold on her ankle, Lynette hissed, crying out a short string of something that sounded definitively unpleasant in french. Perfect form would have to wait; right now, Lynette was just trying to escape.

_________________
Lynette: [url:13oxfir8]http://afwrpg.informe.com/forum/friction-roster-f10/lynette-de-villiers-t3230.html[/url:13oxfir8]
Page 1 of 8 • 1, 2, 3, 4, 5, 6, 7, 8



Similar topics
---
Permissions in this forum:
You
cannot
reply to topics in this forum