Champions & #1 contenders
Offline for next week or two
Tue Feb 13, 2018 11:17 pm by peek6
Comments: 1
Thinking about making my return
Thu Feb 22, 2018 11:46 pm by KillerV
After it feels like a long long time, do feel like coming back but gonna keep it minimum on how many rosters Im using, currently three right now? But I am strictly doing male (me) vs female and maybe female (me) vs male, intergender matches that is.
So if theres anyone is interested, please let me know through PM, thanks.
Though I would like to use my King in matches >.>
Comments: 0
Gauging Interest For A Couple Matches
Thu Feb 22, 2018 7:07 pm by HighFly
Hey everyone! I was just throwing this out there to see who would be interested in doing matches with either Suzumi or Peggy! Look them over and if ya have any ideas please PM me!
Comments: 0

Name: Coralline James
Sex: Female
Age: 23
Eyes: Wide Green
Hair: Short Auburn-ish Red. She tries to keep it out of her face, but often fails
Height: 6"01
Weight: 180lbs
Nationality: American
Alignment: Tweener
Entrance music: Bullet with Butterfly wings by Smashing Pumpkins
Wrestling Information
Strategy: Rough, Tough, and often Brutal, but smile through it all. There are few who enjoy the fight more than Coralline, though not for its brutality. Hit them hard enough and they wonâ€
t want to get back up.
Preferred Attacks: Strong, slow, slamming punches, often delivered with the base of the palm.
Preferred Matches: Standard, First Blood, and Iron Woman
Preferred Rings: Hell in a Cell, Backstage Brawl, and just standard issue beatinâ€
ring.
Endurance: ★★★
Strength: ★★★★
Speed: ★
Defense: ★★★★
Technique: ★★
((assumed out of 5 stars))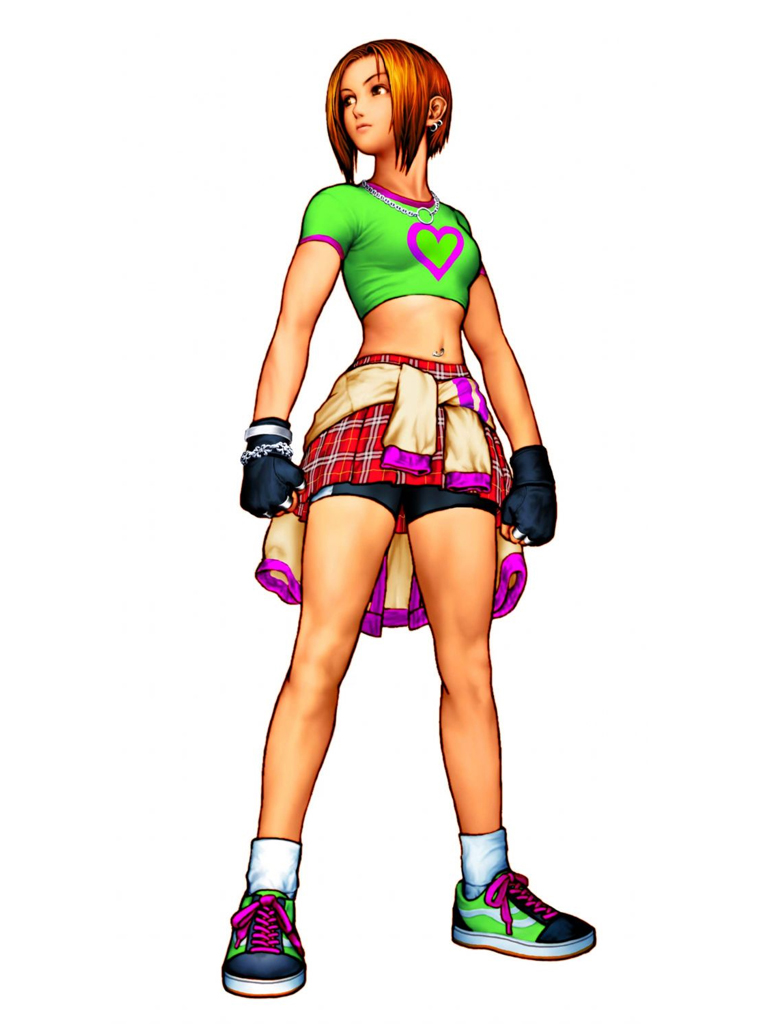 Favored moves:
Fall of Man
: One of her favorite attacks, the Fall of Man is a running grapple that starts with a cross body neck breaker. Upon landing on the mat, Coralline starts to mercilessly beat the opponent in the face while still holding their neck with the palm of her hand.
Forced Stop
: Starts with hold on their arm, followed by a strong push backwards still holding their wrist. Then, Coralline pulls them strongly forward while taking a step forward ending in a clothes line that continues to the mat.
Signature move:
Didcha Blink?
: A move that might cause some refs to watch a little closer at times. Once the situation presents itself, Coralline pulls out a set of brass knuckles, fits them on, then belts her opponent in the face. She then, in fear of the repercussions, slips them back off, hiding them in the top of her skirt.
Finishing moves:
The American Folly
: Start with a kick to the stomach, forcing them to double over. Coralline grab their shoulders, and force them into a powerbomb clutch with their head between her knees. She bring them up for a powerbomb with a gory bomb lift, then powerbombs them, bringing them back up to the position with their heads inbetween her legs, still doubled over. Coralline steps over their arms so their torso is between her legs and she grabs their waist. She then jump over their back and hooking her legs over their chest, forces them into the flip with her. The impact lands her on her bottom, with the opponentâ€
s body upside down, landing on their head.
Characteristics
Visual Appearance:
The Entrance music starts with a black, blank stage. At the end of the phrase "The World is a Vampire", thereâ€
s a small explosion at the door entrance, and out steps Coralline. Smoke is all over as she stalks the stage, walking back and forth until the snare starts, where she starts to jog down the ramp way. Once "Despite all my rage start", she explodes, bolting the rest of the way to the ring, and slides into the ring, which explodes at the posts. In the middle, she jumps up and down to the music. Itâ€
s normally over by "Iâ€
m naked".
Personality:
Fierce and unpredictable, but still loyal and honest, Coralline will use any means necessary to win a fight. To here, there is nothing better than the thrill of the fight, and she greatly respects people stronger than her, while encouraging others weaker to become stronger. This sometimes though gets her into trouble, as she will pick fights with damn near anyone, and never seems to take it too seriously, so enthralled in the enjoyment of the fight is she. She has absolutely no respect for people who donâ€
t enjoy the fights, or take them too seriously, prompting a "Fuck You" attitude to many.
Though incredibly strong, Coralline never really "got it". Assuming most people are as tough as she is, sheâ€
s oblivious to the sometimes ridiculous feats of strength sheâ€
s capable of, even wondering why no one seems to question how sheâ€
s able to punch someone so hard, they bleed (ala the Didcha Blink?)
Outside of the ring, sheâ€
s a bit of a slacker, not wanting to anything, unless it involves a fight. Backstage, she spends most of her time sleeping, listening to various Grudge bands, or making fudge brownies for the blind. Sheâ€
s somewhat alienated by the progression of America today, which drives her to vent her frustrations in the ring. If she was a bit more driven…or..well, driven at all, she would probably be a very dedicated lobbist.
Past/History:
Alongside two older brothers, she was brought up in Seattle by her father, a full time lawyer. Her older brothers were the ones watching over her, and though she was technically too young to be a Gen Xer, the culture she was brought up in qualifies her as such. They treated her like a little brother, always wrestling, fighting, and generally causing chaos where they could. Plaid, rips, and a general fuck you attitude saw her to the end of High School, passing only to show she could. After going through two years of College, Coralline ("Cor" to her oldest, "Line" to her middle) decided that school, like most things was bull shit too, and dropped out.
She read in a local bar about some back yard wrestling in Canada, and decided to move there. With a life time of beat downs provided by her older brothers, she was surprised to find she could handle even the best, often times winning because the others just wore out. Eventually, she fought her way to this ring.
Wrestling Attire:
Not eager to show too much, she normally wears a green shirt with a black heart on the chest, broken. When sheâ€
s not wrestling, she wears a beanie, but normally takes it off as she bolts towards the ring, throwing it to the audience. Around her waist is a tied sweater, but the color changes, depending on the day, though all of them look a little dirty and torn. A plaid skirt covers her legs, underwhich she wears biking shorts. She wears mid calf socks, also a little unclean looking and Converses tied in a way that just canâ€
t be practical. Coralline wears fingerless gloves that are form fitting on the fingers, and a small dull studded leather bracelet.
Fun Facts:
-Has seen Mr. Show more than Tom Kenny.
-When she decides that someone is her friend, which she does arbitrarily, they are in for life.
-Her brothers attend every match sheâ€
s in, and her father thinks sheâ€
s a nurse in Canada.
Last edited by 1131 on Sun Jan 02, 2011 6:52 pm; edited 1 time in total



Posts

: 23


Join date

: 2010-09-04





Similar topics
---
Permissions in this forum:
You
cannot
reply to topics in this forum