Champions & #1 contenders
Highfly Flying Out Of Town
Tue May 22, 2018 1:31 am by HighFly
Hello everyone, I just wanted to inform all I have threads with that I will be gone from this coming Wednesday through Sunday. I won't be able to post consistently if at all during this time, but I will try to make up for it next week! I am sorry for the inconvenience to everyone.
Comments: 7
The Austrailian Mudslide is Back.
Sat Apr 21, 2018 6:20 am by Softsquad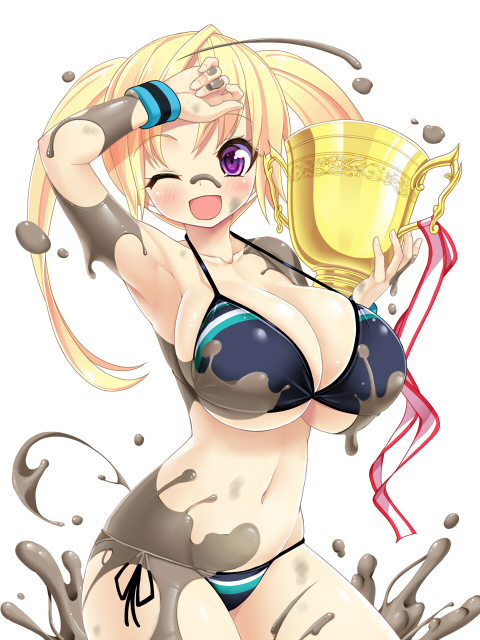 Granted that most of you won't know me or remember me, but I've had a few matches here and there some time ago. Well I think its time to become a regular around here and try to have some fun again, but at the same time keep coming back. Anyway I think its time to jump into some matches with Zoe Taylor, my mud wrestling character from Australia and get her back into the squared circle. Furthermore I will update my characters as I think some proper changes need to happen.
So if anyone would …
[
Full reading
]
Comments: 5
Moonhearts Promo intro thread is O p e n.
Mon May 21, 2018 4:21 am by XSirenX
Feeling brave?, lost?, or without a thread to post in?, hit up the newest Moonheart if any of those apply!
CLICK HERE
What Moon has to offer?, many things...:
Comments: 0
Page 8 of 9 •

1, 2, 3, 4, 5, 6, 7, 8, 9


Lia pulled her arms back and stretched, yawning softly, "Mmm... aah... Fine... fine. But you're staying with this Mistress Krautberg von Slutcakes or whatever, right?" Lia grabbed Chesna's hand again and nibbled softly on another finger, like a rabbit taking in a carrot. "Just I figured I had left behind having to bunk with a bunch of sexually maladjusted nutters with mommy and daddy issues... and that's not even counting YOU, sweetheart." Lia sighed, her breath blowing around Chesna's finger. "Fine, fine. Tomorrow, I'll start figuring out how to get a room in your cushy little cat house with the barest minimum of things shoved up my ass, okay?"
Chesna huffed at Lia's words. "I'm staying there because she pays good." She said. "I hate that bitch and wouldn't work for her otherwise." She then paused. "Also fucks good." She added in a monotone voice. "nnn..." She creaked. "Money and sex..." She sighed a bit. "All this sex must be sobering me up a bit." She looked down at Lia. "I'm starting to feel the pain of a wasted life again... better find some more tranqs..." She looked around quickly but didn't' see anything clearly in the open and within arms reach. "Also lazy..." She muttered to herself and flopped against Lia, appreciating the hand nibbling. "You don't have to worry. It's... actually pretty easy to get into the house. ... well If you don't mind being a maid... But I think you could do better than that. Actually... If I see you in a made outfit I think I would actually be a little disappointed." Chesna turned her head. "But I'd get over it while I was fucking the hell out of you." She added.

She leaned in and began to kiss Lia's neck. Not quite feeling ready to go again but just being affectionate. "And your ass is probably safe enough. Surprisingly I think I'm the worst offender. And that's mostly because it's my job as a doctor to check up there once in a while."
Lia arched an eyebrow at Chesna's remarks about the German. "Hate her? Don't hear THAT often from you. You really must be getting lucid on me, Chesna-baby... But, still, money and sex? Must be hog heaven for you!"

As Chesna fell against her, Lia ran her hand through Chesna's hair, grabbing her head gently and pulling her tight as she continued teasing Chesna's fingers roughly. "Aww... want me to find some meds for you?"

"W-wait, a maid? At Mistress Ilsa's Krauthouse of Slutdom? That has 'bad mojo' written all over it. My bojingo is abused enough by you. I don't need to play clown car for a bunch of psycho, maladjusted bull-dykes with more issues than tits." Lia gave another lick, "Besides, if you hate her, that's enough for me..." She planted a kiss on the next finger, "Don't get me wrong. Your judgment and taste are just fucking abysmal... me notwithstanding, smartass. But you're too wishy-washy that if you hate someone, they REALLY have to be a grade-A douchebag. Ain't cleaning toilets for someone like that." Lia released Chesna's hand and leaned in to her neck, planting love bites. Rough foreplay for anyone else was just pleasant loving touches for Chesna.

Lia would not have minded maid work with someone reasonable. A job is a job, and any job that did not involve killing people felt like a good one. Still, she also did not really need the money either. Mercenary work paid quite well, and for the time being, Lia was set. The AFW paycheck would supplement that nicely, too. But, these were not ideal circumstances, and Lia already did not like this German... "Eugh, you're REALLY going to make me do this, aren't you? You just HAVE to live on this nutter's estate... Slut..." Lia added under her breath, "I still bet you fuck circles around her."
Chesna sighed. "You're right..." She said. "But..." She sighed again. She couldn't tell Lia why she didn't like Lukretia. Lia would only join in on the kraut's amusements. "She's annoying. But not like you are. I can deal with a bunny." She said as she glanced down at Lia.

"nnnn..." Chesna breathed heavily as her hair was tugged. it felt really good. the slight force and the hint of pain was like a gentle kiss to someone else. "yeah..." She said turning her head and running her hand up to stroke Lia's breast. "Fetch, bunny." She ordered dryly, an obvious attempt and failure at humor. Nonetheless, she rolled off Lia and onto her back, letting her hand trail down to her pussy where she began to idly finger it.

She sighed as she heard Lia speak. "I am." She said. "You're not getting away from me again." She added seriously. "And you can't afford to keep me in a house our own yet." She also mused dryly. "So while I'm stuck paying the bills I'm going to live where the money is. I thought you wanted a sugar momma anyway." She said turning her head to let out a soft sigh of a moan.
Lia cooed, "Aww, Chesna-baby, you want me to go beat her up for you? I think I could give you a discount on the going rate for my services because I like you... just a small one though."

Lia nodded at Chesna's command, "Aye aye, but you still hafta say the magic word now," Lia teased as she rolled Chesna off her gently so she could stand up. On her feet, Lia wobbled a bit, "Wow... too fast." She muttered, rubbing her forehead. She gave Chesna a wry grin, "I don't think many people have enough money to keep YOU in a house... but I'm not too bad off, you know. I just retired from a short stint at a high paying, high risk job, remember?" Lia's eyes glanced off in thought, but then she snapped her fingers and grinned a devil's smile at Chesna, "You know what, I've got the PERFECT thing to cheer you up. You'll see! Just give me a sec!" Lia spun around and took a quick bound toward the door before stopping and whimpering, "owieowieowie..." Resuming in a brisk limp that arched from her hip, Lia swung the door open and glanced back to Chesna, "I'll be back in a flash, Ches. Just give me a minute to hit my locker." Lia would bound off, uncaring that she was a naked, sweaty mess.

In under a minute, Lia would slip back into the room, a wild grin on her face as she clearly was concealing something behind her back. "Okay, pilgrim... DRAW!" She shouted, as she lifted up what appeared to be a cordless drill with the drill removed and an eight-inch long vibrator duct taped to the end in a jury-rigged mess of wires. "Oh baby. I made this JUST for you! Industrial strength schlicking power, just for my favorite doctor!" She gave the trigger a squeeze, causing the drill/vibrator tool to let out a far too loud and uneven buzzing as the vibrator pulsed, spun, and hammered back and forth with frightening power. "Mhmmmm look at that. I call it... THE DRILLDO!" Lia shouted with glee. With another hand, she tossed a pill to Chesna, "You're gonna need this now that you've seen THE POWER!" Lia cackled madly, "The perfect thing for your scarred, leathery vagoo!" Lia cackled as she revved the drill again, holding it up in front of her face so her wild-eyed grin could be seen behind it. The buzz from the machine rose in intensity... until it rapid knocking sound joined in. Clicking, tapping, a crackle joined in the tiny, tinny cacophony as the vibrator danced in a frenzy... "Uh oh," Lia's face fell as she turned away, wincing, just as the vibrator let out a loud smack, a pop, and the motor exploded out the side. A shard of plastic struck Lia's forehead, knocking her head back as the drill escaped her hands and clattered to the floor. She spun around to cradle the wound and escape any secondary damage.

Rubbing her head, Lia turned back around to face Chesna, a sheepish grin on her face and a bit of blood trickling down her forehead. "Okaaay... we'll call that, ehhh... not quite ready for production. I became a handyman while I was gone... just not a good one..." She let out a nervous chuckle, dusting her hands off as she sat down next to Chesna, embracing her, "I promise though, the Drilldo Mark Two? Gonna ROCK YOUR WORLD, sweetie!"
Last edited by 241 on Tue Jan 18, 2011 2:18 am; edited 1 time in total
Chesna turned her head and let out a hot sigh. "Only if you film it... and I get a copy of the tap..." She said as she slid her fingers deeper into her pussy. Chesna let out a small grunt at Lia's words, though it was impossible to tell if it was her mumbled attempt at a please, a declination of the offer or a grunt from her working herself over. She dully eyes Lia's naked body as the bunny girl stood up, hoping to really get a look at it as she swayed from the dizziness. It was pretty hot seeing Lia naked and she liked it even better knowing that she fucked Lia that hard.

She turned her head again, brushing a sweaty silver hair from her face. "I'll take a sugar momma." She admitted. "And I don't need cheering up. I'm even." She said with the slightest edge to her monotone voice. Chesna watched Lia leave, curious about what she could be doing but not showing it on her face. She slumped backwards when Lia was gone and spread her legs, letting out a hot sigh as she closed her eyes and leaned her head back for a moment's peace.

She snapped out of it when she heard Lia's joyful chirping and blinked as she saw Lia in a cowboy pose. This usually mean trouble but she indulged it. When Lia pulled out the drilldo, Chesna's eyes widened and she sat up She shook her head and her mouth fell open. "I..." She said, leaping at the pill with much more effort than Chesna usually put into things and surprisingly caught it in her mouth. She swallowed it hard and began to crawl to Lia. "I need it..." She said as though she were close to begging for it. She paused as the machine sputtered and exploded, her eyes widened at the thought of loosing it. She watched it crash to the floor and leaped onto it like a frog. "Its... It's still good!" She exclaimed showing a little emotion as she grabbed at the chunks of the machine and tried to pull off most of the vibrator end. "Y-you..." She said looking up at Lia with an almost wild expression. "You get to work on mark II right away..." She then leaned over and began to fuck herself with the partially exploded machine. Her butt was raised in the air as her hands snaked underneath herself, the side of her head pressed against the floor as she let her tongue fall out of her mouth and began to desperately lick at Lia's toes in some bizarre sort of affection.
Lia chuckled at Chesna's frenzied reaction to the wreckage of the jury rigged, wrecked mess of duct tape, wires, drill parts, and a vibrator. "Oh wow," Lia knelt down and patted Chesna on the head, laughing as her toes were licked. "Alright, alright. Mark 2 coming up, you nut, but only because I love you enough to keep feeding your self-destructive habits." Lia let out another chuckle, twitching, "Ah, stop that. I was barefoot in the locker rooms. My toes are probably coated with the sweat, cum, and filth of the other girls here and that is actually going to make you keep going, isn't it?" Lia shifted gears while speaking, realizing her mistake without dropping a beat. "Whatever." She tickled Chesna behind the ears as though she were a pet.
Chesna continued to slide her tongue in and around Lia's toes and foot, reaching up and biting at the flesh just above Lia's ankle when she was close to cumming. "S-shut up..." She muttered between licks. "I'm not proud of this...' She huffed a hot sigh against Lia's saliva coated foot. "It does turn me on..." She muttered before her eyes widened a little and she arched her butt int he air. "hnnnhngh!" She moaned and collapsed, pulling the ruined drilldo out of her pussy which was followed by a flood of juices. She then lay panting against Lia, nuzzling the side of her leg like a cat as she was tickled.

"I... I think I'm done for today." She mumbled and pushed the machine aside. scaling Lia as if she was a mountain, she wrapped her arms around Lia's shoulders and slumped against her, panting. "S-shit...." She said as she buried her face into Lia's neck. Though she was hiding her face, there was no way Lia wouldn't feel the hot tears rolling down her neck as Chesna sobbed silently against Lia.
Lia embraced Chesna as she climbed up against her, the weight of the doctor on her exhausted body causing her to wobble a bit. She cradled Chesna's head against her chest and sat herself down, letting Chesna kneel above her. Lia felt the warm wetness around Chesna's eyes. "Finally," Lia sighed with a weary grin. "Thought you'd never stop," Lia teased her, trying to ignore Chesna's tears.

That said, this moment brought back a lot of long-buried feelings. Lia had done a lot... seen a lot... and had a chance to come back to her closest, dearest friend. To her dismay, she felt that telltale burning in her face, too. She stifled a sniffle and blinked back a few tears. "Oh... Chesna-baby..." Lia whispered, embracing her tightly.
Chesna's tears dried up quickly as she felt Lia touching her. She didn't move though. Her face buried in Lia's neck as she grabbed a long strand of hair and held tightly onto it. "Can't even... cry properly..." She muttered and kissed Lia's neck. She then fell backwards and tugged at the string holding her long braids in place, letting her silver hair unwind in a sweaty mess. It was good for something at least, as she rested in her makeshift mattress. She then reached up to pull Lia down to her before grabbing a hairful of her hair and slinging it and her arm over Lia to partially cover themselves up.
Page 8 of 9 •

1, 2, 3, 4, 5, 6, 7, 8, 9


---
Permissions in this forum:
You
cannot
reply to topics in this forum