Champions & #1 contenders
Summer Splash interest in Natasha Loclear?
Mon Apr 09, 2018 11:30 pm by daemongirl
Well my girl hasn't missed a summer splash yet, would anyone be interested in a match with her? Open to just about anything match wise, just pm me!
Comments: 1
Been Out with the Flu
Sun Apr 22, 2018 7:47 pm by daemongirl
Just letting those I have threads with know I've been out with the flu since early last week, but I will be back to posting tomorrow.
Comments: 0
The Austrailian Mudslide is Back.
Sat Apr 21, 2018 6:20 am by Softsquad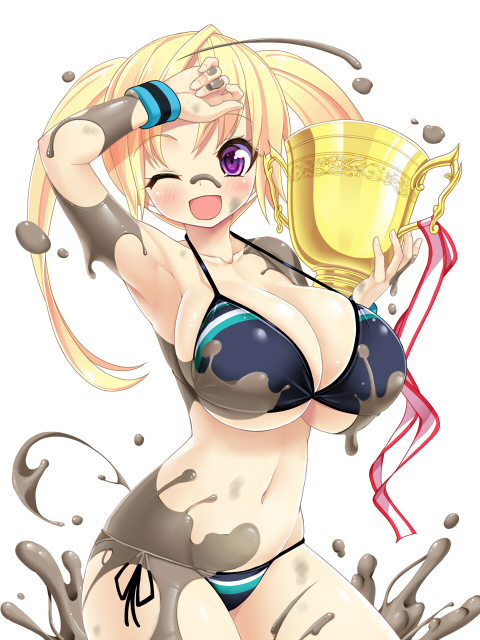 Granted that most of you won't know me or remember me, but I've had a few matches here and there some time ago. Well I think its time to become a regular around here and try to have some fun again, but at the same time keep coming back. Anyway I think its time to jump into some matches with Zoe Taylor, my mud wrestling character from Australia and get her back into the squared circle. Furthermore I will update my characters as I think some proper changes need to happen.
So if anyone would …
[
Full reading
]
Comments: 0
Page 2 of 9 •

1, 2, 3, 4, 5, 6, 7, 8, 9


Chesna turned her head slightly after biting Lia's ear. "You'd probably like it.. Everyone there is insane... or a slut... or both..." She said huffing a hot breath into the bunny gil's ear.

She groaned as Lia tickled her thogh, which was already slick with juices. Chesna was pretty sure she had cum already but didn't quite know. I like to know what's going on now... if I'm tripping like that, I make sure it's a controlled environemnet now... I don't like waking up in the middle of the night, screaming that my fingertips have turned into worms..."

Chesna pressed her womanhood hard against Lia's as they softly fucked, rteasingly really. "I help those in need... I have one of the biggest problems there is. And I don't like to fight... but the money is right so I do what they tell me. Sometimes I just trip out. One time I woke up really bloody... It must have been a pretty rough fight... I hope I won.." She said with a sigh.

"nn..' Chesna only made a small sound as she was pulled eye to eye with Lia, her dull eyes barely registering the intimate eye contact. However, when she was kissed, Chesna did lean in and put her full effort into it. "nnn..." She moaned softly.

"You act like I'm some brittle thing that could fall apart at the slightest touch. My haemophilia is mild...' She sighed. She then raised her arms and pinned Lia's down again, pressing her breats and grinding them together sensually, their nipples embracing as they touched. Chesna shuivered subconsciously. "Thankfully I finally found the right chemicals to kill my dreams..." She said, looking down at Lia with dull eyes.

She listened carefully to Lia's request however. Sighing again when she finally heard it. "You're right... it's really dumb.." She said turnign her head. She let go of one hand and reached into her nurses outfit. She pulled out a small pill and popped it in her mouth. After swallowing, she looked down at Lia. "You're lucky..." She said looking down. "That I owe you so much... do you know how hard this is?"

Chesna then leaned in so their noses were touching and her eyes softened briefly, she then pulled away and had a soft, nearly faint, smile on her lips. A faint blush made her pale cheeks brighten as she closed her eyes gently, still smiling. "Lia..." She said. "I do feel like this when I'm with you... on the inside at least..."
"Mmm..." Lia sighed happily. Chesna's breath and bites were enough at this point to eke a reaction out of her... The doctor was as amazing as ever. "Sluts and nutjobs? As opposed to us slutty nutjobs?" She sucked deeply on Chesna's neck as she ground her body against Chesna, the simple brushing against her womanhood sending shivers up her body, "Of course I'll love it, Chesna-baby. You'll be there. I don't care if you're working for the devil himself, so long as I'm with you, I'll be a happy bunny!"

"You? A controlled environment?" A guffaw escaped Lia's lips, but she caught herself, thinking better of it, "I'd have to see THAT... but... I'm glad. All those times I pulled you out of trouble... It's worth it now that you have a handle on it... Don't get me wrong. That SUCKED but... hey, you're worth it, even if I have to beat a bunch of drunks off you with a two-by-four."

Lia grinned widely after the kiss... that strangely anti-septic and... yet unrestrained taste Chesna had was even better now, "You BETTER have won. You're not allowed to get your ass kicked now than I'm here." A quiet moan escaped Lia's lips as her nipples met with Chesna. Already on their way, it took next to no effort to make them erect. "Ch-Chesna..." She took a deep breath, the excitement and rush from finally seeing Chesna again was making it tough to concentrate. She had to pace herself better.

"I... know you definitely bleed a lot more than you actually hurt, Chesna-baby, and I know damn well in those rare moments where you're lucid, you can fuck up anyone who comes at you..." She smiled, "You... just aren't lucid THAT often." Lia arched an eyebrow, "What DID you used to dream about? Were they like your hallucinations?"

Lia's eyes widened as Chesna reached for the pill, "Ah, Chesna-baby, you don't needta..." She stopped as Chesna took the pill and her mouth fell agape as Chesna leaned in. That look in Chesna's eyes was already a world apart... the color on her cheeks... that smile. That soft, oh so perfect smile. On anyone else, it'd be an afterthought to a polite greeting, but for Chesna.

"Oh... oh, Chesna..." Lia squeaked, her voice cracking. The gesture was overwhelming. She wanted to turn away as her eyes were obviously tearing up, but this was a sight she'd likely not see again. She couldn't turn away even as her eyes burned and tears began to trickle down her face, "Thank you..." She whispered, her voice cracking again... "So... so much..." She trailed off in a whisper. The real thing made her dreams pale in comparison.
Chesna turned her head, her soft smile drifting back into a more serene and placid look from the drugs that were starting to wash over her. Chesna leaned down and kissed the side of Lia's cheek and then kissed her way up the trail of tears that rolled down the bunny's face. The salty taste felt good on the doctor's numb palette, being able to taste anythign at all was something she enjoyed. She then began to kiss Lia's eye lids, slipping her tongue out to unusually catch any of the remaining falling tears.

"No matter how tough you get, you'll always be the sap between us." She said as she let out a soft warm breath roll against Lia's face. She then fell forward, her head bumping into the ground as she hugged Lia tightly. "I hope you didn't let anyone see that when you were hanging around with those tough soldier guys you big crybaby."

Chesna lifed herself up from the hug, her nose ripping blood on Lia's chest as she pushed up and slide the rest of her uniform off until she was just clad in her panties. She then looked down at Lia and began to pull off her skirt. She turned her head and dully gazed at the wall as she scratched her head. "Who knows..." She said as if it was nothing. "I guess I used to dream of rabbits a lot..." She shrugged and brought her hand down and practically tore Lia's panties off as she sat down on the bunny's supple thighs.

Without any other warning, she slid two fingers back into Lia's pussy and began to finger her, bringing her free hand up to grab at her own breasts. "nnn..." She groaned softly.

"Those people are unusual... not like us at all..." She said and then fell forward, hard as if she was going to slam into Lia but caught herself, her nipples stabbign into Lia's at the last second before her breasts were able to slam fully into Lia's.

"I remember now..." She said sliding her arm up and tugging on Lia's hair just enough to turn her head and hopefully open her mouth just a bit. "That you talk too much." She said and buried her tongue deep into Lia's mouth all while sliding her finger's deeper into the bunny's pussy.
Lia remained still, allowing Chesna's tongue to wander where it pleased. She sniffled, smiling, "Ooh, look at the junkie, all talking tough." She stuck her tongue out, "Least, I'm only leaking out of two orifices so I'm still in much better control than you." She returned the hug tightly, as if she was trying to communicate more affection through it than she felt she could.

Lia twisted her hips, helping Chesna work her skirt off. She hissed at Chesna's rough disrobing of her panties, "Eeh, easy doc, I ain't going anywhere... Rabbits?" Her rabbit ears perked up, "You say the sweetest things, Chesna-doll." She gasped and shook as Chesna entered her again, "Damn... yeah, just make yourself at home," She winked as she tensed up from the stimulation... "Ooh... ah!"

"Eeah!" Lia shouted as Chesna's creative nipple stab struck home, "Wow... that's a new one!" She cooed, "Ooh..."

Lia moved wherever Chesna wanted her, grinding softly against the doctor's fingers and twisting her head just how Chesna wanted. "Oh, I do, don't I?" She took Chesna's kiss, moaning into it, her tongue swirling around Chesna's. "Mmmmff..." Lia brought her arms down around Chesna, holding her tight, reaching down around Chesna's ass and stroking her womanhood with fingertips, teasing her softly.
Chesna made less noises as the two beauties softly made love and teased each other. Chesna forced her probign as deeply as she could, her mouth coated in a thin layer of saliva that seemed to be dropping onto Lia's lips and cheeks as she sloppily kissed the bunny. Removing her tongue after a long and semnsual kiss left a trail between the two as she looked down at Lia with her dull eyes. She pressed her fingers expertly into Lia's pussy, letting out a soft grunt as she was teased, her pussy dripping wet from already having came once already

"Who knows...' Chesna whispered as she sucked on Lia's chest, moving down towards her breasts. "You might hop off again before I have the chance to properly sedate you." She let her tongue fall out of her mouth and slibbered one of Lia's nipples before beginning to suck on it expertly.
Lia's body shook with each thrust Chesna made into her, probing ever deeper. Lia merely smiled as Chesna pulled back, letting the doctor's drool fall where it may. Feeling Chesna's womanhood, Lia quipped, a little strained now given how much was building up in her, "Aw, still cumming without any orgasm Chesna-baby? I'll have to see what I can do then..." She wrapped her arm around to Chesna's side to get a better shot at her crotch and snaked her fingers in, probing roughly, her nails threatening to scratch Chesna's insides.

Lia moaned loudly as Chesna sucked her nipples, "Aooh.... ooohhh. That's great..." Shivering, she bit her lip, trying to keep it together. making it a game of endurance at this point even as every pulse Chesna took into her shook her to the core. Release was inevitable, but she wanted this to last. She continued to slam her fingers into Chesna's pussy as violently as she could. Chesna's abused womanhood needed heavy duty stimulation to give the doctor any sort of feeling... and for all this, she certainly earned a bit.
Chesna spoke as she fucked Lia with her fingers and attended to her breasts. "Still cum tooo much... barely feel a thing... better than in college." She muttlerd between slurps, driving her fingers into Lia's pussy. Chesna's eyes widened ever so slightly when Lia stuffed her fingers into her sex. "Hnn..." She softly moaned, an indicationt hat Lia was ont he right track but probably barelya noise to anyone who didn't understand. "Used to scream like a banshee... needed the druigs to damper tha..." She huffed. "Ended up loosing most of my feeling..." She was only being reduyndant witht he very abridged history she was giving of her nymphomania.

"I want to hear you moan, bunny. It's been too long." She said looking up at Lia with dull eyes. "Maybe... maybe if you make it really convincing, I just might do the same for you, of course You'll have to work for it too..." She said with a dull sigh, grunting a bit as she was breached hard by Lia, "hnngghh.." She moaned again, still more liek a soft grunt, but beads of sweat were formign on her porcelein skinand her cheeks were flush. She'd cum a few more times before Lia could get a real orgasm out of her no matter how good she was, but it would definitely serve to lubricate the bunny's efforts. "And... use more fingers..." She said as she teased Lia's clit with her thumb.
"Aww..." Lia grimaced at the problem Chesna still had. "I hoped you would've gotten better..." Chesna's repeated cumming certainly didn't feel right, but it was the way Chesna worked. Lia pulled her fingers out to shake them a bit from the exertion as well as give her a few seconds away from Chesna's awkward biology to let thoughts of it pass from her mind before fiercely slamming them back into the doctor, adding a third finger and fondling Chesna's clit with her thumb.

She grinned wildly, matching Chesna's dull eyed stare with her own wild eyes, "Oooooohh..." Lia moaned obediently, "A tempting... ah, ah... offer," She loved it when Chesna called her 'bunny' like that. "Aaah-ah-ah-aaaah!" She began to pant heavily as Chesna continued to work Lia's breasts and her womanhood expertly. She could feel the buildup getting overwhelming, "Eh... Chesna baby, if you want to get the beaker, now's the time..." She called out.
"Depends on your definition of better..." Chesna mumbled as she continued to work Lia over. A soft sigh escaped Chesna's lips when Lia removed her fingers, the doctor lifting herself up slightly in protest, but when they were jammed back in, her eyes widened "Haaangh!" She grunted loudly, panting as her pussy instantly secreted juices in appreciation of Lia's rough treatment. "Better..." She whispered through a soft breath.

"angh... hangh... nnn... Lia... bunny..." She moaned in a near monotone fashion. She fell back down, nipping at Lea's breasts, gently biting her nipples while sucking on them and running her tongue over them.

"I can get a sample from you anytime..." She said and turned her eyes away from Lia, blushing softly. "Besides, I can't be bothered to go looking for a dish right now, who knows where I stashed them. She leaned forward and pushed her nurses outfit away while she kissed Lia deeply, grabbing a petri dish with one hand and tossing it so it rolled out of sight. Continuing to work over the bunny's womanhood, expertly.
"All better, Chesna-honey..." Lia cooed, shaking, biting her lip softly as she continued to pump Chesna... and herself on Chesna's fingers. She reached around Chesna with her other arm, embracing her tightly, pumping Chesna with increasing, but staggering, fury. As Chesna started to bite her nipples, Lia began emitting a soft, constant moan, "OOOoooooh...aaaah..."

"Chesnaaaaa~..." She cooed, forcing herself to flash a smile at the doctor's gesture, but her head quickly arched back, her eyes wide. "Aaaah... Chesna, keep doing that... and k-keep calling me bunny..." She twitched, her rabbit ears followed suit, she gasped, and then she came undone. The orgasm burned through her, driving her to buck violently under Chesna's touch. "AAaaaahhh... oohoohhoooooooh!" She mumbled a series of half-moans half-screams as she rode her climax. Her fingers struggled to continue their work in the face of Lia's orgasm but managed only to do so erratically at best.

The ride was wild but finally wound down to a gentle halt as Lia lay there, panting heavily, her fingers still thrusting themselves into Chesna. "Oooh... Chesna-baby..." She sighed, cheeks bright red, face beaming, a few tears streaming down her face again. She couldn't put it into words how wonderful this was. Swallowing softly, she would whisper "I'm... never leaving you again Chesna." A pause, then she'd add, "Dammit... how hard is it to make you orgasm you damn iron-crotched slut?"
Page 2 of 9 •

1, 2, 3, 4, 5, 6, 7, 8, 9



Similar topics
---
Permissions in this forum:
You
cannot
reply to topics in this forum