Champions & #1 contenders
Summer Splash interest in Natasha Loclear?
Mon Apr 09, 2018 11:30 pm by daemongirl
Well my girl hasn't missed a summer splash yet, would anyone be interested in a match with her? Open to just about anything match wise, just pm me!
Comments: 1
Been Out with the Flu
Sun Apr 22, 2018 7:47 pm by daemongirl
Just letting those I have threads with know I've been out with the flu since early last week, but I will be back to posting tomorrow.
Comments: 0
The Austrailian Mudslide is Back.
Sat Apr 21, 2018 6:20 am by Softsquad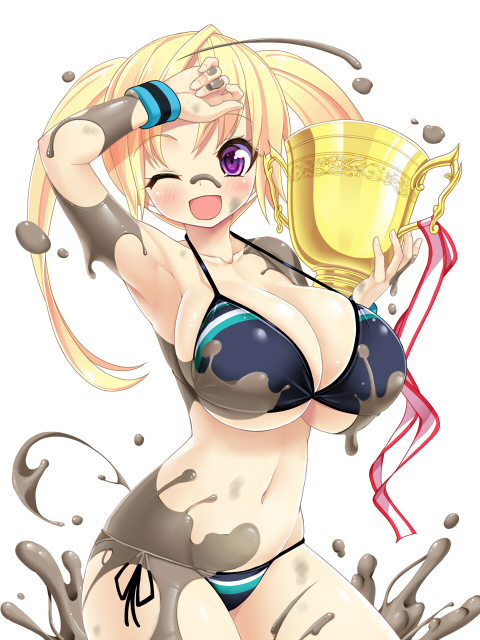 Granted that most of you won't know me or remember me, but I've had a few matches here and there some time ago. Well I think its time to become a regular around here and try to have some fun again, but at the same time keep coming back. Anyway I think its time to jump into some matches with Zoe Taylor, my mud wrestling character from Australia and get her back into the squared circle. Furthermore I will update my characters as I think some proper changes need to happen.
So if anyone would …
[
Full reading
]
Comments: 0
Page 2 of 3 •

1, 2, 3


Margaret winked at Violate, "My dear, all 'stiff' lawyers have their hobbies." She caught Morrigan in an embrace, offering a slight raised eyebrow at Violate, mouthing "No need to rush," at her.

Her eyes turned back to Morrigan, looking at directly at her now, "Aw, how cute... she's got that look in her eyes! She doesn't seem to realize..." Margaret would tickle Morrigan's chin slightly, leaning close, their lips hovering just hair's breadth apart. Morrigan would feel Margaret's breath as she whispered icily, "Know your place, dog."

Before Morrigan could react, Margaret would spin Morrigan around and slam her back into the wall behind Margaret, her hand clasping around Morrigan's throat. She smiled wickedly at her prey as she spoke coolly, "You aren't special. Lukretia has dozens of women just like you, and could put together hundreds with the snap of a finger. I've seen women tossed bloodily to the curb and forbidden from returning to the house of Lukretia for looking at her the wrong way. You are a convenience, you don't even deserve a name."

She slapped Morrigan, arching her head up now with a calm, commanding scowl, "Know your place and don't you dare look at me like that again."

Margaret ran her hands through her hair, removing the band and letting her silver ponytail drop, sighing. She smiled again, back to her more sultry self, "Take off your clothes. Make it entertaining."
Violate grinned and tipped her hat slightly at Margaret, offering the lawyer the floor, as it were, for the moment while she looked on with a smirk. Morrigan panted softly as Margaret caught her, wondering what was in store for her. She had only known Lukretia since she had been here. She was certainly sadistic enough but it was in a way that made one crave it even more. She was torn between being a complete slut for the german domme and trying to gain her approval, even acceptance. It was a terrible spot to be and each week that passed only increased her shame but she knew she could live no where else.

When Margaret leaned in, Morrigan felt her lips open. She was captivated by the stern woman, wanting to taste the girl and hoping that she would be treated to a nice fuck. Unfortunately, margarets words sobered her. 'Dog' She knew right then where this was heading.

She gasped as she was slammed into the wall. She wanted to scream that Margaret was wrong but all she could do was wince. Her eyes looked downward as Margaret continued to berate her, shame making her cheeks red. The hard slap only further demoralized her and when she was commanded to strip, she was almost too eager to respond, lifting up her hands, closingher eyes and swinging her hips and reaching up to slowly peel off the maids dress.

Morrigan's only consolation was that the other one seemed to be more playful. At least maybe she wouldn't be so roug. She opened her eyes enoug to see if her efforts were satisfying Margaret and to catch a glimpse of Violate, who still had a pleasant smirk on her face. Sighing softly, Morrigan closed her eyes again and pulling the dress down to reveal her top.

BANG!

The shot rang out and next to Morrigan was a hole in the wall. Standing behind Margaret was Violate with a smoking pistol in her hand and a dark grin on her face. Morrigan had a look of abject fear on her face as she shakily looked at the bullet hole next to her. A a trail of new liquid shamefully ran downher leg as she gasped for breath, her heart beating a mile a minute.

"Ufufufufufufu!" Violate laughed and stepped forward. She pressed herself against Margaret's back and placed the smoking gun near the lawyer's ear and blew on it, letting the cool breath wash over Maggie's ear. "Shame is nice, but nothing gets me wetter than seeing a look of abject terror on the face of someone I'm about to fuck." She then leaned in and began to suck on Margeret's ear. "I hope you don't mind, but I'm sure I can warm you up better than the little girly's strip tease, nnnnn..." As she suckled, she began to stroke Margaret's breast with her gun as well.
Margaret let out soft sigh as Morrigan humiliated herself for the lawyer. She let out a practiced air of indifference at the maid's general direction, and in fact made sure Morrigan never saw her actively watching her show.

For a brief second, even without seeing her, Margaret became dimly aware her partner was about to engage in some mischief.

She jumped, but just a bit, at the gunshot, turning quietly to offer a scowl to Violate... but then realizing where she was shooting and quickly catching a glimpse at Morrigan just to see her fear and... newfound shame. Margaret chuckled as Violate laughed, massaging the ear closest to where the gun had fired to try to work out the ringing. "A bit of a warning next time, dear?" She muttered, "I'm a bit too young to be shopping for hearing aids."

Margaret let out a content sigh as Violate fondled and propositioned her, "Oh, but just look at her," Margaret waved in Morrigan's general direction, "She has stripped herself, humiliated herself, and is now pissing herself just at our whims. And she's willingly subjecting herself to this!" Placing her hand on the gun, Margaret would grab Violate's other hand in a gentle embrace, turning around to face the gardener, "All of this, she thinks will make someone respect her!" Margaret's face, usually icy, was alight in a sadistic glee, "Gardener," she whispered, "I think I like your style." She leaned in, teasing Violate's lips once, twice... and then finally moving in for a passionate kiss. She'd pull back not QUITE long enough and move to Violate's shoulder, kissing her neck and whispering, "Seriously, do that again without warning and I will fucking end you, Gardener... Now... what should we do with this one?" She would lean back and offer a cool smile punctuated by another peck on Violate's lips.
Last edited by 241 on Thu Jul 29, 2010 1:24 am; edited 1 time in total
Violate carefully watched Margaret's movements, as she took the gun and then her hand and spun aaround. With a gruin and neither resistance, nor adherence, she allowed the lawyer to kiss her lisp, enjoying the stern yet passionate teasing she was receiving. Violate could tell alot by a woman by how they kissed, not that she really needed to tell anything more than the few minutes together had already told her about Margaret.

She let out a soft purr as her neck was kissed. She really wanted to see how this woman fucked. With the maid, she knew already. Pleasing, cautious, hardly worth youtr time unless you were desperate or could force something out of her. If she fucked margaret, it'd be more like a game of chess between the two, like how it was when her and Lukretia fucked. "Fufufu." She chuckled softly and pulled her hand from Margeret's grasp. She then reached up and slid her hand between Maggie's suitcoat and what little held her bountiful chest in place and squeezed one of the lawyer's tits. Hard, but not painful or threatening. "Don't like to be in situations where you aren't in control, eh?" She whispered back, thistime pushign forward and forcign her own tongue into Maggie's mout and deftly sneaking her thumb underneath the thin layer of fabric to run it across Maggie's nipple. "Awoman after my own heart... lawyer." She said right after their lips had parted, only inches from one another.

Violate pulled away and sidestepped Maggie, eyeing Morrigan who was still panting and shakily looking between the both of them. "Don't you see..." She said cooly as she stepped closer. "You may have ambition. I can see it in your eyes that you aren't a complete slave. But the gap that seperates us.... is very wide." Vio then took th gun and snapped the hammer back, causing a drop of sweat to fall down Morrigan's cheek.

"W-what are you doing!?" She stammered. "Y-you can't d-do this! You'll go to jail!" She pleaded.

Ufufufufu!" Vio chuckled again. "Do what the lady asked and finished striping. Make it sexy. You don't seem to realize where you are. You've been erased. No one will even know if you're gone... so get to it."

Morrigan was near the point of hyperventilating and finished undressing herself in a less than sexy manner. Which in no way hampered Violate's enjoyment of the scene.

"So..." Violate began. "I think, since I'm to blame for the sooiling, I have no problem taking the bottom, if you want the top." She said giving Maggie a wink.
Margaret let out a soft sigh as Violate fondled her, but her stern countenance didn't waver. Her eyes fluttered shut just for a brief instant as the Portuguese woman made out with her and groped her. Hands free, Margaret clutched tightly to Violate's ass, enjoying the kiss.

Violate was interesting... in ways that even Lukretia wasn't. Lukretia was the essence of control. Margaret was sure she'd never meet another woman like Lukretia... who had the world at her beck and call. Violate was different... wild, a schemer, chaotic... but still definitely cut from the same mold as Lukretia. "I think we will have some fun together," Margaret didn't flinch or blink as she returned Violate's stare, turning with her to turn their attentions toward Morrigan.

Margaret scoffed at Morrigan's protestations, "To jail? You're joking. I've got a guy on speed dial who could turn this into a suicide in fifteen minutes. If you're lucky, Lukretia might even remember your name for the obituary."

Margaret had to hand it to Violate... this was the way to go. Morrigan's sheer terror were better than anything she could have done to the girl alone.

"Let me have a moment, then we split her like that," Margaret winked back at Vi and advanced toward Morrigan first. She'd circle around Morrigan, tracing a finger around Morrigan's neck only to finally drop down the maid's cleavage slowly, touching ever so lightly past her torso and down to her womanhood. Teasing the lips softly, Margaret would dampen her finger as she traced Morrigan's thigh. "I... think you should clean this up..." She held her two fingers in front of Morrigan's mouth and pressed hard on the girl's shoulders, aiming to drop her to her knees and releasing her so she can have the movement she needs to lap up at Margaret's fingers. "Either my fingers or the gardener's little toy over there," she gestured toward Violate's gun, "Whichever you'd prefer."
Last edited by 241 on Fri Jul 30, 2010 4:04 am; edited 2 times in total
Morrigan had calmed down slightly but her heart was still racing. Lukretia ahd never once done anything like this to her. Of course she was afraid of Lukretia but it was a constant fear. It was something that was always in the air and never really spiked up or went away. Maybe these two, and the others in Lukretia's inner circle, the one that her and others coveted like some sort of holy council, were part of the threat. She swallowed hard, softly panting as Margaret stepped forward.

Her eyes focused on the lawyer and never wavered, she was wondering just what was in store. As Maggie circled, Morrigan turned her head to watch the gentle yet authorative finger. Small goosebumps appeared on the flesh it traced, her nipples becoming shamefully erect at the touch. She panted softly and followed the finger down her body. As the fingers dipped into her womanhood, she gasped, the pussy lips wet from various fluids.

"hnnngh..." She moaned as she bit her lip, desperately trying to hold it in as her cheeks flushed. But when Margaret pulled out, she looked up, almost pleadingly at the lawyer, only to be shoved to her knees with the stern hand.

When she was given the chocies, she looked over to Violate who chuckled and waved the gun lazily at her before bringing up and pointing it at her oown head and making a soft 'bang' noise.

Morrigan swallowed hard and closed her eyes. She then reached up and grabbed margaret's wrist tightly and shoved the fingers deeply into her mouth, furiously licking and sucking ont he fingers as she shivered at the taste of her own juices in her mouth. Her closed eyes watered as she moaned to help Margaret feel that she reallyw as enjoying it, pulling the fingers out and gliding her tongue along everybit, looking up as the held in tears cascaded down her face, drool fallign on her cnin and margaeret's lips. She then thrust the fingers back into her mouth deeply, gagging on them and swallowing hard.

She then turned, opulled out the fingers and looked away, with palpatable trepidation she stammered. "M-more.. please... it's... it's delicious... please give me more..." She said, nowunable to hold bakck the fact that she was crying openly instead of merely holding back tears that she didn't want to show.

"Fufufu." Violate said and clapped softly. "Very good Ms. Lawyer. We make quite the team if I do say so myself."
Last edited by 445 on Fri Jul 30, 2010 4:21 am; edited 1 time in total
"That we do, Gardener... that we do." Margaret smiled at Violate, wiping her finger off on the sobbing maid's hair. "How quickly she goes from giving that look to inviting us to do such things to her." She regarded Morrigan with a sneer, "This is what you wanted all along, isn't it?"

She shrugged, turning back to Violate, "You'd think creatures like this one would be bred out of society by now... I blame this malaise that has been infecting society for this past generation." She shrugged, "So, splitting the same way you said earlier then? Works for me." Margaret nodded politely at Violate and, in a sudden motion, lifted her leg up and planted a stomp with her high heels right on Morrigan's face. Margaret would then roll the maid on her stomach and plant herself on Morrigan's back. Rolling over and up, she'd bring the maid up into a sitting position in between Margaret's legs. With her arms free, Margaret would kick at Morrigan's legs to spread them for Violate while she squeezed Morrigan's breast tightly, pinching her nipples hard, with one hand. Leaning in to lick up a bit of Morrigan's tears, Margaret would probe Morrigan's mouth with her other hand, pulling at her cheek and occasionally pinching her tongue. "Violate, dear, if I scream, she's biting down, so I trust you'll put a bullet in her kneecap, for me. She'll never walk again."
Morrigan winced as Margeret wiped her saliva off in her own hair and said those words. Of course it wasn't what she wanted and she was beterayed for a second. "N.. no..." Her eyes widened. Even though her voice was weak and solemn, the words obviously not said in defiance, she was still fearful of what these two succubi might do. "Y-yes!" She said quickly. "I.. .I'm a dirty whore!" She hoped that giving an approppriate response before it was pulled out of her would help dissuade the two from punishing her for what she perceived as her own defiance.

"Fufufu." Vilate said with a soft smirk. "Indeed. It was hardly much trouble at all. I doubt Lukretia even had to break you... you... seem to have come already shattered into tiny little pieces... what a shame..." Ufufufuf!"

The gardener then raised her eyebrow at Maggie's words. "Oh?" She said. "I'm certain if the little girl switched places with either one of us, she'd not be here... because I doubt she could have survived the ordeal." She grinned as the lawyer slammed her heel into Morrigan's face, causing a trickly of blood to begin running between her eyes and for the maid to let out a gurgling moan. "Hnnghuh!"

"As Lukretia would say. We're doing her a favor... if she lives through it, fufufu." While one eye was closed from the blood, the other opened wide with terror as she looked past Maggie at Violat, only having a moment before Margert was tossing her about like a ragdoll. The harsh jstling dazed her.

"H-haaannn!" Morrigan yelped as her nipples were pinched hard, stiffening to their full cpacity shamefully in the lawyer's grip. "nnn..." She moaned as she panted. Morrigan sniffed as her chek was relieved of tears and almost gagged as her mouth was violated. "grrghnngh!" She sputtered and wriggled a bit.

"Roger." Viloate said as she put her index and middle finger to her forehead and gave a soft asalute to Maggie. She then bent over, Morrigan to engrossed in what Maggie was doing to her to even realize that Violate was running the gun up her leg. She then shoved the barrel into her pussy and Morrigan made a muffled half scream, biting down, but not hard or inentionally. "Nnnnghoorrghoo!" The maid also kicked frighteningly, trying to keep what was happening from happening.

"Fufufu!" Vilate said. "She's got some life in her again! I like it." Shr then licked her lips. "But if you keep squirming, I can't guarantee that my trigger finger won't slip." She looked past Morrigan and smiled at Maggie. "Do you like Russian roulette?" She asked and then laughed before pulling the gun out , the barrel dripping with juices and then slammed it into Morrigan's knee. The girl let out a nother scream, trying desperately to break free and Violate pulled the gun down at the same time she pulled the trigger and a loud BANG! filled the room again. Morrigan's cheeks were white and she was screaming in agony for a loud moment, thrashing against Maggie, throwing elbows backwards when Violate began to laugh. "Ufufufufuf! This is delicous! She then leaned forward and licked Morigan's blood off her chooke, leaning in and coping a feel on Margeret's breasts again. "Ms. Lawyer... It's not very fun to break them to the point where they can't be any more fun..." She then looked back as another trail of Shameful fluids led from Morrigan, down the side of her leg and to a hole in the floor where the bullet had gone intot he floor. Morrigan's leg merely bruised fromt he initial impact of the gun.

Morrigan was now shaking, her flush unable to return, the ghostly pal being stained with blood and tears, her eyes burnign from being wrenched open. She wondered if at this point having the gun trained on her might not be better than what was being done to her.
Margaret merely raised an eyebrow at Morrigan's weak protestations turned to begging submission. "I suppose," she let out a lazy response to Violate, "But I do not think women used to be so conflicted..." She let the words hang as she took hold of Morrigan, assaulting and teasing her.

She smiled, licking her lips as Morrigan moaned under the treatment both women were giving her. Her lips only parted barely, revealing grit teeth, when Morrigan bit down and bucked. She squeezed the girl at her breasts and eventually brought her legs to bear in a scissors to keep her under control, flinching slightly and breaking into a vicious grin as Violate fired again. Margaret only flinched slightly, taking Morrigan's clumsy elbows easily.

Letting Morrigan finally fall limp and shivering, she sneered, "Again? So soon?" She taunted, looking at the trail running down Morrigan's leg again. "It's like she has never seen a gun before." Margaret let out a sigh when she was groped by Violate, turning toward her and grabbing the gardener's hand gently, but firmly. "YOU are the one doing all the shooting, dear Gardener." She traced her finger up Violate's arm lazily. With a heavy sigh, she looked toward Morrigan, "But we certainly didn't succeed. Look at her... She still thinks this is just something horrible being done to her by two awful women." She called out in a mocking sneer. "This one wants someone to rule her, to control her, to wipe away every difficult decision for her, but she does not actually want to live up to the responsibilities that decision entails," Margaret shrugged, "She can not rise up. She wants to submit, and yet..." Morrigan shook her head in frustration, "Women used to TAKE responsibility! They understood their desires and act on them! This one just... thinks she can set her own rules on one side, and pledge herself to her betters at the other. A pathetic, two-faced dog." She shook her head.

Her disdain gave way to a weary resolution, "Well, I suppose it can't be helped." ((DING!)) Crawling over to Morrigan like a tigress eying it's prey, she turned the maid on her back. "We got this far, we may as well force her to give herself entirely to us." She caressed Morrigan's womanhood softly, looking back at Violate, inviting her to join in, "Unless you've got a better idea, Gardener."
"fufufu. I'm sure she's never been so close to one before, let alone had one fired on her general direction." Violate said with a smirk. "And I might have thw gun, but I you're the one that's made her bleed, Ms. Lawyer. And you broke her poor little self esteem with all your harsh harsh words." She waved her finger scoldingly at Maggie and then chuckled.

Violate then looked over the scene as Maggie straddled Morrigan and pressed her hands against her womanhood. The maid gasped and shivered, blushing as she was violated.

"hangh..." She looked up through blurry eyes at the lawyer.

Violate leaned on and pressed her pelvis against Margaret's ass. She leaned her hand down and reached underneath and stroked the lawyer's panties. "nnnn... I'm still waiting to see what you're like in bed, Ms. Lawyer... Fufu..."She then stood up and backed away and went around to Morrigan's front.

"But we still have plenty of time for that... I'm not done with this girl yet." She said and put her heel on Morrigan's forehead. "We're not even close to breaking her yet..." Violate sighed. "Which is unfortunate. She's earned a little bit of pleasure for now though..." Violate then sat down, pressing her crotch down and closing her thighs around Morrigan's head. Violate then reached down and pinched Morrigan's nipples as hard as she could. "Say you're a slut if you want me to stop." Violate then waited for a few seconds, smirking at Maggie. She then let go.

"Good. She can't hear us. She might pass out soon thout. Screaming like that, she'll run out of oxygen faster. Geeze... You'd think she's never been choked unconscious before... Ufufu... So... What do you think of Lukretia's help here in the Japan branch? Seem nice so far." She said with a sly grin.
Page 2 of 3 •

1, 2, 3



Similar topics
---
Permissions in this forum:
You
cannot
reply to topics in this forum