Who is online?
In total there are
23
users online :: 2 Registered, 0 Hidden and 21 Guests :: 1 Bot
Liesmith
,
LunarWolf
Most users ever online was
155
on Sun Oct 09, 2016 8:33 am
Champions & #1 contenders
Hi I'm back...I don't know where to begin...
Fri Sep 15, 2017 6:43 pm by Silentcoins
Hello everyone. I'm not too sure if anyone still remembers me, but if you do thanks.
I haven't been around for a long time for reasons I guess. If there's still anyone out there who wishes to play with me or to continue whatever we left off, please don't hesitate to reply.
It's kind of awkward just saying this.
Comments: 7
I'm Back
Fri Sep 22, 2017 11:57 am by RadiantKarna332
Alright, after a few days of hiatus, I'm back. I'm sorry for my absence, for those who have threads with me here.

Comments: 4
Looking for a match.
Wed Sep 20, 2017 9:27 am by Silentcoins
As the title says, I'm looking for a match up.
I can do just about any kind of match up, though I prefer one with some hentai elements mixed into it. Wonder if there's anyone interested in a match of any kind?
Comments: 0
Page 1 of 9 • 1, 2, 3, 4, 5, 6, 7, 8, 9

Hardcore match
Victory via KO, pin or submission
The drums kicked in that was the beginning of "Banana Splits" by The Dickies. As the "Tra la la..." started, a group of bats seemed to appear from no where and all flocked in around the top of the rampway, they closed in on themselves until in a *puff* they formed one body... The boby of a very cute young looking succubus girl with blond pig tails
Izzi stood at the top of the ramp way with a wide grin on her mouth, turned sideways on to the camera's and bending over slightly so as to show off her ass... And what a cute ass it was! dressed in dark bluish purple skin tight lycra bike shorts, the smooth curves of her butt were really on show. the top half of her body was dress in a tube top of the same colour and material as her shorts
She bounced down the rampway and slid in under the bottom ropes, getting to her feet by one corner
Last edited by 2 on Sat Mar 05, 2011 10:24 am; edited 3 times in total
Ataru walked his way to the ring as the speaker announced rethorically: "...the human challenger... Ataru... Toranamiiii...!".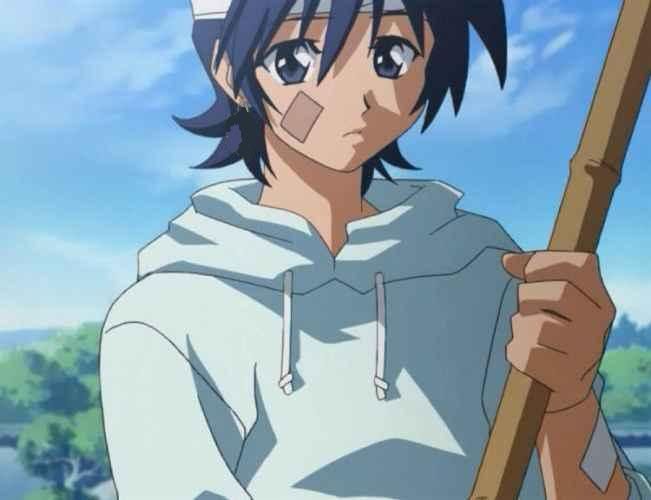 He couldn't help but notice Izzi's lovely looks as she did her teasing number for the cameras.
But, he needed to stay focused, and not forget that she was always a lust demoness, ready to take advantage on his male instincts...
Izzi would probably not miss to notice the slight blush on Ataru's cheeks as he joined her onto the ring with such thoughts crossing his mind. "H-Hello, my name is Toranami Ataru, hope we have a good match", he cheered nicely after stripping to his wrestling suit, consisting of white-red wrestling shorts with matching boots and fingerless combat gloves. Bowing lightly before the attractive succubus, the young human set himself ready to fight.
Last edited by 157 on Sun Jun 06, 2010 4:57 pm; edited 3 times in total
"Save it kiddo!" She snapped, despite the fact that she looked distinctly younger then him "I know exactly what you are... Demon Hunter." She said pointing accussingly at him.

"And when you're only a human as well.. Ha! I'm gonna introduce you to my butt.." She said, twisting her hips so as to show off the side of her butt cheek as she gave it a playful spank and made it jiggle. "Then I'm gonna feed on ya.... Hmmm... Or maybe I should feed on ya and then introduce you to my butt, what with you having to kiss my butt and all... not sure if I'm gonna wanna kiss you on the lips after that..."
"G-Gasp...! H-Hey... you talk like i had no chances to win the match... we'll see about that". Ataru's face flared as the tauntingly sexy succubi was deciding how to toy with him.
"By the way, i'm not here as a demon hunter, but only a human wrestler, here to show that humans can be tough opponents. If you're planning to feed on my, then you're going to be disappointed".
With that, the bell rung and Ataru assumed a fighting stance, not willing to throw himself into a direct and imprudent attack.
Izzi had her index finger up against the side of her chin as if deep in thought and trying to make some important decisions.. Decisions on whether to smother or kiss first... "Then again you should be fully awake when I wipe my butt over your face..." She continued and then almost as she hadn't been sure if he had just spoken or not, she looked at him.

"Hmm..? ...Well of course you had no chance to win this match silly... Did you actually think you might get lucky and win? teehee.." She shook her head and placed one fist on her hips

"Nah... This match is decided, the blush on your cheeks and the fact you can't keep your eyes off me is evidence to that... Bet you starting to feel your shorts tighten too huh?" She gave him a cheeky grin "Only thing undecided is how long do I kiss you for... You may not have come here as a demon hunter, but you still are one, I should really kiss you for a long time and really put you under Izzi's spell just for choosing that profession..."
Ataru blushed even deeper at her cutecy tauntings. Also, his body was really starting to react to the succubi's alluring presence, which he knew would go at his disadvantage during the match.

"P-Putting me under your spell..?? N-No way...! ". tricked by her playful tauntings, Ataru abandoned his starting prudence and threw forward, trying to catch her opponent with a standing headlock to start testing her opponent...if she let him do it that is.
Izzi had evidently got to him a little with her smack talk and rather then doing what he originally planned, Ataru just through caution to the wind and rushed at her... It was a pretty easy feet for Izzi to see the move coming and drop down to the mat, entangling her legs with his in a drop toe hold and try to make him fall face first into the lower turnbuckle pads
"Ugh...!!". Ataru would get tripped by Izzi's maneuvre, thus falling right into the corner, ending with his face resting on the lower pad and his hands hanging at the lower ropes. "Uhnnnn....", he groaned softly, temporarily stunned in the vulnerable position.
Izzi got to her feet and then leant down with her hands on her hips in a cocky pose, peeking down at him

"Seeeee...?" She exclaimed "I told you so.." She'd then climb onto him with her feet standing on his back, gripping at the top ropes with her hands and using him to bounce up and down a little.

After a moment, Izzi would spring up off of his back and let go of the ropes in mid air... Trying to slam her little form down with her tight bike short covered butt right in the center of his back
"Ungh...d-darns.. UNFHH!!". Izzi's butt landed right onto Ataru's back, pressing some air out of him in such a taunting way.
The boy tried to push her off but, pinned in such unconfortable position, all he got to do was to squirm underneath her, giving a pleasurable feel to her butt while she sat on him.
Page 1 of 9 • 1, 2, 3, 4, 5, 6, 7, 8, 9


Similar topics
---
Permissions in this forum:
You
cannot
reply to topics in this forum