Champions & #1 contenders
Active Kawaiis
Sat Jun 24, 2017 1:25 am by Daaharu
Hey, guys. I'm hoping to get a sense from everyone of where the active kawaii girls are at. No guarantees or anything, but I am looking to figure out who is out there consistently making matches because we are looking to inject some new blood into the kawaii title scene, and I don't want to have tunnel vision on just the players and characters I know.
So, if you've got a kawaii girl who's had at least one match and is currently active, can you let me know either here or via PM or IM? This …
[
Full reading
]
Comments: 4
Just so y'all know
Thu Jun 22, 2017 3:27 am by LtLukas
I am going to a wedding, and will be traveling for the next few days. Sadly, I will not be able to post. But do not worry, I shall return. Sorry to all the people I am delaying.
Comments: 0
Not dead! Sorry!
Wed Jun 21, 2017 5:02 am by veritech892
Sorry for the recent slowed responses and disappearing act! Life, work, all that stuff, kind of got the jump on me! I'm back now though, promise - or I really hope I'm back now at least. I'll be replying to all the threads I have now, and hopefully I'll be around more now that things seem to (hopefully) be slowing down a bit.
Comments: 0
Name:
Vallerie Crown
Age:
19
Eyes:
Yellow
Hair:
Black
Height:
5' 5"
Weight:
145 lbs
Nationality:
Canadian
Wrestling Style:
Mostly strikes. Also will viciously attack her oppoanant's breasts and pussy.
Entrance Music:
(Coming Soon)
Finishers:
Break You
- Vallerie will move behind an opponant laying facedown, and step on both their hands, pinning them to the mat. She will then grasp her opponant's chin and start to haul upwards, putting them in a modified camel clutch.
Feasting
(Hentai) - Vallerie will place her opponant n a tree of woe position, and keep her docile by kneeing her in the face several times. Once their dazed Vallerie will procede to eat out her opponant's pussy until they cum, or until they pass out from exhaustion.
Encore
(Illegal) - Vallerie will take the guitar she carried into matches with her, wait until her opponant turns to face her, and slam it into her face with all her might. This will almost surely knock her opponant out instantly.
Appearence: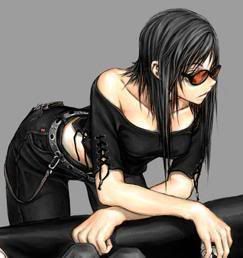 Personailty:
Vallerie had always been a cold and ruthless girl, thinking little of people in general. Ever since an unfortunate incident in her past this attitude only worsened. Her view of the world through her eyes are that the strong stand atop the weak, and you could either be trampled on or be the one on top.
Past:
In her highschool days Vallerie was a girl to be feared. Not only was she her school's most ruthless fighter, but she was also the head of a gang. One of the strongest gangs in town in fact. With her attiude of standing atop all that would stop her, she nearly became the ruler of the delinquents in her hometown. There was just one other gang that rivaled her's, with a leader rumoured to be just as dangerous as she was was. That gang leader was Sarah Gatt.
Vallerie and Sarah's gang enganged in a viscious and bloody gang war that left many other their members hospitalized, with some even near death. Valerie and Sarah themselves only met in combat once, and it the course of the fight in was almost dead even. Unfortunately the police broke up that little dispute, and a winner was never determined. This only fueled Vallerie on to take down Sarah Gatt, and rule the street toughs as their Queen. But a few days after their fight, Vallerie got a message from her rival, and to her surprise Sarah wanted a truce. And to finalize that truce, Sarah suggested that she and Val spend a bit of time alone.
It was well known throughout the streets that Val was a lesbian, as after conquering a rival gang the girl would take their women in to enjoy the spoils of victory. She had no idea that Sarah was the same. And so after much thinking, Val decided to take Sarah up on her offer. She met the Queen of Brawl alone in an undisclosed location where the two would spend the next couple of hours together. The next few minutes of foreplay were breathtaking to Val. Sarah was so forceful and confident, that Val found herelf as putty in the woman's hands, and wanted nothing more than to be with her at that moment. And so Val started to remove her clothes.
And Sarah slipped on the brass knuckles.
Sarah then precended to mercilessly beat Val until the girl could take no more, having planned the whole thing beforehand to lure the unsuspecting Vallerie into her clutches. For the next several days Sarah kept the battered girl captive, and without her to lad them, Val's gang was completely destroyed by Sarah's. Beaten and humliated, Vallerie left the gang life for good. For the next several year Val learned to lay the guitar and joined a moderately sucessful punk band, and tried to live her life in peace. She never forgot how to fight though, and everyday she dreamed of the day she would meet Sarah again, and humiliate her just as she did to Val. As luck would have it, Vallerie acually saw Sarah on TV, beating on some girl in a wrestling league called the AFW. Vallerie couldn't beleive her luck. This was the perfect oppotunity to destroy Sarah and humiliate her in front of a large crowd. SO Vallerie flew to Japan and immediately signed up for Friction, and waited for the day she would face Sarah in battle again.



Posts

: 7256


Join date

: 2009-02-08


Age

: 92


Location

: Canada




Similar topics
---
Permissions in this forum:
You
cannot
reply to topics in this forum