Who is online?
In total there are
38
users online :: 11 Registered, 2 Hidden and 25 Guests :: 1 Bot
DizzyKnight
,
dragonswill
,
LARIATO
,
Miglico
,
Minion
,
Person
,
Teenwrestler
,
TheEditor1023
,
valen311
,
Vcom7418
,
Zithpith
Most users ever online was
155
on Sun Oct 09, 2016 8:33 am
Champions & #1 contenders
Might be a bit slow
Fri Mar 24, 2017 2:33 am by noob
hi people that im rping with. I'm gonna be away for a bit so I might be a bit slow with posting. Sorry xp
Comments: 2
Duo from Iceland has arrived!
Thu Mar 23, 2017 9:38 pm by Jaystar
Hello again everybody!
I managed to get creative, with the result of having two friends,
Isa
and
Julie
flown in from Reykjavik, who are ready to rumble in AFW!
While not sure if they get to decide, Isa is still a little bit reserved and is hoping to get a smaller opponent that she could use her lower body strength on, while Julie is very excited and eagerly up for pretty much anything!
If you have any characters who might want to challenge either one of the newcomers, or basically any fun …
[
Full reading
]
Comments: 0
Impromptu Break
Thu Mar 23, 2017 7:47 pm by Gadot
Hello,
I'm just leaving this here so people know! I'm dealing with a lot at my new job (coming in as a manager with a person on my team who's been there for years and being a bit of a bitch about it), and I'm trying to finish up my last year of college. So for right now, I'm probably not gonna be around. I'm sorry for everyone I'm leaving up in the air with matches, and that I vanished without saying anything to. If you need me, feel free to message me on Trillian. I'm on it from time to time, …
[
Full reading
]
Comments: 1
Page 1 of 2 • 1, 2

Height: 5'2"
Weight: 117 lbs
Nickname: Kawaii Streetfighter

vs.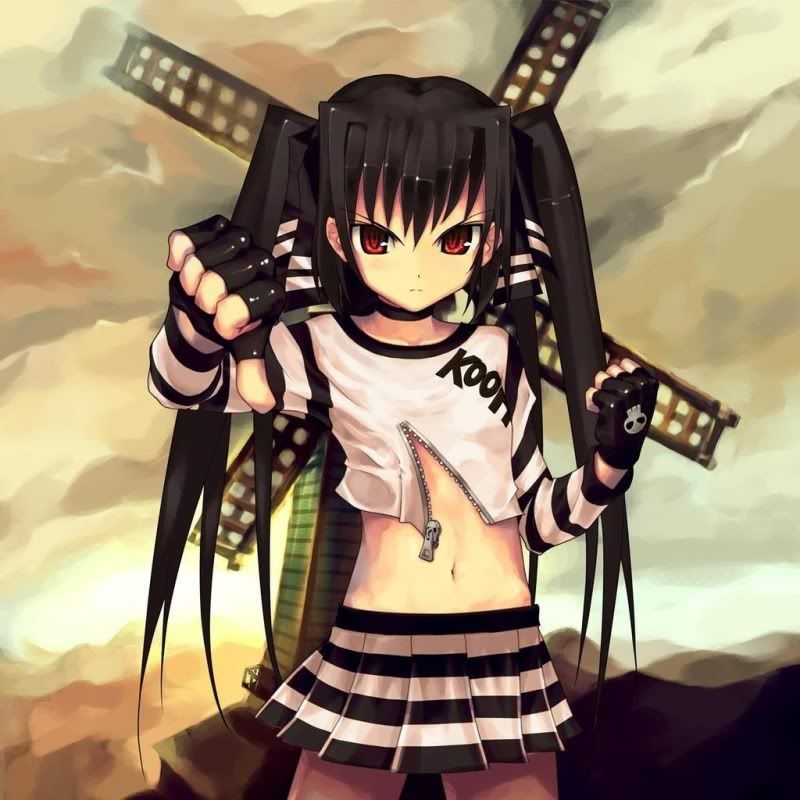 Height: 5'2"
Weight: 100 lbs
Nickname: Kawaii BadassStandard Match
Terms of Victory - Pin, submission or KO.
Tracy was sitting on the bench, her elbows on her knees and her hands supporting her head as she looked down at the ground. 'Lethe... Lethe...' She was pretty sure she heard that name before. Where? She couldnt really tell. Maybe on the news? Or the paper. Well, it's not like she'd waste her life trying to find out why that name sounded so familiar to her. The redhead stood up and slapped both of her cheeks at the same time a couple of times. "Alright! Time to go out and show them what I'm made of~!" Tracy said to herself before stepping out of the backstage.
Unlike most of the times, her entrance song wasnt Unknown Soldier, by Breaking Benjamin. Tonight, her theme song was [url=http://www.youtube.com/watch?v=Ec-RcS8VUyA:1ygpautc]"Escape" by Itou Kanako[/url:1ygpautc]. She thought it fitted her new personality a lot better than the old song. The crowd wasnt really aware of all the things that she's been going through, so they didnt really understand why there was another song. They actually thought it was someone else who was coming out of the backstage!
Tracy made her appearance just a few seconds after the song began, walking down the ramp with a confident grin in her face. At least her attire was the common one: a loose white T-shirt with a black skull in the center, a black skirt and shoes. Her hair was fixed in two braided tails that went down her shoulders. Well, that was until she reached the ring. There, she climbed upon the apron and slipped between the top and middle rope, standing up straight and then heading to her corner. Then, she brought her hands to one of her braided tails, unfixing it. She did the same with the other one, her beautiful red hair now swinging free from side to side as she shook her head. "Okaaay~! Where's the other girl?"
Last edited by 145 on Fri Apr 23, 2010 7:34 pm; edited 1 time in total
_________________
[url=http://afwrpg.informe.com/forum/members-blogs-f42/jessica-s-crew-t2115.html:2wqwu7zy][size=150:2wqwu7zy]
Jessica's Maids
[/url:2wqwu7zy]
Lethe waited backstage, hearing the entrance music of her opponent. She grimaced at how soft it sounded. Her expression changed when she heard the scream of the guitar enter into the song, but then grew disappointed once more as she heard the japanese lyrics of a woman singing lyrics she couldn't make heads or tails of. This match was likely to be a short one, if she was going by what kind of person would listen to that song in the first place.

She shook her head, standing up from a speaker she was sitting on, as she heard Riot from Three Days Grace beginning to play. She walked up to the stairs, and onto the stage, hearing mostly boos from the crowd, although she could make out a few distinct cheers at her entrance as well. She wondered just what the hell she did to make some of the crowd like her, but she decided in the end it wasn't important. She proceeded to walk down the ramp, while listening to the music. In all honesty, the song felt kind of light spirited. Maybe that was the issue. She'd have to look for a new change of song after this.

When she made it to the bottom of the ramp, she started to climb up into the ring, and looked over at her opponent. She blinked at her, seeing her in a white T-shirt, black skirt, and thigh high socks. Her borderline demonic red eyes glanced over her momentarily, seeming to be looking over the girl with curiosity, seeing her red hair, and the expression on her face. She said nothing to her, however, and raised her fists up, her expression hardening once more as she prepared herself for the bell to start the match up.
Tracy still couldnt find the reason why Lethe -both name and appearance- was so familiar to her. Well, if she couldnt remember, it mustnt be something really important, right? She decided to stop thinking about it already and prepare to fight. Her opponent didnt look like someone who would give her time to fool around. Then she noticed, Lethe's stance was similar to her own. Maybe... maybe it was just a coincidence.

The redhead brought her arms up as well, in a defensive stance, one foot in front of the other as she faced Lethe. "Ready to get started?" She asked, grinning confidently. This was going to be one hell of a match, she could feel it. Facing someone with a similar style was definitely going to be interesting. Tracy waited just a few steps away from her corner for the ring to bell and the match to begin.
_________________
[url=http://afwrpg.informe.com/forum/members-blogs-f42/jessica-s-crew-t2115.html:2wqwu7zy][size=150:2wqwu7zy]
Jessica's Maids
[/url:2wqwu7zy]
Lethe stared across at the girl while adjusting the black fingerless gloves she had on, with a cute skull on the back of either hand. She noticed one major difference between herself and this mystery girl; she was being friendly towards her and smiling.

She said nothing in response to her question, but she gave Tracy a look, like it was one of the dumbest questions she's ever been asked. As soon as she raised her fists up to begin, the bell rang to start the match.
'Aaah... Not a chatty one, are you? That's fine by me!' Tracy thought as she heard no response from her opponent. Not like she was going to yell at her for an answer. The only thing that really mattered now was the match. Which by the way just started, the bell ringing. The crowd was one thing she stopped paying attention when the match began, as all her attention was focused on Lethe.

And before her opponent could do much, Tracy sprinted towards her and charged her right arm back, preparing to send an incredibly strong punch to Lethe's cheek.
_________________
[url=http://afwrpg.informe.com/forum/members-blogs-f42/jessica-s-crew-t2115.html:2wqwu7zy][size=150:2wqwu7zy]
Jessica's Maids
[/url:2wqwu7zy]
Lethe never paid attention to the crowd, even when walking to the ring. She could care less if they boo, or cheered her every last move. The only thing that mattered in her mind was taking down her opponent, and breaking her. Her demonic like eyes looked over her opponent, while she kept her fists raised up to her chest.

Suddenly the bell rang, and Lethe stepped out from her corner. An expression of mild surprise crossed her face when Tracy did a full on rush towards her. Did this girl have some unknown grudge against her? Regardless, it was fairly easy to tell what she was going for, seeing how her right fist was drawing back far. Sure, this girl might've gone for a feint, but with the way this girl rushed in, she doubted she knew what a feint even was.

She dropped down to one knee to avoid her punch, and she would try to bring Tracy's momentum to a screeching halt by thrusting her right fist up fiercely into the kawaii's belly, maybe even lifting her off her feet an inch or two with the ferocity of her punch.
Tracy noticed her opponent ducking under her punch. 'Ooooh, shit!' She cursed and tensed her abs, preparing herself to receive Lethe's punch. Judging by her opponent's look, she wasnt any cry baby. This was definitely going to hurt! Her eyes shot wide open as the other girl's fist hit her right in the belly. The blow knocked the air out of her and made her stumble back. She clutched her stomach with one arm. Daamn, she was strong. Another mistake like that and she could end up really hurt. "Geez, you can punch." She complimented, never taking her eyes off her opponent. She knew that if she let her guard down, it could be the end. Even if it didnt look like it, she wasnt that hurt. She just wanted to draw her opponent to her.
_________________
[url=http://afwrpg.informe.com/forum/members-blogs-f42/jessica-s-crew-t2115.html:2wqwu7zy][size=150:2wqwu7zy]
Jessica's Maids
[/url:2wqwu7zy]
Lethe snerked a little after knocking Tracy back a few steps while clutching her stomach. When she heard the compliment, it surprisingly managed to get to her head a little bit.

"Of course." She replied, then lunged in quick, drawing a fist back while leaping at her, and then would land right in front of her, and instead try to grab Tracy by her small shoulders and hammer her knee up hard into her gut.
Tracy brought her arms up in a defensive stance, waiting for her opponent's punch. Noticing it wasnt but a feint, she moved her hands to Lethe's shoulders and sent her knee up as well. It would result in both knees colliding, keeping each other from reaching their targets. "Not so bad, huh?"

Before Lethe could react, and without letting go of her shoulders, Tracy'd snap her head back and then send it forward, going for a strong headbutt to Lethe's forehead.
_________________
[url=http://afwrpg.informe.com/forum/members-blogs-f42/jessica-s-crew-t2115.html:2wqwu7zy][size=150:2wqwu7zy]
Jessica's Maids
[/url:2wqwu7zy]
Lethe felt Tracy grabbing her shoulders the same time Lethe grabbed hers, and winced as their knees collided. She felt pain, but she kept it held inside. Lethe snorted at Tracy's comment. She wasted too much time talking.

When Lethe saw her snapping her head back, she quickly tilted her head down so she'd be colliding with the hardest part of Lethe's head, and most likely leave her dazed.
Page 1 of 2 • 1, 2


Similar topics
---
Permissions in this forum:
You
cannot
reply to topics in this forum