Champions & #1 contenders
Summer Splash interest in Natasha Loclear?
Mon Apr 09, 2018 11:30 pm by daemongirl
Well my girl hasn't missed a summer splash yet, would anyone be interested in a match with her? Open to just about anything match wise, just pm me!
Comments: 1
Been Out with the Flu
Sun Apr 22, 2018 7:47 pm by daemongirl
Just letting those I have threads with know I've been out with the flu since early last week, but I will be back to posting tomorrow.
Comments: 0
The Austrailian Mudslide is Back.
Sat Apr 21, 2018 6:20 am by Softsquad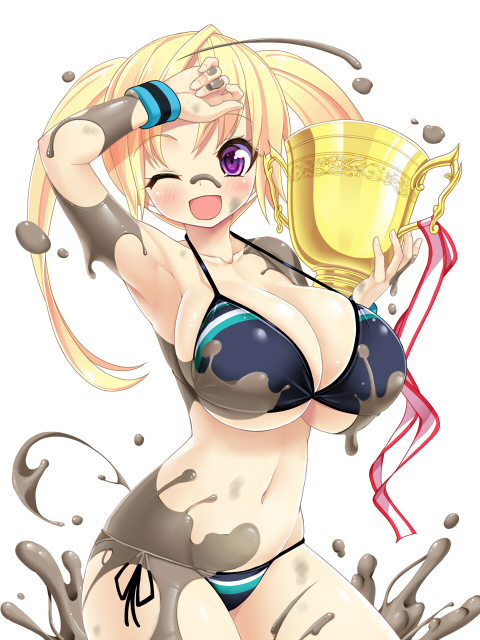 Granted that most of you won't know me or remember me, but I've had a few matches here and there some time ago. Well I think its time to become a regular around here and try to have some fun again, but at the same time keep coming back. Anyway I think its time to jump into some matches with Zoe Taylor, my mud wrestling character from Australia and get her back into the squared circle. Furthermore I will update my characters as I think some proper changes need to happen.
So if anyone would …
[
Full reading
]
Comments: 0
Page 9 of 11 •

1, 2, 3 ... 8, 9, 10, 11


Cardia knees began to shake as she lifted herself higher and higher on her toes. Chesna's stroking of her clit and poking of those spots on the back of her knee really drove her wild. She rocked, then froze, toes and fingers curling up. "Nnnh... aaah!" She closed her eyes tightly, "Ma... Matus... chanskavaskyyyyy!" Cardia cried out as her body shook violently, finally expelling her juices into Chesna's waiting mouth. "Che... chesnaaaa!" Cardia squealed, gasping heavily as her body whipped itself back and forth against the wall, her body wracked by wave after wave of ecstasy. It seemed like it would never stop...

"EEeee... ayaaah..." Cardia's breath finally coming back to her was the first sign of the slowing down. Her body shook loosely, her head tossing from side to side. Her breath began to slow, and Cardia would finally come to rest, forehead against the walls. If Chesna let her, Cardia would sink slowly to her knees... "Th... thanks, Chesna." She would whisper softly, through heavy pants. "W... wonderful."
When Cardia began to cum, Chesna drank from her cup like it was a goblet of fine wine, drinking all the juices that poured in even as some of t spilled down her chin and cheek. She stroked Cardia;'s legs and when she finished, she pulled away, allowing Cardia to slink to her knees. She stood up and wiped her mouth off before looking down at Chesna. "I think the interrogation went well." She said in a monotone voice as she buttoned up her uniform. She then leaned in and ran her fingers through Cardia's hair, leaning in before bringing her lips to her ear. Champagne Bottle. Ice Bucket. Water. Vial with brown Liquid. And don't forget your check up is coming soon." Chesna then leaned in and gave Cardia a small kiss on the cheek before standing up and turning to walk away. "Good Luck. I would tell you to come see me if things get too rough but as you can see, It may be better to just stay in your bed if that happens. I think you might be safer in the pool house with the assassin."
Cardia shook softly, still working through a few aftershocks of that wild ride. She purred softly as Chesna caressed her. "Nnn... th... thanks." She whispered, blushing even more that Chesna had done her such a nice turn to remind her. She gasped, blushing even more when Chesna kissed her. "I... I..." She took a deep breath, forcing herself to her feet. Her knees buckled briefly, but Cardia caught herself. "Chesna..." Cardia would throw her arms around Chesna's shoulders from behind, embracing her. "I... I... appreciate that... all of it. Thanks." She nuzzled Chesna softly, "Doctor... I know you have... a problem where you... you know, have to do lots of girls and... uh... Well, whenever you need to... or... or want to, you can... always come to me. Okay?" She kissed Chesna softly under the ear, "That's what friends are for, right?" She froze, "We... are friends right? Not... that it's that big a deal either way but... y-you're... kinda tough to read... and..." Cardia trailed off.
Chesna stoped as she heard Cardia's ramblings. She closed her eyes as she was partially tackled by the girl. CARDIA's loving embrace was returned by Chesna's stiff form. Chesna turned her head and craned her neck to allow Cardia to kiss her, feeling very little from the affection. "I already do that." She said and sighed. She turned her self and looked at Cardia with a glassy stare. "Whatever makes you sleep at night. I don't care. If you call periodical rape and the occasional dinner friendship then I guess." She shrugged and turned back, lifting her hand up, she pressed it against Cardia's cheek. "Saying it like that... You're almost as fucked up as I am." She patted her cheek and turned around once more. "You know I have a friend who never shuts up and asks annoying questions just like you. Maybe one day you'll get to meet her if I stay around here long enough. But who knows where she's at now." She said and sighed as she walked off.
Cardia released her hug nervously as Chesna spoke and turned to face her. She looked away for a second; Chesna's frank rebuttal was a splash of ice water to her, but she said nothing. Chesna's caress brought Cardia's eyes up to meet the doctor. She mouthed a nervous syllables, but could think of nothing to say. Even when called out specifically on it, Chesna still remained spectacularly difficult to read.

With Chesna backing away, Cardia again sank to her knees. "I... er... m-maybe I am..." She muttered almost mindlessly, without thought to talk loud enough for Chesna to hear. "I'm sorry..." She whispered as Chesna walked away. There was no meaning to the phrase here. It was that verbal tic again, sexual stimulation and something that was almost... maybe?... a rebuke was more than enough to get her to mutter those words. Too much time with Lukretia was beginning to leave marks on Cardia and Cardia knew it.

The floor was inviting. It was not even that late... probably still before dinner even, but Cardia was exhausted. Just a few moments rest seemed heavenly at this juncture. But she still had a command from the one person she could not disobey.

With a heavy sigh, Cardia rose to her feet. She noticed once again that she was still naked. Chesna's words rang in her head once more. She had not even offered a bit of help. The nature of the house is what it is, but still... Cardia pondered, maybe Chesna was right... or maybe this was the best 'friend' she was likely to get at this half of the world. For a brief moment, Cardia was struck by a common sensation for her these days, that from everywhere she had been and could have gone, she ended up choosing the path through life that led her to this awful arrangement; an arrangement that now had her walking naked through a house full of sexual predators, sadists, nearly feral abuse victims, and other assorted psychos, all just to fetch champagne for her mistress, her idol, her hero.

As she often did, Cardia shoved such regrets out of her mind and set out on her unenviable task, trying to stay quiet and not think too hard about who she might meet and what they would take her nudity as a license to do to her.
Chesna had left the girl to ponder her thoughts. The doctor was more concerned with finishing what Cardia had started and would spend a long time in her office making good use of the tools she had there.

Meanwhile the room was silent while Cardia contemplated. It seemed as though her trouble would end and she could return to the room which held her desires. Perhaps more comforting than the cold marble floor of the lobby. But that was soon broken as the door flew open suddenly.

A flurry of loud and fast German seemed to accompany the creak of the door and in backed Hilde. She had a bag in one hand, her purse in the other, that she was thumbing through and her ear rested against the phone.

The string of German was paused long enough to heqar a clear English mutterance of 'Why is this door unlocked...?' Before the rapid guttural language came rushing out from the shy blonde She shut the door and then spun around only to see Cardia on her knees and naked, juices all around her. Her eyes widened and she gasped. She shouted at the phone sharply before furrowing her brow and yelling.

"EXCUSE ME! AUF WEIDERSEHEN!"

She clicked the phone off and tossed it, letting the purse and bag fall to her sides as she whipped her suit coat off, practically tearing the buttons off. She cleared the distance between them in a few short strides of her long legs before putting the coat over Cardia.

"C-Cardia, what happened!?" She said obviously concerned for the condition of her lover. She pulled her into a hug, pressing her chest against Cardia's back and squeezing her with her arms before turning to face the girl and resting her hands on her shoulders. The smell of sex permeated the foyer now that she was close to Cardia. Hilde couldn't believe it. Did they just decide to do it right here? Had they no shame?! But Hilde knew whatever happened that Cardia certainly wasn't a willing participant.

Well. She knew that wasn't the right thing to say. She was sure that Cardia probably did go along with it. But she knew that if Cardia had the choice. She'd definitely pick a more private area to engage in this sort of thing. To Hilde, that was the same as being forced into it, no matter how much one enjoyed it.

"A-are you alright!?"
Last edited by 445 on Sun Dec 12, 2010 9:41 am; edited 1 time in total
That voice.

The one person in this house who Cardia almost always wanted to see at about the only time Cardia would not want to see her. Cardia hated being so shamed in front of Hilde, someone who was already much too far outside Cardia's league to begin with. Hilde would never abide her feeling that way, she was a sweetheart, but Cardia had enough trouble talking to Hilde on normal terms. This was orders of magnitude worse.

She could not make herself turn around to face Hilde as the German approached, trying to muster the energy to play it cool, but Hilde would not let her. Almost immediately, Cardia was embraced in the warmth of Hilde's coat. It smelt faintly of Hilde, bringing a soft curl, almost a smile, to Cardia's lips. A half whispered purr escaped her lips as Hilde embraced Cardia, but it was when she was turned around to face her that Cardia absolutely melted. Those eyes, almost all the beauty of her sister, but the polar opposite in demeanor. Whatever love could be for someone as screwed up as Cardia, she did love Hilde. And for some stupid reason, Hilde felt the same way about Cardia, even though Cardia knew she did not deserve it.

"Hilde..." Cardia squeaked out. "H... hi." She snapped back into reality with a gasp, "Y-your coat! I'm... filthy. Ah!" It WAS a nice coat... though it was a little late to stop now.

Lukretia claimed Hilde's personality was a construct. She had destroyed the old, cruel Hilde and remade her... into what was the kindest, sweetest, most doting woman Cardia ever would meet. Cardia did not doubt that, but she did not care. The only Hilde that mattered was the one right here.

Cardia averted her eyes, "R-really, I'm fine. I just... left my clothes..." Cardia trailed off. She did not deserve Hilde... especially with the complete lack of self-control she had when it came to the other women in this household. No matter how many times she reassured Cardia that she was alright with these dalliances, it still hurt every time to face Hilde having done this. "In... the bedroom..." She added in almost a whisper. "Thank you..." she added, louder now. "So, how was your day?" She forced a smile, wanting to escape this topic so bad she threw out such a mindless, inappropriate bridge.
Hilde averted her eyes ever so slightly at Cardia's explanation. She knew better than anyone what went on in this house but she hated it. Worse yet, if not for this palace of debauchery she would not have met the amazing woman before her. She smiled and leaned in to kiss Cardia's forrhead before reaching into her pocket andpulling out a handkerchief. She dabbed it against her tongue and began to wipe Cardia's face, cleaning it like a mother would.

"Don't worry about the coat... Or any of that." She smiled cheerfully to try and lighten Cardia's spirits. She couldn't help but chuckle softly as Cardia asked how her day was. She ran her fingers throug Cardia's hair. "Hectic. I've been running around doing work for Lukretia all day. It seems like she got home first but she hasn't been returning my calls." She muttered the last bit but clasped Cardia's cheeks in her hands and leaned in to kiss her on the lips.

"Not as hectic as your day it would seem." She said still smiling. She then stood up and offered her hand out. "Welll" she flushed as she turned her head to cover her embarrassment up. "W-hy don't we get cleaned up and go have dinner. I could use a s-shower after the day I've had a-and that would be n-nice?" Hilde's face was beet red as she asked. Really it was the best way that she could think of to get Cardia alone. The blonde Creuzfeldt was actually pretty pissed that all day people had been fucking HER girlfriend like she was a blow up doll and the two of them had barely even manahed a real tender moment together. Hilde barely got to second base with Cardia without being interrupted. She was barely able to contain herself.

But she did. The modest German seemed like was meekly asking for her turn, even willing to accept a place at the back of the line with her own lover.
Cardia closed her eyes, allowing Hilde to clean her face. Hilde was rich, beautiful, talented, classy, kind... she was the princess to Cardia's suitor. Usually in those stories, the gallant suitor was brave, capable, able to save or impress the princess... Cardia was none of those things. Hilde's presence constantly reminded her of that... It made loving her hard.

She stared up at Hilde as she invited Cardia along, shivering nervously... "You... I... we..." Cardia stammered. Hilde was the only woman in the world who could drive Lukretia from Cardia's mind, in a manner of speaking. She always expected Lukretia's punishment when it came to her and Hilde. That did not stop Cardia. Hilde was worth it. Besides, Lukretia would punish Cardia anyway; she did not need a reason. Hell, it often seemed like she just wanted to punish Cardia rather than end what Cardia and Hilde had. Then again, if Lukretia REALLY tried... It might just be the one thing Lukretia could not make Cardia do. Cardia would not want to put that to the test, though.

She glanced down nervously before facing back up at Hilde. To hell with it. I don't deserve you, but at least I deserve this moment. "Y-you just got here, right? L-let's just... get back in the car and go somewhere... Anywhere. Just... take me away from here, please. I... I guess, j-just for a while if we have to... A restaurant, a hotel... a... clothing store?" She smiled, "I don't care." Cardia took Hilde's hand and stood up, "We're going to get jumped here. Let's just go..." She leaned in and planted a quick peck on Hilde's cheek. "Please?"
Last edited by 241 on Mon Dec 20, 2010 7:44 am; edited 2 times in total
Hilde smiled hopefully at Cardia's words. Hilde was a gentle and kind woman but she had been where Lukretia was at before. In Hilde's own mind, she had been even worse than Lukretia. What she had done to her poor younger sister had been completely unforgivable and what Lukretia was now and the things she did were nothing. Hilde only hoped that one day Lukretia would finally accept her apology but she knew that it would never come.

Cardia had come to the Von Creuzfeldt house just like many of the other girls did. Hilde, though servant and practical slave to Lukretia was still free to lay with whomever she chose and did , on occasion, fancy herself some of the women that came through. Some were very cute and others had become infatuated with her. Things always ended badly though and she mostly avoided trysts with Lukretia's girls, staying in her own circles and dating only when she had ime, which was never. But Cardia had been so full of life. She wasn't liek the other maids who were broken quite easily. There was always a spark of life in Cardia. Something that Hilde saw burnignin the back of the girl's head at all times. She knew that was exactly why Lukretia had brought her and partially elevated her. Her sister wanted to extinguish it. OR make it burn even brighter. Hilde knew that Lukretia believed the former would happen with barely a doubt in her mind. That it was only a matter of time.

But Hilde loved that spark in Cardia and wanted to nurture it and make it glow with warmth not flare up and burn with deadly heat. As Cardia seemed to plead with Hilde, the blond batted away tears. "Y-yes... Oh, yes!" She said and pressed her hands against Cardia's cheeks and planted many small and needful kisses all along Cardia's lips.

Cardia... For you, I'd leave everything... You know that." She said nervously as she looked into Cardia's eyes, tears finally falling. "Go get some clothes. I'll get the car and bring it along front, ok?" She said as she stood up and held out her hand, smiling hopefully for Cardia as she waited for the answer.
Page 9 of 11 •

1, 2, 3 ... 8, 9, 10, 11



Similar topics
---
Permissions in this forum:
You
cannot
reply to topics in this forum