Champions & #1 contenders
Kawaii Opportunities
Sun Jun 17, 2018 3:04 pm by Daaharu
Hey, guys!
With the kawaii title match at Avalanche taking on an interesting wrinkle with the interruption by the Brat Pack, we are moving forward with the overall kawaii storyline, and at this point I'd just like to take stock of what kawaiis are out there that are interested in participating in a cohesive storyline.
Can't make any promises about titles or what exactly each girl's given role would be. We can talk a little more about the specifics of where the story is going soon, but I …
[
Full reading
]
Comments: 2
Match or RP?
Wed Jun 13, 2018 3:48 pm by Lotuswarrior
I'm just looking to do something while I wait for match replies. Really want to get some characters cemented a bit with a rival or some interactions with other characters here.
If anyone wants to do something hit me up.
Comments: 0
Match for Takeichi
Tue Jun 12, 2018 6:13 am by GrandAkumaShogun
So with my other two guys having their own matches I figure I should do something with my first character on here, Takeichi Mori. If anyone is interested feel free to post here or get in touch through a pm so we can plan it out. I can either have Takeichi remain a jobber or begin to work him towards being a more serious competitor.
Comments: 0
Page 1 of 12 • 1, 2, 3 ... 10, 11, 12


Height: 5'7"
Weight: 118 lbs
v.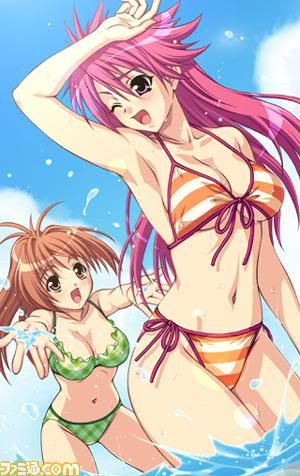 Height: 5'5"
Weight: 140 lbsHentai Match

Best two out of three falls.

Special venue, beach ring!
It was a bright and beautiful spring day, the sun shining brightly above the blue surf. A cool sea breeze blew in over the beach, stirring the parasols and refreshing all the people relaxing. There were more people than usual today, most likely because of the event that was about to be held. Near the center of the beach, a large wrestling ring had been set up. It was AFW's newest venue, a special private beach ring!
And the first event was rather special as well. Fan favorite legend Mighty Yukiko, a new addition to the AFW roster, was going to fight her friend and rival Megumi Mutoh. And it was a hentai match as well! This drew many people, fans of both, who wanted to not only watch a good fight, but to see their beautiful bodies "get it on". The beach was packed with people already, many surrounding the ring to get the best vantage point, some lucky enough to have tickets to the temporary seats in the stands, overlooking the ring.
But where were the wrestlers? Neither Yukiko nor Megumi had been seen on the beach. Many of the people were getting rather antsy, waiting in the hot sun for the show to start.
Then from behind them, on the ocean, came the roar of a boat engine. On the prow of the boat, with her hair whipping in the air, clad in a black string bikini (like the one in her picture), stood Megumi Mutoh. The crowd, seeing their idol finally arrive, got up to their feet and began cheering. The boat drove off to a small dock off to the side of the beach, and Megumi hopped off and slowly began making her way to the ring. Her fans began trying to crowd around her, asking for autographs and such, but two bodyguards specifically sent to protect Megumi hopped off the boat as well, and pushed her through the crowd.
After quite a while, Megumi finally made it to the ring. She slipped in under the bottom ropes, gave the crowd a happy wave, and relaxed in her corner.
"
This is insane,
" Megumi thought, "
I certainly hope Yukiko has a better time getting through this crowd...
"
Last edited by 145 on Mon Apr 19, 2010 1:12 am; edited 1 time in total
Meanwhile, off behind a wall of tropical trees and bushes, Yukiko's entrance had been set up. She stood in the sand, looking at the jet-ski in front of her. She stood in an orange-striped bikini, and was fiddling with her pink hair nervously. Sure, before she had been all for this idea. A new venue, a unique way to make an entrance, and with a good friend as well. She wasn't aware of the match conditions, but that wasn't her biggest concern now. What WAS her biggest concern, was the jet-ski in front of her.

She couldn't do the same entrance as her opponent did, that would be too repetitive, the officials said. They went through a list of what she could do, and before she knew it, she declared that she wanted to ride a jet-ski to shore. The officials offered her a bit of training, but she declined, thinking it wouldn't be that hard. After all, she'd seen the DOA girls do it without breaking a sweat, so why couldn't she? They even did tricks while they were riding! Now, however, she wished she had at least took a lesson or two from them.

Oh well, she made her bed, now she'd have to lie in it. She took a deep breath, and climbed onto the jet ski. She sat down in the seat, looking at the handlebars, beneath the bars, and looked at the dashboard. How the heck did you turn this thing on?? She then noticed the key in the ignition. She reached out and gave it a turn, and suddenly the jet-ski rumbled to life.

"Ok... that's taken care of..." She said. "Now... how do I.." She tried twisting the handlebars like you would a motorcycle. No dice. She then tried squeezing the handlebars hard, and suddenly the jet-ski lurched forward with a quick blast of speed. "Whaaa!!" She cried, immediately letting go, which caused the jet-ski to buck up, and she ended up losing her balance off the thing, falling to her butt in ankle deep water. She grumbled at the machine, standing back up and walking over to it. She would NOT let it beat her!

She mounted the jet-ski again, and gave the handlebars a gentle squeeze this time. The jet-ski coasted forward, and she started to do little circles around in the water to get the handling down. This wasn't so bad afterall! By now, however, she could hear the crowd getting restless, and chanting Yukiko's name. She grinned, leaning in towards the handlebars. .oO(Don't worry, audience, you'll get your show) She thought confidently, and then gunned the jet-ski once more, riding out into the waves.

"Woooo hoooo!!!" She shouted, driving it against the crashing waves and waving one arm in the air to gain the crowd's attention. The crowd turned to see her on the jet ski, and started to cheer and applaud Yukiko as she rode the machine. She even took a risk, and grabbed the handlebars with both hands, and then stood up on the seat, standing fully up, and somehow retaining her balance on it. She could hear the crowd whistling off in the distance, and then she sat back down, laughing to herself. This was fun!

It was time to head back now. She had a match with an old friend, after all. She turned the jet ski towards the shore, and gunned it hard, speeding towards the shore. As she rode towards the shore at top speed, a sudden realization hit her, feeling a cold rush on her face as soon as it donned on her: She didn't know how to brake!

"Crap! Brake! Brake! Brake-brake-braaaaaake!!!" She cried out, the jet ski crashing into the sands, and caused Mighty Yukiko to fly over the handlebars and crash into the sands herself. The crowd cringed from the crash, and Yukiko picked herself up from the sands, spitting the grains that had gotten in her mouth. She got to her knees, looking up to see every single eye was on her, and not in the good way. She scratched the back of her head nervously, giving off a sheepish smile.

"..Eh-heh..." She chuckled half-heartedly, and quietly picked herself up and walked towards the ring, quietly climbing up into the ropes, and moving to her corner, trying her best to forget that fiasco immediately.
Megumi waited patiently for about a minute before getting restless. It wasn't like Yukiko to be this late! Her sempai was normally very punctual about everything, especially matches. She wondered where Yukiko was, and worried if something bad had happened.

Then from the sea she heard the roar of another engine. She turned around, and saw Yukiko riding atop the waves in a jetski. Megumi was immediate filled with envy; she had come in a boat, which wasn't nearly as showy and awesome as a jetski. Not to mention her sempai looked really experienced, bouncing off the waves and even performing tricks!

But then Yukiko came barreling at the shore without any sign of slowing down or stopping. Megumi wondered if this was another part of the show, until the crowd began running away from the out of control jetski. Yukiko drove that machine straight into the sand and flew over the handlebars, landing with a thud on the sand. Megumi winced when she saw Yukiko land, but she seemed to be ok, slowly making her way to the ring with a rather sheepish look on her face.

Megumi extended a hand to Yukiko to help her into the ring. "Hey, are you alright?" Megumi asked, "That was pretty incredible!"
If Yukiko had the opportunity to run away, she would've taken it after crashing into the shore like that. At least, that was her first thought. When she made it to the ring, however, she saw Megumi offering her a hand to help her into the ring. She blinked up at her when she saw Megumi was still impressed by the stunt, despite the crash at the end. When she saw the impressed expression on Megumi's face, her embarrassment suddenly melted away from her, and she smiled back up at her.

"Heh.. thanks.. I kinda wish I didn't crash into the sands like I did, but I'm glad you liked the entrance." She said, and started to climb up into the ropes with Megumi's help. She then saw the crowd gathering around the ring, everyone getting a close up view of the two girls.

"It's nice to see you, again, Megumi. Seems like all the Wrestle Angel girls are coming here, hehe.." She grins, then scratched the back of her head as a second thought occurred to her. "Say.. um... what kind of match were we doing? The flier didn't say what kind of match it was... Do you know?" She asked her.
After helping Yukiko into the ring, Megumi quickly dusted the sand off her shoulders and her back. "I wish I had done something as daring as what you did," Megumi said, "Honestly, you always steal the show, no matter where you are! I envy you sempai~" she said. She noticed the crowd getting uncomfortably close to the ring as well, thinking to herself how they'd better stay in the ring. Their heated match might get some members of the crowd a bit excited, and it won't be safe out there.

"Our match?" Megumi said, "Um... well... it's... hentai..." She blushed and looked aside, her hands still resting on Yukiko's shoulders.
Yukiko smiled as Megumi dusted the sand off her. "Thank you, Megumi.." She aid, then giggles a little. "Heh.. sorry... next time I'll let you have the flashy entrance and let you crash into the shore." She joked, and then started to limber her body up. She stopped dead, however, when Megumi explained what kind of match it was.

"Um... h.. hentai? In front of all these people?" She blinks as Megumi has her hands on her shoulders, then started to grin a little, poking at her belly. "Did you set all this up??" She asked in a playful tone.
Megumi was blushing quite a lot too, hoping that Yukiko wouldn't freak out and cause a scene. Yukiko did seem to be rather flustered by the news, but then just took it in stride, even teasing Megumi a little bit about this.

"mou- Do I seem like the type to plan something like this?" Megumi said, still blushing, "The administrators set this up. They thought it would be a good idea to have two well-known superstars fight it out to promote this new venue; then some idiot proposed it be hentai to attract more people." She turned and looked at the crowd. "It worked I guess..."
Yukiko was quite a bit flustered at the type of match up it was supposed to be, but at least it was with a friend. It could be worse; she could be matched up against Beauty Ichigaya or Thunder Ryoko and be shown no mercy.

She smirked at Megumi, still feeling like she had a part in this. "Well... I guess it will be all right, doing this with you.. so, hentai match, one fall, right?" She asked, taking a step back from her corner and stretched her arms above her head for a moment.
Megumi stepped into her corner as well. "Umm," Megumi said, "It's actually best two out of three..." She was glad that Yukiko didn't seem too embarrassed by this; perhaps it would end up being very fun for both of them! Megumi stretched her hands over her head, warming up while giving the fans a bit of service. Though that was just appetizer this time, the fans were going to see it all this time!

"Are you ready Yukiko?" Megumi said, "I'm not going to hold back just because we're friends!"
Last edited by 265 on Mon Apr 19, 2010 3:26 am; edited 1 time in total
Yukiko's face fell at that, but, there was no way she could escape it now. She sighed, now wishing she dressed in something that would be a little harder to strip off, but she put a straight fave on it, and watched as Megumi headed back to her corner.

She nodded in response to Megumi's question, and smiled at her. "Never have, never will." She replied, and shifted to her trademark stance, hearing the bell ring afterwards.
Page 1 of 12 • 1, 2, 3 ... 10, 11, 12


---
Permissions in this forum:
You
cannot
reply to topics in this forum